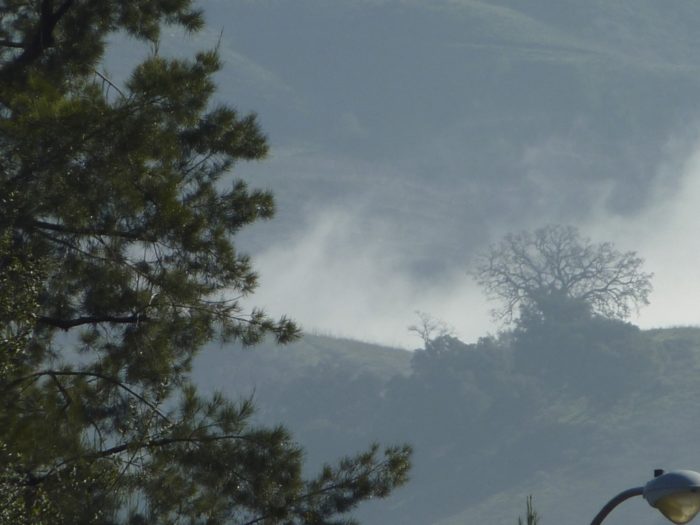 Santa Barbara was like a scene out of an epic Hollywood bible movie last week. Five back-to-back storms slammed the Left Coast and by the time the closing credits rolled, trees were snapped, houses went dark, muddy creeks surged and a tornado dipped its tentacle into my decidedly un-Kansan town.
I motored south on Saturday morning to rendezvous with Shirley Bovshow, blue skies were back. On the mountains behind Ventura, confectioner's snow frosted the mountains and hillsides sported a fine fuzz of emerald green.
Shirley is the brains, smile and dynamo behind Garden World Report, an online garden TV venture that's rapidly building an international audience. I've had the honor and pleasure of co-hosting a few shows and contributing video bits since its September 2009 inception.
We had a date with a conference center. More precisely, the Go Green Expo in Los Angeles. Our mission: Interview exhibitors and sleuth for interesting stories to share with viewers and readers. (The expo moves to New York City, Philadelphia and Atlanta in the next few months.)
On The Road
Let's start at the beginning.
Good Omen: Santa Barbara, 8:45 AM: So I'm pulling out of my driveway and take a quick glance at the fuel gauge. "Running On Fumes", it says. I open the window and check for a tailwind that'll blow me 70 miles south to Shirley's. No dice. To a gas station!
There, I behold yet another example of what happens when bad taste meets power tools—the ubiquitous aircraft-carrier-deck pruning technique (India hawthorn / Rhaphiolepis 'Majestic Beauty'). Excitedly, I grab my camera, capturing another subject for my Crimes Against Horticulture gallery.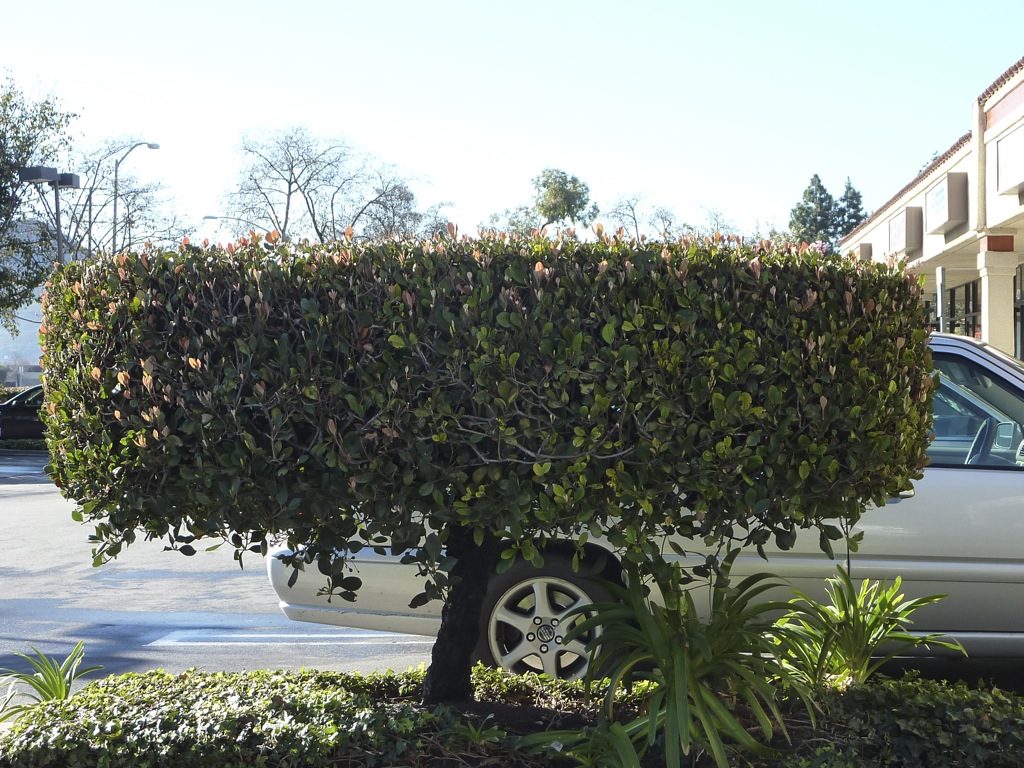 Better omen: I love being on the road on a chilly morning just after a storm, sunroof open, the heater blasting my feet, the Police's One World Is Enough cranked up to 11. Blue sky, puffy clouds…kinda like the start-up screen on a Windows computer.
As my trusty old Camry crested a hill and started the next descent, I watched warm sunrays reach the saturated soil. The immutable laws of physics being what they are, the moisture had no choice but to rise eerily, cloaking a faraway oak tree in mist. So I pulled over and snapped this evocative shot.
I arrived at Shirley's beautifully landscaped Woodland Hills home right on time and off we sailed. Engulfed in snappy conversation, the jaunt to downtown was over in a twinkling. We arrived safely at the LA Convention Center, spent the next 40 days and 40 nights circling aimlessly in the underground parking garage, no doubt sending our carbon footprints through the roof.
Emerging from the underground labyrinth, we flashed our credentials at the check-in desk and donned our press badges. Happy faces abound when you can get into an event for free.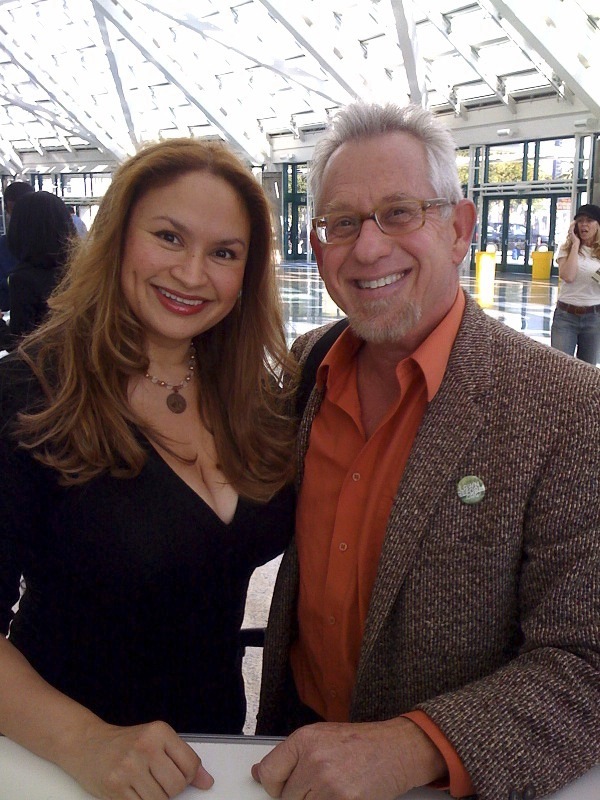 Shirley & Christy Wilhelmi, founder of Garden Nerd
(someone's staring over her shoulder.
One of ECO-LogicalART's creations used as a backdrop
for guest speakers
There were only a handful of landscape and garden exhibitors sprinkled among the expected plug-in cars, solar collectors and gray water systems. Interesting as these were, I had just as much fun pondering how broadly some products think they can stretch "green" to include dog training lessons, mystical energy spheres and a gizmo that bills itself as "the world's thinnest wallet."
But more about the fringes of "greenness", and an uplifting keynote talk by Ed Begley Jr., in my next blog post.
Urban Farming In A Busy World
After Shirley whipped out her handy Garden World Report video camera, I interviewed Christy Wilhelmi, founder of Garden Nerd.  We met a year ago on Twitter, but this was the first time I got a hug! Garden Nerd is an LA-area company that designs and builds custom food gardens, offers classes in home farming and provides consulting services for do-it-yourselfers.
I'm particularly partial to Garden Nerd's clever logo, a glasses-wearing carrot. Christy's path to gardening is a delightful story, starting in an upstairs apartment using containers on window sills, behind the couch and the living room floor. If she can do it, so can you.
Opportunity Knocks (On The Roof)
I love when an idea literally falls from the sky and someone is there with the smarts to pick it up and run with it. Peter Schulberg did just that after hearing a huge thump on the roof of his Melrose Avenue art studio. A sign company had just dropped a 14 ft. by 50 ft. vinyl billboard onto his roof.
Peter figured out how to put that giant sheet back into use, rather than burden more landfill space and then formed a non-profit called ECO-LogicalART that reuses the old sign materials. They offer the vinyl to artists who create original art for temporary displays on vacant billboards. That's a win for the environment, a win for starving artists and another win for drivers tired of beer ads while waiting for the light to change.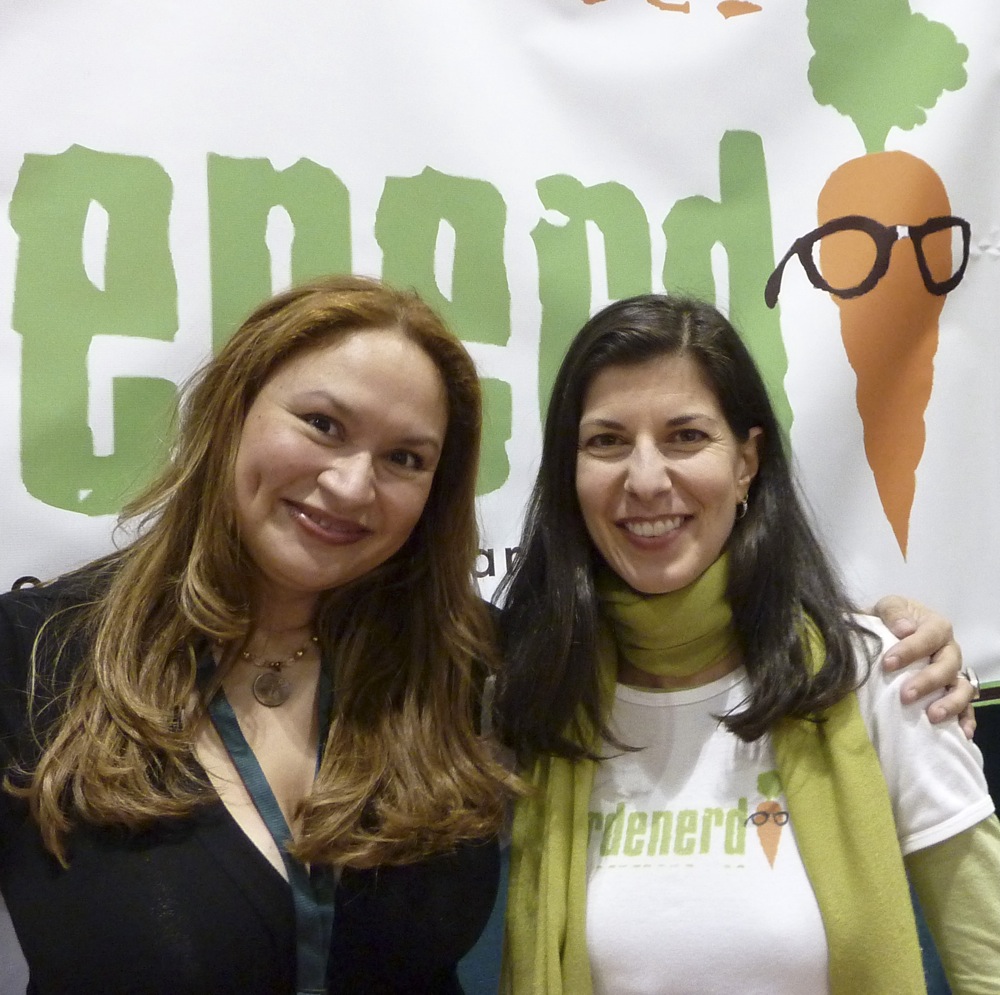 After five hours of visiting booths, listening to speakers and hunting in vain for meal-size food samples we were tired and hungry. We headed to LA's Little Tokyo district for sushi, sukiyaki and other delectables. Evening fell on Los Angeles and the lights cast their magic on an otherwise unremarkable downtown.
On the ride home we compared notes about our favorite movies and TV shows. High on both of our lists were the now-defunct Deadwood and Six Feet Under series. And I think I've convinced Shirley to rent the first season of Dexter.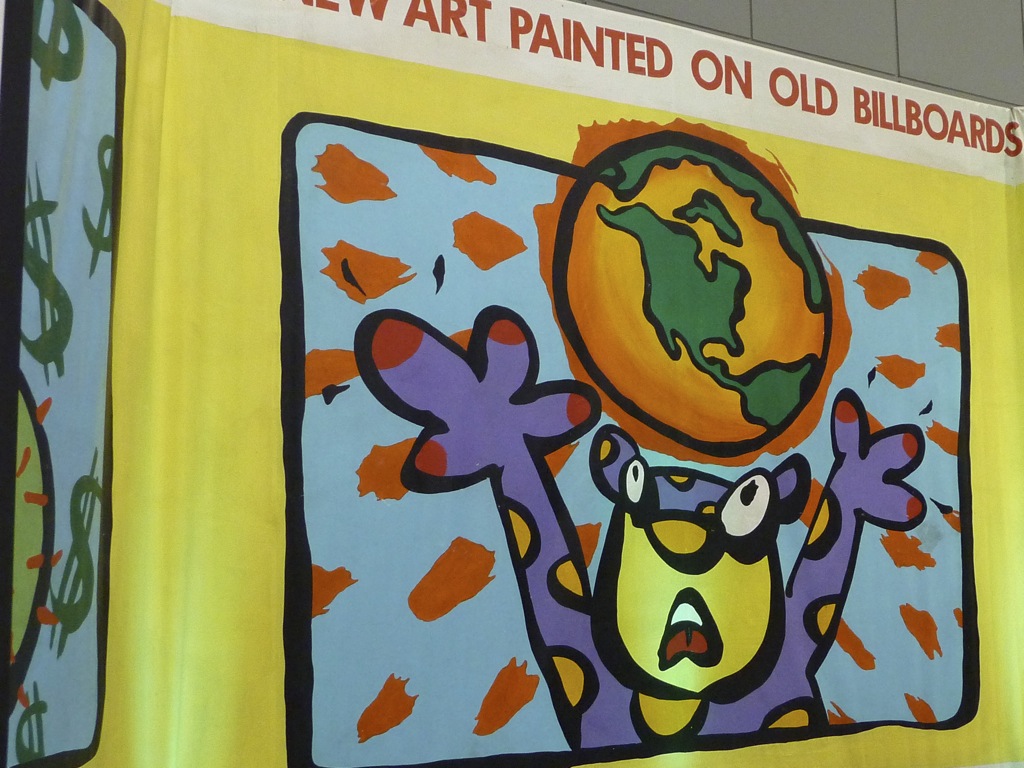 "What does Dexter have to do with gardens?" you ask.
Bloodmeal, of course.