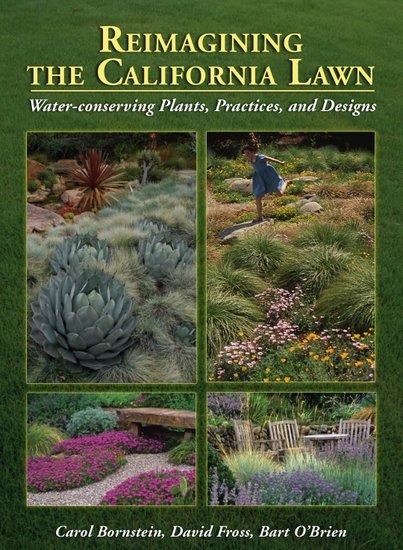 Here in my sleepy little beach town of Santa Barbara (where Kim Kardashian had a sleepy little multimillion dollar wedding) I write a bi-weekly blog for Edhat.com. It's a great website known for alternative community news, contests, trivia, mailbag, and quirky essays. (I do some of the quirking.)
So it makes sense that I reviewed Reimagining the California Lawn: Water-conserving Plants, Practices, and Designs there a few weeks ago, stimulating lots of enthusiastic comments from green-minded readers.
The Rationale
But here at my Fine Gardening blog, where most readers don't wear flip-flops and pick fresh lemons from their kitchen window in January, it wouldn't have occurred to me to bring this regionally important book to national attention. It's not like loyal readers in Platteville, Wisconsin, are going to grow Bougainvillea 'California Gold' on a patio trellis, then take the sprawling, spiny monster indoors to overwinter it on a sunny window sill. But here I am, writing about the book anyway.
I was invited to guest-post at this month's mass blog hosted by the Garden Designers Roundtable, a panel of professional landscape and garden designers blogging monthly on topics related to design. And this month the topic is one near and dear to my heart (and other internal organs): lawn alternatives.
Sure, Reimagining's plant recommendations might be specific to California gardeners (and probably crosses over to bordering states), but what it says about the reasons for reimagining the role of lawns in our landscapes should be food for thought for anyone concerned about the uncertainty of changing global weather patterns. Droughts this summer have been catastrophic. Texas has received only 6.5 of its usual 34 inches of rain; in 2008 the news was filled with stories about Atlanta's municipal drinking water supply drying up. Who's next?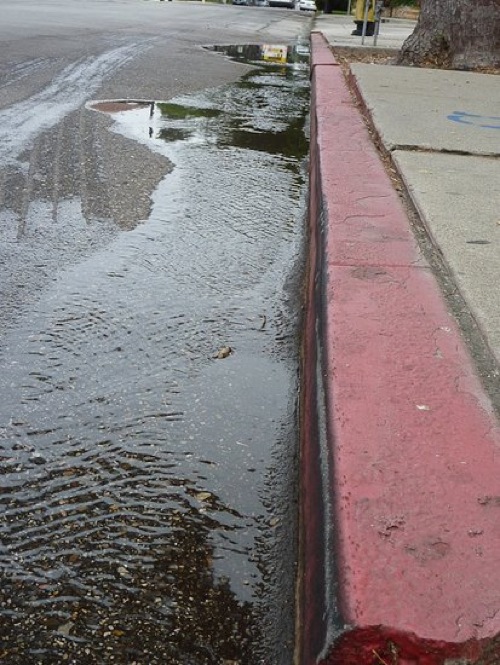 Is this where we want our potable water going?
There are a host of timely environmental issues wrapped into our fixation with lawns, and I won't go into all of them here. My biggest beef is with water use. Clean, safe drinking water is indispensible for life. Applying it to lawns makes no sense, unless it's an essential component of a landscape. My usual definition for essential means recreational use: playing fetch with the kids and teaching your dog lacrosse – and on the grand scale of things, I'm even questioning how essential backyard recreation is. However, my definition does not include a decorative green bauble or a place to walk your mower while sucking hydrocarbon fumes.
So consider the ideas Carol and company offer, and how they apply in almost any garden climate, perpetually parched or reliably rainy.
About the Book
The introduction offers a range of motivational arguments for doing away with conventional lawns, from the altruistic rationale of practicing enlightened environmental stewardship and resource conservation, to the purely pocketbook-driven incentive of lowering the water bill.
The authors felt it was important to focus not just on specific low-water-using plants. Chapter one, offers seven design approaches:
Greenswards, the most lawn-like substitute, tolerates foot-traffic.
Meadows, a bit lumpier than a typical lawn, are described as "ablaze with wildflowers, graced by swaying grasses, and filled with butterflies, birds, and beneficial insects."
Rock gardens, using gravel, boulders, cobbles, pebbles and other mineral-base materials with plants, in contemporary or classic stylings.
Succulent gardens, desirable for their sculptural appearance, as well as being extremely drought-tolerant and safer in high-fire areas. (You can scratch this one off your list if you're in a cold climate.)
Carpet and tapestry gardens, a "flexible category" appealing to "gardeners with diverse goals for their landscapes."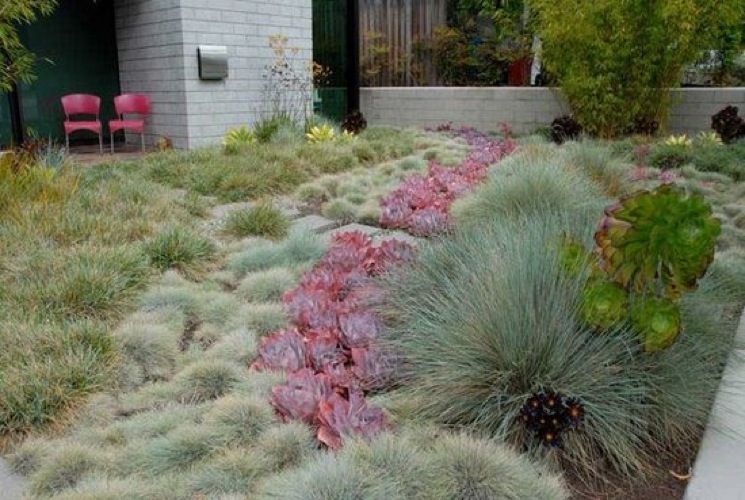 Lawn substitute:
Blue moor grass, blue fescue, and blue oat grass are paired with
succulents in a flowing design by Ventura landscape architect

Jack Keisel
Kitchen gardens, which require more irrigation, but repay gardeners with homegrown produce, just-picked freshness, and peace of mind.
Roof gardens, or green roofs, a growing trend providing insulation, increased biodiversity, and addressing a host of environmental issues related to urban development.
The real meat of this book is the detailed plant encyclopedia filled with hundreds of plants appropriate for gardens well beyond the Golden State's boundaries. The authors are tops in the horticulture and native plant world and write from decades of practical, hands-on knowledge.
"The book is written not just for people who already appreciate the importance of creating California-appropriate gardens," Carol Bornstein said, in a recent phone interview. "We also wrote the book to inspire those who are warming up to the idea."
And people are warming up to the idea of replacing their lawns, as evidenced by the continuing emergence of groups like the Lawn Reform Coalition, (I'm a founding member and announced our launch here at FG a few years ago), and Paul Tukey's crusade, SafeLawns.org.
I'm happy and proud to be part of this dedicated and resourceful group of writers and communicators helping to quiet the siren song of the "perfect" lawn. I hope you'll take the time to share your thoughts and to read what the rest of this month's Garden Design Roundtable has to share.
---
Here's what the rest of the Garden Design Roundtable and Lawn Reform Coalition bloggers are up to…
Susan Harris – Garden Rant
From lawn to Sedum, clover, bare soil and erosion!
Saxon Holt – Gardening Gone Wild : Novato, CA
Lawn Reform Fun
Gardener Susan's Blog : Takoma, MD
Trying out groundcovers as lawn replacements
Evelyn Hadden – LawnReform.org : St. Paul, MN
Ditching the Lawn
Ginny Stibolt – Florida Native Plant Society : Green Cove Springs, FL
Sunshine Mimosa, a Lawn Alternative for Florida
Tara Dillard – Vanishing Threshold: Garden Life Home : Atlanta, GA
Lawns
Susan Morrison : Blue Planet Garden Blog : East Bay, CA
The History of the American Lawn
Shirley Bovshow : Eden Makers : Los Angeles, CA
No Lawn Backyard Makeover: New Outdoor Living Areas
Scott Hokunson : Blue Heron Landscapes : Granby, CT
Lawn Alternatives!
Rochelle Greayer : Studio G : Boston, MA
Thyme for Something Different
Rebecca Sweet : Gossip In The Garden : Los Altos, CA
What's Lawn Doing In Hell
Pam Penick : Digging : Austin, TX
Lawn Alternative (and a personal announcement)
Lesley Hegarty & Robert Webber : Hegarty Webber Partnership : Bristol, UK
Lawn Alternatives
Laura Livengood Schaub : Interleafings : San Jose, CA
Lawn Alternative
Jocelyn Chilvers : The Art Garden : Denver, CO
Landscaping Without a Lawn: Helllllllooooooo, It's Called A Garden
Ivette Soler : The Germinatrix : Los Angeles, CA
Lawn is Dumb and Boring
Genevieve Schmidt : North Coast Gardening : Arcata, CA
Lawn Hacks for Organic Gardening Geeks
Douglas Owens-Pike : Energyscapes : Minneapolis, MN
Lawn Alternatives
Debbie Roberts : A Garden of Possibilities : Stamford, CT
A Connecticut Yankee's Guide to Socially Acceptable Lawn Alternatives