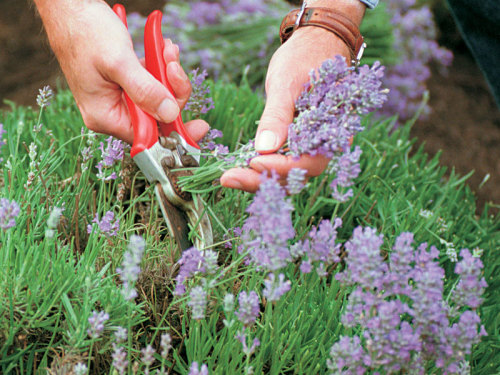 by Susan Belsinger
June 1999
from issue #21
The perfumed scent and taste of lavender can easily be overdone in recipes, so use lavender in small amounts. In fact, the first time I began experimenting with lavender in recipes, I scared off my husband.
I used too much in a crème anglaise (12 spikes to 2 cups of cream). He was suspicious when he sat down and sniffed it, and after one taste he said it was like eating perfume. When I remade the recipe with half the amount of lavender, I was pleased with the results, but my husband wouldn't try it. However, when my food photographer friend tasted it with fresh berries, he proclaimed it one of the most delicious, sensuous desserts he'd ever eaten! Moral of this story: Use lavender judiciously.
The perfumed flavor of lavender marries well with desserts. I like it with many fresh fruits, from berries and summer stone fruits (Peach Crisp with Lavender) to lemons. It lends a nice touch to herb cheese spreads. It's easily infused to make sorbets, ice creams, and cream sauces. It's delightful in cookies, cakes, breads, and scones. It even works with chocolate.
Last Thanksgiving I made sweet potatoes with lavender butter—with unusual and delicious results. Lavender butter is great on bread and works well with the squash family and some green vegetables.
As with any edible flower, harvest lavender at peak bloom for the best flavor. There should be a few closed buds, but most of the flowers should be open. To prepare lavender spikes, cut and then swish them around in a bowl of cool water to remove any dirt or bugs. Gently pat them dry. Remove any brown or wilted flowers (corollas) and discard. Hold the end of the lavender stem firmly between the thumb and forefinger of one hand. Run down the stem with
the thumb and forefinger of the other hand, and gently strip off the calyxes and corollas.
You can also use dried calyxes (be sure they are organic), but you won't have the same wonderful bouquet. Just remember, the ratio for substituting dried for fresh is about 1 to 3. In other words, if the recipe calls for 3 teaspoons of fresh flowers, use just 1 teaspoon dried.
I use the blossoms of all the English lavenders I have grown. However, I avoid the lavandins. They have more camphor and eucalyptol, which could be toxic in larger amounts. There is no particular variety I prefer in the kitchen; they all have a strong perfume and taste, though they vary slightly. If you grow several lavender varieties, you can have blooms in your garden and your kitchen from the beginning of summer into the fall.