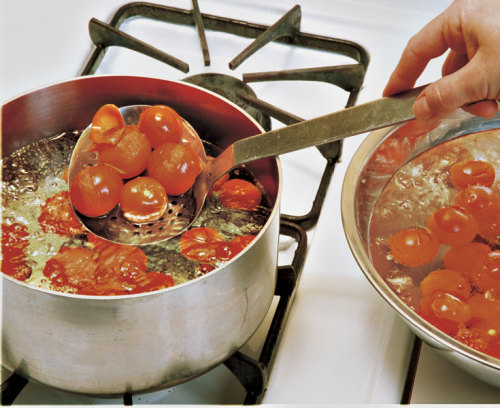 by John Krinsky
August 1999
from issue #22
As a quick snack, cherry tomatoes are one of the great pleasures of the garden. Pluck one off the vine and pop it in your mouth and you've got a warm, sweet morsel that bursts with flavor. Because cherry tomato plants are so prolific, you'll have more than enough to eat right off the vine. In case they do make it into your kitchen, you'll find their size makes them ideal for stuffing as an elegant hors d'oeuvre, stringing on kebabs, or roasting for sauce.
Stuffing cherry tomatoes works best with the larger, fleshier varieties. Use a sharp melon baller or grapefruit spoon to remove the core and seeds, or gently squeeze them out with your fingers and the back of a spoon. Be careful not to tear the walls of the tomato.
Because cherry tomatoes are delicate, you should not plan on cutting them more than once or twice before dressing or cooking them, and never with anything but a very sharp knife. Otherwise they collapse, losing their appealing shape.
Peeling cherry tomatoes is a simple operation that allows them to soak up dressings and marinades without giving up their internal juiciness (as they would if sliced). Peeling works best with larger varieties. Do not be put off by this extra step—it is easy and quickly done, as long as you use firm, large-sized cherry tomatoes.
Fill a large bowl with ice water. In a saucepan, bring 1 quart of salted water to a boil. Score the tomatoes and drop them into the boiling water for 15 to 20 seconds. Remove them and plunge them into the ice water. This will keep them from cooking. From the stem end, peel a small piece of skin off the tomato. Squeeze gently and the skins should now slide off the tomatoes easily.