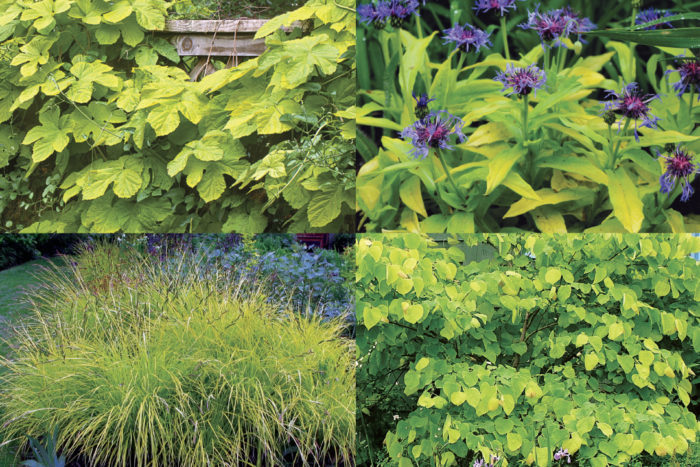 Somewhere between green and yellow, chartreuse conjures up various fruity words, like "lime," "lemon," "pear," and "pistachio." In the garden, it once hovered at the fringes of acceptance, castigated by many for being too loud, bright, and obnoxious to employ in otherwise proper gardens. But in the modern garden, chartreuse has found its own—namely, as the symbol of ultimate trendiness.
I've loved chartreuse for as long as I can remember. Whether employed as a neutral backdrop against which drama unfolds or as a highlight to a monochromatic swatch, chartreuse crops up in virtually every design I do often without intention. Critics of chartreuse often say that the leaves of these plants look chlorotic or unhealthy, and some species and varieties certainly fit that description. But a vast number of chartreuse plants look glorious in all seasons and deserve headliner status. If your garden needs some pizzazz, consider planting a few of my favorites.
Full-moon maple is an ethereal beauty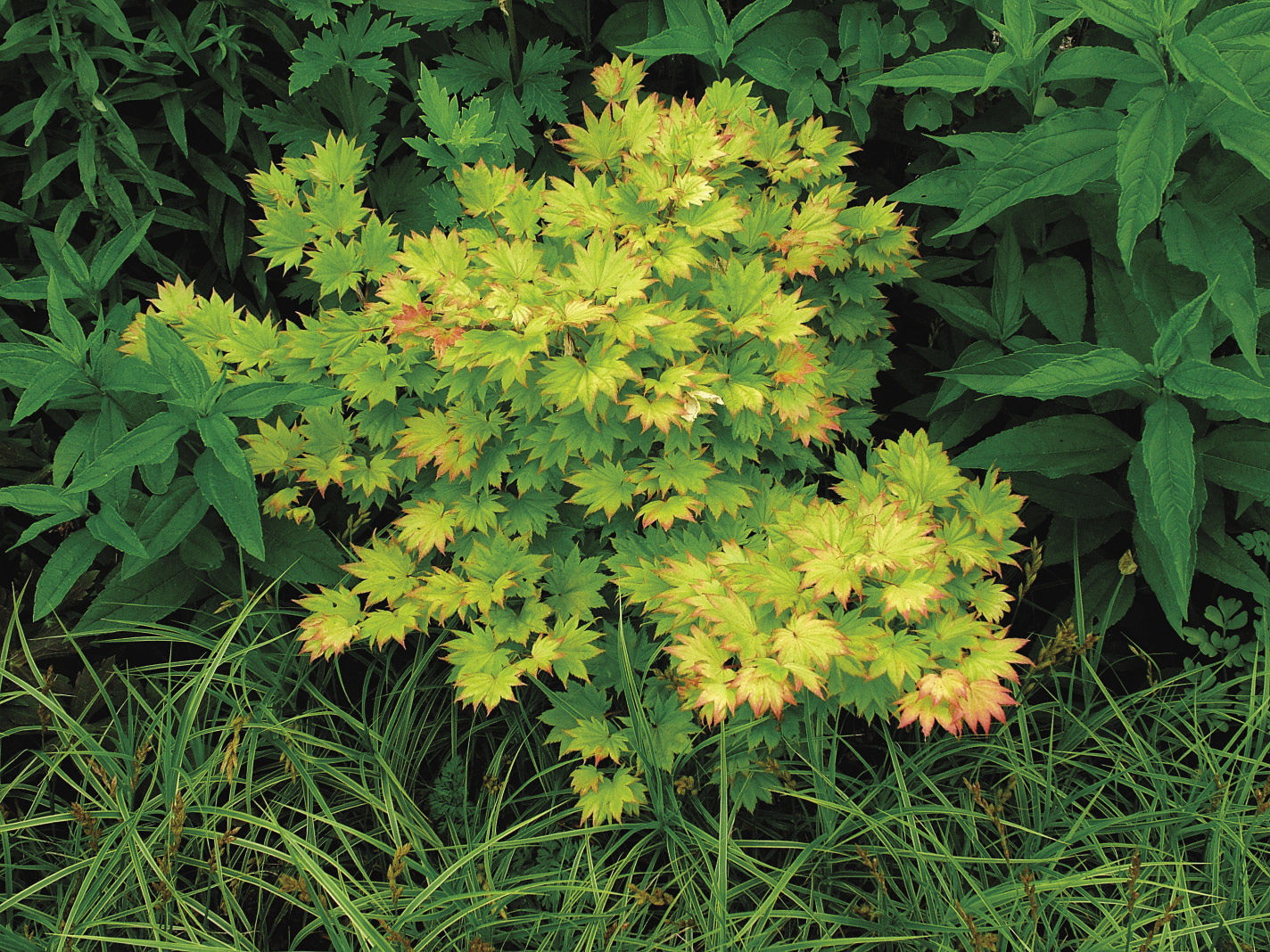 Acer shirasawanum

'Aureum'
I swooned when I walked under the luminous branches of full-moon maple for the first time, falling in love faster than the characters of a fairy tale. This maple prefers a microclimate free from the onslaught of wind or other harsh conditions. Plant it in too much sun and the leaves will fry—a general rule to bear in mind for any chartreuse plant, though there certainly are exceptions. Next to a patio or hovering over a shady rock garden, full-moon maple grows into the perfect canopy, complete with moonlit mood lighting.
Zones: 5–7
Size: 20 to 30 feet tall and wide
Conditions: Partial shade; moist, well-drained, acidic soil
The flowers of 'Dart's Gold' ninebark are a subtle surprise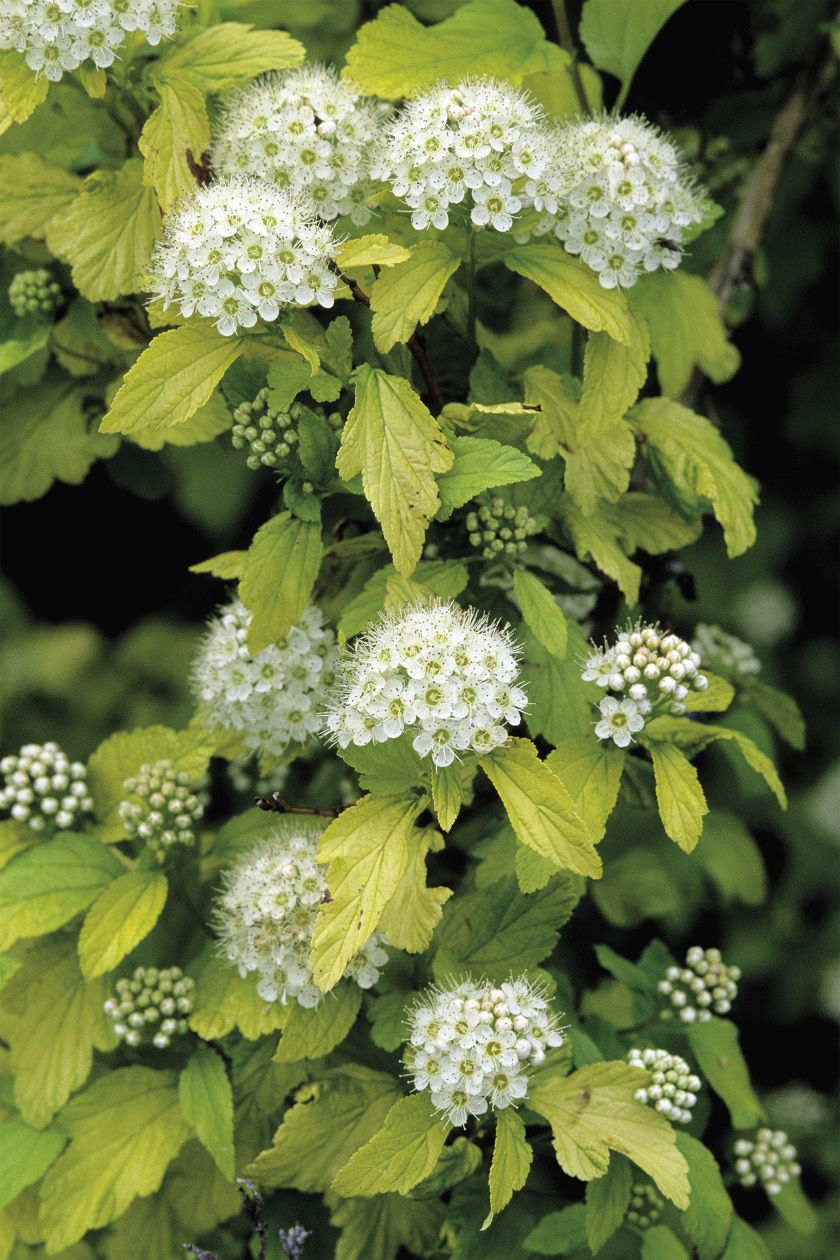 Physocarpus opulifolius

'Dart's Gold'
'Dart's Gold' ninebark boasts foliage color suffused in tangy lime to sparkling gold, and either incarnation suits my tastes. Brooches of white flowers frost its semi-arching stems in early summer, a tastefully subtle contrast to the otherwise outlandish foliage. Like most ninebarks, 'Dart's Gold' thrives in a range of soils, handling drought without shedding a leaf. The namesake bark, however, peeling and flaking as it does, lasts long after the foliage that earns the shrub its place in this profile—a gentle reminder of the necessity of plants that look good in all four seasons.
Zones: 3–8
Size: Up to 6 feet tall and 8 feet wide
Conditions: Full sun to partial shade; moist, fertile, acidic, well-drained soil
'Hearts of Gold' redbud is a bright twist on a beloved native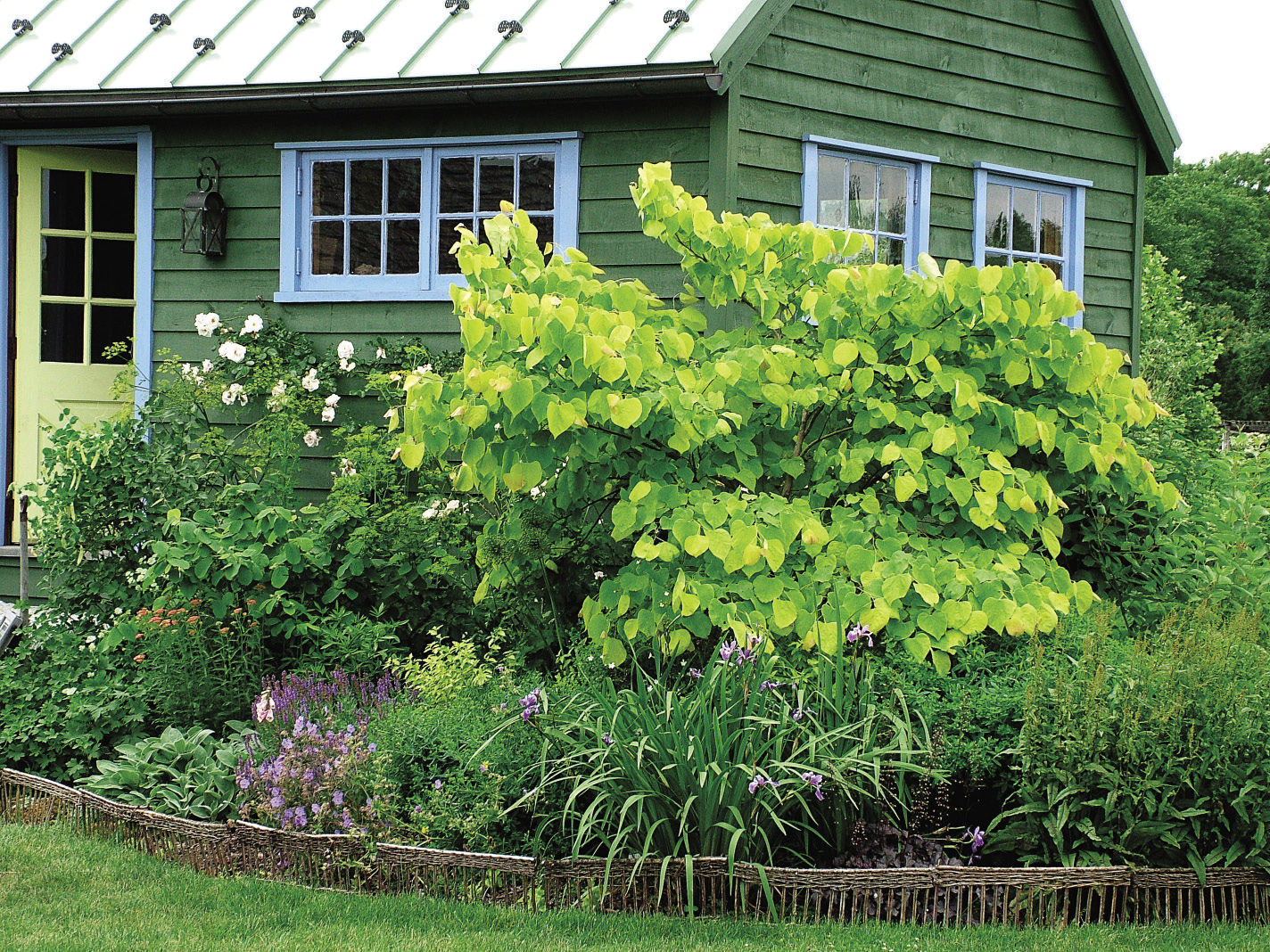 Cercis canadensis

'Hearts of Gold'
Hardy, durable, and affably charming, redbuds have long found favor in landscapes as red-pink–flowered harbingers of the gardening season. Beginning gardeners quickly learn to recognize their heart-shaped leaves, and now one of America's most popular shade-tolerant small trees has gone uptown for a new chartreuse do. 'Hearts of Gold' spells it out in fewer words than I could—glowing leaves drip from an orb-shaped crown; it's a proverbial garden lantern. Gardeners in northern climates with a penchant for experimentation should order a few plants because hardiness is largely untested on many of these new, head-turning redbuds.
Zones: 5–9
Size: Up to 15 feet tall and 18 feet wide
Conditions: Full sun to partial shade; moist, fertile, well-drained soil
'Aztec Gold' speedwell is a cheery ground cover
Veronica prostrata

'Aztec Gold'
Ground-cover speedwells hold a special place in my heart, matting down at the feet of taller companions for a colorfully enlightening effect. 'Aztec Gold' has played such a role in my garden for years, gracing the in-betweens of dark-leaved sedums, like 'Purple Emperor' and 'Black Jack', and complementing the spiky foliage of miniature bearded irises. Classically composed with bright blue flowers against golden-tinged-green foliage, 'Aztec Gold' forms an ample mat without running around or flopping into things it shouldn't. Deadhead after its spring flush of flowers for a repeat performance later in fall. Enjoy the combination while it lasts, and in the absence of flowers, relish its fine habit and statement-making foliage.
Zones: 5–8
Size: 6 inches tall and 18 inches wide
Conditions: Full sun to partial shade; moist, fertile, well-drained soil
'Isla Gold' tansy is winsome and well behaved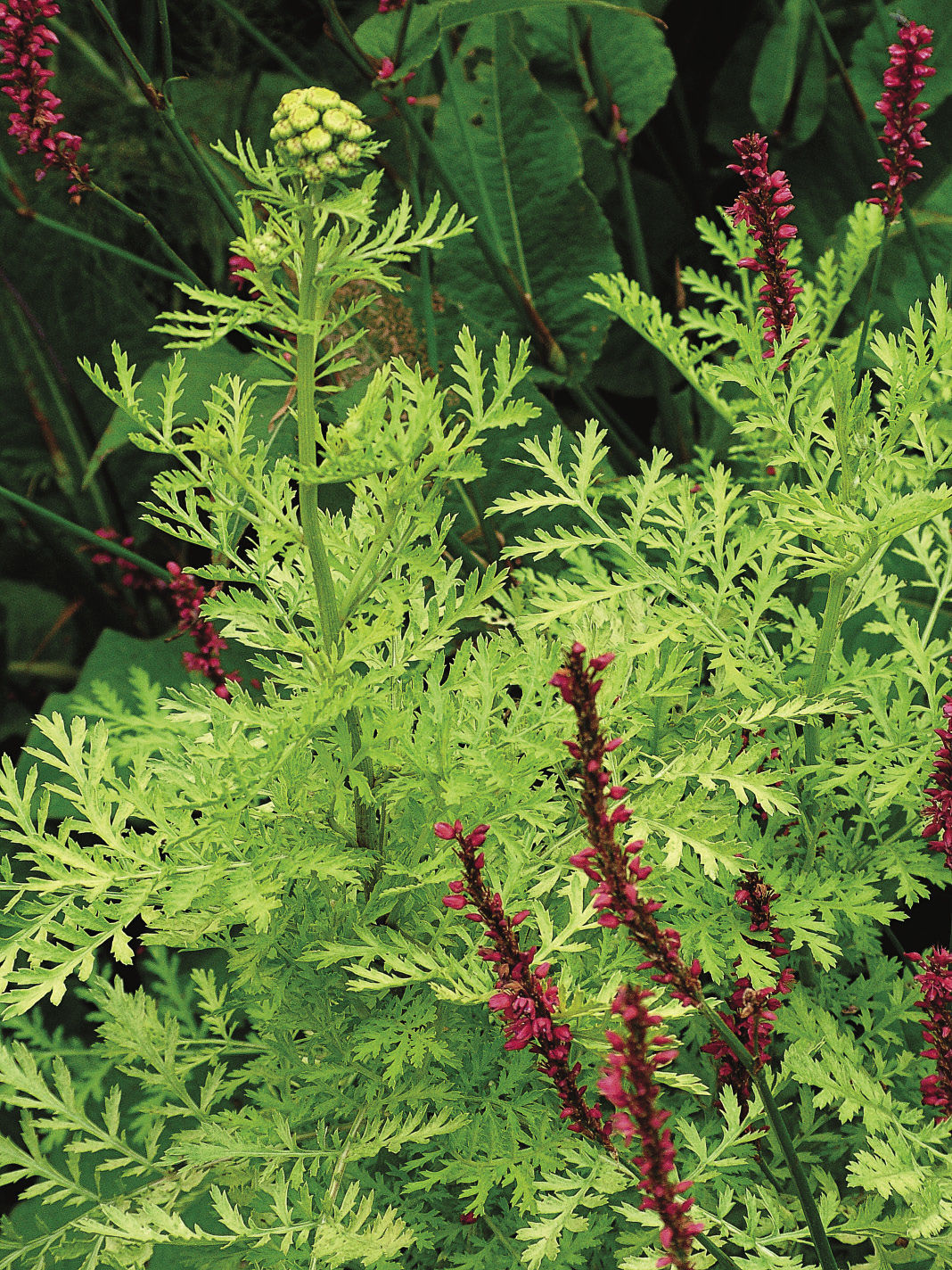 Tanacetum vulgare

'Isla Gold'
My earliest memories of growing tansy—the regular version—are a little painful. The rhizomes never seemed to end, chasing me around the garden as if the plant were in hot pursuit. This delightfully well-mannered alternative to otherwise "just-green" tansy seems to find suitable garden homes from north to south, not minding humidity or cold in either borough. As variegation often does, the color of 'Isla Gold' slows down the pace of rampancy to something a bit tamer. Yellow flowers grace this deer-resistant, drought-tolerant perennial in late summer and fall.
Zones: 4–8
Size: 2 feet tall and wide
Conditions: Full sun; well-drained soil
Fiona Sunrise
™

jasmine enchants with foliage and flowers
Jasminum officinale

'Frojas'
This golden version of common jasmine thrives in humid summers without missing a beat and is a must-have vine for southern gardeners. Unlike many other plants on my list, I always stop by Fiona Sunrise™ jasmine for two reasons: its foliage, of course, and its tubular white flowers, whose fragrance is the stuff of dreams, emanating in heady clouds throughout the summer. Friable soils with plenty of organic matter encourage more growth and more stems. For gardeners in zones colder than Zone 7, a container garden is the next best choice, from which it will happily spill onto the ground and roam.
Zones: 7–9
Size: Scrambling to 10 feet
Conditions: Full sun to partial shade; fertile, well-drained soil
'Gold Bullion' bachelor's buttons might flower again in fall
Centaurea montana

'Gold Bullion'
Some gardeners turn up their noses at bachelor's buttons, brushing it aside as commonplace or weedy, clearly dismissing its value as a care-free filler in the waking days of summer. I first grew 'Gold Bullion' bachelor's buttons several years ago for its eye-grabbing golden chartreuse foliage. Though its vivid blue flowers appear in late spring and occasionally again in fall, 'Gold Bullion' shows off well beyond spring with its bright leaves. Deadheading will often stimulate the late flush of flowers and will certainly improve the aesthetics of your clump.
Zones: 3–9
Size: 18 inches tall and 2 feet wide
Conditions: Full sun to partial shade; moist, well-drained soil
Bowles' golden sedge is a slow and steady fountain of color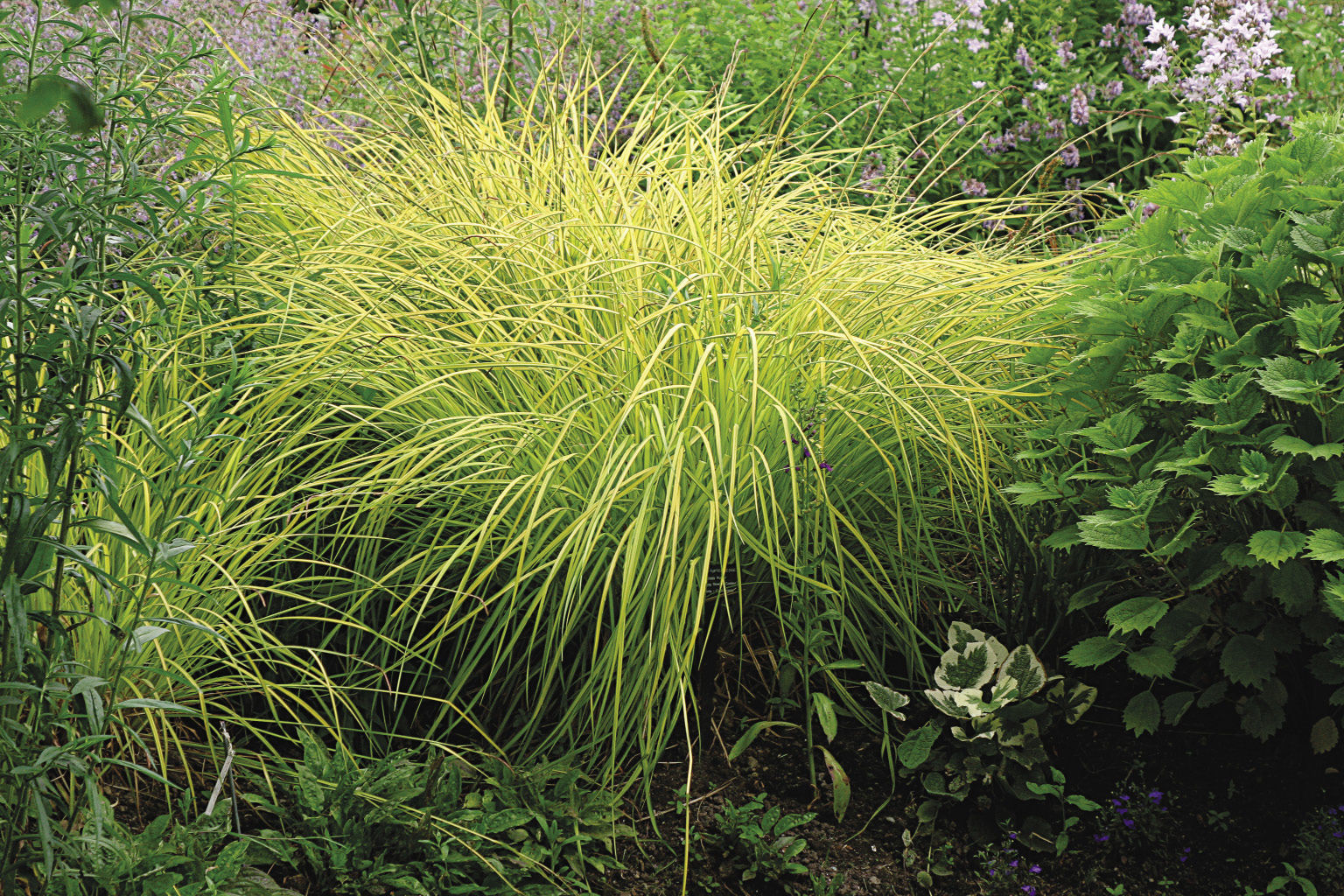 Carex elata

'Aurea'
Nursery-owner friends of mine have long bemoaned the mild-mannered growth pace of this delightfully audacious sedge. While I embrace rambunctious plants and their seedy personalities, plants with poise easily earn my respect for the patience they instill in overzealous plant lovers, like me. As far as shade-loving chartreuse divas go, Bowles' golden sedge could be planted every 2 feet if the effect wasn't ultimately just a little nauseating. Love it as I do, a little goes a long way, from an aesthetic perspective. Use it boldly, but don't abuse its panache.
Zones: 5–9
Size: Up to 2 feet tall and 18 inches wide
Conditions: Full sun to partial shade; fertile, moist soil
Golden hops will brighten your garden and your senses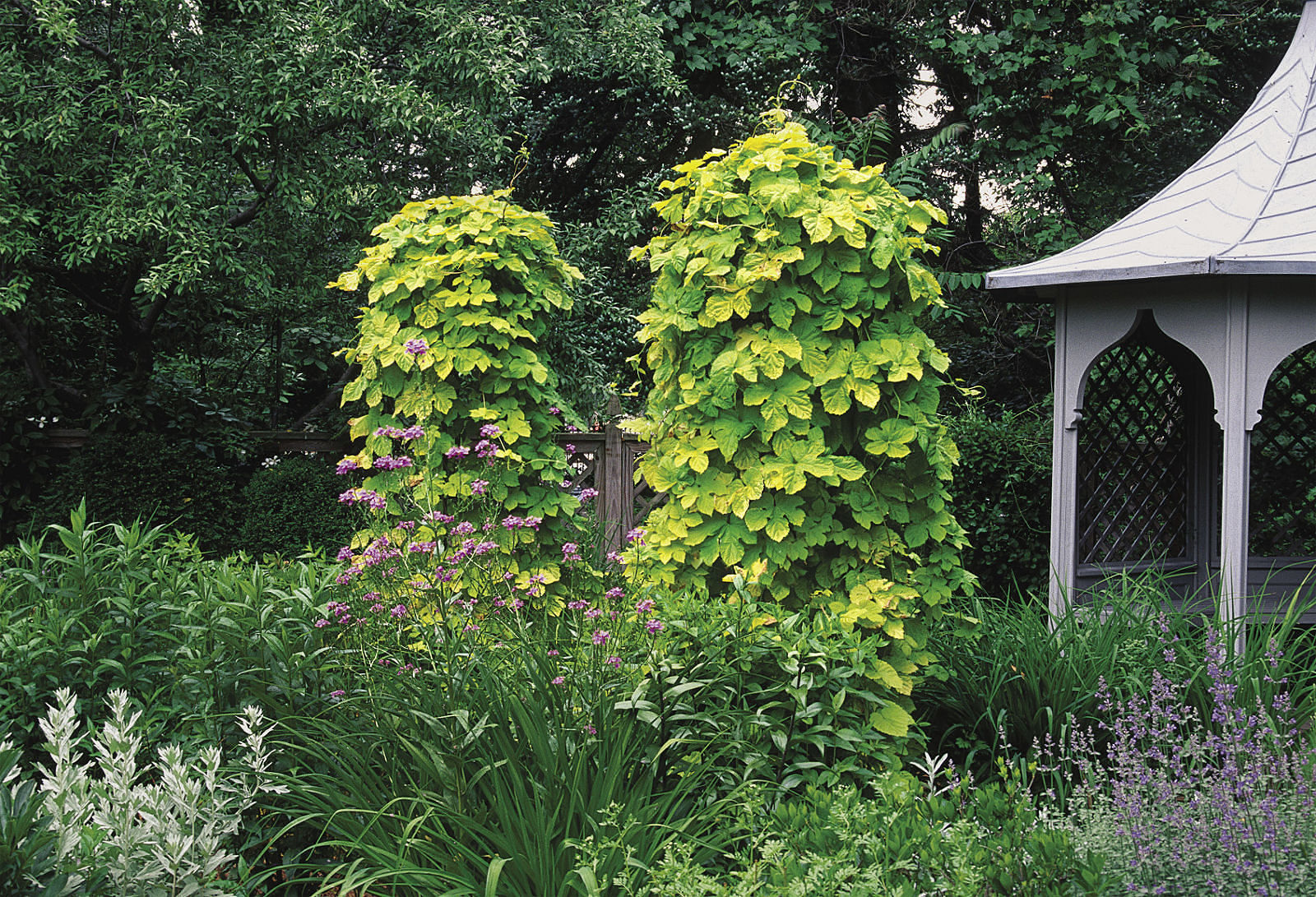 Humulus lupulus

'Aureus'
In the chartreuse-laden garden of my dreams, I intend to let liberal-minded vines, like golden hops, tromp over an old stump or up the side of a garden shed, beaming glints of lemon and lime. This superhardy, ultravigorous vine grows easily in just about any soil with decent drainage in full sun to partial shade, though southern gardeners should avoid planting it in direct sunlight or it will burn. Even with this yellow version, you'll catch wafts of the hops' pungent fragrance.
Zones: 4–8
Size: Climbing to 20 feet
Conditions: Full sun to partial shade; moist, fertile, well-drained soil
---
As chartreuse gets brighter, it has different effects
The word "chartreuse" is the trademark of a pale yellow-green liqueur made exclusively by secluded French monks, but the color that takes its name from this liqueur has come a long way from the cloisters. In plain English, it is a lively yellow-green with the emphasis on yellow, which gives chartreuse its power to attract attention. All greens are mixtures of yellow and blue, but the cool blue-greens of chartreuse recede while the warm yellow-greens flaunt their brightness. The more yellow that chartreuse contains, the more eye-catching and dramatic the contrast with darker greens, blue-greens, purples, and dark reds.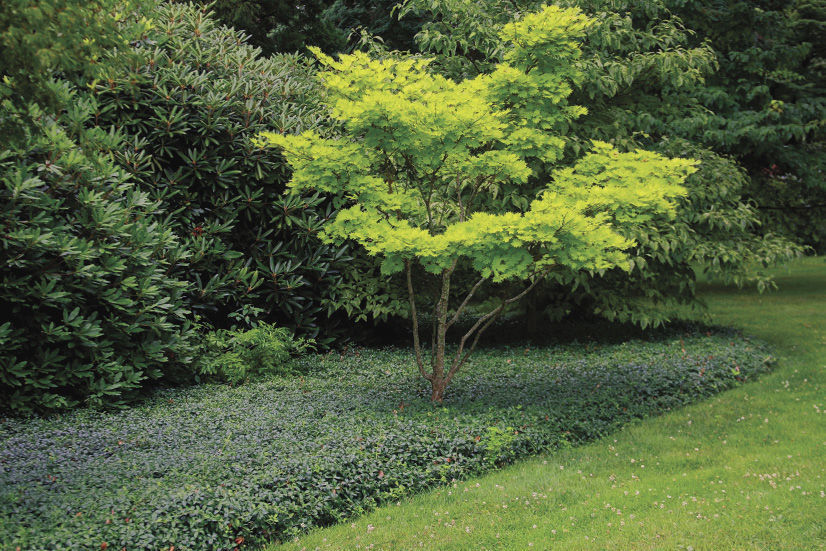 1. Relieves a sea of green
If you eliminated the contrast of the full-moon maple's yellow-green foliage with the dark bank of rhodo­dendron foliage, this scene would lose its vitality, leaving peaceful but boring stretches of greens that are similar in value.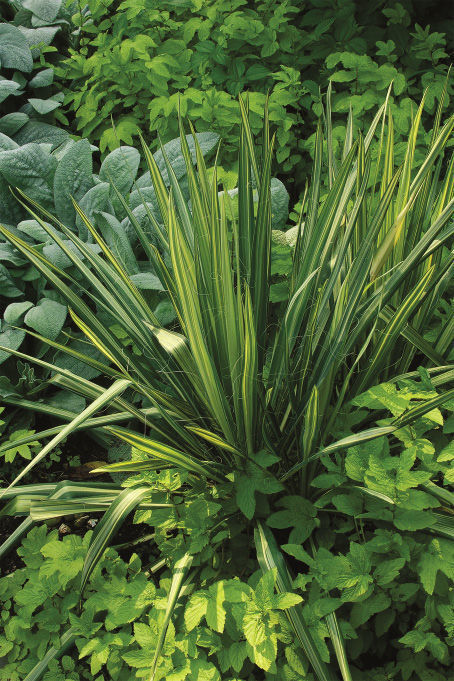 2. Creates subtle contrasts
This plant combination weaves together disparate shapes—spiky, upright yucca and soft mat-forming lambs' ears—with masses of small-leaved foliage plants in restrained shades of yellow-green and blue-green.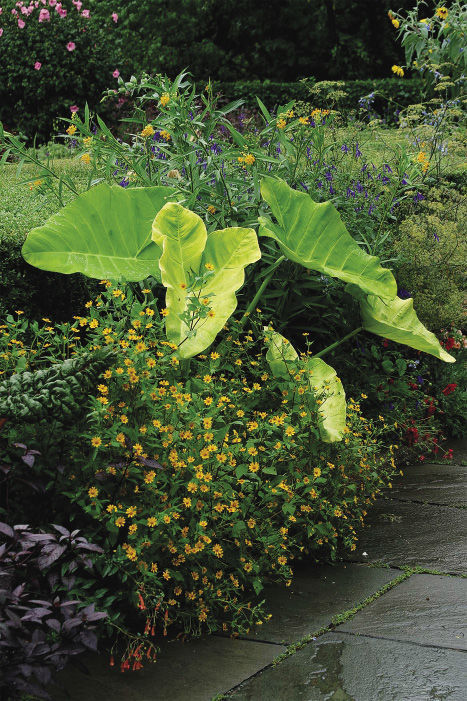 3. Creates an eye-catching focal point
The large, handsome, bright chartreuse leaves of the ele­phant's ear draw the eye like a magnet. And that's what a focal point is supposed to do.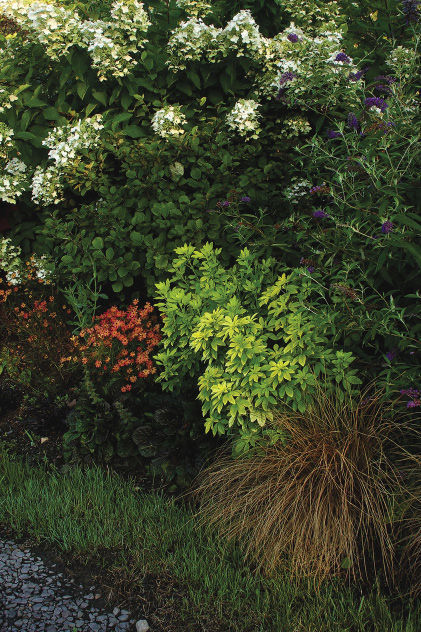 4. Lightens dark corners
Yellow-green leaves break up solid walls of green foliage. In a somber corner of the garden, they can be used to create the effect of shafts of sunlight penetrating a woodland canopy and illuminating the forest floor.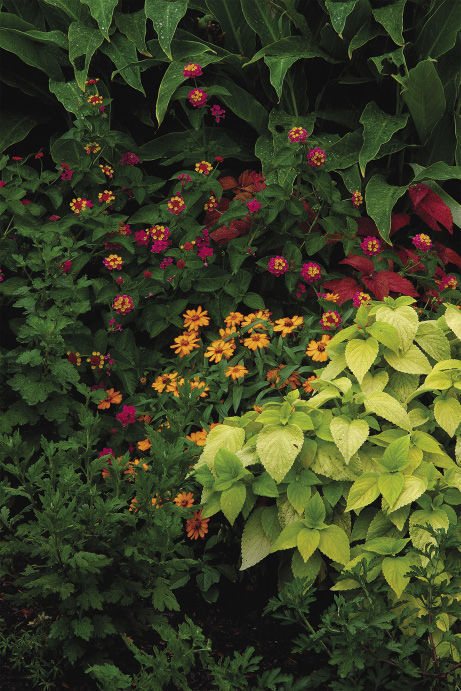 5. Harmonizes with warm colors
The chartreuse leaves of the coleus have a similar value to the yellow zinnias and the tiny touches of yellow in the lantana. Even the reds contain a breath of yellow to make them warm and, thus, harmonious with the chartreuse and the yellows. Likeness is the basis of harmony.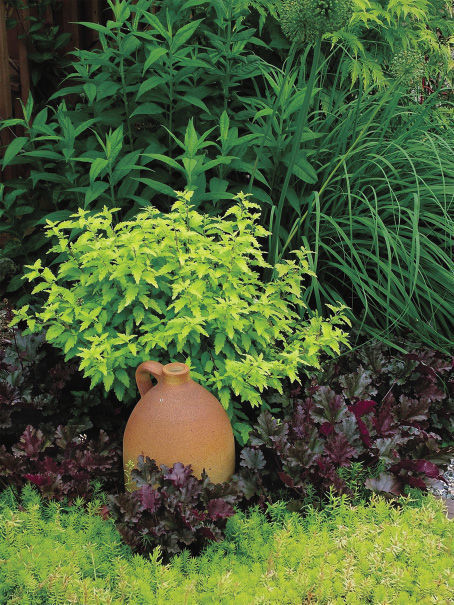 6. Creates dramatic contrasts
This photo would be as effective in black and white as it is in color because the contrast is so great between the sedum's vivid, almost yellow foliage and the heuchera's red-bronze foliage. The contrast with the greens in the background is slightly less theatrical but still substantial.
Sydney Eddison is a longtime Fine Gardening contributor and the author of The Gardener's Color Wheel: A Guide to Using Color in the Garden.
Kelly D. Norris is a horticulturist and the manager of Rainbow Iris Farm in Bedford, Iowa.
Photos: Michelle Gervais; Susan A. Roth; www.millettephotomedia.com; Nancy J. Ondra; Bill Johnson; Jennifer Benner
---
Sources
The following mail-order plant sellers offer the widest selection of the chartreuse-foliaged plants featured:
Bluestone Perennials, Madison, Ohio; 800-852-5243; www.bluestoneperennials.com
Earthly Pursuits, Windsor Mill, Md.; 410-496-2523; www.earthlypursuits.net
Forestfarm, Williams, Ore.; 541-846-7269; www.forestfarm.com
Klehm's Song Sparrow Farm and Nursery, Avalon, Wis.; 800-553-3715; www.songsparrow.com