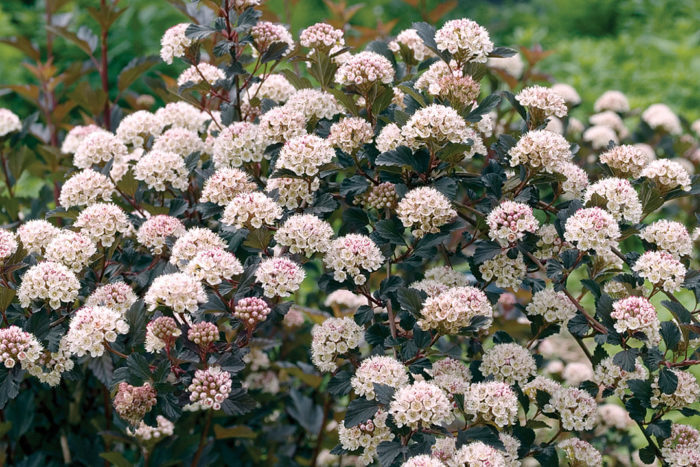 This spring, why not challenge yourself to try something different? Occasionally straying outside your usual repertoire is the only way you'll find new favorites. Whether you're a sucker for dramatic summertime blooms or a pragmatist looking for low-maintenance cultivars, there are reliable, eye-catching plants out there that you've yet to discover.
Of course, popular plants got that way for a reason. New plants need to offer something extra to make them worthwhile. If, for instance, you trade in a flowering cherry tree for an 'Indian Summer' crabapple (Malus 'Indian Summer', USDA Hardiness Zones 4–8), you will get the same dazzling spring blooms plus a brilliant show of orange foliage in fall.
It's also worth mentioning that, despite all their good qualities, some popular plants have serious flaws. Many trees, shrubs, and ground covers that were widely planted decades ago have turned out to be troublemakers over time. (That's right, English ivy, I'm talking about you.) Aggressive roots, invasive tendencies, or messy habits are just a few of the ugly traits that can go undetected until plants mature.
So are you ready to venture outside your comfort zone? Get started by checking out these alternatives. Each offers perks that the more common plants don't.
1. Plant This
A grasslike plant that holds its own in winter
Name: 'Ice Dance' sedge (Carex morrowii 'Ice Dance')
Zones: 5 to 9
Size: 1 foot tall and 3 feet wide
Conditions: Partial shade; moist, well-drained soil
With its clumping shape and finely textured white-and-green leaves, 'Ice Dance' sedge provides many of the same benefits as 'Aureola' Japanese forest grass. It is equally tough and virtually maintenance-free. But best of all, it maintains its color and form year-round.
An uncommon color for shade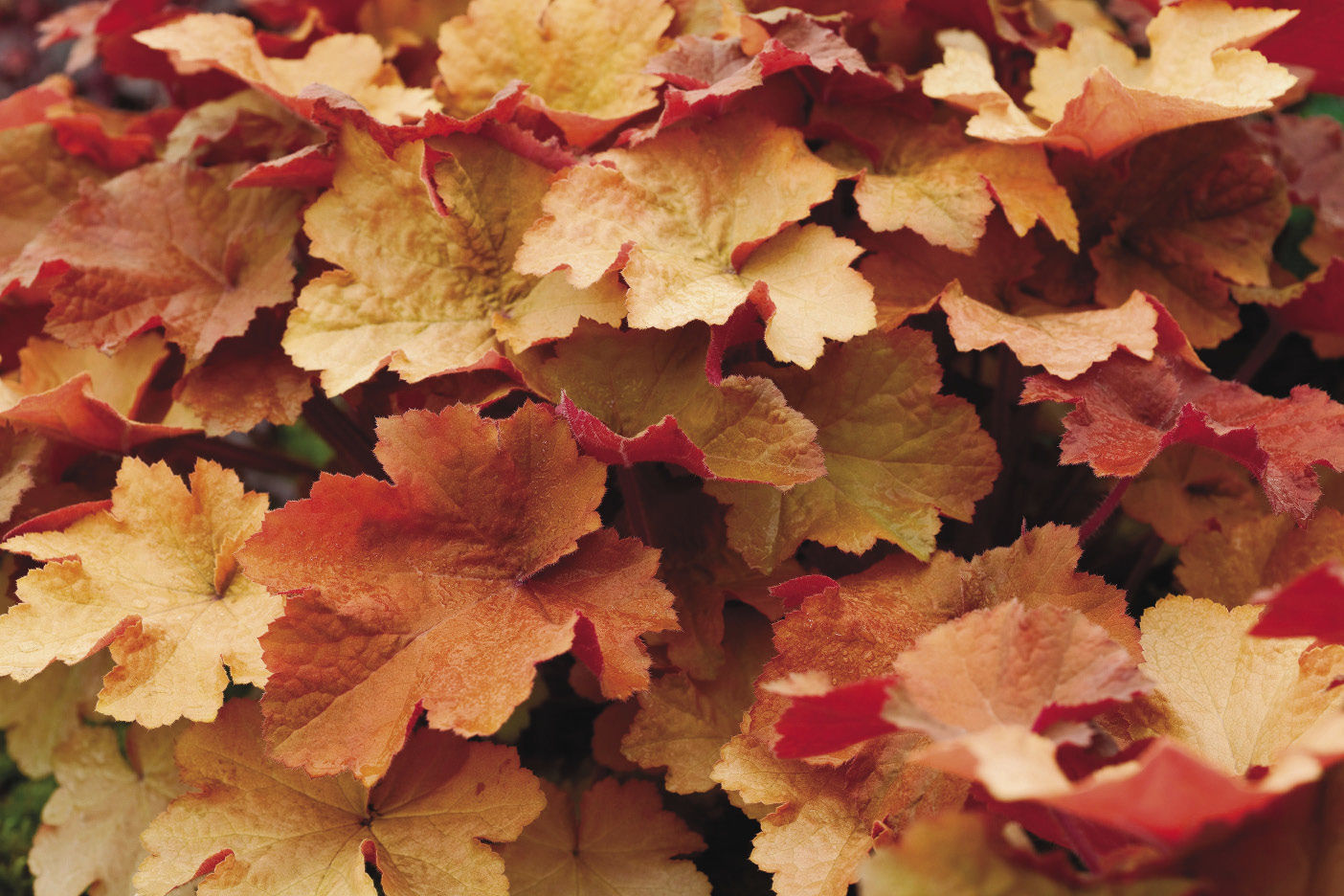 Name: 'Caramel' heuchera (Heuchera 'Caramel')
Zones: 4 to 8
Size: 15 inches tall and 18 inches wide
Conditions: Full sun to partial shade; moist, well-drained soil
In recent years, breeders have introduced a host of brightly hued heucheras, with colors ranging from purple to lime green to pink. The aptly named 'Caramel' is proving to be one of the toughest cultivars. It is disease resistant, evergreen in mild climates, and a faster grower than 'Aureola' Japanese forest grass. This variety's peach-colored leaves, with their purple-pink underside, look radiant in late-afternoon sun and take on a greenish tinge when planted in deep shade. The plant's cream-colored flowers in midsummer are also a favorite with butterflies and hummingbirds.
Not That 
Name: 'Aureola' Japanese forest grass (Hakonechloa macra 'Aureola')
With elegant, chartreuse leaves that bring texture and light to monochromatic shade gardens, it's no wonder this snailproof ornamental grass has become a darling of landscape designers everywhere. But waiting for this grass to fill in—not to mention living with the hole it leaves in the garden after dying back—can send even the most enthusiastic fan in search of an alternative.
2. Plant This
A no-hassle spring bloomer

Name: Washington hawthorn (Crataegus phaenopyrum)
Zones: 4 to 8
Size: 30 feet tall and 30 feet wide
Conditions: Full sun to partial shade; well-drained soil
A tree for all seasons, the Washington hawthorn sports white flowers in late spring, soft yellow-orange foliage in fall, and branches lined with bright red berries in winter. This underappreciated gem is drought tolerant once established and remarkably adaptable to a variety of soil conditions. If its thorny trunk is a problem for you, check out the nearly thornless variety 'Winter King' (C. viridis 'Winter King', Zones 5–7).
The quintessential lawn tree

Name: Sour gum (Nyssa sylvatica)
Zones: 5 to 9
Size: 70 feet tall and 30 feet wide
Conditions: Full sun to partial shade; fertile, moist, well-drained soil
Sour gum sets the autumn landscape ablaze with its orange-red foliage, even in the mildest of climates. It is hardy, well behaved, and disease resistant. The mature tree is drought tolerant and has few surface roots, due to a deep taproot system. Sour gum, as a result, is a particularly good choice for lawns or areas near pavement. This shapely tree, how­ever, requires some patience. It is only a moderately fast grower, and while its autumn show of color is worth the wait, it provides little seasonal interest the rest of the year.
Not That

Name: Bradford pear (Pyrus calleryana 'Bradford')
Beloved for its showy display of early-spring flowers and bright fall color, the fast-growing Bradford pear is the street tree of choice across the country. It, unfortunately, has a dark side, which only reveals itself over time: a short life span, invasive roots, and a suscepti­bility to fire blight.
3. Plant This 
As pretty as it is hardy

Name: 'Henry's Garnet' Virginia sweetspire (Itea virginica 'Henry's Garnet')
Zones: 6 to 9
Size: Up to 10 feet tall and 5 feet wide
Conditions: Full sun to partial shade; moist, slightly acidic soil
The ultimate problem solver, Virginia sweetspire is adaptable to a wide range of conditions, whether your garden is hot or cold, sunny or shady, wet or dry. With its lightly fragrant, fountainlike blooms in summer and red foliage in fall, the refined appearance of 'Henry's Garnet' belies its toughness. Naturally compact in form, it requires minimal maintenance. But use caution when planting in wet or moist locations, where it tends to colonize via suckers.
Birds and butterflies adore this burgundy shrub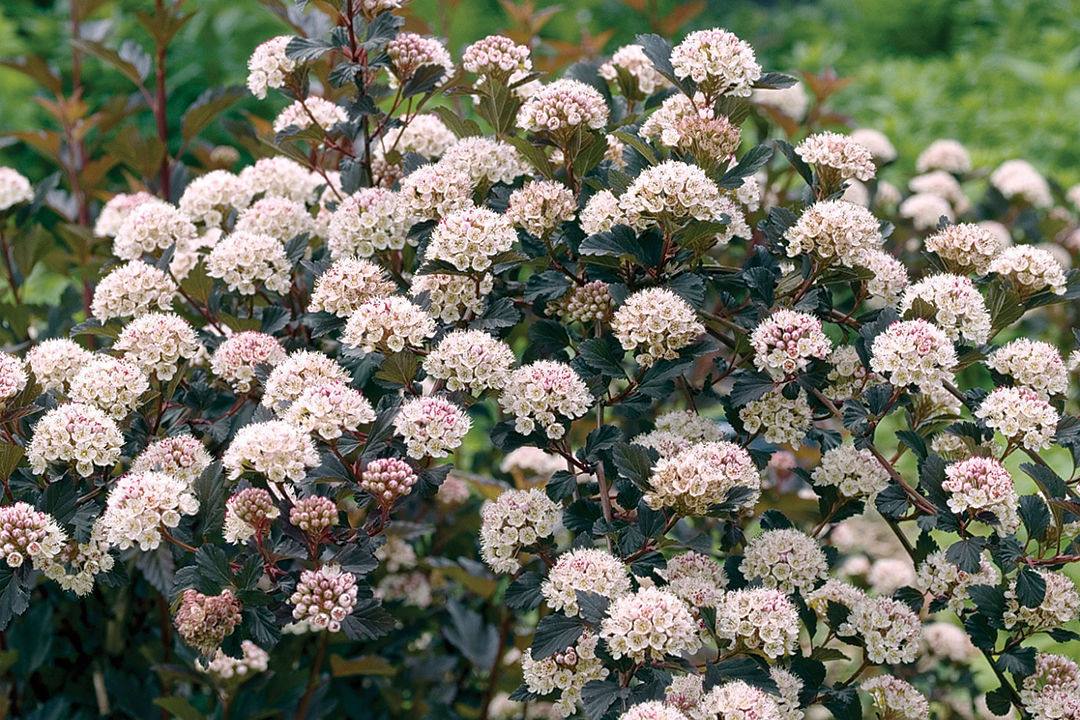 Name: Summer Wine® ninebark (Physocarpus opulifolius 'Seward')
Zones: 3 to 9
Size: 6 feet tall and wide
Conditions: Full sun to partial sun; acidic, fertile, moist soil
With its willowy habit, soft red foliage, and white spring flowers, Summer Wine® makes a graceful addition to any garden. Considered one of the toughest burgundy-foliaged ninebarks, this plant isn't finicky about its soil conditions. Spring flowers, which lure pollinators, are followed later in the year by winter berries, making this ninebark a good food source for birds and an excellent habitat plant.
Not That

Name: Japanese barberry (Berberis thunbergii and cvs.)
Prized for its foliage color, which ranges from burgundy to gold to green, and its deer-resistant, drought-tolerant toughness, Japanese barberry is a staple in many parts of the country. But this plant, unfortunately, has invaded open spaces in more than 20 states throughout the Northeast and Midwest, displacing native plants, reducing leaf litter, and altering the soil's natural pH in the process. If you live in a part of the country where this plant is on the invasive list, it's time to consider an alternative.
4. Plant This
This purple foliage is a head turner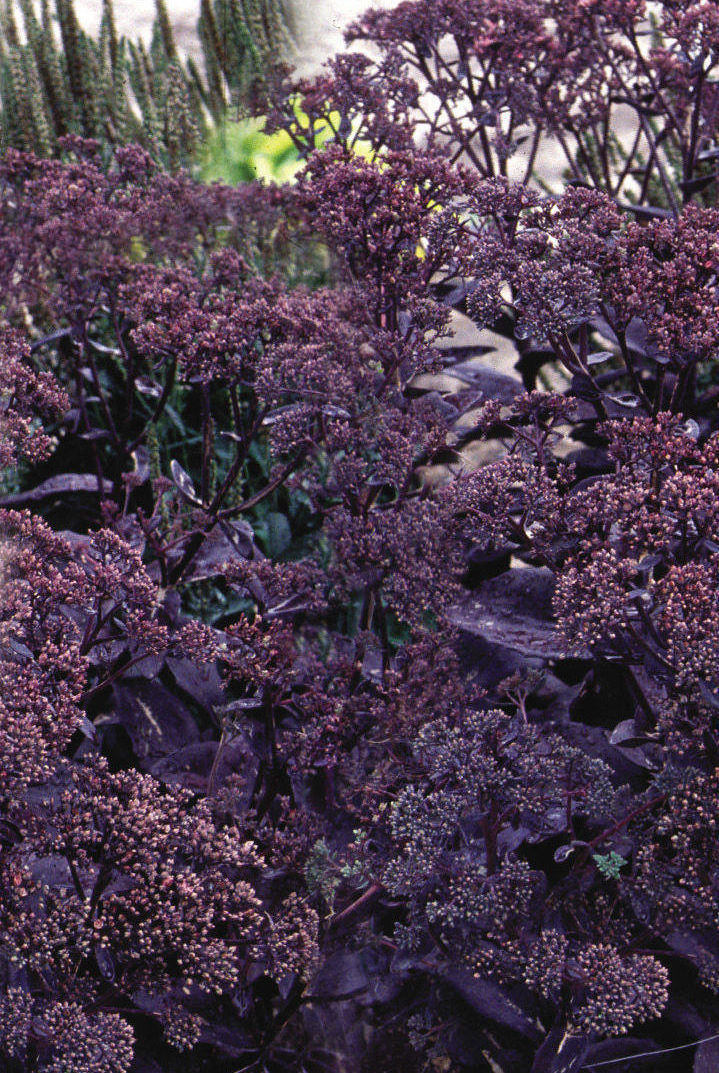 Name: 'Black Jack' sedum (Sedum 'Black Jack')
Zones: 3 to 9
Size: 2 feet tall and wide
Conditions: Full sun; well-drained, moderately fertile soil; drought tolerant
If you like everything about 'Autumn Joy' sedum, but you're ready for a cultivar that will make your neighbors take notice, consider 'Black Jack'. Richly colored, deep purple leaves provide striking contrast within beds, long before the first bloom has even appeared. By late summer, the flowers of 'Black Jack' are going strong. They'll continue blooming well into autumn, with their bright pink flowers gradually deepening to a darker hue.
A low-maintenance beauty that deer won't touch

Name: 'Paprika' yarrow (Achillea millefolium 'Paprika')
Zones: 3 to 9
Size: 2 feet tall and wide
Conditions: Full sun; moist, well-drained soil
'Paprika' is not your standard roadside yarrow. Its distinctive flowers start out ruby red in early summer and slowly fade to soft pink. With occasional deadheading, you'll have blooms into fall. One of the toughest, most reliable peren­nials available, yarrow loves heat, tolerates drought, and won't attract deer. It is also an excellent pollinator plant.
Not That

Name: 'Autumn Joy' sedum (Sedum 'Autumn Joy')
'Autumn Joy' sedum rewards the patient gardener with a late-summer show of dusty pink flowers. Over the course of a bloom season, which lasts well into fall, its flowers gradually fade to rust. This unfussy garden staple is reasonably drought tolerant, is pest-free, and attracts bees and butterflies. What's not to love? That is why it's planted just about everywhere.
---
Is it really better?
As a garden designer, I'm always on the hunt for something new, but buying untested plants is a gamble. To turn the odds in my favor, I use this checklist. The more criteria a new plant meets, the more likely I am to try it out.
❑ It has a "wow" factor
I'll take a chance on plants with show-stopping features, such as corkscrew branches or boldly colored foliage. Planting just one or two can keep an entire garden from looking ordinary.
❑ It solves a problem
I often replace messy or unruly plants with ones that require less cleanup and pruning.
❑ It's environmentally friendly
The key phrases to look for on a plant tag are "wildlife habitat" (for birds and pollinators), "noninvasive," "drought tolerant," or "disease resistant" (meaning it won't require pesticides).
❑ It's not that new
Be leery of plants that have just hit the market. Unless bred to be tough, new cultivars are often weaker than the straight species.
---
Susan Morrison is a garden designer in Concord, California, and the coauthor of Garden Up! Smart Vertical Gardening for Small and Large Spaces.
Sources
The following mail-order nurseries sell the widest selection of the plants featured:
Avant Gardens, Dartmouth, Mass.; 508-998-8819; www.avantgardensne.com
Forestfarm, Williams, Ore.; 541-846-7269; www.forestfarm.com
Greer Gardens, Eugene, Ore.; 800-548-0111; www.greergardens.com
Nature Hills Nursery, Omaha, Neb.; 888-864-7663; www.naturehills.com
Photos, except where noted: Susan A. Roth, Stephanie Fagan, Michelle Gervais, Rob Whitworth/www.gapphotos.com, Jerry Pavia, Gilles Delacroix/www.gardenworldimages.com, Jennifer Benner, Lynn Keddie/www.gapphotos.com, courtesy of Bailey Nurseries