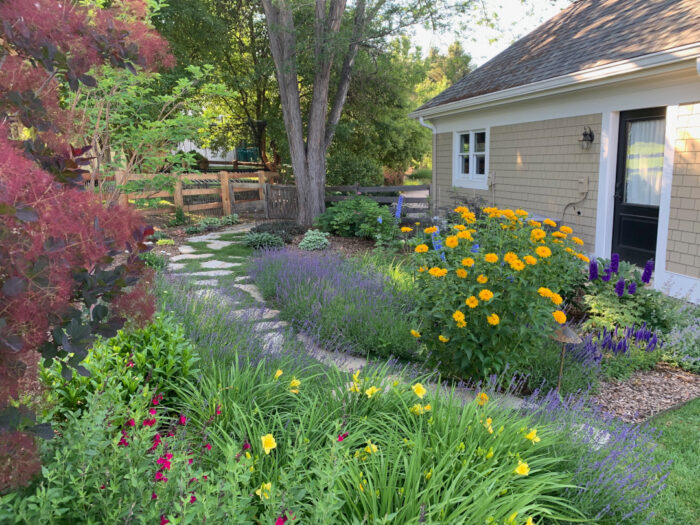 Today's photos are from Cathy Hollis in Englewood, Colorado.
When my husband and I moved to this home in the suburbs of Denver 10 years ago, the landscaping was almost entirely grass. We envisioned a Colorado version of an English border garden (my husband is from England). We wanted to create a garden that is beautiful and colorful for all seasons while being more water-wise. The backyard borders open space and a small farm, with views of the mountains as a bonus feature. The spring garden showcases a variety of tulips that accent a background of Euphorbia polychroma (Zones 5–9). We have many varieties of roses, including Morden Centennial Canadian rose bush, Knock Out roses, Flower Carpet ground cover roses, and tea roses. Perennial favorites such as Nepeta 'Walker's Low' (Zones 3–8), Salvia 'May Night' (Zones 4–9), Heliopsis (Zones 3–9), PowWow Wild Berry coneflower (Echinacea hybrid, Zones 3–8), Geranium 'Rozanne' (Zones 5–8), and Sedum 'Autumn Joy' (Zones 3–9) keep the garden colorful all season.
Late-flowering 'Hocus Pocus' tulips (Tulipa 'Hocus Pocus', Zones 3–8) stand tall against a backdrop of Euphorbia polychroma and a large rock fountain loved by the birds.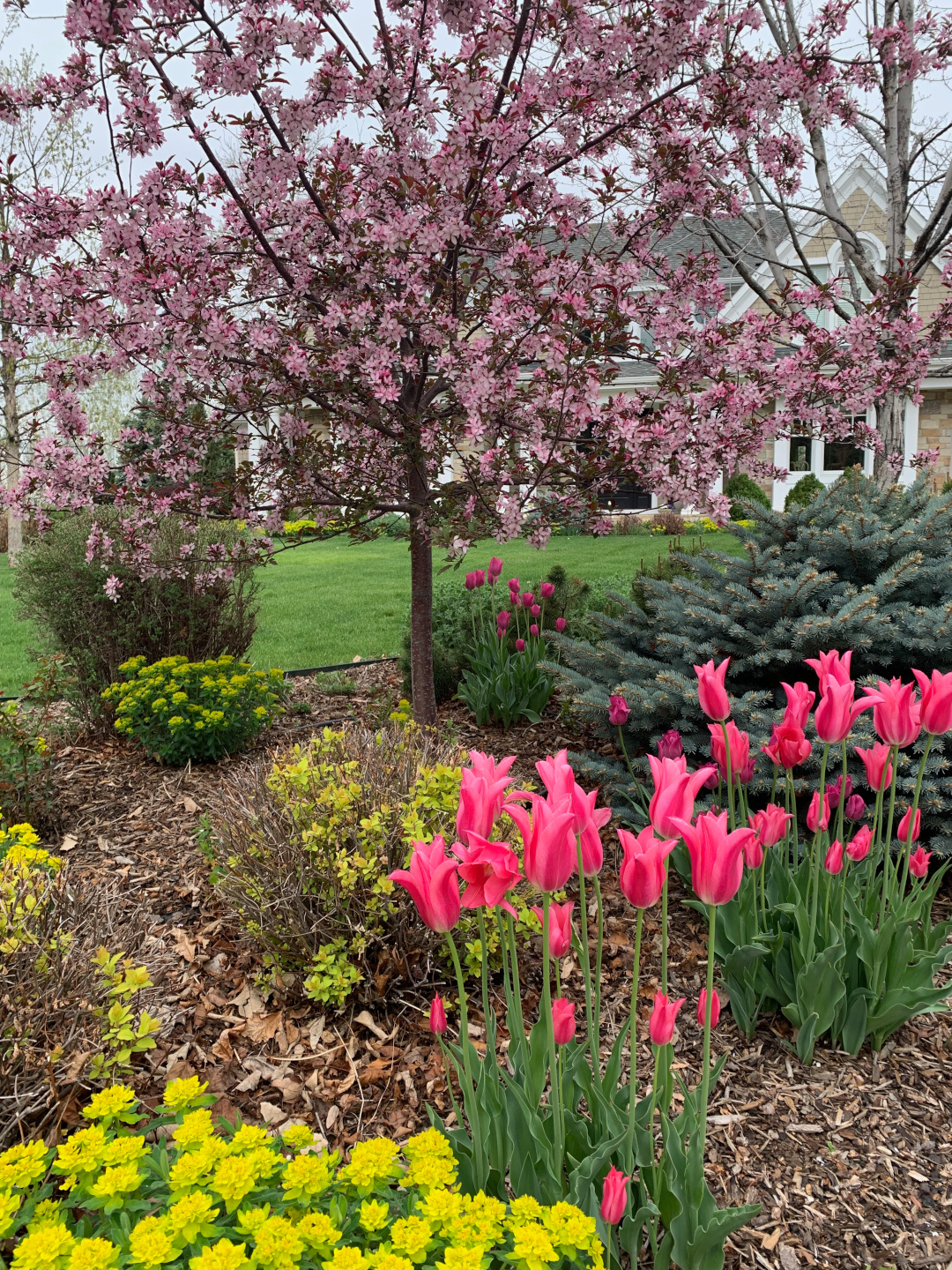 Lily-flowering Mariette tulips and 'Royal Raindrops' crabapple (Malus 'Royal Raindrops', Zones 4–8) anchor the background, with more Euphorbia in the foreground.
Morden Centennial Canadian rose bushes surround the lamp post.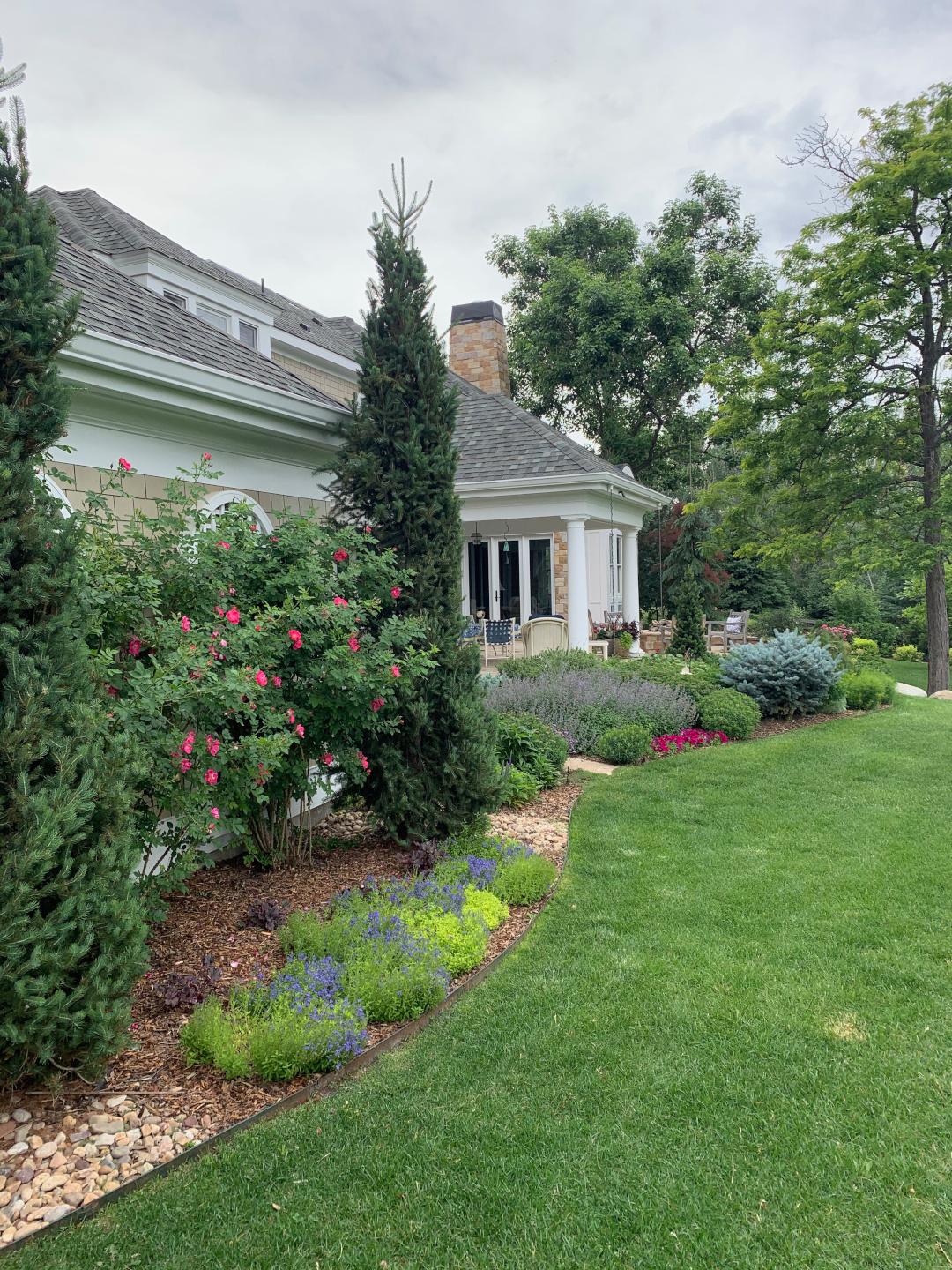 In the backyard are climbing roses 'William Baffin' and blue flowering ground cover Veronica 'Trehane' (Zones 4–8).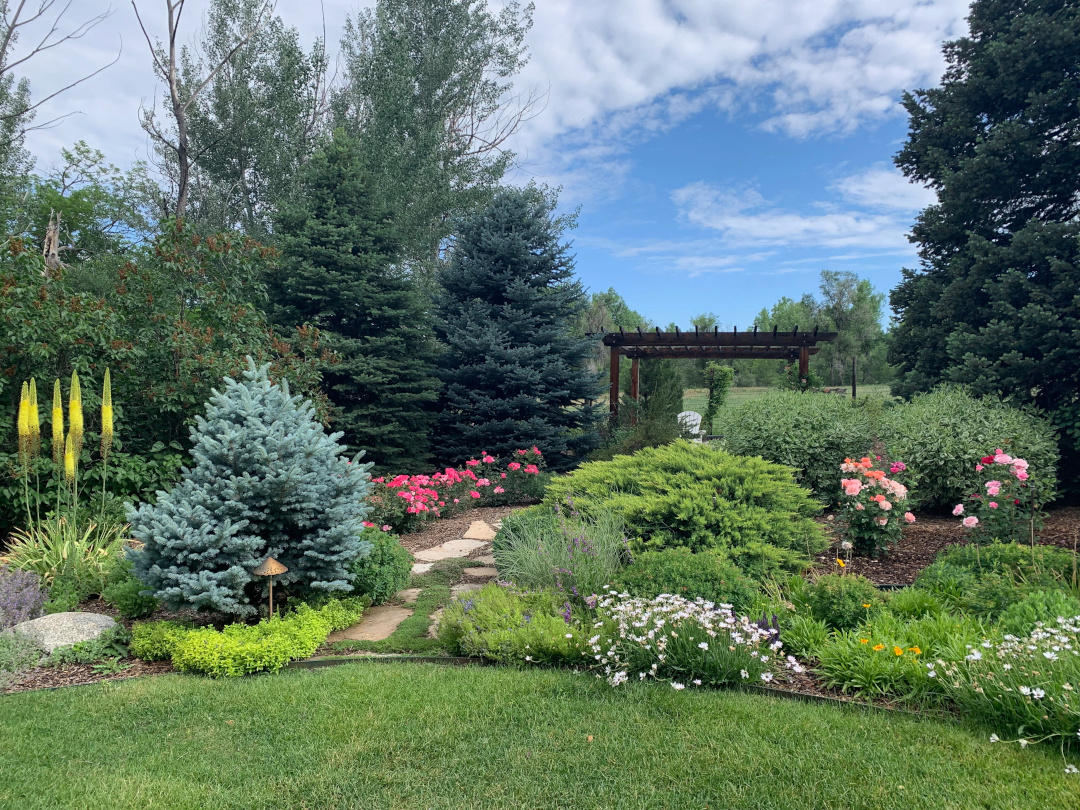 The back garden path to the pergola includes tall yellow Eremurus bungei (Zones 4–8) on the left, with various shrub and tea roses adding color. The chartreuse Veronica 'Trehane' lies in front of the Montgomery spruce (Picea pungens 'Montgomery', Zones 3–7).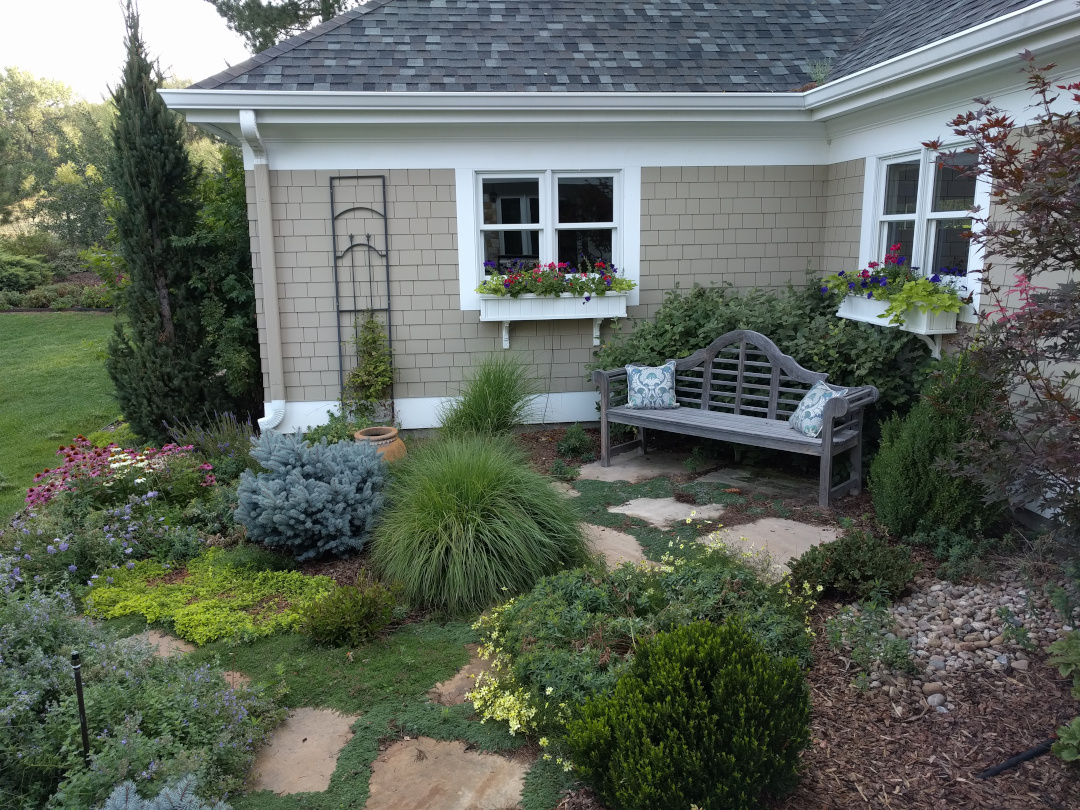 In the courtyard garden off the patio, the contrast in plant texture is a focus.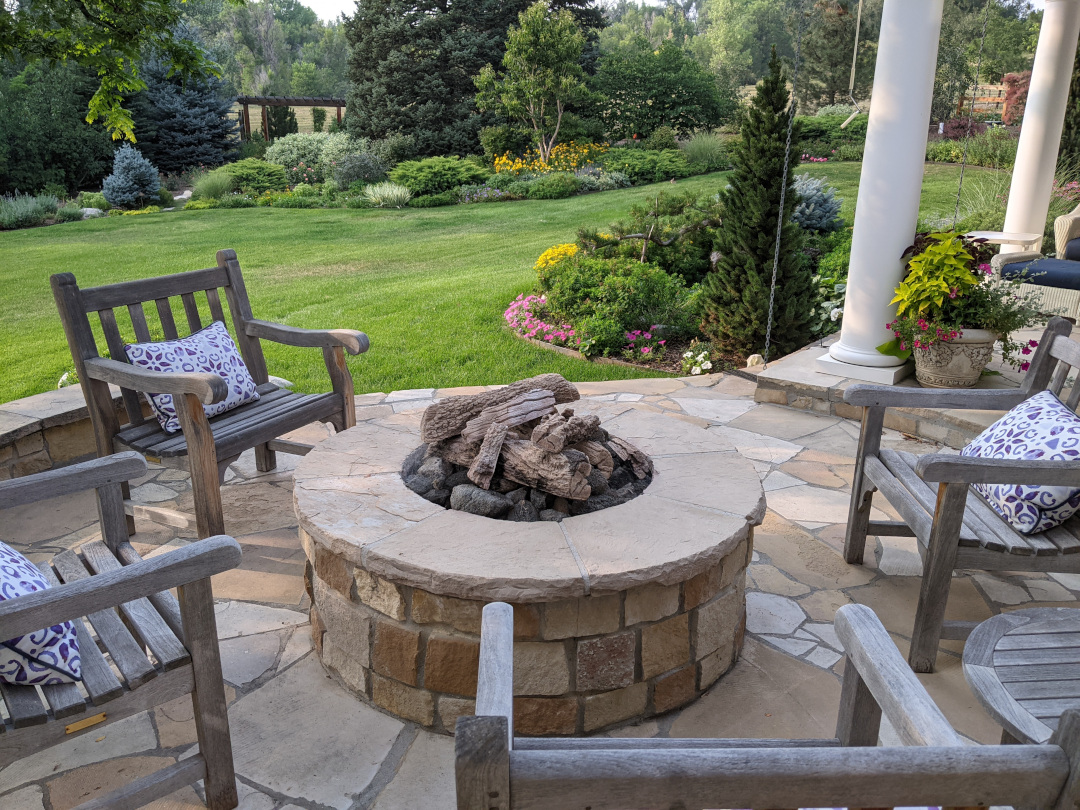 In this view of the backyard from the patio, a compact Sherwood pine (Pinus mugo 'Sherwood', Zones 2–7) is visible in the foreground.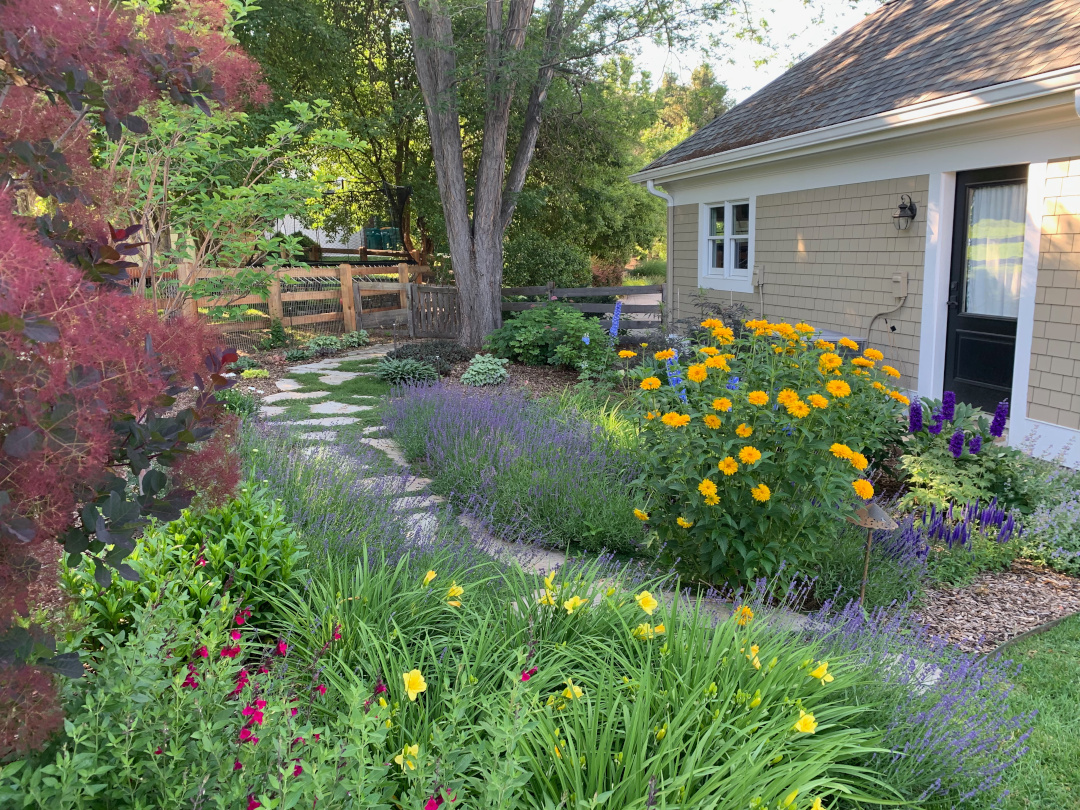 The side yard path is bordered by Hidcote lavender (Lavandula 'Hidcote', Zones 4–10), with smokebush (Cotinus coggygria, Zones 4–8), Heliopsis 'Summer Sun' (Zones 3–8), and delphiniums (Delphinium elatum, Zones 3–7).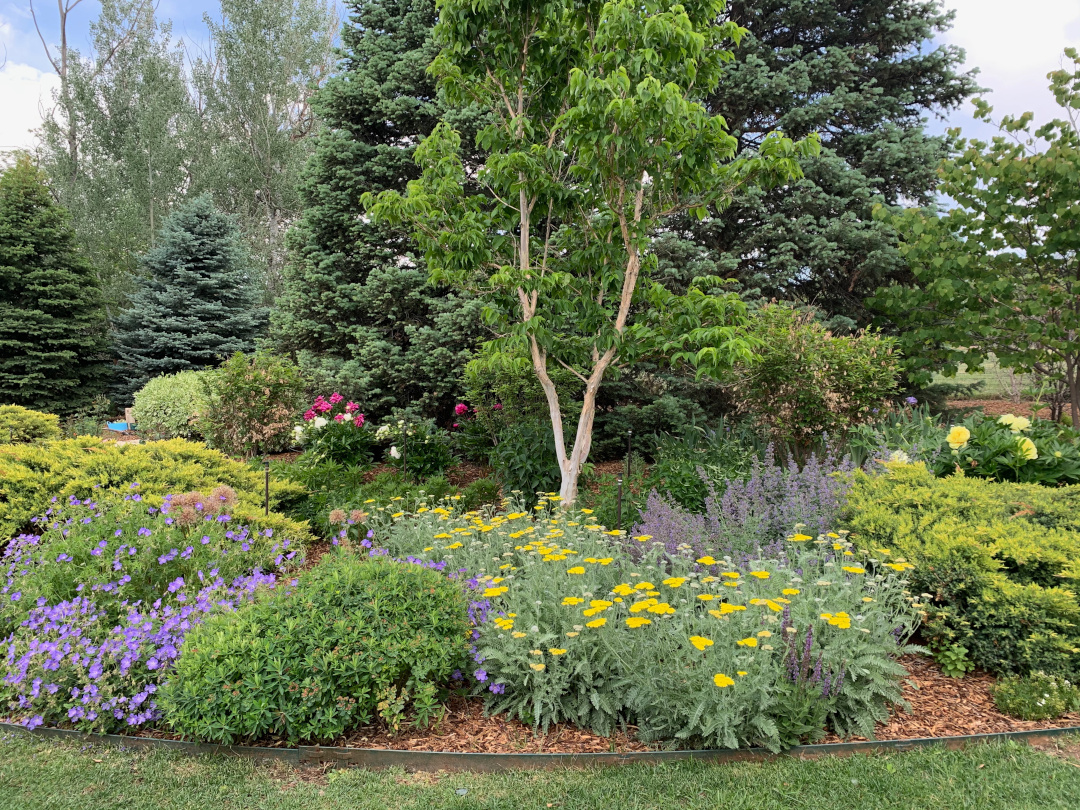 A seven sons tree (Heptacodium miconioides, Zones 5 –9) provides an accent to the backyard garden. Perennials include the showy flowers of a 'Bartzella' peony (Paeonia 'Bartzella', Zones 4–9) in the back on the right side.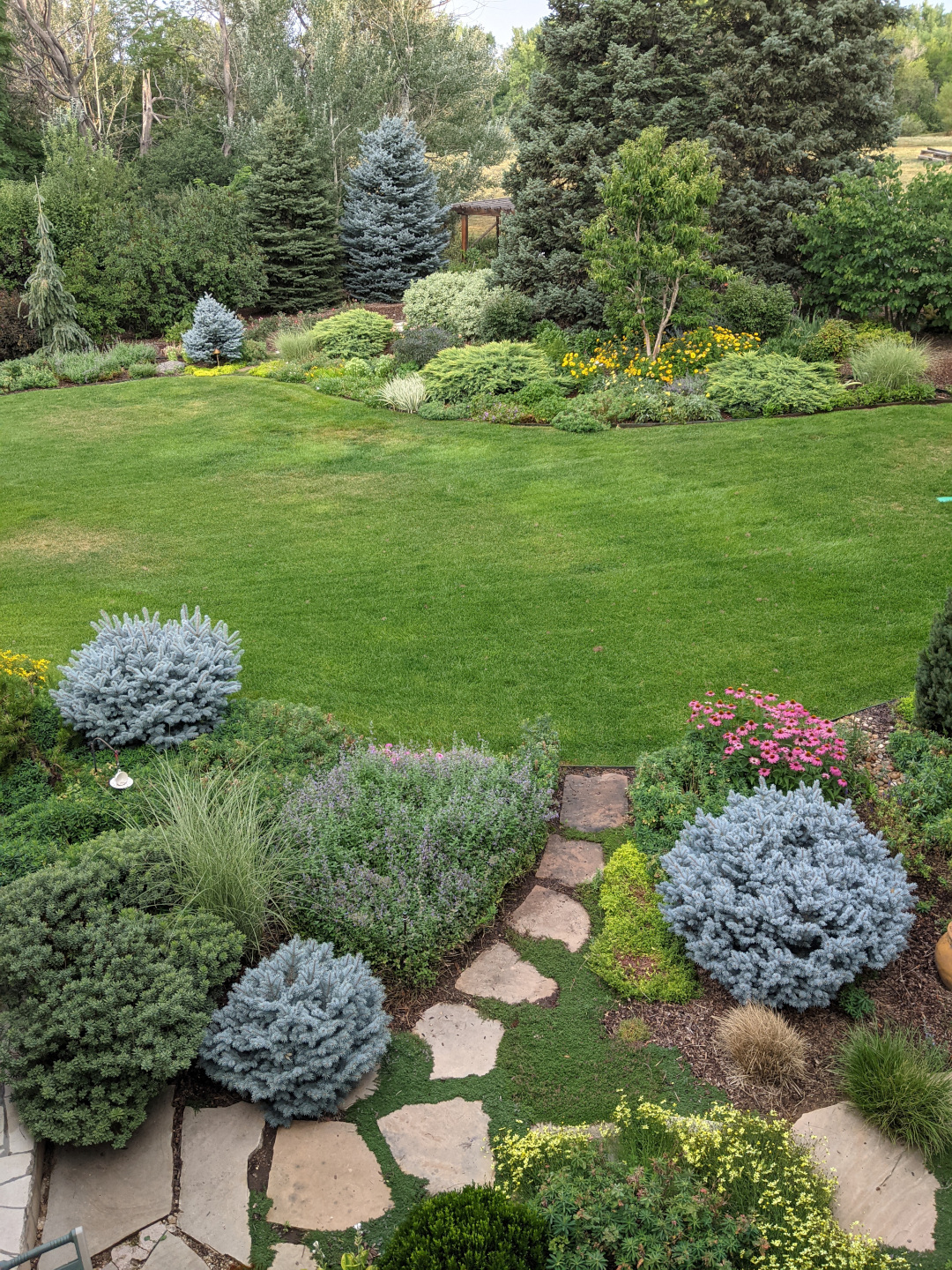 The courtyard garden features blue spruce (Picea pungens, Zones 3–7) shrubs 'Montgomery' and 'St. Mary's Broom', along with various ground covers.