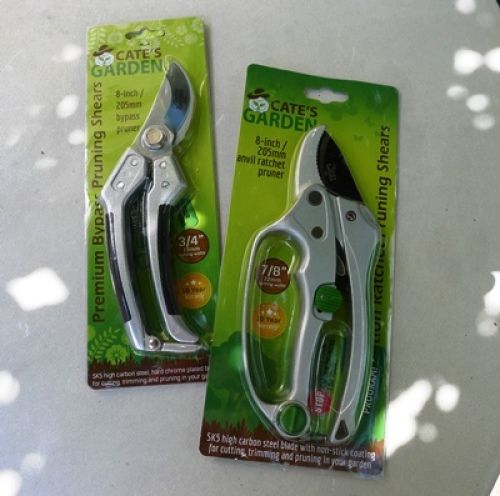 Do you know a gardener who would turn down the chance to try two new pairs of pruning shears for free? Neither do I!
That's why I responded quickly to the offer from Cate's Garden to use the company's 8-inch anvil ratchet pruning shears and 8-inch bypass pruners in my garden and write a candid review.
Cate's Garden is a small, family-owned business located in Walnut, California. The company is named after owner Chris Molnar's young daughter Cate who's a budding gardener. I like the fact the company designs and tests all of their products, because that tells me these pruners are made by gardeners for gardeners.
Both pairs of pruning shears have light-weight aluminum bodies with heavy-duty blades made from high carbon steel. I certainly put each pair through its paces as I did some early garden clean up.
The bypass pruners are the perfect size for typical garden pruning and trimming tasks, like pruning tomato plants. These are meant to cut stems and branches that grow up to 3/4-inches. 
One of the features of these pruners that I really like is the lever snap that keeps the pruners closed when not in use. Like most gardeners, I've used many kinds of pruners over the years and few have a good locking mechanism. The lever on these bypass pruners is made from forged aluminum and it snaps into place easily and with a satisfying click.
Of all the nifty features of these bypass pruners, why does that one stand out for me? Because I was able to snap them shut and slide them into my back pants pocket when I wasn't using them — no more misplaced pruners from setting them down and forgetting where I put them!
In addition to the snap-shut lock, these pruners really did the job with the sharp steel blades, nonslip grips and simple metal spring.
The ratchet pruners are equally well designed. If you've never used ratchet pruners before, you're in for a treat. Instead of cutting with one motion, ratchet pruners use a lever mechanism that allows several stages of cuts. By cutting in stages, gardeners get a more powerful cut up to 7/8-inch without having to use more pressure. Much easier on the hands and joints.
The ratchet pruners work best for small tree branches, shrubs and other garden pruning and trimming. I used them to make quick work of a mound of thick sunflower stalks headed for the compost pile.
The ratchet pruners have a special feature of a built-in oil well in the handle. It unscrews easily to reveal a little pad for lubricating the steel blades. This oil well is a handy timesaver.
Gardeners can order the Cate's Garden pruning shears through Amazon and then join the company's free VIP program to get an extended product warranty, The Dirt on Garden Pruning Ebook and discounts on other products.
When I submitted my request to trial these pruning shears, the folks at Cate's Garden said they were sure I'd love their products. After testing them in my garden, I do believe they're right.