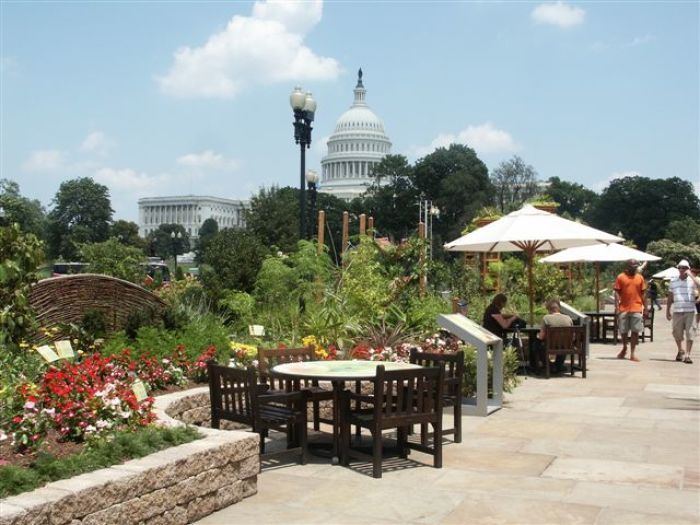 About two weeks ago, I blogged about Herbal Blends and an upcoming event to be held at the USBG. At that time I promised you a recipe using an herbal blend. Since then I have been to Greece and back and am finally posting the recipe for you. I fully intended to post the recipe and write a bit about the USBG event, however the Greek gods intervened and we had no internet at the villa where the Holistic Herbal Mediterranean cooking class was held. I will report on the vegetative wonders on the isle of Syros next, however first I want to post the recipe for Cream Cheese with Herbes de Provence and Garlic and tell you about the awesome exhibit at our national botanic garden.
The summer display garden theme is Thrive! From the Ground Up and even in this heat the gardens there are doing just that. The informative brochure that is available which describes the displays and plant materials defines
"To thrive—it's what we want for our gardens, for ourselves, for our nation, and for our planet. It means to grow vigorously, to flourish, and to gain or prosper."
This summer garden display is gorgeous, educational, fun and inspiring. Of course, I love the 'World Flavors' garden with huge pots of herb blends and herbs grown for culinary use from around the world—unusual ones that you may have never seen like Mexican oregano and Arabic thyme known as Za'atar. One of the new features that delighted me most was the concept of a plant hammock; these can be used to give height and more plant space to a small garden and are just plain fun visually. The 'Living Walls' structured after the Arc de Triomphe are incredible with luxuriant plants in every hue and texture cascading down the walls. There is a 'Townhouse Garden' that is shockingly bright and colorful and my favorite is a doghouse with a green roof covered in sedums. Equally showy in color and variety, is the 'Cutting Garden' offering bright stocky sunflowers and vibrant dahlias and zinnias. The 'Kitchen Garden' has tidy rows of vegetables of every kind from popcorn and amaranth to okra and chile peppers. We are given a view of which herbs are used for healing in the 'Medicinal Garden', many of them are trees like cinnamon and yew. The 'Beverage Garden' displays the most popular beverages we drink with coffee, tea and cocoa plants to fruits; with grapes for wine and hops for beer.
During the Thrive Summer Festival, many visitors passed through the gardens and there were numerous tables set up with hands-on activities. The volunteer staff at the USBG is incredible; they were or hand to answer questions and assist in the day-long activities. At my Creating Herb Blends table, over 300 visitors made Herbes de Provence blend, crushing fennel seeds in mortars and pestles and measuring savory, thyme, lavender flowers, basil, and marjoram into their blends to take home, after sampling Herbes de Provence cream cheese.
If you live in the vicinity of Washington, D.C., I encourage you to come visit the Thrive! From the Ground Up display gardens at the USBG. If you don't live nearby, perhaps you should think about taking a trip—do it before October 11 when the gardens will dismantled for the holiday display.