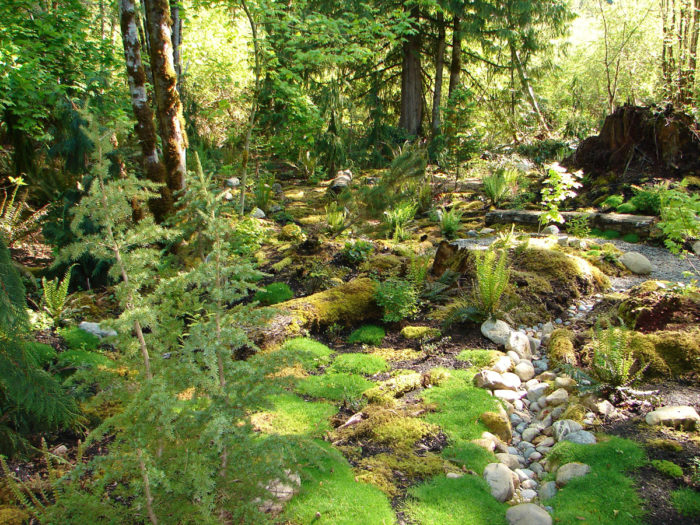 Happy Monday, everyone! Let's start off the week gently with this serene scene from Calvin Caley in Sammamish, Washington.
Calvin says, "I have been an amateur gardener for 20+ years but on my current property for 1 1/2 . I have an acre and a quarter of second-growth Pacific Northwest forest, which is adjacent to a wetland and backs up to over three hundred acres of parks and nature preserves. Most of my property, including the naturally-occurring clearing shown in the photo, is restricted to Native Plants Only-but that doesn't mean it can't be pretty to look at, useful, and interesting.
In this photo you are looking at a triple-trunked mountain hemlock (Tsuga mertensiana) in the foreground, with mostly snowberry (Symphoricarpos alba) and western sword fern, maidenhair fern, lodgepole pine (Pinus contorta), subalpine fir (Abies lasiocarpa), salal, and evergreen huckleberry (Vaccinium ovatum) in the middle distance. Toward the background is some Alaska cedar (Chamaecyparis nootkatensis) and then the border of native forest and the wetland margin. Lower right is a dry streambed that redirects runoff during the Northwest rainy season (January through December) away from the home an into a Zen garden, which changes the surface area of water and slows its flow. Next to the gravel garden is a Douglas fir stump left over from logging in the '30's, planted with fern, vine maple (Acer circinatum), salal, and kinikinik (Arctostaphylos uva-ursi).
The whole composition is held together (and my soil literally held in place) by native mosses and their companion groundcovers, which I cultivate and also carefully transplant from the deeper woods. The area was weeds, debris, leaves, and harsh clay soil before I started…it looked like something from a Tim Burton film."
Stunning, Calvin. I looks like it's always been there. **Hey–want to see more of what Calvin can do? Check out his blog, A Thistle in my Sensitive Area (ha!).**