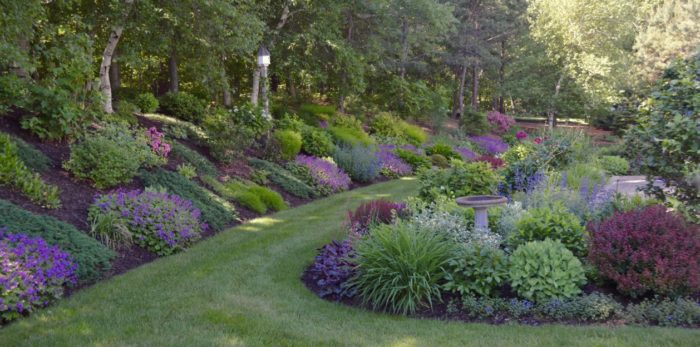 Today Ellie Gilbert is sharing the results of 14 years of hard work.
When my husband and I moved to our newly built house in Plymouth, Massachusetts, I used my fifty years of gardening experience to transform an empty and sandy backyard that included a steep and barren hill into a garden I'm now proud to show off. Fourteen years later, this is what having a vision and a willingness to work hard has produced.
Our first task was to install a patio off of our kitchen, which I surrounded with several shrubs, including a Korean spice viburnum (Viburnum carlesii, Zones 4–7), chosen because of its heavenly scent, four lacecap hydrangeas, and several crimson pygmy barberry shrubs (Berberis thunbergii 'Crimson Pygmy', Zones 4–8) because of their warm color. Among these shrubs I put in a wide variety of perennials, such as shasta daisies (Leucanthemum × superbum, Zones 5–9), coneflowers (Echinacea), garden phlox (Phlox paniculata, Zones 4–8), peonies (Paeonia), sea holly (Eryngium), columbines (Aquilegia), Siberian irises (Iris siberica hybrids, Zones 3–9), bleeding heart (Dicentra), coral bells (Heuchera), Salvia, and meadow cranesbill (Geranium pratense, Zones 5–9). For late season interest I also put in ornamental grasses and late-blooming sedums. I chose this wide variety of plants because I wanted to ensure that something would always be in bloom throughout the growing season.
To begin transforming the hill, we built steps from stones that we unearthed on our land, and I transplanted some birch saplings from our woods and added several spreading junipers to guard against erosion. The shrubs that form the main structure of the hill garden are tall oakleaf hydrangeas (Hydrangea quercifolia, Zones 5–9), 'Rosebud' azaleas (Rhododendron 'Rosebud', Zones 6–9), and several mophead hydrangeas. Over the years, I filled in all the empty spots between the shrubs with perennials similar to the ones I had planted in the patio garden—making sure I repeated the plantings across the hill so the final look would have a sense of rhythm and harmony.
June is when my garden comes alive with my favorite colors of pink and purple. Azaleas, peonies, catmint, and cranesbill are all vying for attention. Later in the season, those colors are replaced with varying shades of yellow, white, and deep rose. Sitting on the patio in the early evening and watching the antics of all the critters that share the space is a wonderful way to relax.
Although the garden appears to be quite full, I always seem to find room for more plants—but that seems to be the pattern with all die-hard gardeners!
Patio and hill gardens 14 years later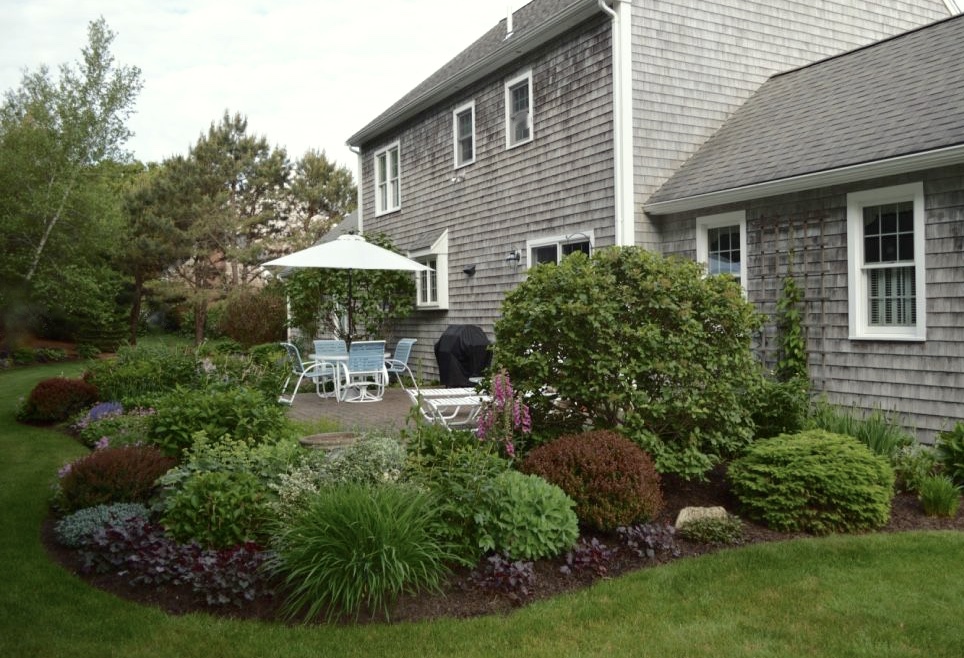 Patio garden in late May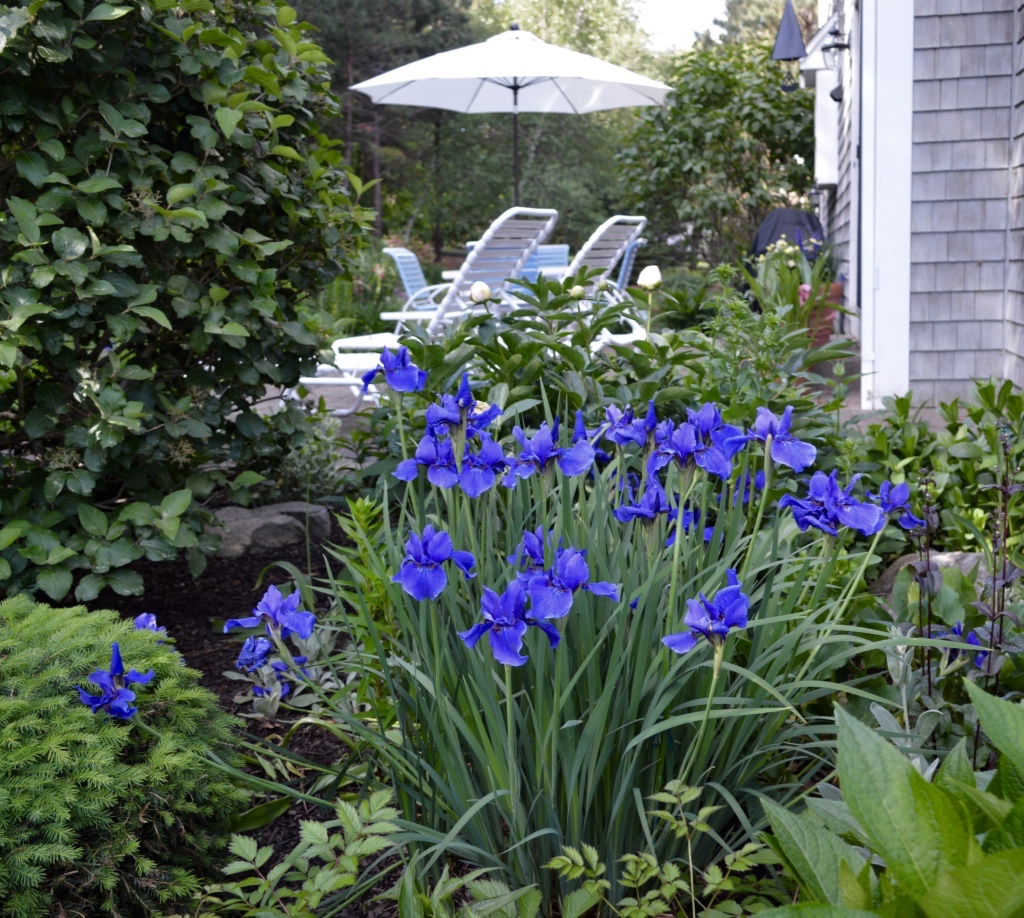 Siberian irises in the patio garden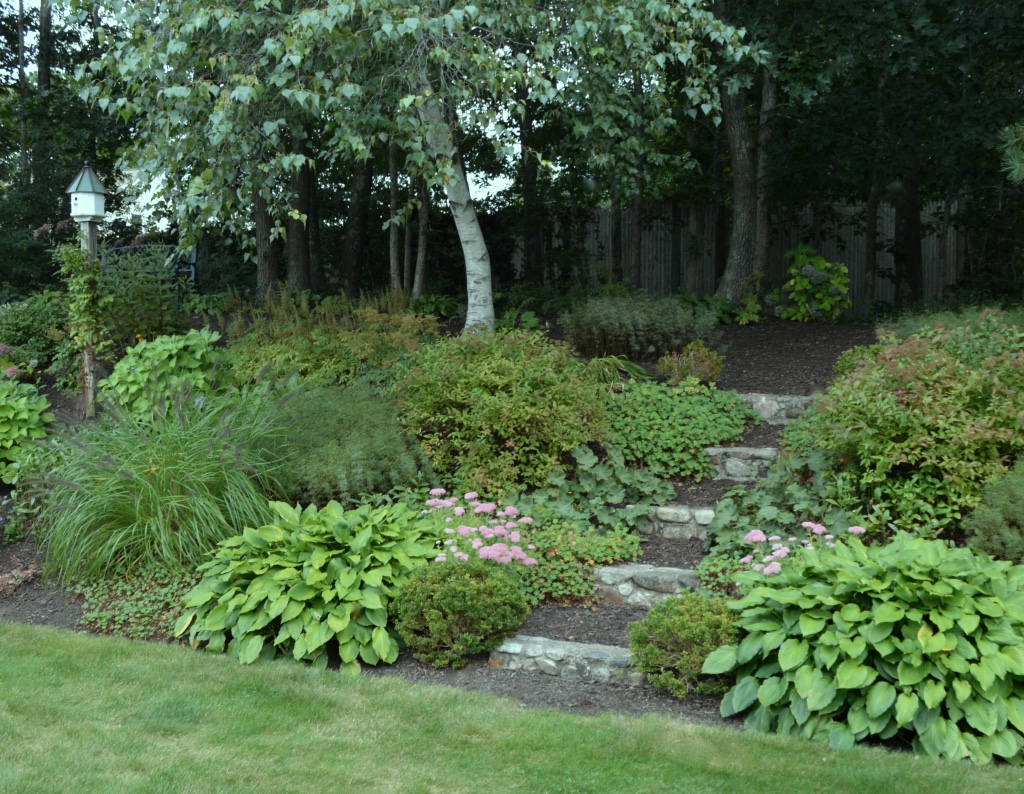 Stone steps leading to the top of the hill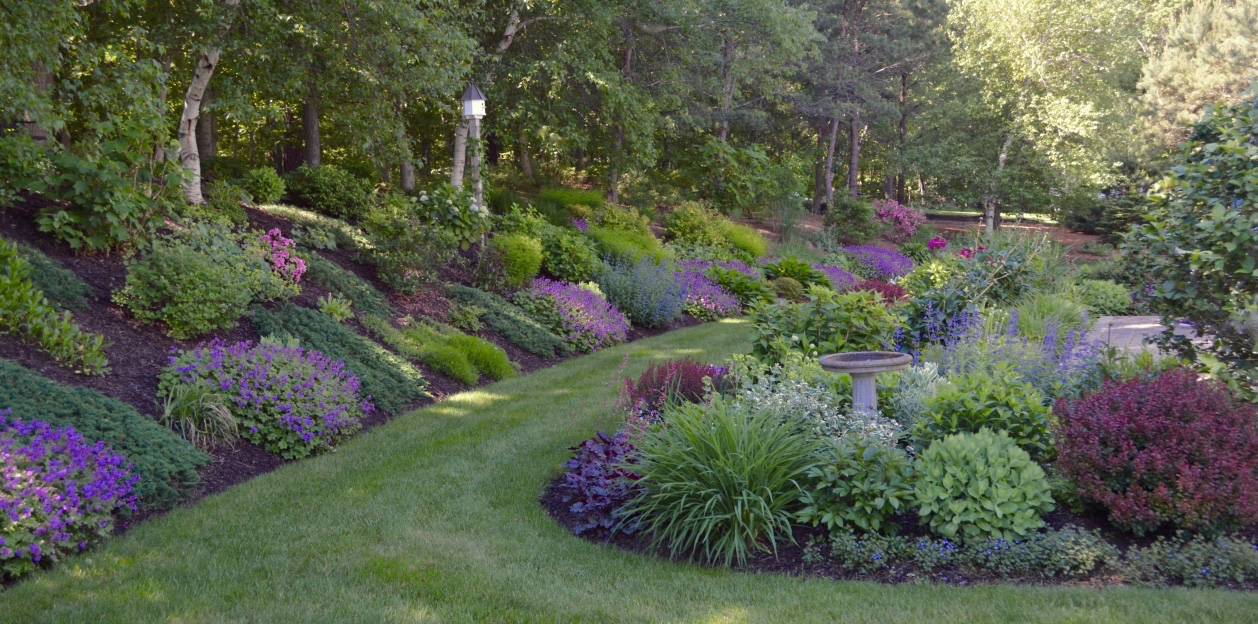 Predominant colors in June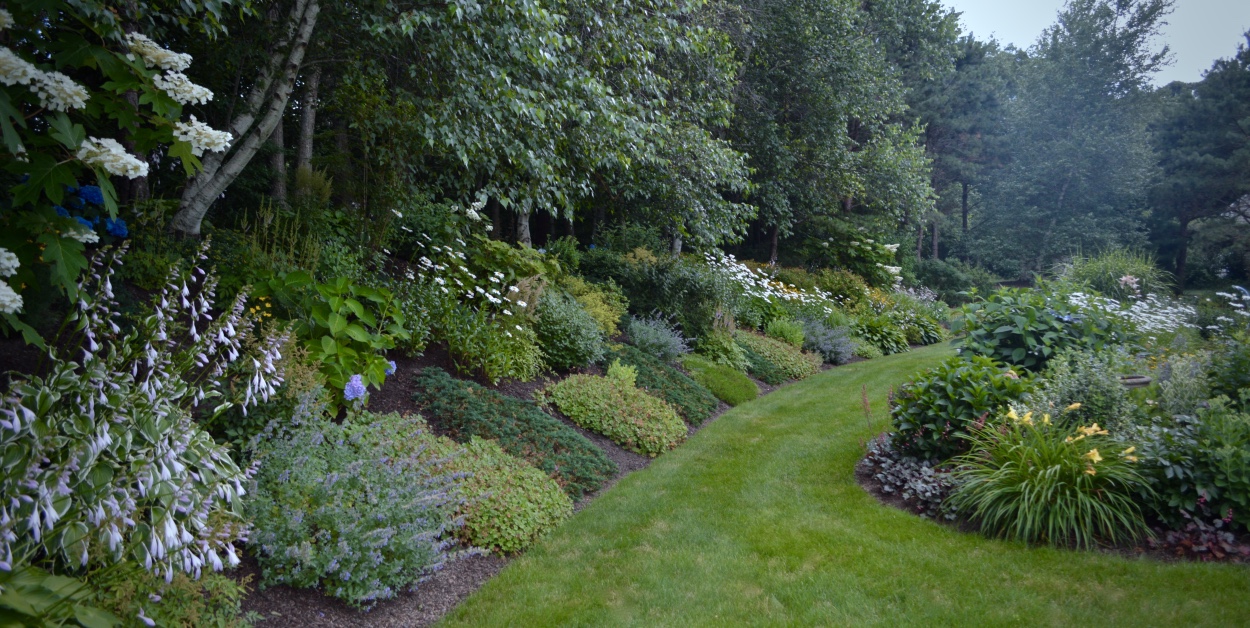 Hill and patio gardens showing change of colors in midsummer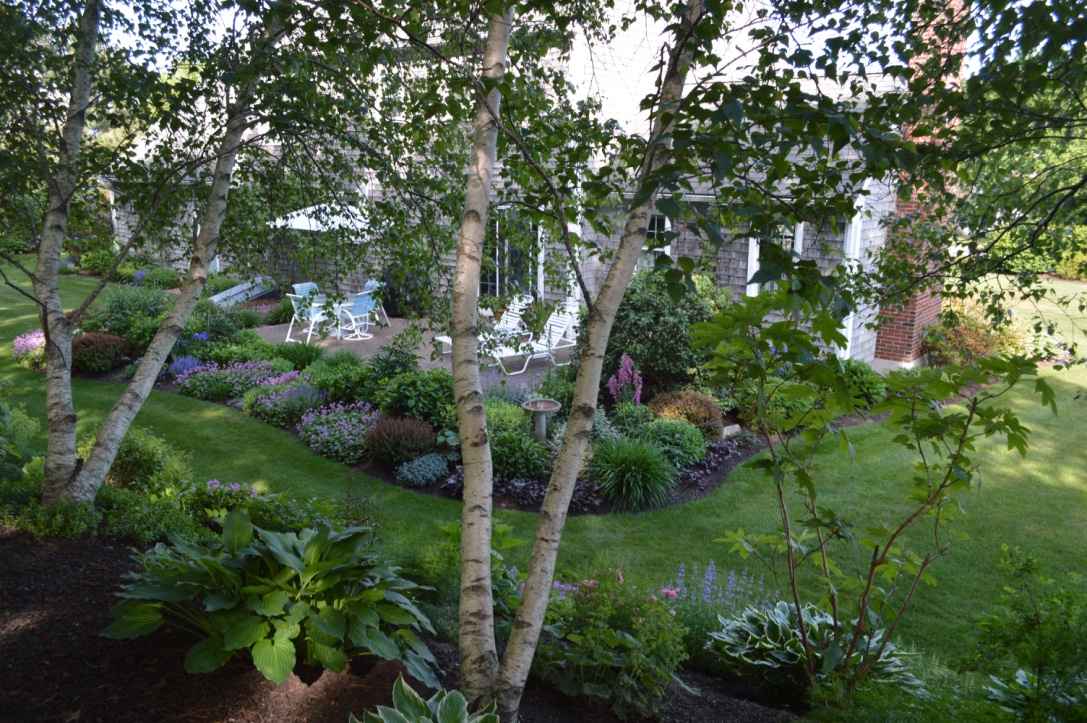 View of the patio garden from the hill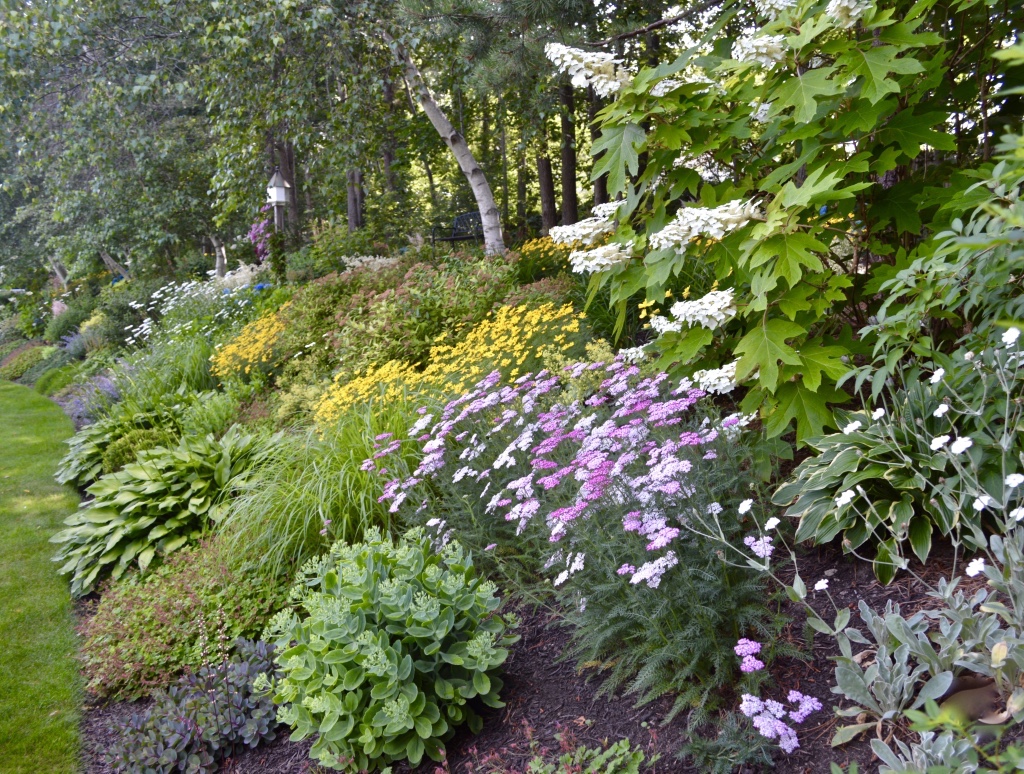 Side view of the hill garden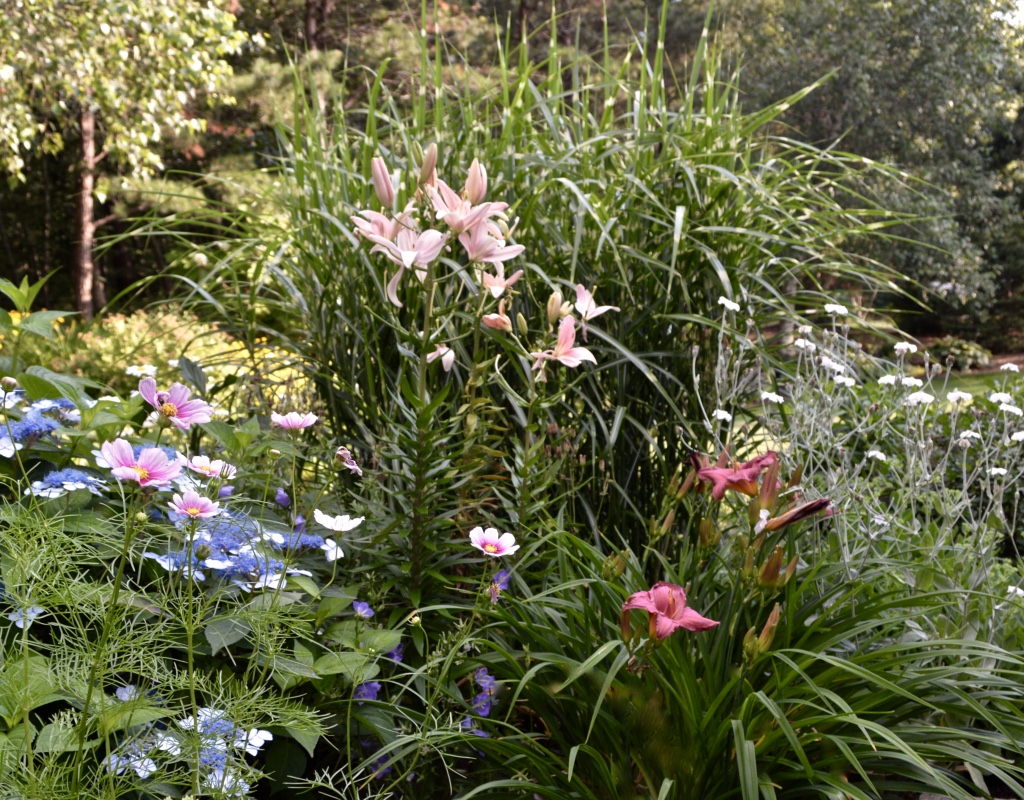 Corner of the patio garden showing lacecap hydrangea, 'Summer Wine' daylily, Asiatic lilies, annual cosmos, and zebra grass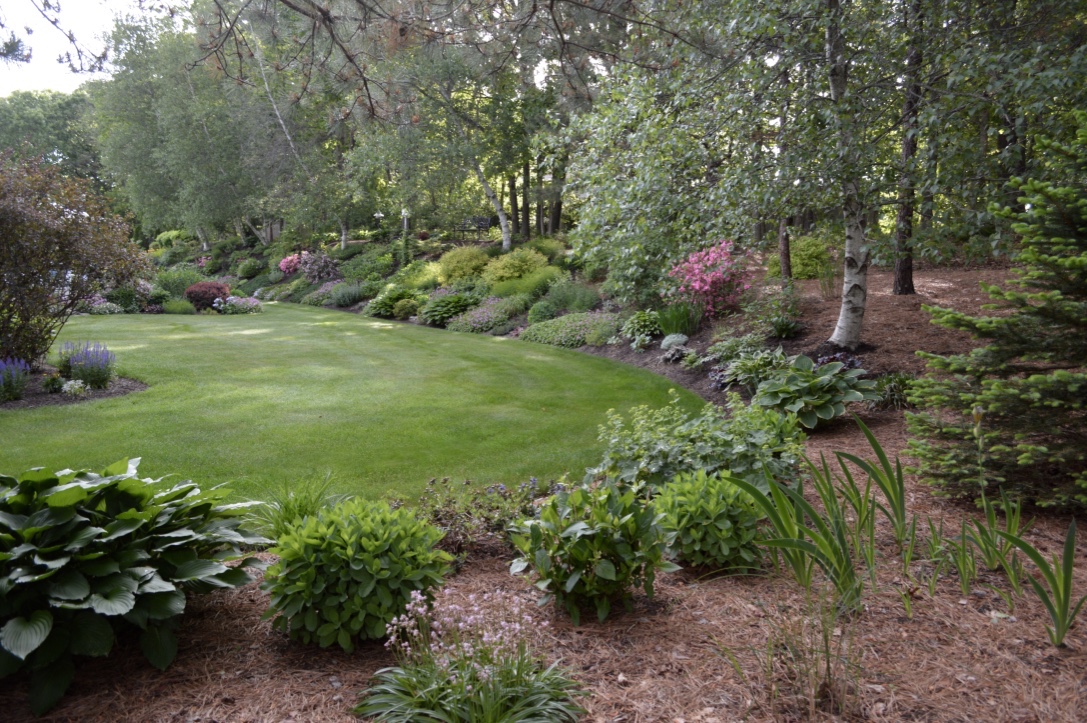 Long view of the backyard showing room for new plants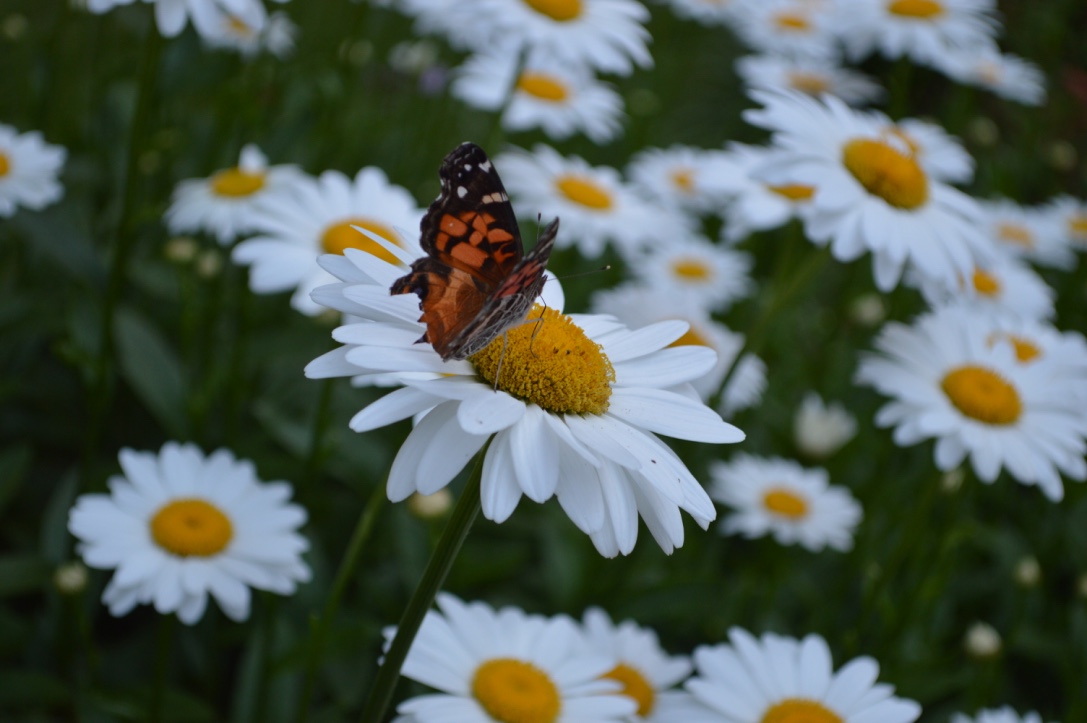 Visitor on my shasta daisies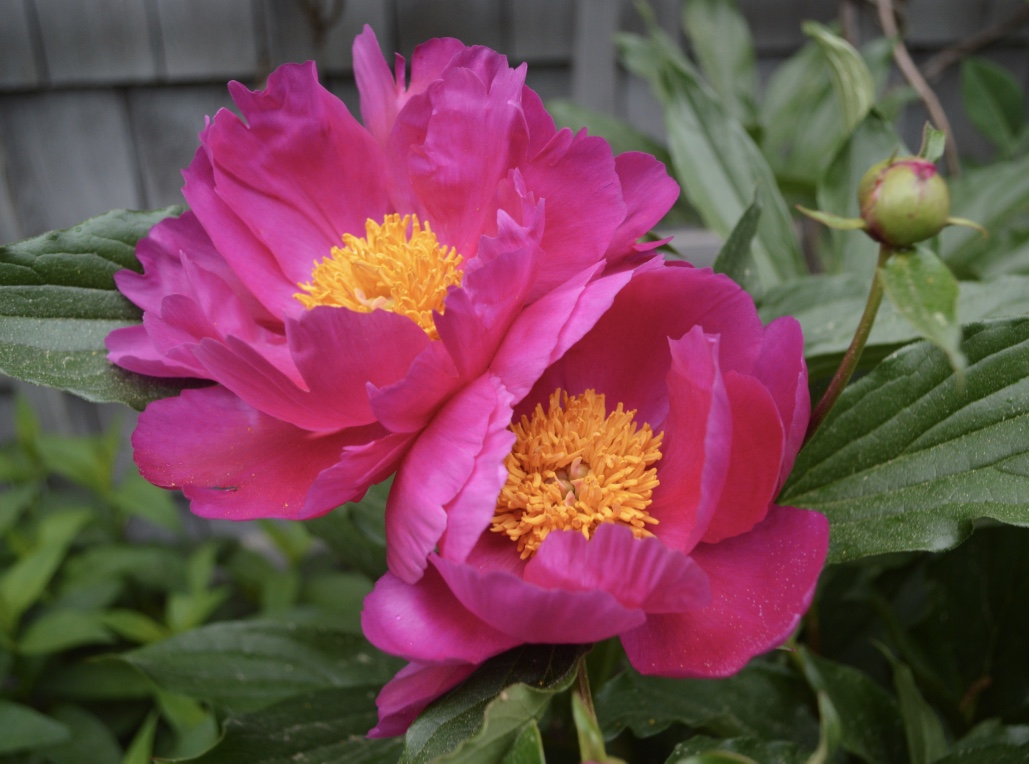 Peony 'Dancing Butterflies'
Have a garden you'd like to share?
Have photos to share? We'd love to see your garden, a particular collection of plants you love, or a wonderful garden you had the chance to visit!
To submit, send 5-10 photos to [email protected] along with some information about the plants in the pictures and where you took the photos. We'd love to hear where you are located, how long you've been gardening, successes you are proud of, failures you learned from, hopes for the future, favorite plants, or funny stories from your garden.
If you want to send photos in separate emails to the GPOD email box that is just fine.
Have a mobile phone? Tag your photos on Facebook, Instagram or Twitter with #FineGardening!
You don't have to be a professional garden photographer – check out our garden photography tips!
Do you receive the GPOD by email yet? Sign up here.