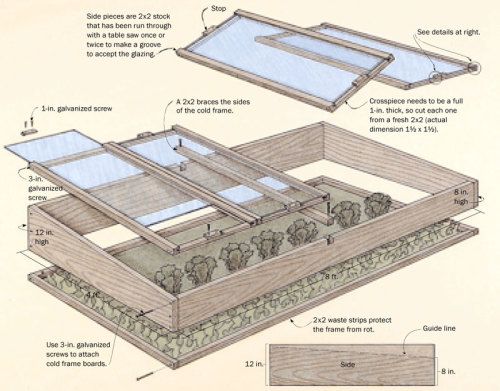 My cold frame, consisting of a bottomless box and glass frames, called lights, is simple to build and designed to last for years. Use rot-resistant wood such as cedar, cypress, or red­wood.
The waste strips along the bottom keep the frame off the soil. When the waste strips decay, you replace the strips instead of the entire frame.
The lights have small wood stops at both ends. The stops keep the glass from sliding and enable water to run off freely, preventing ice build-up and rot.
To make a light, you'll need a tablesaw for cutting grooves and ripping stock lengthwise. Glazed with glass, each light will weigh around 35 lb., heavy enough to stay in place by itself, but too heavy to be raised by an automatic venting arm. Glazed with a lightweight, insulated glass substitute like Polygal or Lexan, each light can be lifted with a venting arm (such as the Univent control from Charley's Greenhouse & Garden), but will also need to be secured with hinges to keep it from blowing off in a wind.
Materials list
Each 8-ft. x 4-ft. frame requires:

• 2 8-ft. x 12-in. boards
• 1 8-ft. x 8-in. board
• 1 4-ft. 2×2 for the brace
• 3 8-ft. 2x2s for the waste strips around the bottom
• 3-in. galvanized drywall screws
• 2-1/2-in. drywall screws or 8d nails for attaching the waste strips
• 4 2-ft. x 4-ft. lights
Each light requires:

• 2 4-ft. 2x2s for sides
• 2 21-3/4-in. 2x2s to rip for crosspieces
• 2 scraps for making the stops
• 3-in. galvanized screws
• 1-in. galvanized screws
• 1 46-1/2-in. x 22-3/4-in. sheet of glazing material (double-strength plate glass or polycarbonate glazing
by Eliot Coleman
August 1996
from issue #4