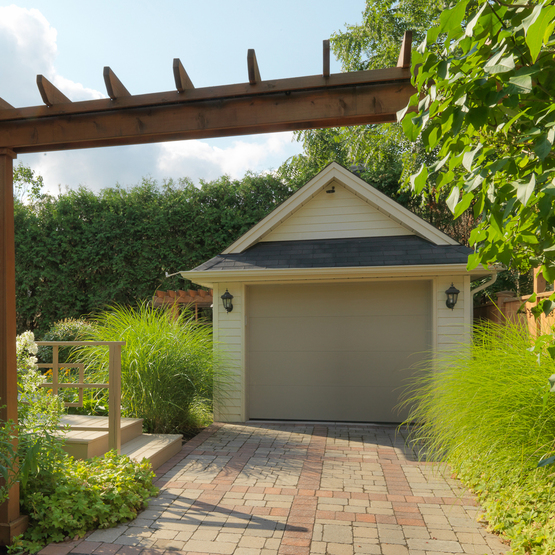 Home centers and paving companies are increasingly relying on creating patios and terraces with concrete pavers because they are much less expensive than natural bluestone, limestone, granite or other natural patio stone. Be careful, however, because concrete is usually a light absorber, rather than a light reflector as so many of our natural surfaces can be.
Also, natural stone is not reliably a consistent tone or color, so its appearance is interestingly variable across a large expanse of terrace, while the uniformity of concrete can look boring. So find ways to break up a large terrace into smaller segments. You can do this by using two or more colors of pavers to make a pattern, the way Canadian landscape architect John Szcepaniak did on this driveway/patio that echoes the fence and handrail design nearby (see the top image).
You can also break up an expanse of pavers by using large stones, trees, or plant material, thereby turning the terrace into a kind of garden. Allowing shrubs and perennials to arch or billow across hard paving stones helps soften the whole effect and makes you want to nestle into its verdant corners for a while, as in the second photo.
Another way to break up space is to change the material underfoot. The designer of the property shown in the third image placed a rectangle of pea-gravel next to an oblong square-cut limestone terrace that enables its owners to enjoy a large entertaining terrace that looks and feels intimate, while also acting as a large collector of surface water at this small property in Ottawa.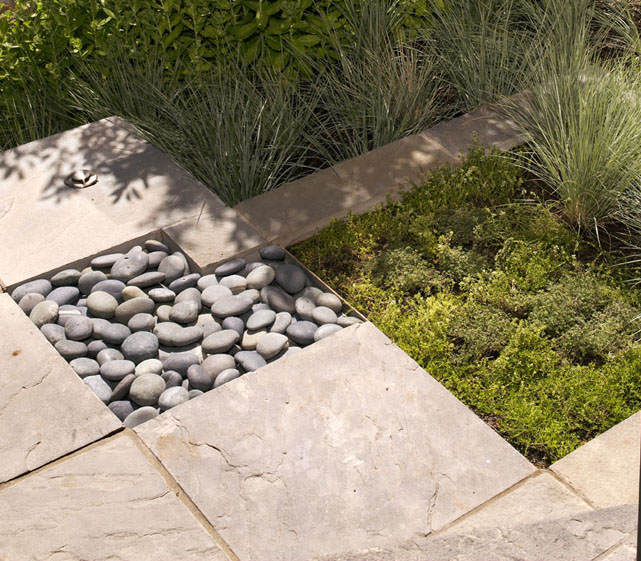 Keep in mind, too, that you can erode the edges of concrete pavers and allow lawn grass to come right up to the irregularly shaped edges, for a more natural appearance. Turns out, breaking up is not so hard to do!