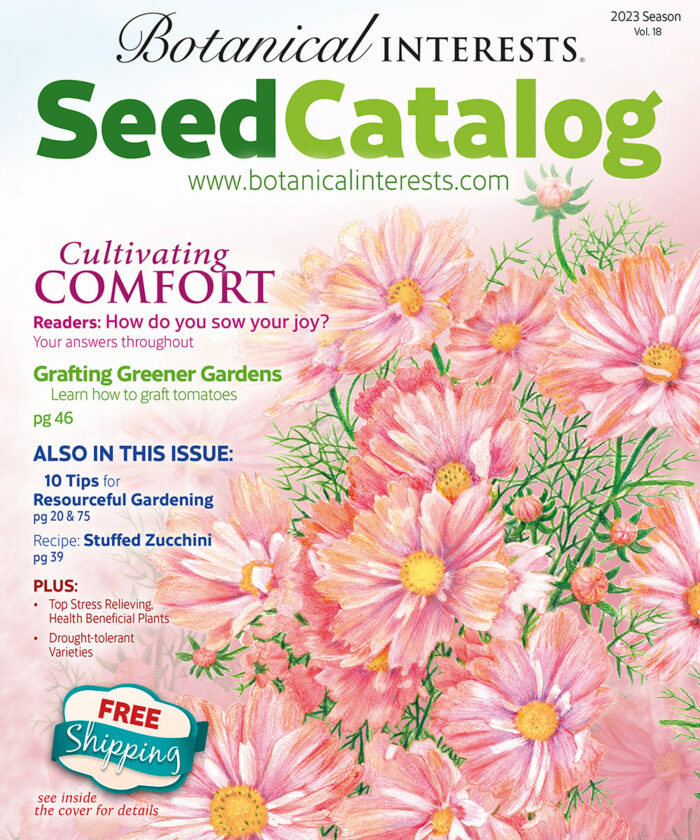 A Late Bloomer
I came to gardening later than those who grew up in and around gardens. My grandmother tended a lovely landscape, but she didn't plant flowers or vegetables and my mom had a trying time keeping up with a weedy lawn. It wasn't until I was in college and on my own that I tried my hand at planting and growing. Those first gardens grew in spite of my efforts, not because of them.
How I wish Botanical Interests Seed Company would have been around then. I certainly could have used the help.
In fact, that's one reason why Curtis Jones and Judy Seaborn started the Colorado-based seed company in 1995. They understood there were a lot of gardeners (like me) who didn't have anyone around to pass along planting tips or gardening shortcuts, so they decided to fill that role.
Seed Packets are Works of Art
Each of the company's seed packets is filled with high-quality seed, but also filled with information designed to educate and inspire. The packets' colorful front panels are beautifully illustrated by botanical artists and also include details about the plant species to help with selection. The back of the packets includes planting information and a cut-out tag to use when planting.
But what I really appreciate about the seed packets is what's inside: descriptive information about the plant, its history, special growing requirements and recipes. A nice touch is the drawing of each seedling to aid identification.
Choose from 500 Varieties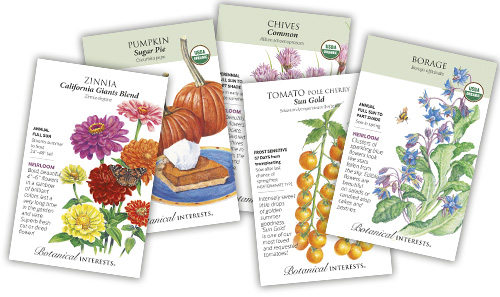 The company's catalog includes more than 500 varieties of vegetable, herb and flower seeds, including many organic and heirloom varieties. Gardeners can buy individual packets or select from 23 different seed collections to make planting easier. Seed collections include Bee Happy, Chef's Herb Garden, Baby Vegetable, Cuisine of Asia, Container Vegetable, and Early Spring Green Fix to name just a few.
For 2011, the company added 42 new varieties, including flowers like Amaranth and Scarlet Flax and ornamentals like Black Pearl Peppers and Chidori Red Kale. Windsor Fava Beans, Peaches and Cream Corn, and Scotch Bonnet Peppers are only a few of the new veggie offerings. Organic Stevia seeds are also new to the catalog.
I'm especially drawn to the Heirloom Tomato collection for its gorgeous illustrations suitable for framing and its assortment of Black Krim, Aunt Ruby's Green, Cherokee Purple, Speckled Roman—and other mouth-watering old-fashioned varieties.
Join the Company Conversation
Seeds are available for purchase at independent garden centers and other retail outlets or gardeners can browse the entire seed catalog online at Botanical Interests. While there, take a virtual tour of the facility and sign up for the newsletter. Gardeners can also join the company's Facebook fan page and follow along with daily updates on Twitter @BotanicalSeeds.
Botanical Interests is also launching a new website in January with three new blogs, including one all about cooking from the garden called Seed to Saucepan.