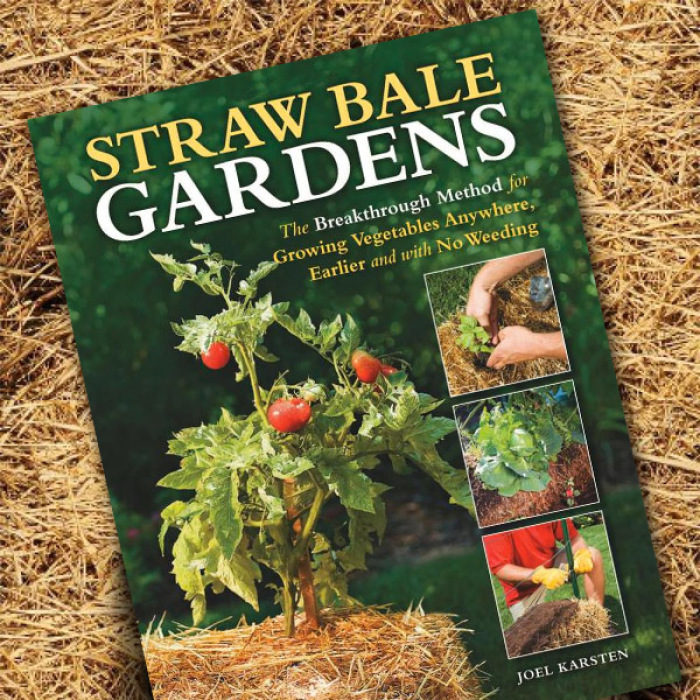 As a seasoned veggie gardener, I am always looking for ways to improve my gardening skills and techniques. I've always been very open to learning new methods, especially if they can save me time and effort (not to mention money and water). Case in point was my discovery of a very clever and innovative way of gardening called straw bale gardening. It aims to solve many challenges today's home gardeners face: bad soil, weeds, a short growing season, watering problems, limited garden space, and even physical difficulty working at ground level. The concept couldn't be simpler: all you need is a few bales of straw, some fertilizer, and some seeds or plants, and you can create a weed-free vegetable garden anywhere.
Although straw bale gardening is said to date back to the ancient Egyptians and Aztecs, it has only recently gained awareness and popularity. Straw Bale Gardens, by Joel Karsten, is a step-by-step guide offering all the information you need to make your own straw bale garden today. Joel is an author and garden expert, and is seen as a pioneer of this innovative gardening method.
In short, this book is well written, informative, detailed, and beautifully illustrated. One of the things I like about this book is that Joel presents instructions for both organic and traditional gardeners and is objective in his observations regarding either method. 
The book starts out with a history of how the author got started in straw bale gardening, followed by some of his favorite examples sent in by fellow gardeners. As I just mentioned, the book is illustrated with beautiful photography, somewhat of a requirement in a good gardening book. A basic chapter on straw follows.
Planning your straw bale garden is the next chapter. Filled with great tips, the author discusses the fundamentals of setting up the garden: sunlight, layout, watering, dealing with the spaces around the bales, and more characteristics of the straw itself. Seven pages of beautifully-drawn illustrations show layouts and suggested plants for 5, 10, 15, and 20-bale garden setups. Following this is a list, again with helpful photos, of the things you'll need to get started. Wrapping up the chapter are instructions on how to put in a wire trellis.
Conditioning, the process of starting the composting process internally, is the essential part of growing in a straw bale. This chapter shows step by step; or should I say day by day, how to prepare your bales for planting. I especially liked the table at the end of the chapter that condensed the information for quick reference. 
Now it's time to plant your seeds and seedlings. This chapter again greatly and easily shows how to do this. A sidebar about making your own paper towel seed tape is a nice addition.
The wire trellis setup discussed in an earlier chapter has an additional purpose – a greenhouse. Yep, you can protect your plants easily from the cold in  a straw bale row.
Chapters on growing and harvesting follow. I was blown away by what can actually be grown in a straw bale, and how much easier crops such as potatoes and carrots will be to harvest.
After a short chapter on composting the bales in a DIY bin, a FAQ (frequently asked questions) section answers many of the more common questions the author has gotten in his lectures and workshops. The book concludes with a very informative plant profile list.
Whether it's seedlings or seeds, veggies or flowers, there is practically no limit to the plant varieties that you can grow in a straw bale garden. Karsten's book shows you how to do it in an easy-to-follow and beautifully-illustrated way. My 'experimental bale' has been set up and planted and I am looking forward to how well it does this summer.
The book is published by Cool Springs Press. It is available through the author's website, strawbalegardens.com ($20.00) and Amazon (starting at $12).