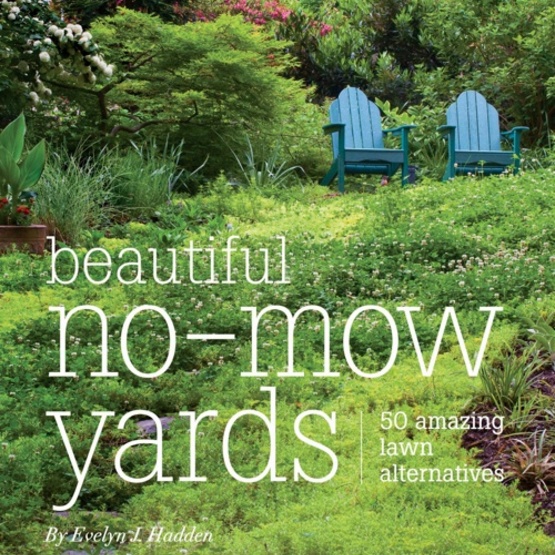 Beautiful No-Mow Yards: 50 Amazing Lawn Alternatives, by Evelyn J. Hadden (Timber Press) has it all: A compelling rationale for ignoring the siren song of the "perfect" lawn, inspirational stories from gardeners and designers enthusiastically embracing this timely trend, and step-by-step instructions for creating easy-care, planet-friendly patches of paradise. That's why we're giving a copy away.
The back cover of this beautifully photographed, idea-packed book provocatively asks, "What has your lawn done for you lately? Is it really worth the time, effort, and resources you lavish on it?"
I'll give you a minute. Close your eyes (unless you're driving while reading on your smart phone) and ponder these questions that many otherwise sensible gardeners overlook. Though Hadden isn't a zero-tolerance, anti-lawn zealot (she makes the case that as a recreational surface, sensible "smarter lawns" are the still best choice of garden floors), it's hard to read this book and not want to run outside and Kevorkianize that patch of green that sucks the life out of precious weekends and strains checkbooks.
Evelyn is a passionate gardener with a strong connection to the natural environment. In favor of the often chemically-treated, paralyzingly boring monoculture that is turfgrass, she reminds us of the effervescent diversity of a mixed meadow. She entices us to experience the subtle beauty of a living carpet of ground covers, the utility of water-purifying rain gardens, and the family fun that comes from a space where children can play and explore.
In part one, Design Inspiration: The Many Possibilities, Evelyn taps into her hands-on experience working on her own 5-acre lot on the outskirts of the Minneapolis-St. Paul area. She's been using this living lab to refine her ideas for creating a naturalistic landscape, and doing it with a chemical-free approach. She also includes the experiences and words of dozens of gardeners and designers from every growing zone, offering examples of no-mow solutions for every situation. (I'm honored to have one of my favorites designs included in the Xeric Gardens section.) Among the ten other approaches are sections titled living carpets, shade gardens, rain gardens, play areas, edible gardens, and for those not willing to completely sever their turf attachment, smarter lawns.
| | |
| --- | --- |
| | |
It's one thing to offer impassioned words of inspiration, and quite another to get down to the dirty, soul-satisfying work of bringing the vision to reality. Part two, How to Get There, offers ways to convert an existing lawn into a no-mow garden using eco-friendly methods. And since these types of yards might be a new concept for folks who's gardening experience is limited to breathing mower fumes, there's plenty of advice for getting started. Hadden is no Pollyanna, and faces head-on some of the initial bumps (or clods) on the path to a lawnless garden. The key is what the author calls "partnering with nature."
"The most successful no-mow yards work like a natural system,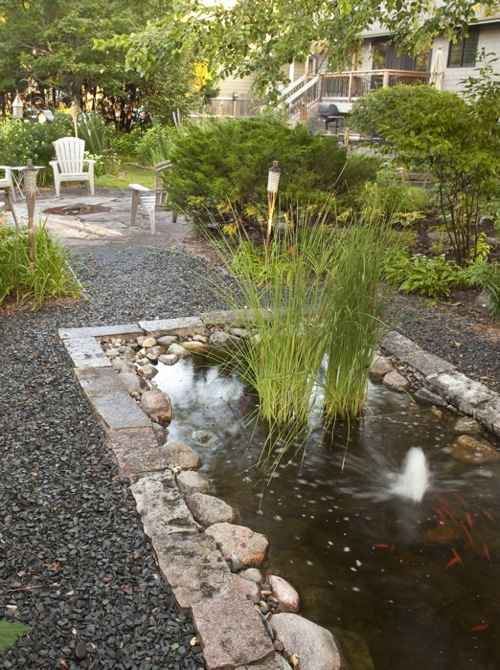 made up of not just plants that are native to the area, but based on the ecology of the site," Hadden says. "I combine plants that would naturally associate with each other. By understanding how plants grow on their own, it increases the chance they'll thrive without a lot of fuss."
Part three offers an encyclopedia of plant choices grouped by growth habits: mounding, mat-forming, fill-in, and minglers. Each plant's listing includes the recommended zone, place of origin, growth habits and character, behavior, and preferred soil and lighting.
I haven't mentioned the luscious photography that adorns every turn of the page, many by superstar garden photographer Saxon Holt. These images provide design inspiration as well as intimate details of scores of beautiful plants.
I'm especially grateful that Evelyn wrote this book, not me. Rather than a raging rant about the evils of these insidious Blades of the Devil (I'm minding my manners in case there are children present), the author approaches her topic with eloquence and tolerance for those who aren't yet prepared to go cold turkey. She's a skilled writer, weaving her natural storytelling ability with fact-filled, practical gardening information. This book will benefit any gardener ready to step into a new adventure.
You can learn more about Evelyn Hadden's work and find out how to schedule a talk, at her website, LessLawn.com.
Post a comment by March 31 for a chance to win a copy of this book
I encourage you to read this book and take its message to heart. And to speed that process, Timber Press is giving away a free copy to one lucky person who leaves a comment at this blog post. Tell us about your garden, whether you're catching the going-lawnless bug, or any horror stories that might motivate you to call in a controlled napalm strike. Early in April, we'll choose one name at random and dispatch a copy to your doorstep. For the rest of you, I hope you'll add this great book to your library. But you might want two, just so you don't worry about getting a little mud on the pages.