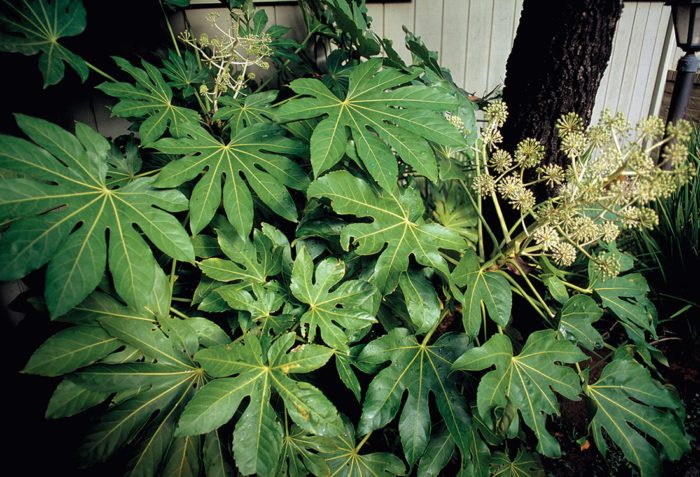 In horticulture, plants are often described as having fine, medium, or bold (coarse) texture. Bold-textured plants have large leaves and sometimes large blossoms to match, although "bold-textured" really refers to foliage. These plants provide interest even without flowers, which makes them excellent specimens for winter gardens after the flowering season has ended. They also work well in shady spots, which typically don't provide as much of a flower show as sunnier locations do.
Bold-textured plants provide a foil to surrounding fine-textured plants. The trick to maximizing their impact is to not crowd too many bold beauties into one space, but rather to use them more sparingly as anchors among finer-textured species. Fortunately, there are plenty of bold-textured plants to choose from for different soil moisture levels—from very moist to quite dry. That means that the long, hot summers of the Southern Plains do not prevent us from having beautiful, bold selections in our gardens.

Bold-Textured Species for Dry, Sunny Gardens
I have an all-star cast of bold-textured beauties for dry, sunny garden spots.
Giant coneflower
This cousin of the more familiar purple coneflower (Echinacea purpurea, Zones 3–9) makes a big impact in the garden. For most of the year (even in winter!) giant coneflower (Rudbeckia maxima, Zones 5–9) has a large, gray-green rosette about 2 feet in diameter. In the summer each rosette sends up a 3-to-4-foot-tall flower spike with a cheerful yellow blossom. En masse, this coneflower looks gorgeous and makes a strong impression.
White rosinweed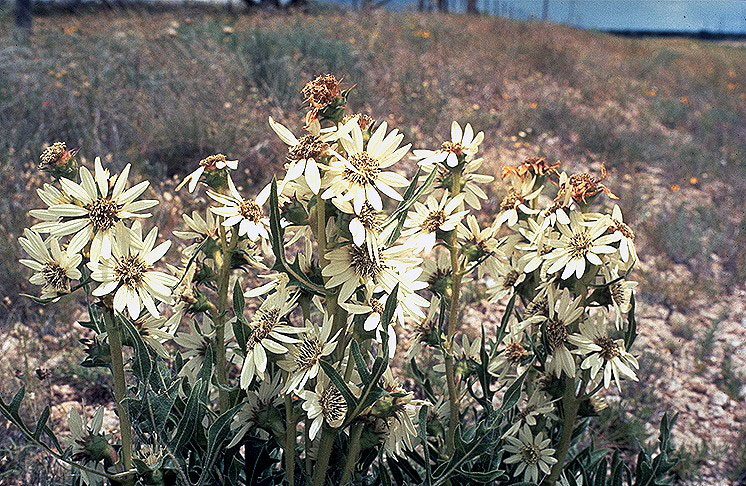 If you are looking for a long-lasting bold perennial for your dry garden, white rosinweed (Silphium albiflorum, Zones 5–10) is an excellent choice. It produces medium-sized white blooms in early summer, but the foliage is the star feature. The deeply lobed gray-green leaves are reminiscent of staghorn fern (Platycerium spp. and cvs., Zones 9–12). It is a slow grower but is long-lived and produces a long, tenacious taproot that anchors it in rocky, dry locations.
Maximilian sunflower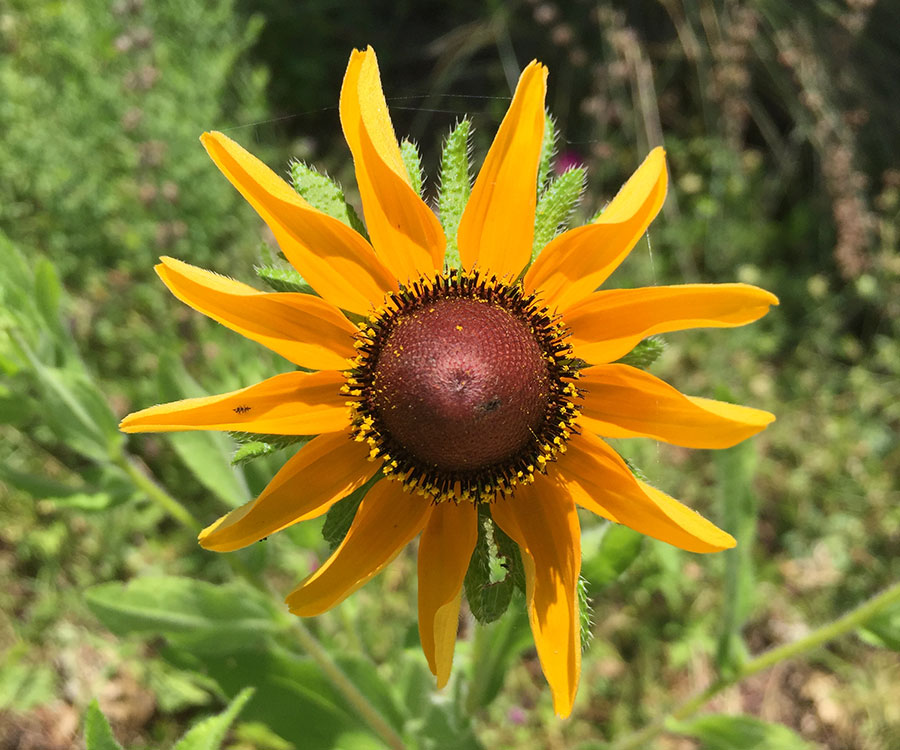 Maximilian sunflowers (Helianthus maximiliani, Zones 5–10), or "max suns," are perennial sunflowers that stand 4 to 8 feet tall by early fall. They are large and stately and make an excellent anchor line at the back of a bed. They are extremely drought tolerant and provide interest through the winter if you leave them standing.
Yucca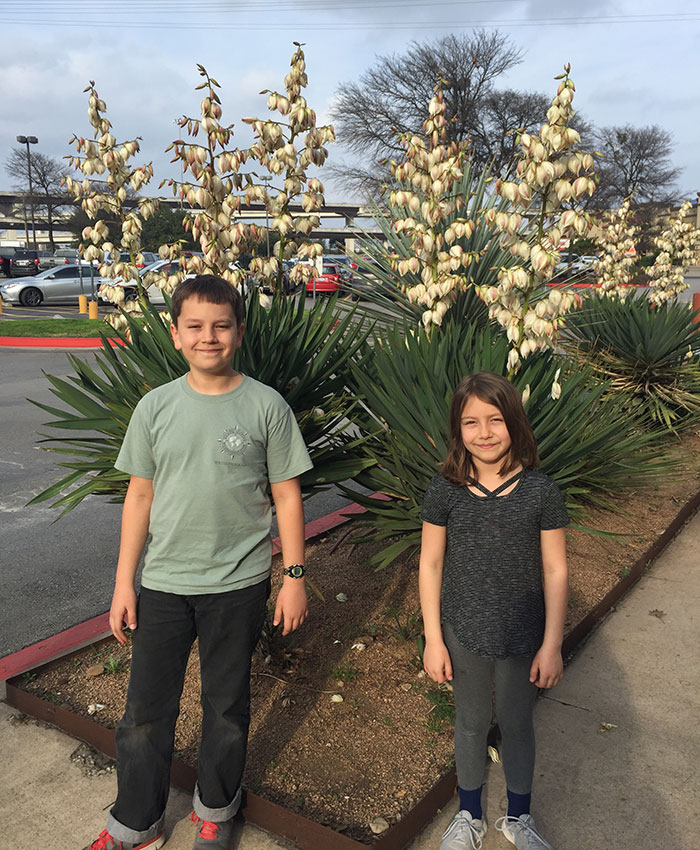 Yucca (Yucca spp. and cvs., Zones 4–10), with their whorls of long, thick leaves and spires of fat white blossoms, are nothing if not bold. Some excellent yucca species for Texas are those commonly referred to as Spanish dagger or Spanish bayonet: Yucca treculeana (Zones 8–10), Yucca faxoniana (Zones 5–10), and Yucca torreyi (Zones 5–10). Further north in Oklahoma and Kansas, suitable yucca species include Arkansas yucca (Yucca arkansana, Zones 4–9), soapweed yucca (Yucca glauca, Zones 4–10), and Adam's needle yucca (Yucca filamentosa, Zones 5–10).

Bold Textures for Moist Soils and Shade
While the bold-textured plants for dry areas sometimes give off a desert vibe, the following species for moister soils and shade create a tropical feel.
Leopard plant
I still remember the first time I saw leopard plant (Farfugium japonicum, Zones 7–10) growing in a flower bed in San Antonio. I was so impressed by the size and shape of the foliage. The leaves of 'Aureomaculata' are large (about 6 to 8 inches), round, and glossy dark green with yellow spots. They have a lush, succulent look, and the flowers themselves resemble bright yellow daisies. Another variety, 'Gigantea,' has even larger leaves, about the size of dinner plates!
Swamp mallow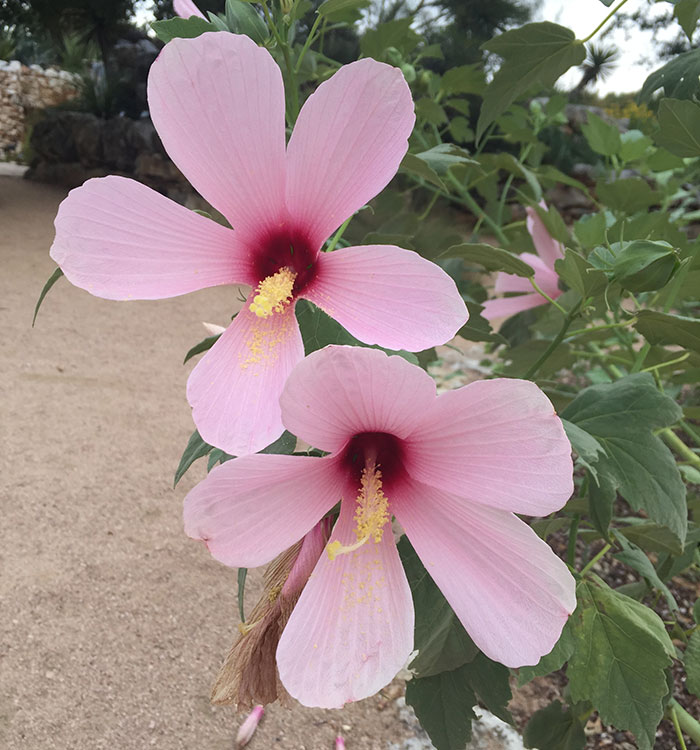 Swamp mallow (Hibiscus grandiflorus, Zones 4–10) is a perennial hibiscus that produces huge, pink blooms on 6-foot flower stalks. The large leaves are pale green and fuzzy. Swamp mallow looks great in a grouping in a rain garden.
Oakleaf hydrangea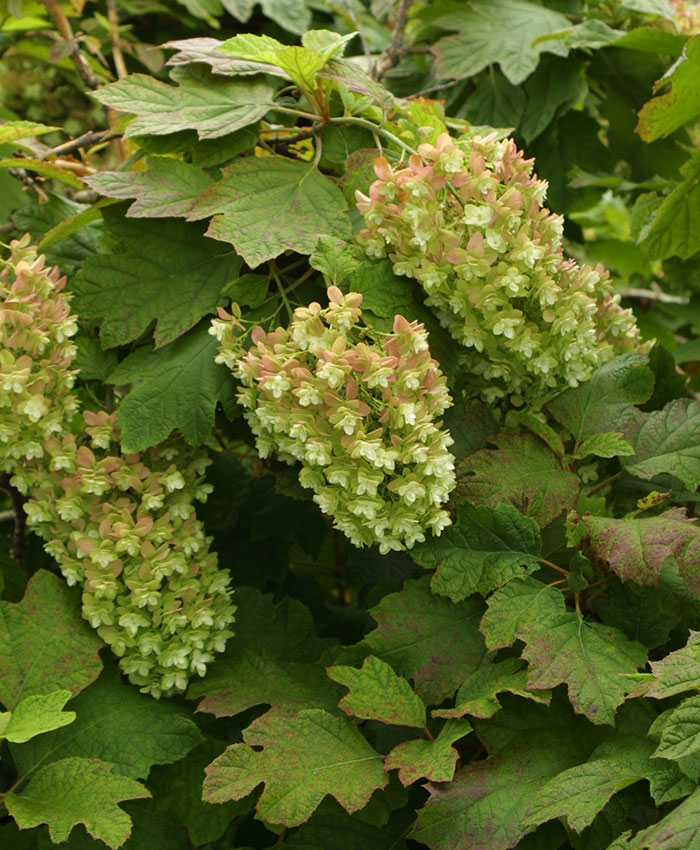 This beloved shrub species thrives in much of the Southern Plains region, from North Texas and East Texas up through Kansas. The large, oaklike leaves of oakleaf hydrangea (Hydrangea quercifolia, Zones 5–9) make a beautiful green canopy, turning gold and red in the fall. In addition to the bold, attractive foliage, oakleaf hydrangea also boasts large cones of white flowers that last for months, turning pinker as they age.
Crinum lilies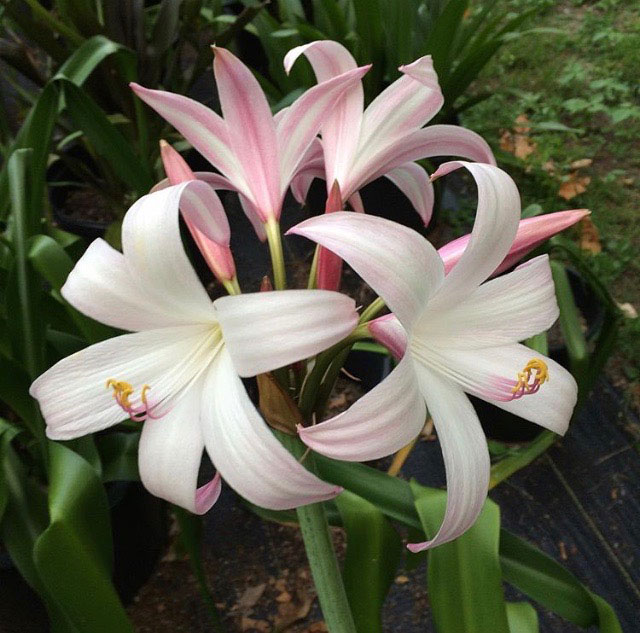 Tough and long-lived, crinum lilies (Crinum spp. and cvs., Zones 7–10) can reach up to 4 feet in diameter. The strappy green leaves of these so-called lilies always provide an equally bold statement behind their large flowers. Some of my favorite crinum varieties are 'Ellen Bosanquet', 'Peachblow', and 'Marisco'.
Japanese aralia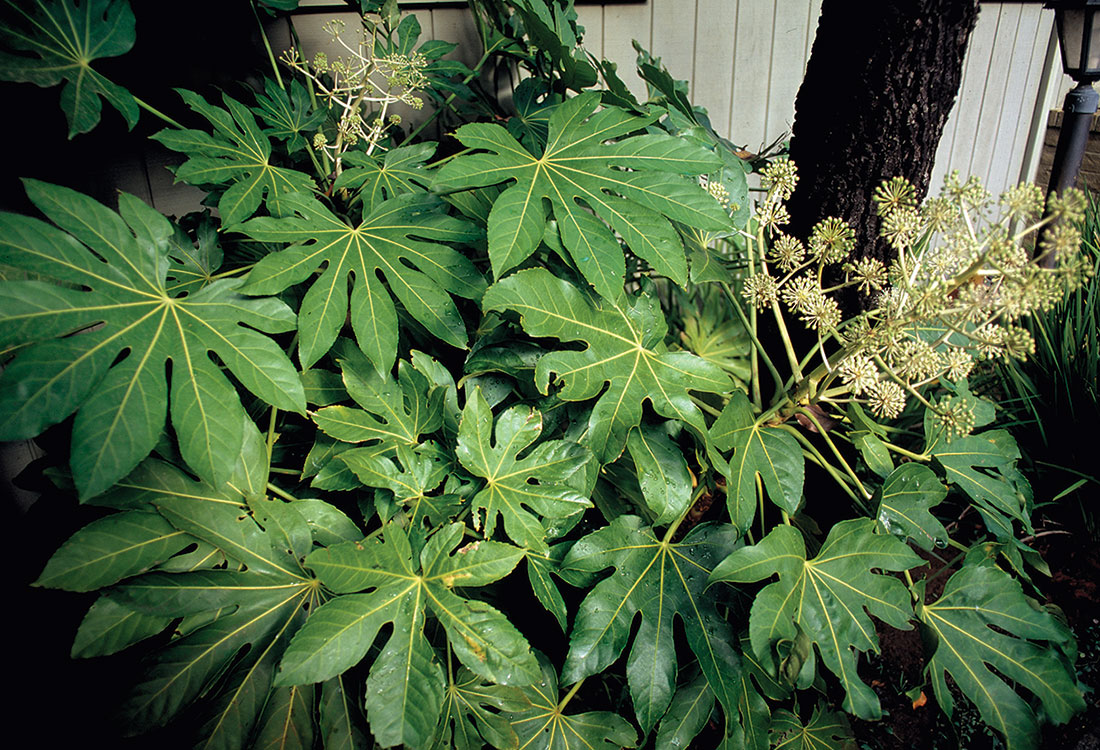 This tropical-looking shrub can reach about 10 feet in height and diameter with inconspicuous white blooms. Its crowning glory is its foliage, which is large, dark green, and deeply segmented. Japanese aralia (Fatsia japonica, Zones 8–10) is a classically bold-textured plant and does well in warmer climates.
Bold-textured plants are show stealers, drawing the eye and making a scene. These are just a few species of bold-textured plants for our region. The next time you're out admiring a garden or a natural landscape, you may realize that many of the plants that draw your eye right away are bold-textured. You may also notice that they really seem to pop when surrounded by fine-textured or medium-textured species. Have fun mixing up plant textures in your own garden!
—Karen Beaty is a horticulturalist at the Lady Bird Johnson Wildflower Center in Austin, Texas.