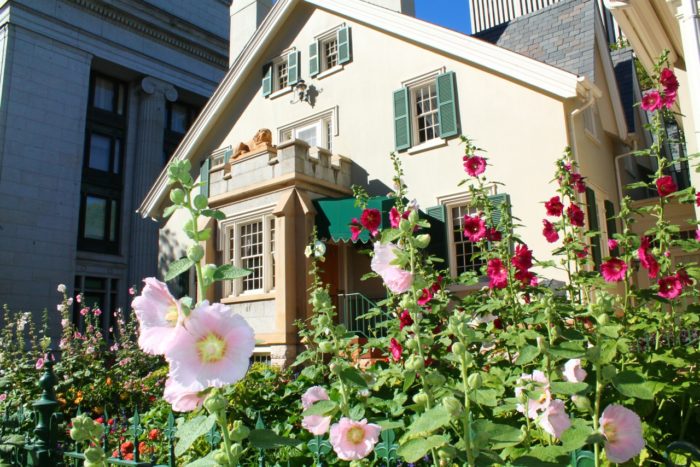 Today's photos are from Bill Goff in Pittsburgh. We visited Bill's garden a while ago (refresh your memory HERE), and I visited him in PERSON this summer (more on that later!) Today he's sharing his garden travels.
He says, "Diane and I just came back from a tour out West…Mt. Rushmore, Crazy Horse Monument, Yellowstone, and other points of interest.  Salt Lake City, Utah, was on our agenda, and we stopped at Temple Square and were totally blown away by the beautiful gardens there.
Most everything was in full bloom, even though it is almost mid October. (I pulled my aging annuals out several weeks ago here in Pittsburgh)  Around each corner there was a view more lovely than the next. We were not expecting all of this botanical beauty here. I was also surprised at how well the impatiens were doing, considering the blight that is now affecting these plants."
Wow, Bill, these are the best photos of these gardens I've seen yet! For mid-October, that place was spectacular! Thanks so much for sending in photos!  **As I said, I had a chance to visit Bill and his wife in Pittsburgh this summer, and they are both WONDERFUL!! Tomorrow I'll share some pics…..**
Help me keep kicking out posts all winter long–send me photos of your gardens NOW! Email me at [email protected] Thanks! –Michelle
Want us to feature YOUR garden, or a garden you've recently visited, in the Garden Photo of the Day? CLICK HERE!
Want to see every post ever published? CLICK HERE!
Want to search the GPOD by STATE? CLICK HERE!
And last but not least, Check out the GPOD Pinterest page, where you can browse all the post in categories…fun! CLICK HERE!