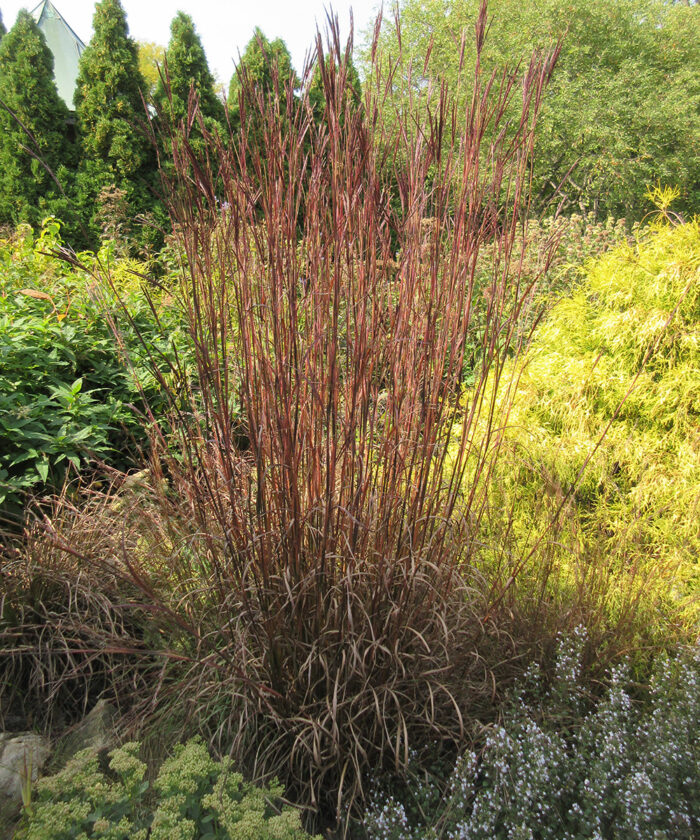 With the widest distribution of all native prairie grasses (native to most of North America, including the Midwest), big bluestem (Andropogon gerardii, Zones 3–9) continues not only to maintain its popularity in our prairie restorations, wildlife gardens, and meadow mixes, but some choice selections are also finding a starring role in the home landscape. In the last 10 years it's been exciting to see the evolution of big bluestem as it's become more mainstream. It contributes significant ornamental interest and extreme durability.
Big bluestem at a glance
Preferring full-sun situations, big bluestem has an upright stature. It typically reaches 5 to 8 feet tall and 2 to 3 feet wide, although there are shorter varieties. The grayish blue–green summer foliage is topped by purplish, tassel-like flowers in fall. Seed heads are branched in three parts, which gives this grass its other common name of turkey's foot. Drought tolerant once established, this tough grass also tolerates deer (but not heavy grazing!), drought, erosion, dry soil, black walnut toxicity, air pollution, and alkaline soil. That's a long list of strengths for a beautiful grass that is equally effective in larger plantings or grown as an accent. Over twenty-four species of songbirds seek this grass for cover, with many additional insects, small mammals, and birds using it for habitat. Too much water, shade, or fertilizer can actually cause this grass to get top heavy and flop over in summer. Some benign neglect is acceptable.
Fall color is a distinctive feature
Big bluestem typically gets some degree of decent fall color that begins in summer and intensifies in autumn as the evenings become cooler. This color has been described as ranging between reddish bronze to earthy orange with hints of pink. Fall color is variable with the straight species, but there are some amazing varieties that have been selected for a very intense and lengthy color contribution. The four varieties featured below were all introduced by nurseryman and plant breeder Brent Horvath of Intrinsic Perennials in Hebron, Illinois. Brent has a keen eye for variability, and these selections are all stellar garden candidates. Consider the value of these grasses for texture, scale, movement, fall and winter interest, and very intense late-season color.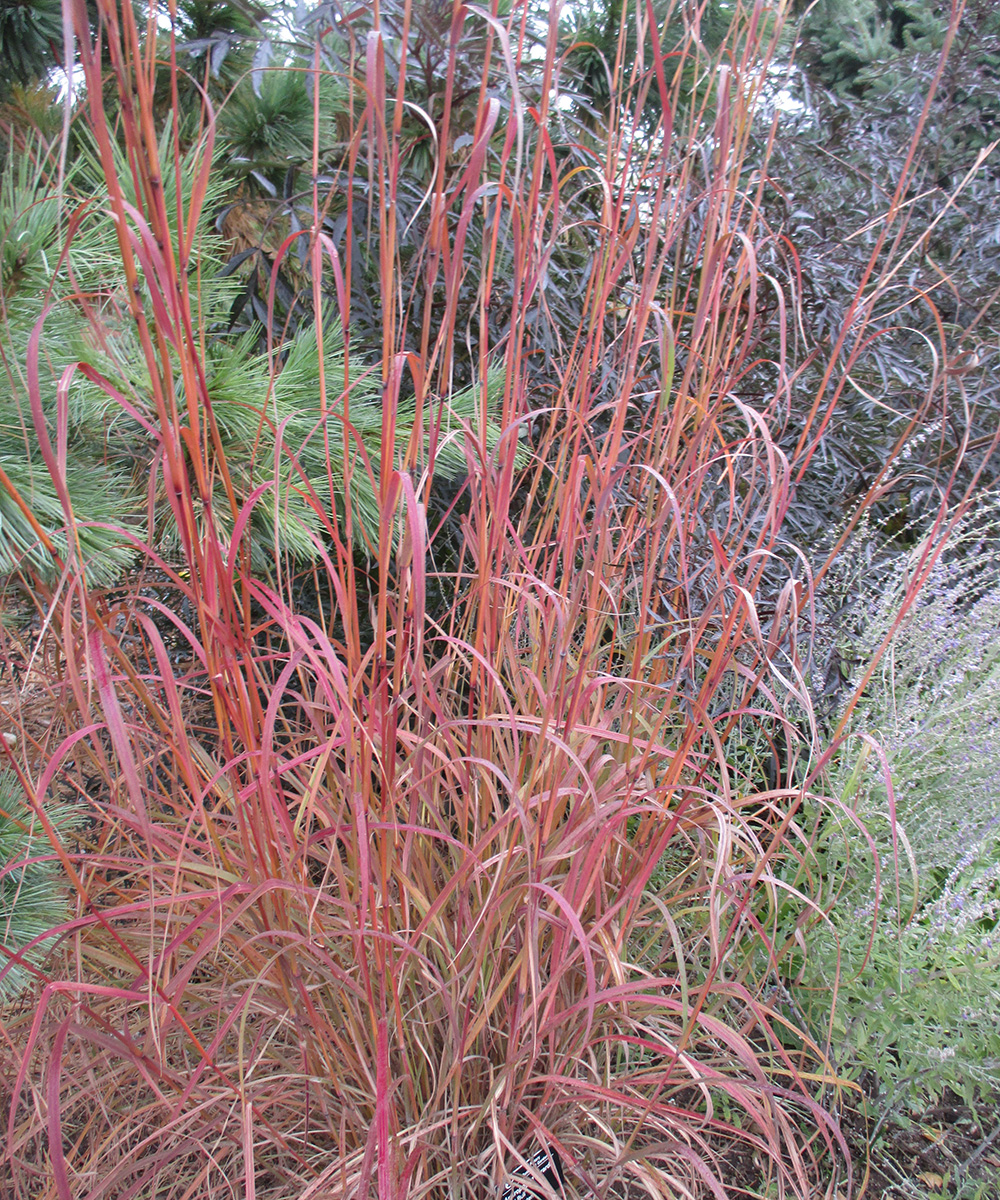 'Red Bull' big bluestem
A. gerardii 'Red Bull', Zones 3–9
One of Horvath's earlier selections, 'Red Bull' can achieve heights well over 7 feet tall and would be the tallest big bluestem variety of those listed in this article. The coloration of 'Red Bull' intensifies from a deep pink in summer to a medium red in early October in the Midwest.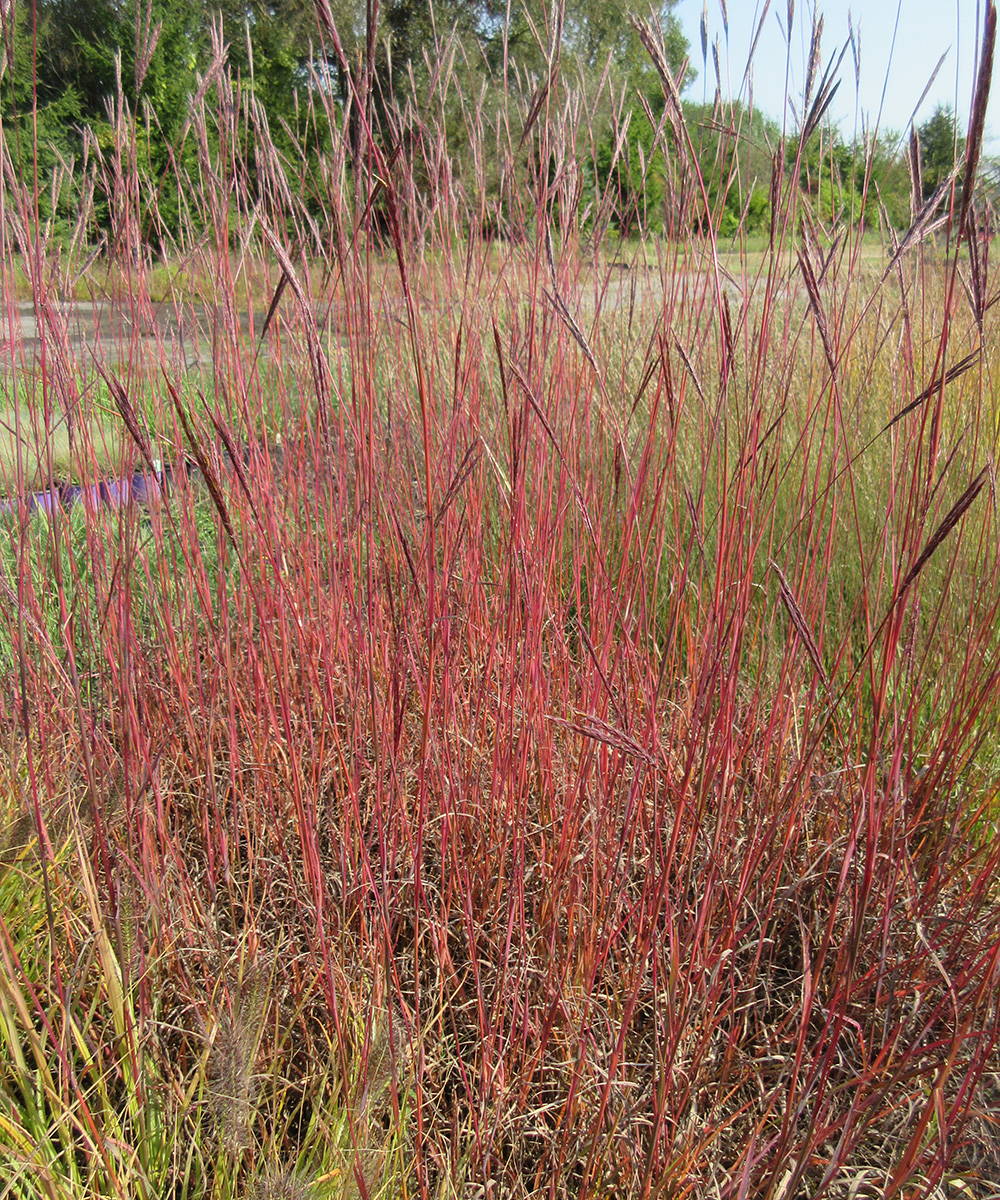 'Dancing Wind' big bluestem
A. gerardii 'Dancing Wind', Zones 3–9
This cultivar is a favorite of mine, and I think 'Dancing Wind' has the longest lasting, most intense red fall foliage of all big bluestems. Reaching 6 feet tall, this lightly arching selection is quite rigid but sways in the breeze. It looks great in masses or as an accent, and the intense red foliage lasts into winter, even after multiple hard frosts.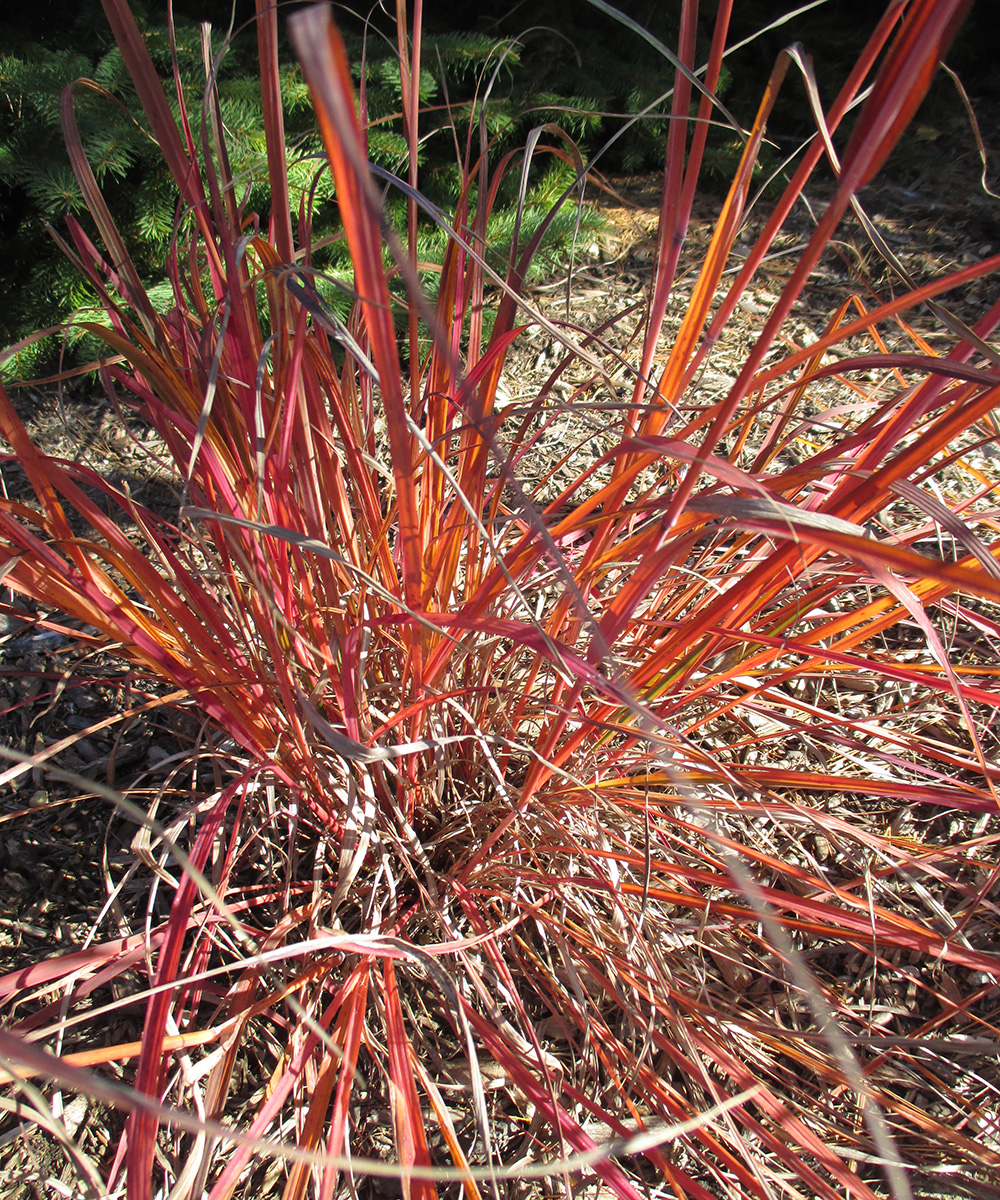 'Red October' big bluestem
A. gerardii 'Red October', Zones 3–9
Reaching about 6 feet tall, this popular selection is known for its consistently narrow habit with summer hints of red on the foliage that intensify to a glowing burgundy in autumn. This variety literally glows in late summer with nice backlighting. But do note that the fall color can vary widely from year to year.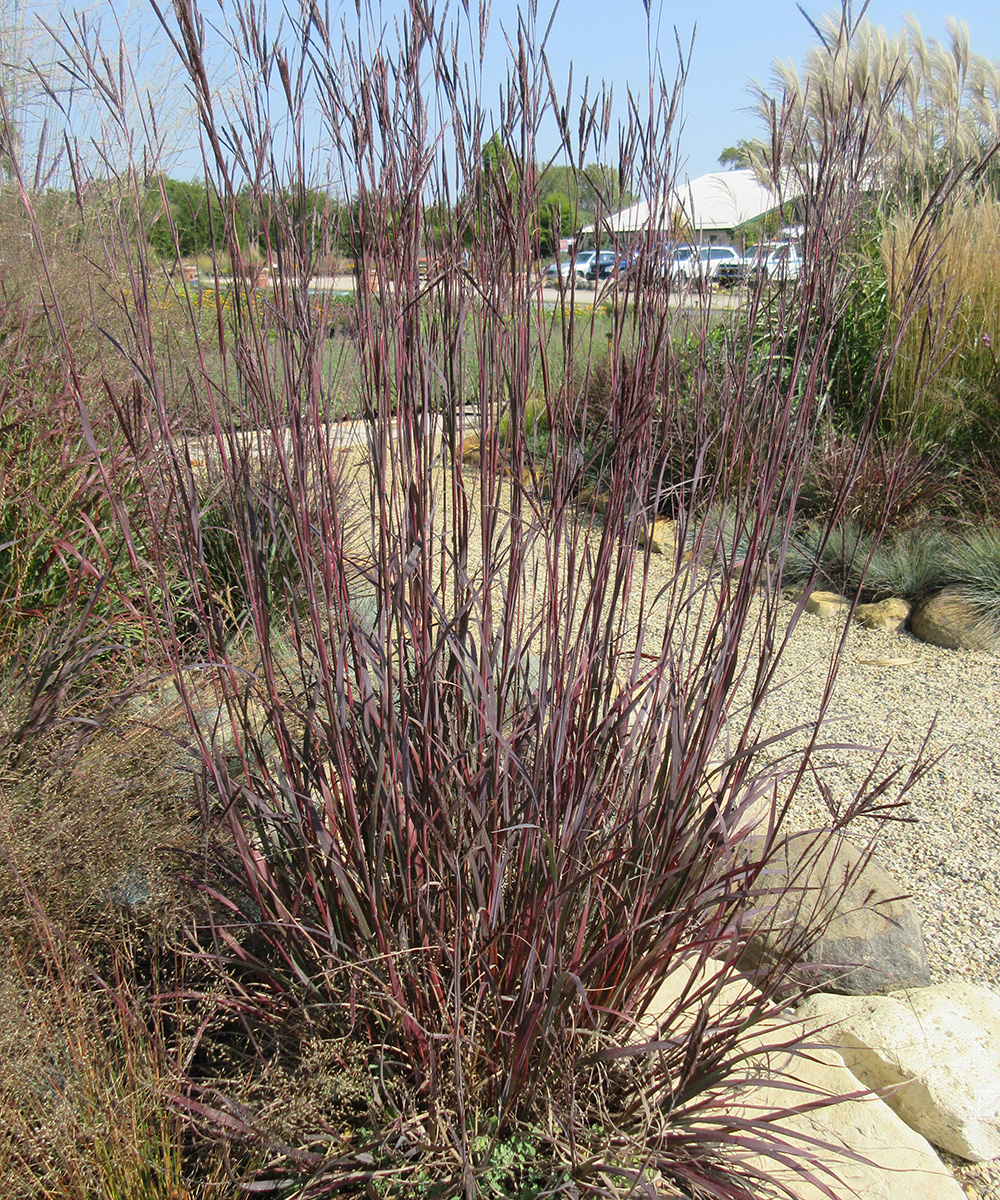 'Blackhawks' big bluestem
A. gerardii 'Blackhawks', Zones 3–9
This selection has become the must-have variety of big bluestem over the last couple of years. Developed from 'Red October', it sits at about 5 feet tall. Deep green spring foliage develops hints of purple in summer that darken to an intensely dark purple (not red!) in fall, which can read visually as nearly black. This grass has limitless potential for lasting appeal in the garden and hits its stride in the later summer months.
For more on regional fall interest, check out the following articles:
—Mark Dwyer, former director of horticulture at Rotary Botanical Gardens in Janesville, Wisconsin, operates Landscape Prescriptions by MD.