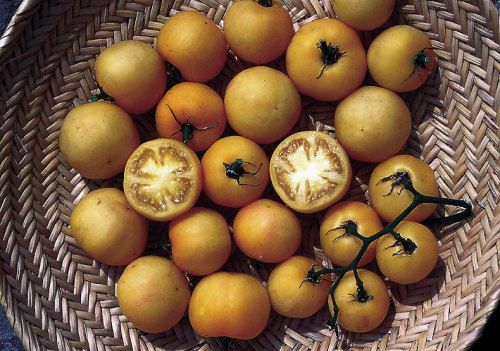 Tomatoes are the crown jewel of the garden. They are easy to grow, and the taste is just fantastic. Everyone loves beefsteaks, but they don't do all that well for me, so I usually opt for small and midsize offerings. And there's always the urge to branch out and try ones I've never grown before.
Small tomatoes are nice because they mature quickly and they make great snacks. Sun Gold (I love this orange cherry tomato!) is usually the first to produce, followed closely by Juliet (a red grape type) and Principe Borghese (good for drying). This year, as I pored through the seed catalogs, Wapsipinicon Peach captured my fancy. I was intrigued by the name, of course, and also the unusual color. Who wouldn't go for a "heavy producer of 2-inch peach-shaped fuzzy yellow fruits" with "sweet excellent flavor," as Seed Savers Exchange puts it. The heirloon variety takes its name from the Wapsipinicon River, which flows through northeastern Iowa into the Mississippi.
Paste tomatoes are something of an anchor crop for me; it's a wonderful thing to stock the freezer with stewed tomatoes for winter sauces and soups. Lately I've relied on Amish Paste, Opalka, and Linguisa; this year I'm adding Speckled Roman to the mix. Seed Savers Exchange says Speckled Roman produces "gorgeous 3-inch-wide by 5-inch-long fruits with jagged orange and yellow stripes."
If you are tempted to try something new this year, check out the colorful heirloom offerings on the Seed Savers Exchange tomato page. Fortunately, no special expertise is needed for growing these beauties. Just do what you do for "ordinary" tomatoes, and you should be fine.
Are you growing any unusual tomato varieties this year? Please post a comment below. We're always on the lookout for new and interesting seeds to try.