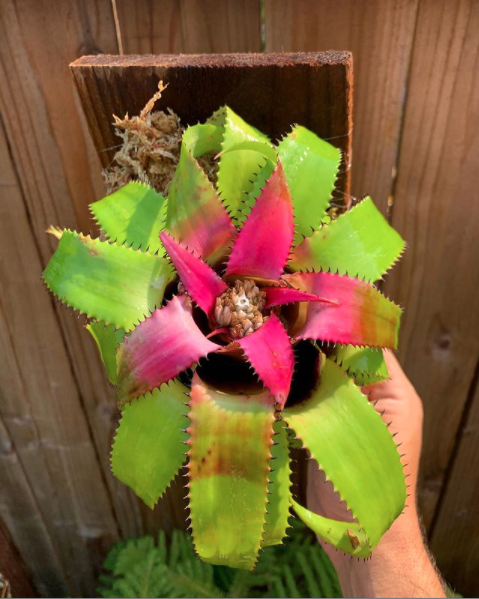 Today we're in the Bay Area of California, visiting Anthony's beautiful collection of plants.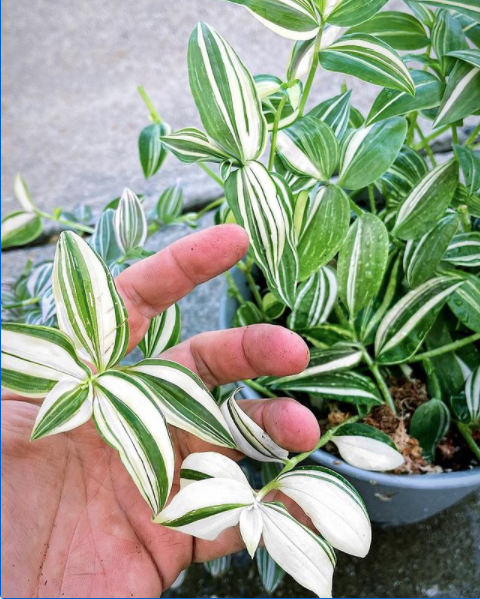 This tradescantia (Tradescantia fluminensis 'Variegata') went from a single stem to this in just a few months. Gotta love fast-growing, great-looking plants. This variety can be grown as a houseplant, used as an annual, or grown outdoors year-around in climates without frost.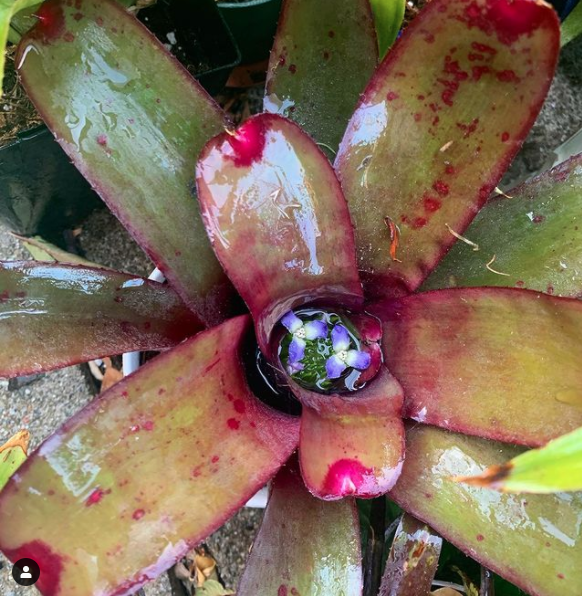 A beautiful bromeliad, Neoreglia odorata, produces its small blue flowers for the first time. Bromeliads are usually grown for their dramatic foliage, but the flowers can be pretty nice as well.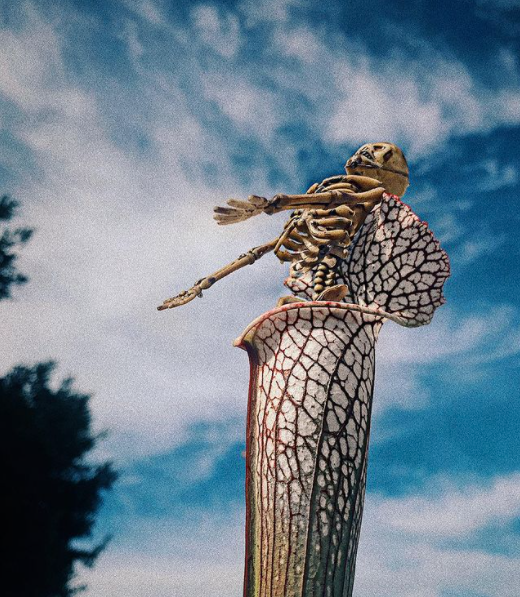 One of Anthony's pitcher plants (Sarracenia leucophylla, Zones 6–8) got a little hungry for Halloween!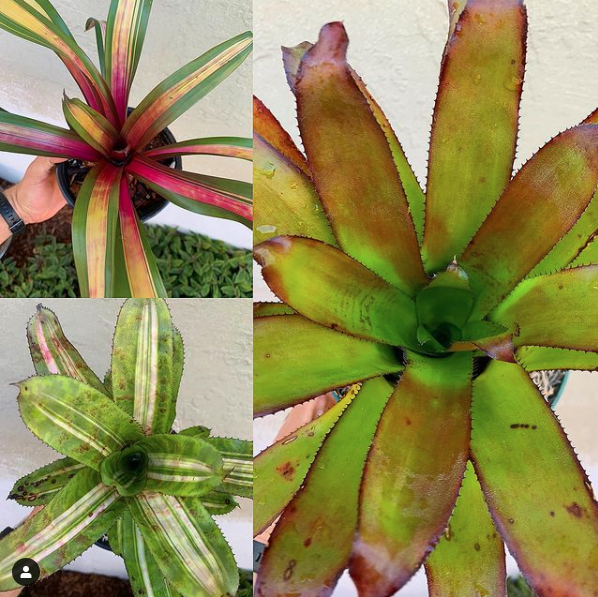 Here are some members of Anthony's bromeliad collection. Top left: Vriesea 'Kent's Sunset' (or possibly × Vrieslutheria 'Kent's Sunset' depending on which taxonomist you talk to). Bottom left: Aechmea fosteriana 'Variegata'. Right: Portea nana. Most bromeliads adapt well to life as houseplants or to the outdoors in frost-free climates. They can even be used like summer annuals in colder climes, provided they are brought inside for the winter.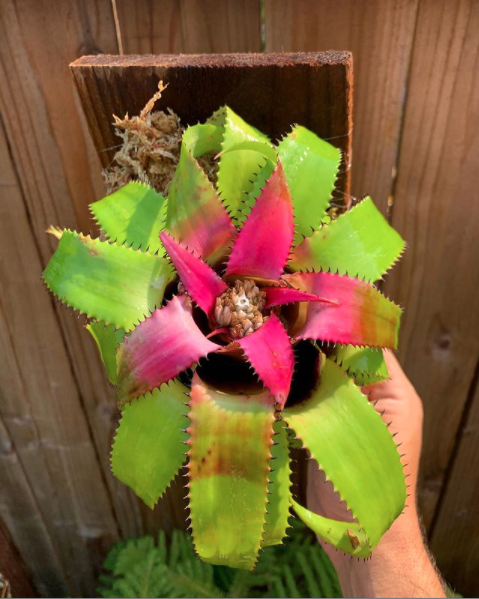 A simply stunning bromeliad: Neoregelia eleutheropetala. Look at those colors and that incredible foliage! Most bromeliads are epiphytes, meaning that in nature they live perched on the branches of trees. Mounting them on a piece of wood is a way to mimic those conditions in cultivation.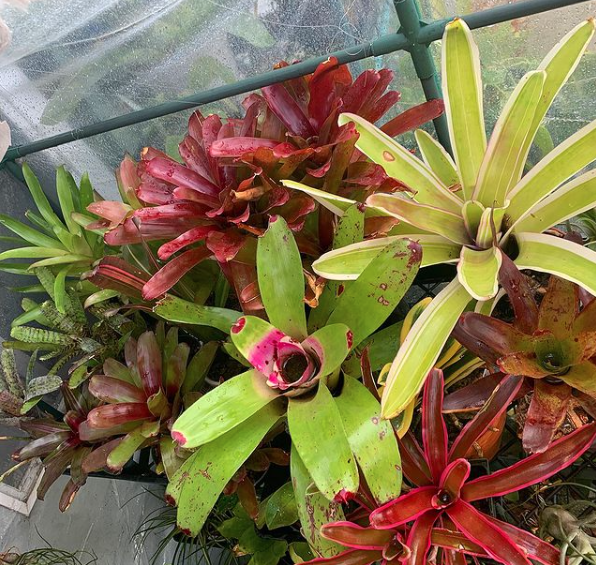 So many beautiful bromeliads!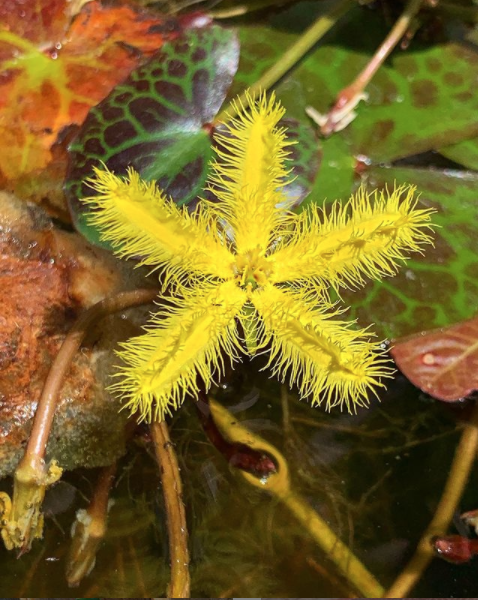 But it isn't just bromeliads. This little water snowflake (Nymphoides geminata, Zones 8–11) grows a little like a water lily and produces these incredible fringed, yellow flowers.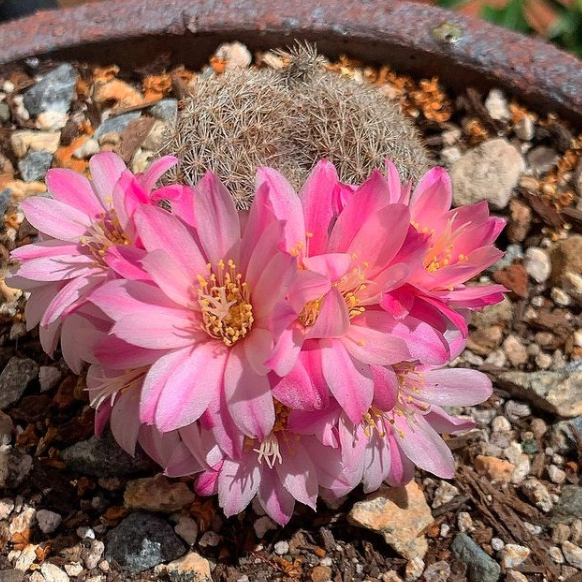 And cacti: Rebutia narvaecensis outdoes itself when it comes to producing fluffy, pink flowers that bely its spiny nature.
From the vegetable garden comes this gorgeous artichoke.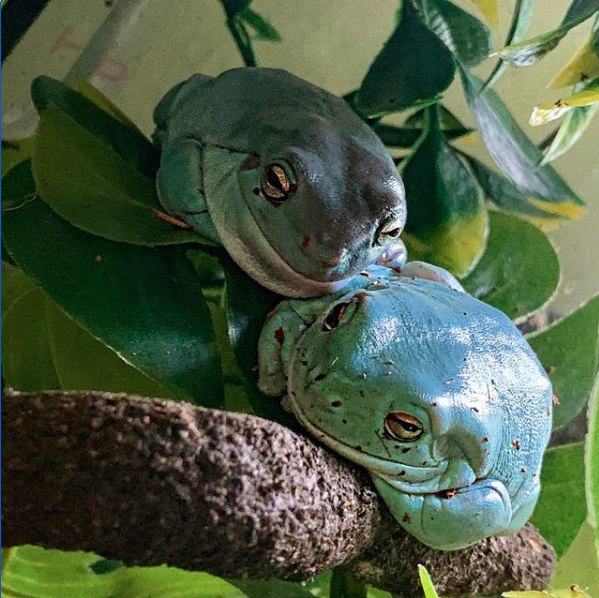 Besides plants, other interesting things live with Anthony, like these rather adorable little Australian tree frogs.
If you want to see more of Anthony's plants (and other critters!) check out his Instagram: @antsplants510
Have a garden you'd like to share?
Have photos to share? We'd love to see your garden, a particular collection of plants you love, or a wonderful garden you had the chance to visit!
To submit, send 5-10 photos to [email protected] along with some information about the plants in the pictures and where you took the photos. We'd love to hear where you are located, how long you've been gardening, successes you are proud of, failures you learned from, hopes for the future, favorite plants, or funny stories from your garden.
If you want to send photos in separate emails to the GPOD email box that is just fine.
Have a mobile phone? Tag your photos on Facebook, Instagram or Twitter with #FineGardening!
You don't have to be a professional garden photographer – check out our garden photography tips!
Do you receive the GPOD by email yet? Sign up here.