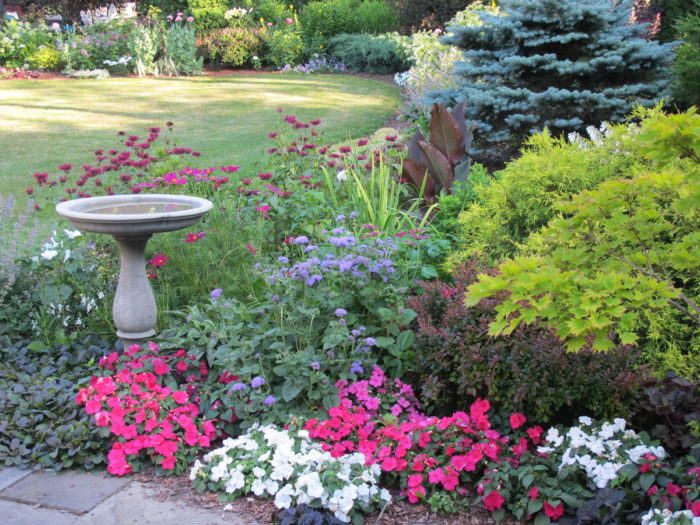 Today's photos are from Barb May. She says, "I live in western Massachusetts in the Berkshires. I have lived in this house for 30 years. We raise four chickens and grass fed beef on about 7 acres. The gardens have evolved from absolutely nothing besides the prickly brush and sumac on the site when my husband & I built our house in 1981 to a full perennial and shrub garden backed up by a pool, as well as gardens all around my home and a raised-bed vegetable garden.
"I've always loved gardening & had a garden design/installation business for 10 years until I needed a knee replacement (I understand this is a typical gardener's ailment!). I now  maintain only my own spot. I'm a member of the Lenox Garden Club, which is a member of the Garden Club of America. I've been the club's Garden & House Tour chair for many years, and I'm always on the lookout for beautiful gardens in the area."
Beautiful, Barb! I'm betting that no one would mind a second day of your garden, with lots more photos…And if anyone knows of a garden that you think Barb should consider for a garden tour, let her know in the comments.
Thanks to everyone who sent in photos last week! I would still ove to build up a bank, so send me some pics of your garden travels or of your garden last season!
**Hey all–are you signed up to get the GPOD in your inbox each morning? If not, do it now!**
        —–CLICKHERE.—–
Want us to feature YOUR garden, or a garden you've recently visited, in the Garden Photo of the Day? CLICK HERE!
Want to see every post ever published? CLICK HERE!  Want to search the GPOD by STATE? CLICK HERE!
And last but not least, Check out the GPOD Pinterest page, where you can browse all the post in categories…fun! CLICK HERE!