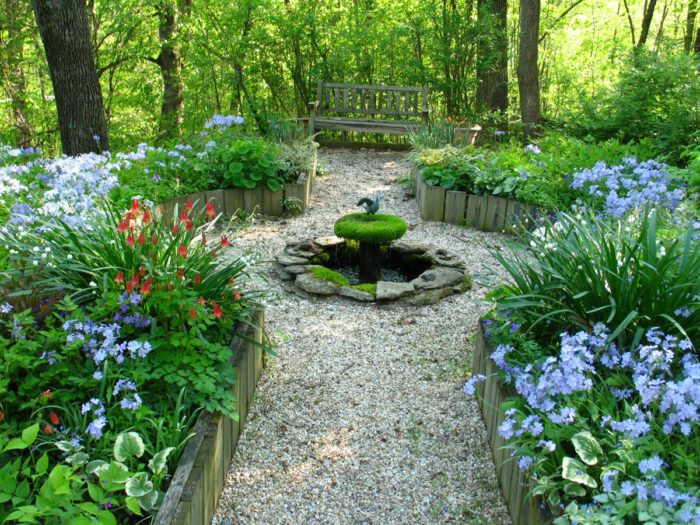 Today's photos are from Barbara Nuffer's shady garden in upstate New York. She says,
"When I designed my circular, stone-edged bed in the shade I modified the normal design to be able to accommodate moisture- loving plants. I did not want to be a slave to watering as I am basically lazy, or more accurately, overextended in the garden!
This garden is a raised bed. The shape is a 20-foot-diameter circle with a gravel path at ground level leading to a fountain in the center of the circle, and continuing to a bench. The outer perimeter of the garden is a 2-foot-tall stone wall. The interior wall is pressure treated 1 x 6s cut into 3-foot lengths and sunk into the ground 12 inches. Since portions of this wall are curved, we used metal strapping nailed to the back of the pieces of wood to hold it in place. They are slanted slightly back towards the bed. The shape is really pretty in winter as the sun sets behind it. A natural stream is down the hill behind the garden so you hear running water as a backdrop.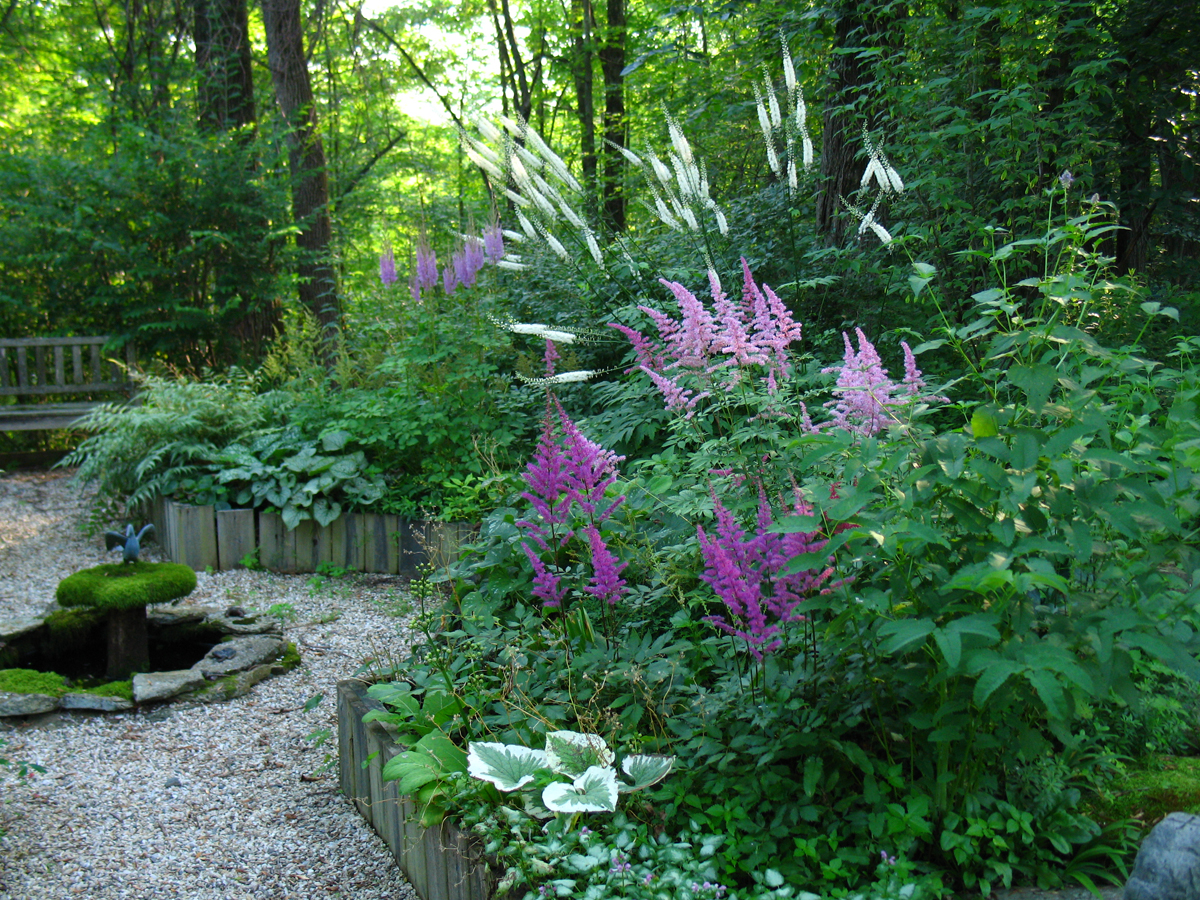 "We lined the bed with black plastic with some drainage holes punched in it. My soil mixture included 6 cubic foot bags of coarse texture vermiculite. We mixed this with potting soil that contained lots of peat. This was suitable because I was planning to use acid-loving plants. We also mixed in two parts of topsoil. The proportions were one part vermiculite to one part potting soil to two parts topsoil. The bed was well moistened and mulched with finely ground cedar bark.
The central water feature is an old mill stone set on a cedar stump, dripping water into a black whisky tub liner set into the ground.
The garden is edged with primroses, Aquilegia canadensis, and brunnera. The final section of path beyond the fountain leading to a garden bench is edged with Japanese painted fern. Many different astilbes, cimcifuga, Jacob's ladder, native and European ginger, jeffersonia, pulmonaria, woodland phlox, and Lobelia siphilitica provide continuing color and structure. A collection of blue, pink, yellow, and white violets rounds out the outer perimeter of the bed and have spilled out to form a ground cover around the garden. The color scheme is white (both in flower color and foliage variegation), pink, and blue. I also have chionodoxa, snowdrops, and 'Thalia' daffodils for early interest and color. I recommend that you be adventurous in creating soil conditions to suit special plants. And labor saving methods are always popular. This technique has been very successful for me.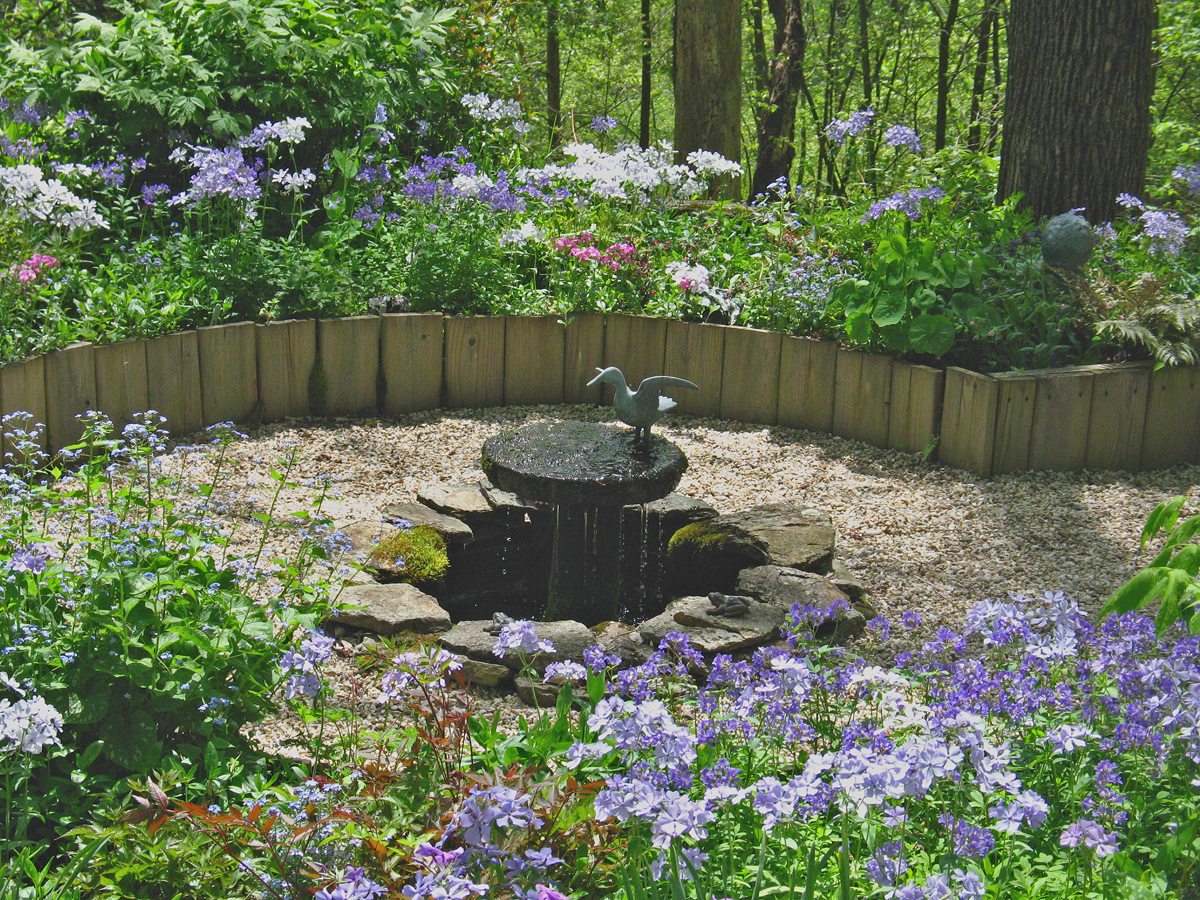 "We have been here since 1974 and have a small Cape Cod from the 1930s that we have added on to. We live on a dirt road and are set back about 100 yards on a hillside facing southeast. We have a 7-foot-tall deer fence around the gardens, as the deer are relentless. Of course the rabbits and woodchucks can come and go.
I am a Biologist and worked for the New York State Department of Environmental Conservation for 32 years and recently retired. I still write for The Conservationist magazine (published by the New York State Department of Environmental Conservation) and have done numerous wildflower articles, using my photographs. I am a Cornell Master Gardener for Rensselaer County and have been doing this for over 15 years. I have done garden design and maintenance for many gardens in my area. My garden includes several perennial gardens, water gardens, an unheated greenhouse for growing vegetables."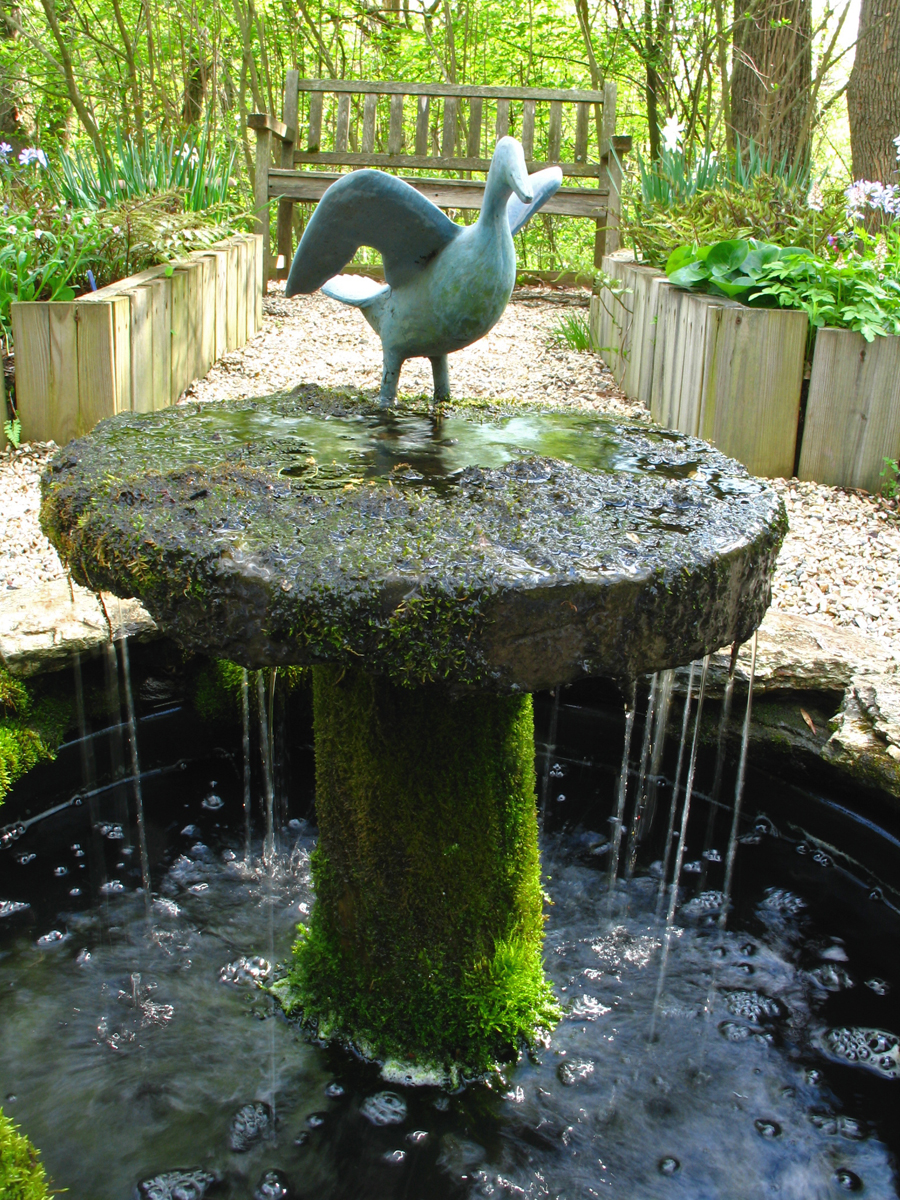 Want us to feature YOUR garden in the Garden Photo of the Day? CLICK HERE!
Want to see every post ever published? CLICK HERE!
Want to search the GPOD by STATE? CLICK HERE!
**Check out the GPOD Pinterest page, where you can browse all the post in categories…fun! CLICK HERE!**