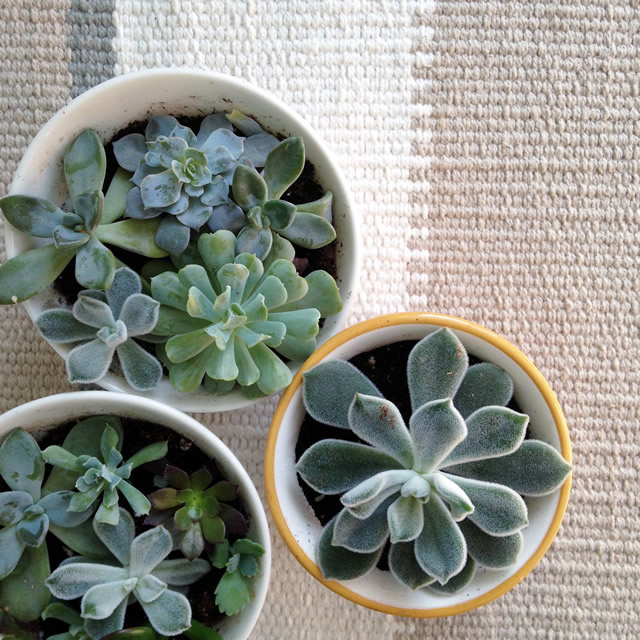 Beth Bennett of Columbus, Ohio has used Instragram to challenge herself gardening indoors….all with a focus on succulents.
"About a year ago, I challenged myself to post one photo a day on Instagram @bruckborder as a way to document and share my gardening story. I created little rules for my Instagram feed to give it a cohesive feel. For example, all photos must be of my garden, my home, and the plants that I grow. I also wanted my gallery to be relevant to the current season. It was fairly easy to develop content during the growing months but I knew I would hit a lull in the winter. In my experience, gardening outside is like cooking and nurturing houseplants is like baking. Outside is flexible, forgiving and organic while inside is precise, rigid and not intuitive for me at all. But after being a successful outdoor gardener for twenty years my little Instagram challenge has given me the motivation to become a proficient indoor gardener. I challenge all of you to share your gardening journeys on Instagram, as I have found the community very supportive and you all do such lovely work."
Have a garden you'd like to share? Email 5-10 photos and a brief story about your garden to [email protected]. Please include where you are located!
Have a mobile phone? Tag your photos on Instagram or Twitter with #FineGardening!
You don't have to be a professional garden photographer – check out our garden photography tips!
Do you receive the GPOD by email yet? Sign up here.
Follow us: @finegardening on Twitter | FineGardeningMagazine on Facebook | @finegardening on Instagram