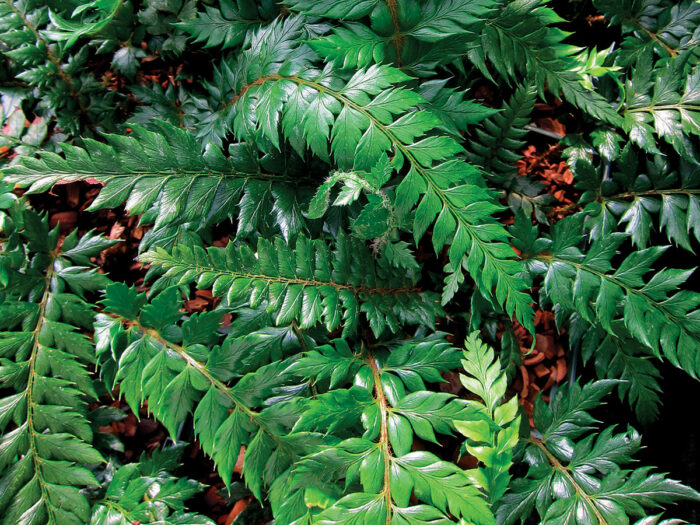 A few years ago we hiked the 268-mile (but who's counting?) Pennine Way in England, sharing part of the trail with a fellow named Jack, who was walking the 1,215-mile End to End Trail from the bottom of England to the top of Scotland. After every rainy, windy day of picking our way through squelchy bog, Jack would join us for dinner looking like he had just walked off his yacht. Pressed shirt, crisp chinos, clean shoes, and not a hair out of place—how did he do it? Needless to say, we suffered in comparison.
In our garden, we refer to Asian saber fern as "Jack," whose attributes never flag during long stretches of summer dryness or wet winter snow. Jack's effortless perfection of presentation is a tidy asset in the garden, although we have caught neighboring ferns muttering the occasional unkindness.
Who can blame them? Shiny, darkly jade evergreen fronds have bipinnate pinnae (individual leaflets divided into smaller leaflets) that are ranked along a contrasting, shaggy, rich brown stipe or stem. The plant can get up to 30 inches tall, although smaller forms are sometimes available.
This is a wide-ranging species from the Himalaya into Tibet, China, Japan, and Taiwan. With such a broad geographic dispersal, it is logical to find some variation. We've seen it in its natural habitat on various trips, with perhaps the best ones being in Hubei, where the plants were compact and especially dark green.
Jack—or rather, Asian saber fern—is best planted in full to light shade or even a little morning sun. It is pretty drought tolerant once established but shows best vigor when given that good, moisture-retentive garden soil we all like. Because it is such a star in the garden, why stop at one if you can have a grouping to ratchet up the impact?
One of our favorite design techniques in our collector's garden composed of drifts of one is to use a stellar all-season plant like this as a unifier to tie together disparate plantings. We might plant one along the path entrance, another one off on the far edge, and then a grouping of three before the skirt of a large rhododendron (Rhododendron spp. and cvs., Zones 3–11). We find this trick provides a repeating familiarity that helps cool one's processing chip in our garden of unfamiliar plants, but it works equally well as a strong design element in any suitable shade bed.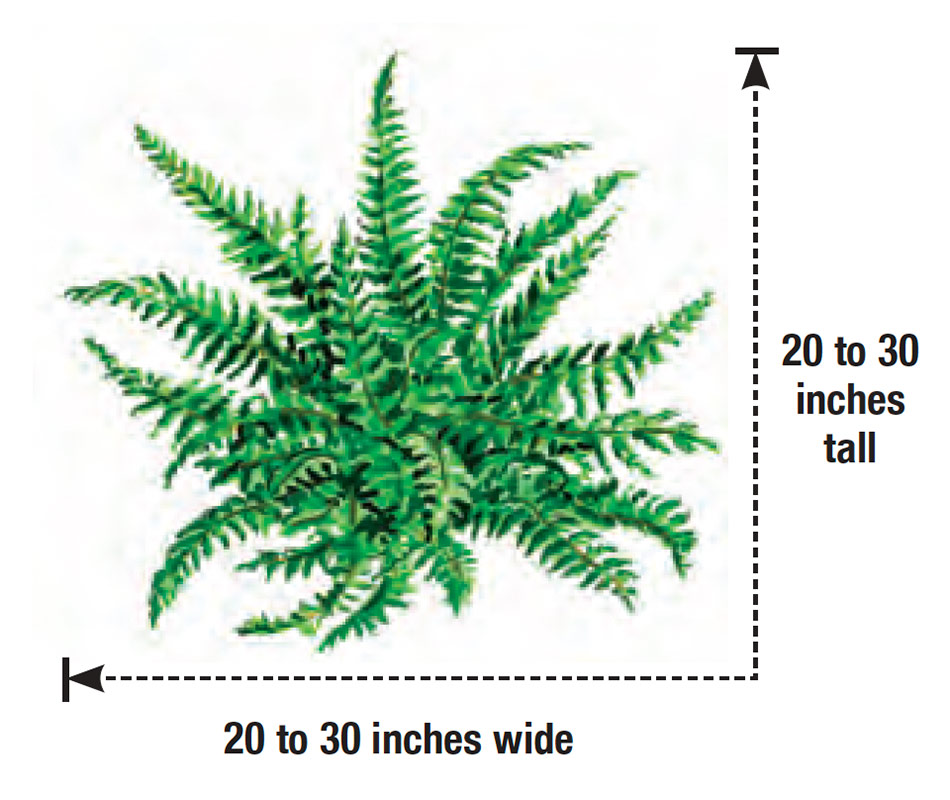 Asian saber fern
Zones: 5–8
Conditions: Partial to full shade; moist to dry, well-drained soil
Native range: Asia
---
Kelly Dodson and Sue Milliken grow some of the coolest plants on the planet at Far Reaches Farm Nursery and Far Reaches Botanical Conservancy in Port Townsend, Washington.
Sources