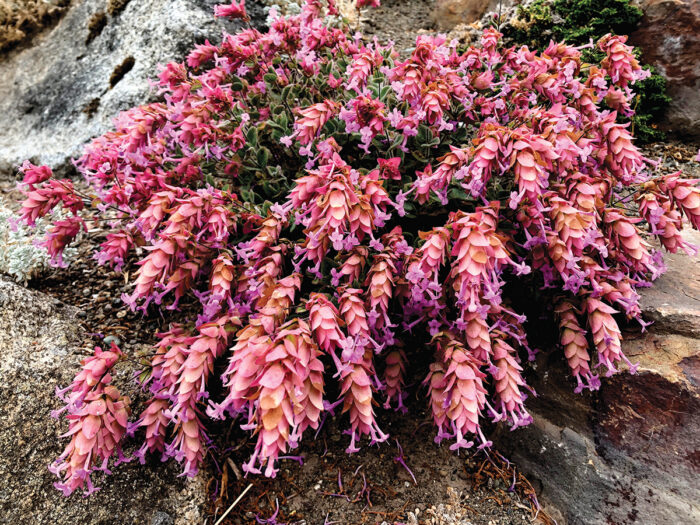 We lean heavily on our own collections of rare and unusual plants for plantings in our gardens, but we happily make exceptions for awesome workhorses such as 'Amethyst Falls' ornamental oregano. We had no hesitation in giving pride of place to this perennial above a rock face at the intersection of our crevice and dry gardens.
'Amethyst Falls' was selected by Bluebird Wholesale Nursery in Nebraska from seed given by Denver plantsman extraordinaire Panayoti Kelaidis. This obviously is the product of happy bees in the Kelaidis garden, as it embodies all the best of hybrid vigor—tough, hearty, and floriferous
Our four-year-old plant has stems up to 12 inches tall, which bend under the weight of the many flowers so that while it is 30 inches across, it doesn't really exceed 7 inches tall. The lavender-pink (OK, amethyst) flowers extend from the ranks of overlapping green-turning-pinkish bracts, resembling the flowers on hops (Humulus spp. and cvs., Zones 3–9) or on hornbeam (Carpinus spp. and cvs., Zones 4–8). On our plant, the effect of the flowers is heightened by the sharp downhill drop, which makes it look indeed like an amethyst waterfall.
What else does this essentially Mediterranean plant have going for it beyond the flowers? There's the strongly scented foliage, which in climates with summers hotter than ours can volatilize aromatic oils that perfume the air. While we miss out on that in our location, we do appreciate the deer- and rabbit-proof qualities these same oils impart. But the summer flowers, which go on for months, are seldom without appreciative bees and other eager pollinators.
'Amethyst Falls' is drought tolerant and happy with infrequent watering. However, it does not perform well in the humid Southeast. Annual maintenance needs roughly the time it has taken to compose and write this sentence, as it is just a simple cutting back of the spent stems in winter when the dried flowers have lost their allure. This plant requires very little fertilizer, if any, but it relishes a layer of round or chipped gravel mulch or clean sand at planting time. You can see why we are fond of this plant!
This ornamental oregano is an ideal candidate for a Mediterranean garden or for any rock, gravel, dry, or hellstrip setting if given full sun. If only it had culinary chops, so that we could use it in salsa di pomodora or salsa roja—that would possibly make it the perfect plant.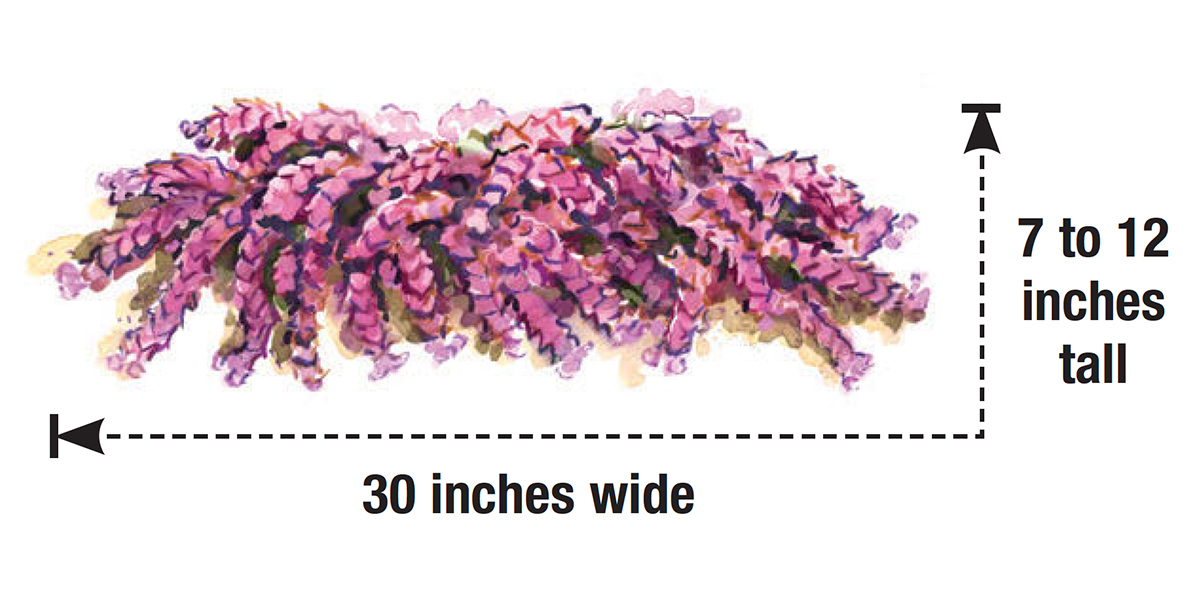 'Amethyst Falls' ornamental oregano
Origanum 'Amethyst Falls'
Zones: 5–9
Conditions: Full sun; lean, gravelly, well-drained soil
Native range: Mediterranean, southwestern Asia
---
Kelly Dodson and Sue Milliken grow some of the coolest plants on the planet at Far Reaches Farm Nursery and Far Reaches Botanical Conservancy in Port Townsend, Washington.
Photo: courtesy of Far Reaches Farm
Illustration: Elara Tanguy
Sources