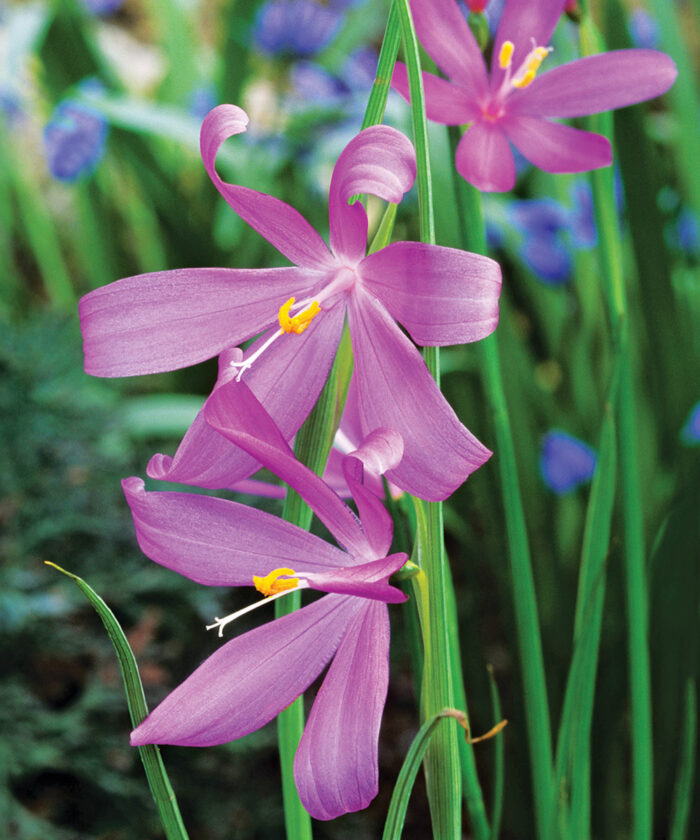 One of our favorite Washington State native wildflowers, grass widow is a doughty, deer-resistant spring ephemeral that shares the same dauntless spirit of its namesake, David Douglas, the intrepid Scottish botanist. In 1824, Douglas embarked on the first of two challenging and rigorous expeditions in the Pacific Northwest. We are especially awed because this was done without the essential espresso stands, one of the most common naturalized species in the region today.
Olsynium douglasii is in the iris family and was formerly in the genus Sisyrinchium. It is found from southern British Columbia to the northern ends of California, Nevada, Utah, and over to Idaho. In our little maritime town nestled in the dry rain shadow of the Olympic Mountains (18 inches of rain annually), there is a rare patch of native prairie brilliantly stewarded by our local native plant society. It is here during the gray damp of February and the chilly stirrings of early March that the satiny purple flowers of Douglas's grass widow beckon in the low turf, lifting our winter-trodden spirits as if feeling spring's first warm sun on our cheeks.
The tuffets of spiky green leaves that appear in early winter are unfazed by freezing winds or dumps of snow. Occasionally a white-flowering one shows up, or one with white stripes, or, rarely, one that is sugar pink. The flowers vary greatly in size and shape, from large or small to cupped or open, with long and narrow to short, rounded petals. Galanthophiles (snowdrop nutters) become incoherent upon finding the smallest deviation in a snowdrop, and Olsynium douglasii offers the perfect obsession for potential Olsyniophiles—but we wouldn't know anything about that.
The individual flowers bloom briefly (just three or four days), but more appear, giving two weeks or more of color. Different clones bloom early or later, so the bloom can be extended. Even though this is not a bulb, it behaves in much the same way by going dormant once seed has set in mid to late spring. Olsynium is normally seed propagated, but individual selections are done by division to maintain the same genetic characteristics. The latter is a slow process; it took 15 years for ours to get large enough to finally divide a few, which is why Olsynimania will never happen.
This gem grows naturally in open settings that are wet in winter and spring but dry in summer. Perhaps the greatest concentration of grass widow is on the Washington side of the Columbia Gorge, where the moist west meets the dry east. The sweeping, sloping meadows are home to millions of plants, along with a richness of fritillaria (Fritillaria spp. and cvs., Zones 4–9), biscuitroot (Lomatium spp., Zones 7–9), and quamash (Camassia spp. and cvs., Zones 3–9), to name but a few.
We think the broad sweeps of grass widow among the outcrops of ancient basalt lava flows in early March are one of the grandest spectacles we have seen. We admit to being a bit biased, as we wed among those millions of flowers during a break in the rain, with the dogs cavorting and the majestic Columbia River below.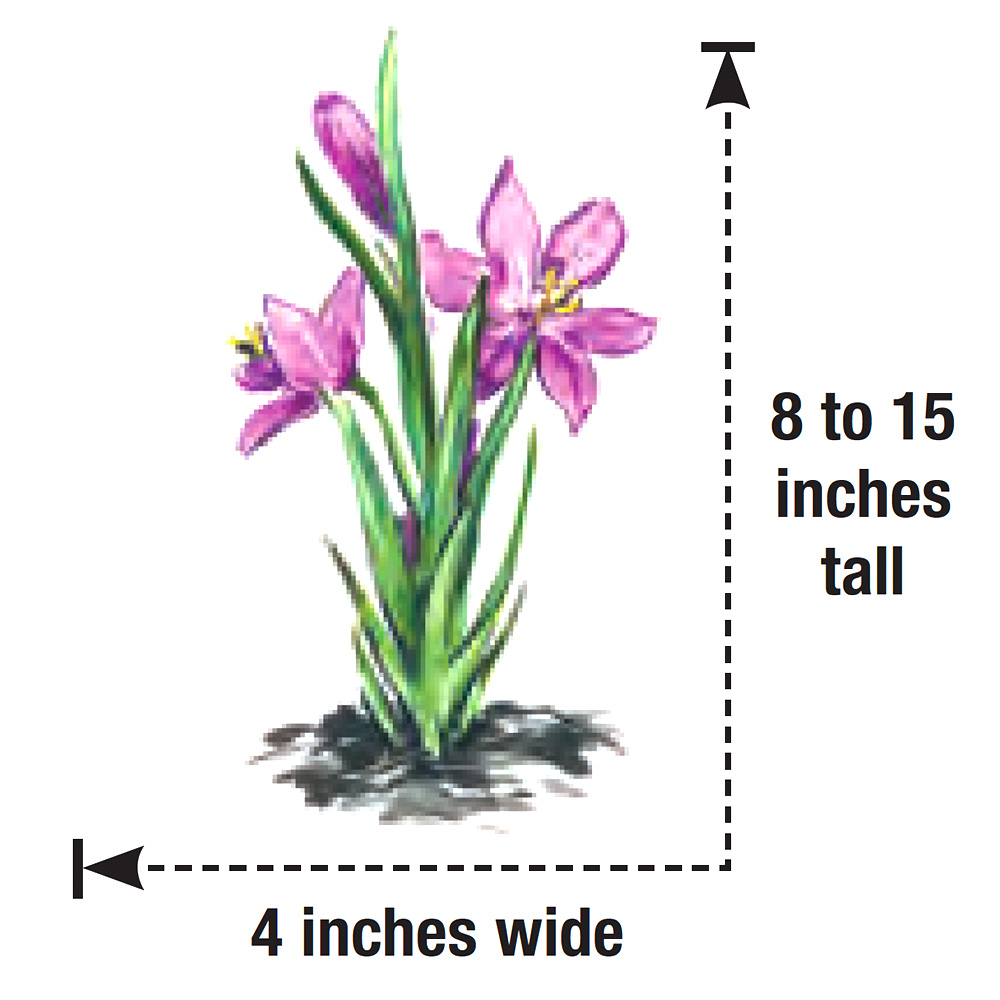 Grass widow
Olsynium douglasii
Zones: 4–8
Conditions: Full sun to partial shade; moist winter and dry summer soil
Native range: Western North America
---
Kelly Dodson and Sue Milliken grow some of the coolest plants on the planet at Far Reaches Farm nursery and Far Reaches Botanical Conservancy in Port Townsend, Washington.
Illustration: Elara Tanguy
Sources