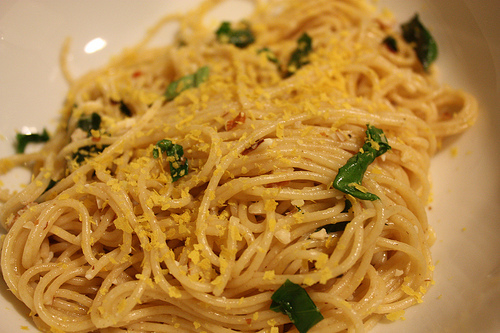 Ingredients:
1 pound of spaghetti (I like the thin spaghetti or vermicelli)
olive oil (the best you can afford)
red pepper flakes
4 minced garlic cloves
*oregano or fresh parsley
*chopped tomatoes
*Fresh Parmesan cheese
(*optional)
My great-grandma Sarullo used to make this traditional pasta dish. You can get as creative as you'd like, but the idea here is to celebrate the flavors of the olive oil – so no getting all heavy-French-sauce happy with it. Don't get cheap on me here; buy the best olive oil that you can afford and use freshly chopped tomatoes. You get extra points if you use heirlooms. Of course, I'm hoping that the tomatoes, herbs, and garlic will come from your garden.
Cook your spaghetti or vermicelli in salted boiling water. Pay attention to the pasta because you don't want it to over-cook. Spaghetti is done when it's "al dente" (literally "to the tooth"), which means there should be a slight resistance at the center of the pasta.
Just before the spaghetti is done boiling, add the olive oil to a large heated saute pan along with the chopped garlic and red pepper flakes. You can also add the chopped parsley now if you'd like (to blend the flavors) or add it fresh later. Drain the pasta from the water. When the garlic is slightly browned, toss the spaghetti into the pan.
Let it fry for just a moment or two and toss it again to be sure all of the spaghetti touches the pan. Add your parsley or oregano at this time. When it's heated through remove it from the pan, add the fresh tomatoes if you have them, and serve.
If the spaghetti is too dry for you, add some of the oil from the pan. Feel free to have some olive oil on the table and freshly grated parmesan cheese for those who want to add more flavor.
I have to remind you that Italians rarely cook with any kind of cookbook. They do the hand-measuring thing and just toss in whatever measurements they please – so you have full creative license for this dish, too.
Manja!