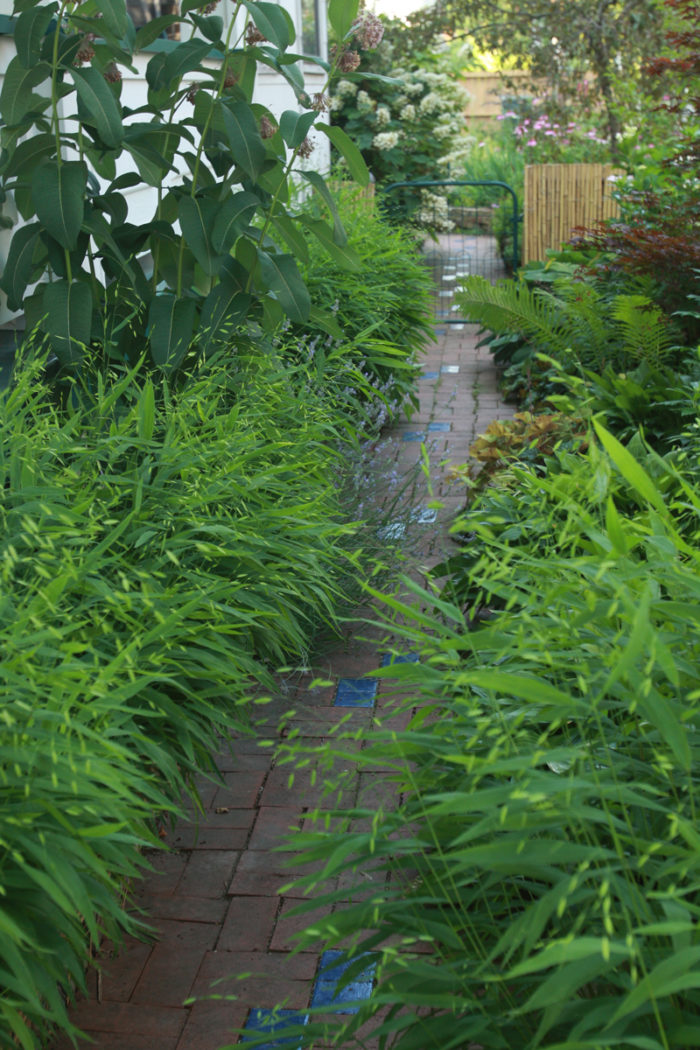 So last week I was in Columbus, Ohio, for a conference, and since I just happened to be in town, guess who I visited?? Tim Vojt! That's right, our own Vojt, whose garden I've featured HERE, HERE, HERE, and HERE! I'm really getting into visiting you guys–it's FUN!
Tim's garden, as we all knew anyway, is so amazing, and it was even better in person, trust me. I'm hoping that you'll see it in the pages of Fine Gardening sometime in the future, so I won't show you too many of the photos I took that morning, but I thought I'd share this passageway that Tim hasn't shared with us before. He says the embedded tiles are left over from a tiling job inside the house, and I think they turn this pretty path into something extra special.
I've also posted a couple of shots of his containers on his front steps. Gorgeous, and nary a flower in sight! Thanks, Tim, for letting me visit in person, and for being so darned nice. I hope I can come back again soon!
***Stay tuned for tomorrow's post, when I'll be featuring the front garden of one of Tim's neighbors. It was completely different, but just as wonderful.***
Want us to feature YOUR garden in the Garden Photo of the Day? CLICK HERE!
Want to see every post ever published? CLICK HERE!

**Check out the GPOD Pinterest page, where you can browse all the post in categories…fun! CLICK HERE!**