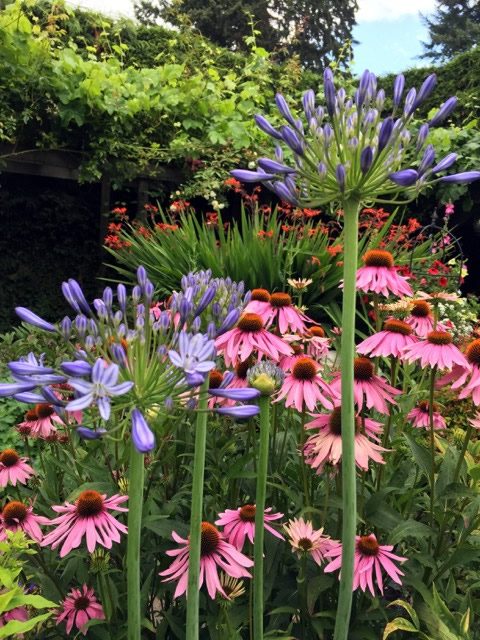 Teamwork on Vancouver Island has created one beautiful garden setting!
"I inherited my love of gardening from my Mom, though it didn't really "blossom" until we moved back to Duncan on Vancouver Island 14 years ago. One project at a time, my husband and I started transforming our half acre yard. First we added the "sunny" garden in the back corner. My husband built a pergola in so that we'd have a place to sit out of the hot afternoon sun. I'm the "idea person" and my husband is the builder – it's a pretty good combination!
After the sunny garden we took up half the lawn in the back and created our "shady" garden behind the house. This includes a dry creek bed where we put all the rocks that we dug out of the ground. We have very poor drainage in our yard as it is all built on fill, so we're constantly trying to improve the drainage.
Next came our pond area. Of course we have goldfish, but the biggest treat are the birds that are drawn to the water for drinks and baths. We have a deck/dock at one end of the pond which keeps the fish pretty safe from the heron and raccoons.
In between we have expanded gardens, added patios and seating areas, transplanted many plants that didn't work where I first put them and generally have tried to make the garden as low maintenance as possible. We love to spend as much time as possible outdoors and are blessed here on Vancouver Island with such a long gardening season." Nora Dowsett
Have a garden you'd like to share? Email 5-10 photos and a brief story about your garden to [email protected]. Please include where you are located!
Have a mobile phone? Tag your photos on Instagram or Twitter with #FineGardening!
You don't have to be a professional garden photographer – check out our garden photography tips!
Do you receive the GPOD by email yet? Sign up here.
Follow us: @finegardening on Twitter | FineGardeningMagazine on Facebook | @finegardening on Instagram