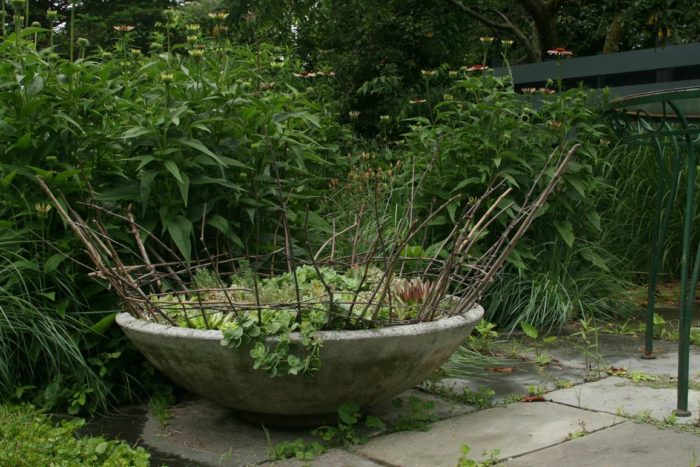 Animal deterrents needn't be ugly. This solution to a common problem became a whimsical bit of art in the garden of Brian Higley and Meg Rasmussen in Beacon, New York. Brian says, "Before our sedum plants filled in our nice concrete dish/pot, there was a problem with the neighborhood cats using it for their daily business. We wanted to keep out the cats while keeping it interesting. We wove an attractive and effective barrier out of sticks to keep the kitties out. It worked well. Once the plants filled in it was still an interesting feature, so we left it intact."
Welcome to the Fine Gardening GARDEN PHOTO OF THE DAY blog! Every weekday we post a new photo of a great garden, a spectacular plant, a stunning plant combination, or any number of other subjects. Think of it as your morning jolt of green.
Sign up to get new posts delivered to your inbox each morning so you'll always remember to take a look, or subscribe to our RSS feed. We look forward to sharing our garden travels with you.
If you think you have a photo that we should share on the Garden Photo of the day, email us. Send hi-res images to [email protected] with GPOD in the subject line. We'll only respond if we plan to use your photo.