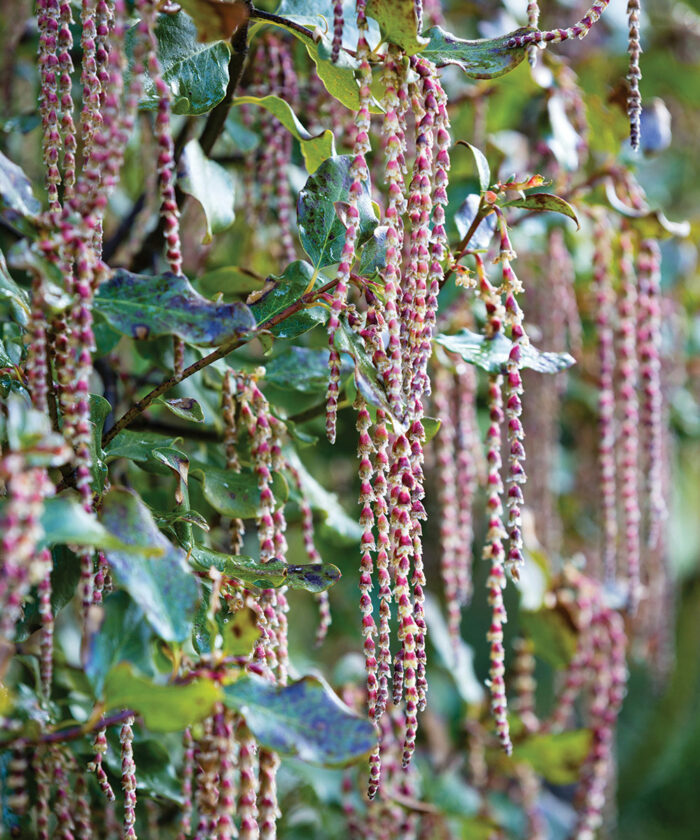 Garrya is a genus of just eight species of evergreen shrubs to small trees confined to western North America and northern Mexico. Of these eight species, only two or three, commonly called silk tassel, are usually seen in gardens. Some plants just bring a bag of potato chips when invited to a garden party, while others lay down a gourmet picnic spread that would not be out of place on a sunny hillside under the canopy of a thousand-year-old olive tree looking across a vineyard to the sparkling blue Mediterranean below. 'Glasnevin Wine' silk tassel bush is not a one-bag-of-chips-type plant; instead, it offers multiple courses of beauty, functionality, and resilience.
Here in our garden in the Pacific Northwest, the Christmas holiday happens in tandem with the elongation of the Garrya floral catkins—a precursor to the visual feast of silk tassel flowers that appears in the New Year. With 'Glasnevin' Wine', a superb selection from Ireland's National Botanic Gardens Glasnevin, the flowers are especially good, with creamy tassels (8 to 10 inches long or more) cupped by bracts the color of a rich Oregon pinot noir that echo the color of the flowering stems. The wine choice is a nod to Oregon natives Garrya elliptica (Zones 8–11) and G. fremontii (Zones 7–9), which form the parentage of this hybrid.
The flowers contribute to the garden well into April, and for the rest of the year you get to enjoy durable evergreen foliage on a shrub that requires little or no attention. This is a very water-wise plant; our sand-mulched dry border of silk tassels and manzanitas (Arctostaphylos spp. and cvs., Zones 2–9) has only been watered once in 10 years, and we have seriously dry summers. Silk tassels are also very deer resistant, which is a category of plants that is decreasing as the deer population increases.
Silk tassels are dioecious (plants are either male or female), with the flowers on male plants being much longer. The cultivar 'James Roof' (G. elliptica 'James Roof', Zones 8–10) is a classic example (and one also worth seeking out) with silvery flowers nearly a foot in length—a rare instance where males are demonstrably superior to females.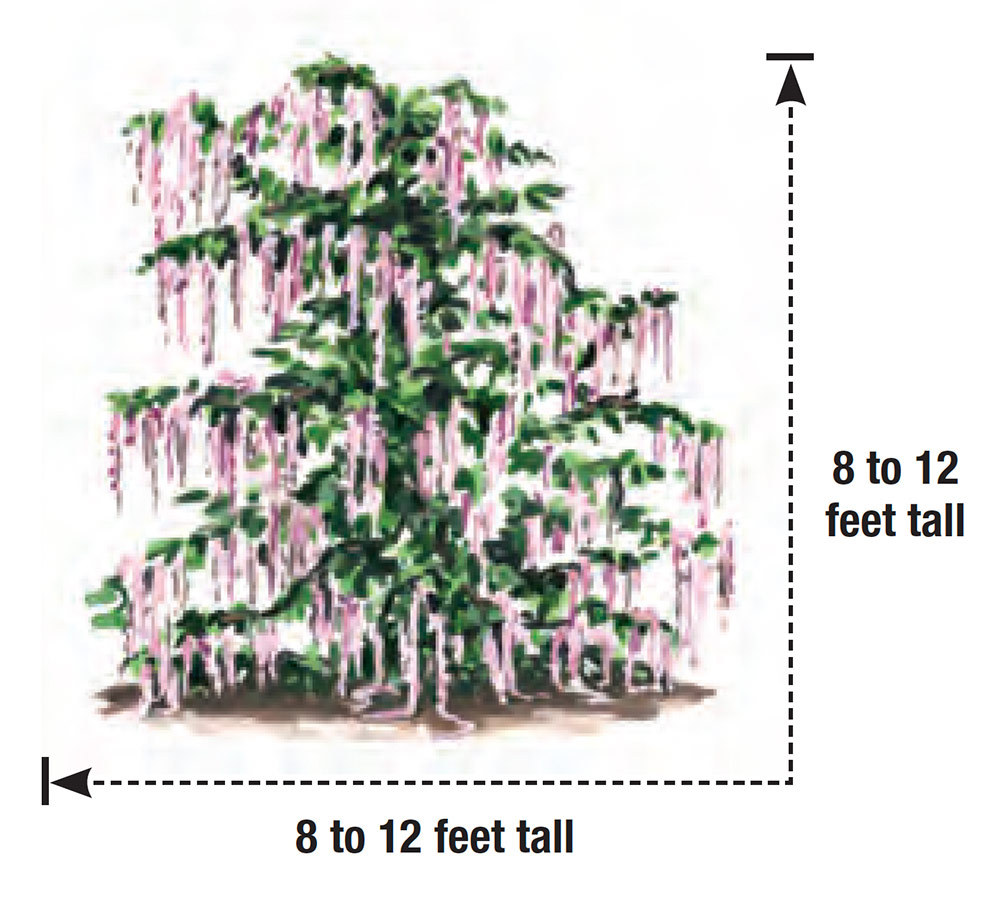 'Glasnevin Wine' silk tassel bush
Garrya × issaquahensis 'Glasnevin Wine'
Zones: 7–9
Conditions: Full sun to partial shade; lean, well-drained soil
Native range: Western North America and northern Mexico
---
Kelly Dodson and Sue Milliken grow some of the coolest plants on the planet at Far Reaches Farm Nursery and Far Reaches Botanical Conservancy in Port Townsend, Washington.
Illustration: Elara Tanguy
Sources