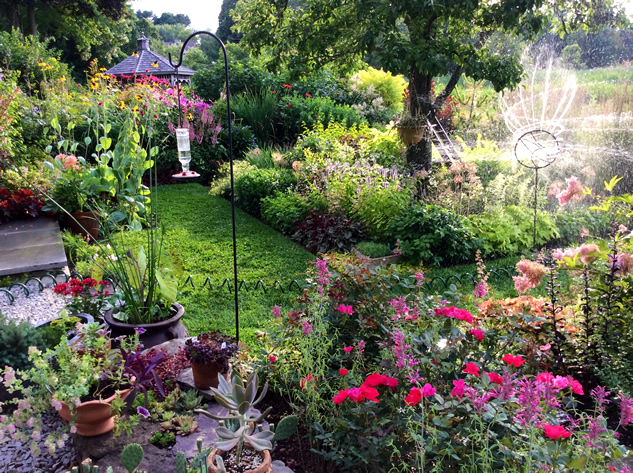 Carol Fischer from Quincy, MA shares how she created her prairie/meadow garden with a focus on foliage.
"On the marsh gardening prairie style. These are a few shots taken of my back yard garden in July. I did a complete overhaul of the garden three years ago to incorporate plants that made more sense in a garden beside a saltwater marsh. I love the look of prairie/meadow gardens and that is the feeling I wanted to achieve. The plants are packed in tightly with the goal of not seeing any mulch. I like to call it controlled chaos! To do this I am constantly deadheading, dead leafing and cutting back foliage so that each plant has its moment to shine and is not being over run by other plants. I like to keep the edges of the garden crisp which allows for a clean look. My focus continues to be on foliage with flowers as the afterthought. I see myself drifting towards Tropicals which adds a sort of exotic feel in a very natural setting. Truly a labor of love."
Please keep sending in photos (and stories)! Whether you've never shared before or you've been featured multiple times, we want to see your garden! Email a few photos and the story behind your garden to [email protected].
Do you receive the GPOD by email yet? Sign up here!