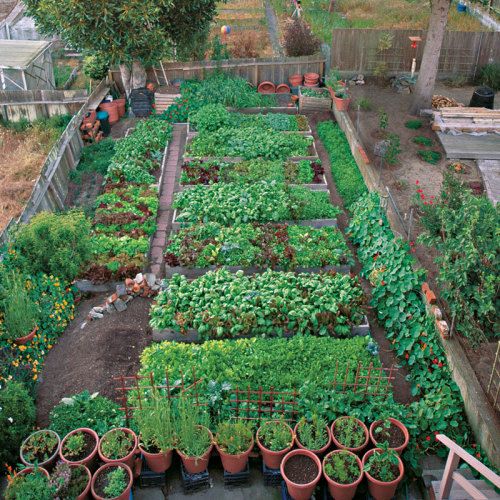 Summer Fog Farm began as a clean-up project seven years ago, before an injury forced me to retire early from my job on the Golden Gate ferries. The back yard behind my apartment in San Francisco's fog-bound Richmond District was so choked with weeds and brush I could hardly fight my way through it. With the help of friends, I started clearing it out one day, and I've never looked back. My next-door neighbor built me a dozen redwood-sided raised beds that took up almost the entire lot, and I planted them with whatever caught my fancy—mostly unusual lettuces and greens from Italy, especially bitter chicories and wild plants such as milk thistle and stinging nettle. Many consider these latter crops to be weeds, a misguided view, in my opinion, but more about that in a moment.
Dense plantings of mixed greens make this compact urban plot stunningly attractive. The 2-ft.-tall 4×12 raised beds are so close together that there's barely room to walk.


An elderly French neighbor saw what I was up to and invited me to garden her back yard as well, and so began Summer Fog Farm. I sold the greens I grew to a handful of top-flight restaurants around the city, and, for a time, it seemed as though my urban market garden might blossom into a bona fide business. At one point, I even took on a partner and contemplated a city-wide network of backyard mini-farms. But health problems have scaled back my gardening activities.
Today I'm content to coax a lot of greens and a little supplementary income from my 30-foot by 60-foot back yard. For maximum production in this maritime climate, where the temperature is rarely anything but cool, I rely on raised beds, row covers, dense plantings of scatter-sown blends, and the magic of rock powder, my soil amendment of choice. If I have a competitive edge as a small-time grower, it's thanks to my continued focus on greens that even San Francisco restaurants have trouble finding elsewhere.
Do you want to sell your homegrown produce to grocers or restaurants? do you long to set up a roadside stand or rent space at a farmer's market? It's a noble idea, says author George Gutekunst, though not without its challenges. Read his story and get the benefits of his experience.
Trade secret: Grow uncommon greens
I'm just a mile and a half from the Pacific Ocean, in a cool, damp microclimate where the challenges are getting enough direct sun exposure, warming the soil, and ensuring adequate plant germination, to say nothing of slugs, snails, and mildew. I don't even attempt such hot weather crops as tomatoes, corn, peppers, basil, and beans.
Instead, I grow cool-weather greens of every kind: radicchio, spadona, ceriolo grumulo, rustic arugula, puntarelle, dentarelle, red dandelion, erba stella, the list goes on. I also grow mâche, miner's lettuce, and a number of peppery cresses. My emphasis on bitter and wild greens turns out to be a win–win situation. I myself am enamored of growing, cooking with, and eating bitter greens, and my best customer, Chef Reed Hearon of Rose Pistola, can't eem to get enough.
Where to begin to describe my love affair with bitter greens? My mother served salads of escarole and frisée back in the heyday of iceberg lettuce, and after my father opened a French restaurant, I developed a taste for Belgian endive. When it came time to plant my raised beds, I naturally went looking for bitter greens.
The first escarole I grew was 'Sinco', from Shepherd's Garden Seeds (this business is now closed). I was so pleased with 'Sinco', I ordered every green available from Shepherd's, literally. Then I dove into the Cook's Garden catalog for cutting chicories, spadona, and dandelions. I also ordered from Johnny's Selected Seeds, Ornamental Edibles, and Richters. To my delight, bitter greens not only grew almost effortlessly in my back yard but proved highly resistant to insects, slugs, and snails.
I kept going, growing every bitter green I could find, reading about them in cookbooks, listening to chefs with Italian grandparents. From what I could gather, Italians use such greens beyond salads. They add them to pasta dishes and soups, stuff them into ravioli and fish, toss them on top of pizza. My involvement went on and on. The word got around I was growing exotic greens, and pretty soon I received a phone call from San Francisco food writer Paula Wolfert, who has an overwhelming enthusiasm for and an encyclopedic knowledge of Italian greens.
| | |
| --- | --- |
| | |
| | Chicories and endives thrive in the crowded conditions of a scatter-sown bed (the short curly leaves are 'Neos' endive, the stall spoon-shaped leaves are 'Spadona', a chicory). There's always room for a self-sown rogue like the Tuscan kale at bottom right. |
| | |
| | |
| | If you love bitter Italian greens, you can hardly go wrong with red-ribbed dandelion (in the left hand), which looks great in teh garden and in salads, or with puntarelle (in the right hand), a little-known green here but a prized delicacy in Rome. |
| | |
| | |
| | Fresh-tasting, pepper creess could be the next arugula among food lovers, according to the author. Left to right: 'Ancho' or broad-leaf cress, curly cress, and 'Cressida'. |
| | |
Paula encouraged me to try stinging nettle and other wild greens, such as mallow, purslane, chickweed, and milk thistle. She also introduced me to my favorite catalog, Fratelli Ingegnoli, from Milan. My neighbors downstairs spoke Italian, so they sent in orders for me. Fratelli Ingegnoli offers a huge range of chicories and other greens, and, as I understand, they're a large, rather mainstream seed company. I can only imagine what greens I've yet to discover when I find the seed catalogs even Italians consider esoteric!
In the meantime, I'd like to share a few of my favorite greens with you, a short-list heavy on chicories. They're all worth trying, whether you're growing for market or for your own table.
'Castelfranco' radicchio. This is a heading chicory, and in Italian parlance, all heading chicories are called radicchio. This stunning, red and white variegated variety is my current favorite. The heads are huge and almost painterly in aspect.
'Selvatica da Campo' chicory. A slender green chicory that looks a lot like dandelion, but has thicker leaves.
Spadona. The Italians call this chicory lingua di cane, dog's tongue. It's very leggy in my mixed beds, growing straight and tall, and is quite bitter. I harvest it young, as a cutting chicory.
Puntarelle. Little known in this country, puntarelle is a delicacy in Rome. Also a lot like dandelion, but milder in flavor.
Red-ribbed dandelion. Lives up to its name. I love the way this rhubarb-red-ribbed dandelion looks in the beds and in a harvested mix.
'Biondissima di Trieste' chicory. Another green-leafed chicory, this one with smooth, globular leaves, perfect for cut-and-come-again harvesting.
Pampanilla. This is the Italian name for salad burnet. This perennial grows like crazy in my garden and tastes like cucumber. It's blue-green leaves make it a superb decorative herb.
Cress. I grow three different cresses: curly cress, 'Cressida', and the broad-leafed 'Ancho' cress. Once called "peppergrass,"cress has an attractive pepperiness that works in sandwiches or to offset meats like lamb or beef. Cresses are quick and easy, and I harvest several cuttings before re-sowing.
Stinging nettle. Wear a pair of gloves to harvest this one, even when it's young. It's worth it, though. Cooking takes out the sting, and when picked young, this much-maligned weed has the most exquisite flavor of all the greens I grow, something like a delicate spinach but tastier, ideal for a soup or an instant sauté, or as a ravioli stuffing.
Rock powder for vigor
Like just about every gardener, I rely on compost to help my soil retain its fertility. The nice thing about selling to restaurants is that they're happy give me back in the form of scraps and leftovers more organic material than I give them as produce. It's a perfect agricultural relationship. In addition to compost, I count on the tonic effect of rock powder, also known as rock dust or rock meal. Like calcium to the bone, rock powder gives structure to the leaf. The rock powder I use is a crushed and pulverized rock of volcanic and glacial origin. I first heard about it in conjunction with a grower for the highly touted Chez Panisse restaurant in Berkeley. The guy used nothing but his own compost and rock powder, and his produce was legendary.
| | |
| --- | --- |
| | |
| | Rock powder, worked into the beds in the fall and sprinkled on before each new planting, provides greens and other crops a slow-release source of trace minerals. |
| | |
I tracked down a bulk source of rock powder and found that the price was reasonable, about $7 for a 50-pound bag. [Editor's note: The cost of rock powder has increased roughly five-fold; search the Web for "rock dust" for sources.] I added the stuff liberally to some beds and not at all to others. A year later, the greens in the beds with the rock powder were sturdier, the harvest greater. The plants were obviously healthier. Apparently powder from glacial rock has a range of trace minerals not found in other commercial soil amendments and fertilizers. I apply it heavily in the fall and then dig in a little more prior to planting in the spring. Rock powder is a very slow-release product. Use it and you'll see a difference in your crops, but not immediately.
I water overhead, usually with a hand-held wand, and twice in a growing cycle, I spray with a mix of liquid kelp and fish emulsion. I also add a light dusting of sulfur because my soil is naturally alkaline, and bitter greens like a bit lower pH. Without the sulfur, the greens taste blander, mealier, watery, and limp.
The one thing I can't garden without is row covers. I depend on these covers to warm the soil, keep out insects, and assure germination. I prefer a nylon reinforced fabric called Agribon (available from Peaceful Valley Farm Supply), which resists tearing and wind damage and comes in several grades. I use curved ground staples to secure the fabric.
Scatter-sown blends ensure diverse plantings and eating
I don't have time for "everything in its place." I enjoy the simultaneity of a mixed blend as opposed to the linear quality of rows. The former mode is more eastern in conception, the latter perhaps more western. But my interest in mixed plantings is more than a philosophical declaration. Random plantings help me harvest an unpredictable blend of greens, full of surprise and delight you won't likely find in a commercial mesclun mix. When I go out in the morning to pick greens, I never know exactly what I'll find. I move around the beds, scissors in hand, snipping a little of this and a little of that. There are blends I count on, but then there is also the borage that self-seeds and springs up unexpectedly among the chicories.
I sow a combination of pelleted seed and raw seed, depending on what I'm after. I find pelleted, or coated, seeds in catalogs meant for growers, such as the commercial edition of the Johnny's Selected Seeds catalog. Pelleted seed is ideal for butter lettuces, radicchio, and other crops I want to head up, because the large seeds are easy to space properly.
My main trick, however, is to sow a blend of raw seeds in a bed. Sometimes I blend the seeds beforehand and scatter the mix over the bed. More often I scatter the seeds one kind at a time so they're mixed in the bed; this ensures against overplant­ing. The trick to scatter-sown seeding is a light touch, which requires some trial and error. The proper blend is likewise a matter of experimentation.
| | |
| --- | --- |
| | |
| | This bed contains many lettuces grown from pelleted seeds, which make proper spacing easier. The red-and-green-leafed mix at the back is a scatter-sown blend. From front to back: 'Redina' lettuce, 'Diamond Gem' lettuce, 'Red Sails' lettuce, 'Gallia' endive, 'Speckles' lettuce, 'Sierra' lettuce, and a mix of 'Galactic' lettuce, 'Bianca Riccia' endive, and red-ribbed dandelion. |
| | |
I've found that among the lettuces, romaines work best for scatter-sown blends because they grow upright, an ideal habit for the crowded conditions they'll face. I grow 'Deer Tongue', 'Freckles', 'Diamond Gem', and 'Rouge d'Hiver, to name a few. Curly endive, dandelion, and frisée also thrive in a crowd.
On the other hand, certain greens—among them, the French Batavian and butter lettuces and most escaroles and radicchios—need some room. After much disappointment, I've learned to transplant these or at least to thin them to give each plant adequate space. I'm especially fond of the French Batavian or summer crisp lettuces. They're a perfect combination of an iceberg or crisphead lettuce and a loose-leafed lettuce. My favorite Batavians are 'Sierra' and 'Nevada'. I also like 'Ermosa' and 'Cardinale'.
I do grow a smattering of other crops in addition to lettuces and bitter greens. Herbs and edible flowers I grow along the fences and in large pots on my patio, close to the house. And in the beds with the bitter greens and lettuces, I sprinkle spinach, chard, kale, broccoli raab, beets, green garlic, and parsley root.
With the greens, there's no question that their flavor is stronger, earthier, and more varietal when the leaves are larger. At a certain point, water denial also punches up flavor. I treat my greens at the end of their life like tomatoes or wine grapes and dry farm them, withholding water for five or six days (though I never let the plants wilt). The water-stressed plants struggle to survive, uploading more minerals. Once I gave a sample of my lettuces to the checkout clerk at the grocery store, a young girl who more than likely had eaten iceberg all her life. "How did you like the greens?" I asked her when I saw her next. She said, "They taste like the earth." I couldn't have hoped for a better testimonial to my efforts.
by George Gutekunst
December 1999
from issue #24