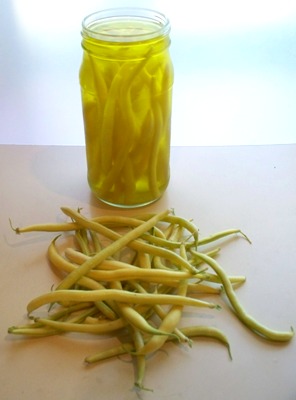 It's been a busy summer around here, but that's a poor excuse for letting the beautiful yellow filet pole beans get out of hand. These French Gold beans are the haricot verts found in bins at farmer's markets and specialty grocers. They're tastiest when picked and eaten while slim and tender.
But my beans grew too quickly and I wasn't around to pick the long, thin pods every few days. So instead of tender beans for steaming, these beans grew thick and wild.
I decided to pickle them and to do so in the fastest, easiest way possible—by using the jar of leftover dill pickle juice I'd been saving in the fridge.
If you haven't used pickle juice before, you don't know what you're missing. I've added the juice to potato salad in place of vinegar, used it to pickle hard-boiled eggs, and marinated vegetables in it.
Easy Pickled Beans
Wash and sort beans. Discard any beans with soft spots or other damage.
Trim off the stem end of each pod.
Blanch beans by placing them in a pan of rapidly boiling water for 3 minutes.
Remove beans with a slotted spoon, and plunge them into a bowl of ice water; cool for 5 minutes and drain.
Fill a tall jar with the beans and set aside.
Heat a pan of pickle juice to nearly boiling.
Pour juice over beans and allow to cool.
Place a lid on the jar and put the jar in the fridge.
The dilled beans will remain crunchy-crisp for several months in the refrigerator. Eat them with sandwiches, add them to an appetizer tray, or use them instead of celery in a Bloody Mary.