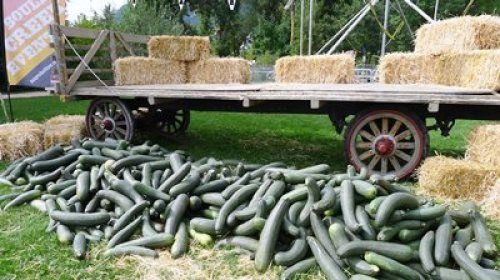 The Boulder Creek Hometown Festival is an annual event that celebrates the end of another Colorado summer. The festival, produced by Boulder Creek Events, features more than 100 booths filled with arts and crafts to tempt Labor Day crowds.
In addition to the booths, there's a kick-off concert, food court and farmer's market. In the children's area there are plenty of attractions to keep kids thoroughly entertained throughout the festival. One of the most popular events is The Great Zucchini Race.
Racers pay an $8 registration fee to select their over-sized zuke, decorate it and then race it against others for bragging rights. A portion of the race fee goes to the Boulder High School cheerleading organization to help underwrite program costs. Cheerleader-volunteers staff the race tent, sell tickets, hammer wheels on the zucchini and try to make sure more paint goes on the squash than on the kids.
The racers have a great time selecting what they think will be the most aerodynamic squash for their heat. After careful painting, participants add colorful feathers, pom poms, pipe cleaners and plenty of glitter to personalize their race cars.
Racers and their cars take their places at the starting line and at the sound of "Ready, set, go!" let their zucchini take off down the steep incline. Many zucchini cars have a hard time negotiating the track and wipe out before reaching the finish line. By the end of the first few heats, the race course is covered with glitter.
It takes a big pile of overgrown zucchini to make the race a success. Races run about every 15 minutes, all three days of the festival. That's a lot of squash!
The Great Zucchini Race is just one end-of-the summer event that uses fresh produce for fun. Do you know of any others? Please post them here.