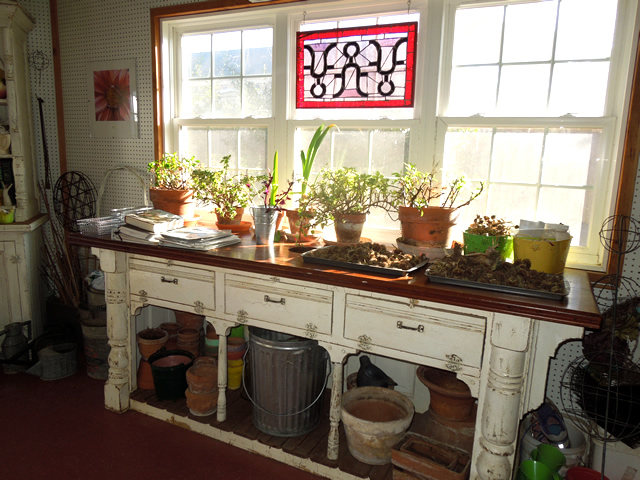 Gail Wynne from Oaklahoma has officially raised the bar for creating an organized garden house!
"Some time ago I promised to send pictures of the inside of my garden house. I've cleaned it up for a "New Girl in Town" luncheon I'm having on Monday so I thought it was a good time to take photos.
When I was growing up my grandmother let my sisters and cousins and me use her wash house as our play house. I've carried those memories all these years knowing that some day I wanted a space like that for gardening. In 2007 it came to pass. The garden house is 20' X 20' designed by my husband John to fit into our backyard looking like it was built at the same time as our Cape Cod home here on the plains. They were actually built 50 years apart.
The inside walls are lined with peg board allowing me to re-arrange with the seasons. The furniture was made for the space by an amateur carpenter who collected parts of homes being torn down and turned them in to the most wonderful pieces. The chicken nest is from my childhood. My family raised chickens and I gathered eggs from the nest and dozens more everyday. The stained glass was made by my mother for her home. It's my family's brand.
The table we had made. It's higher than a normal table because I use it for flower arranging.
This is my dream space. A place to arrange flowers, start seedlings, store everything, have lunch with friends, enjoy small dinners and Easter Egg hunts with dozens of children."
Have a garden you'd like to share? Please email 5-10 photos (and a brief story about your garden) to [email protected], or tag your photos on Instagram or Twitter with #FineGardening!
Whether you've never shared before or you've been featured multiple times, we want to see your garden! You don't have to be a professional garden photographer – check out our garden photography tips!
Do you receive the GPOD by email yet? Sign up here!