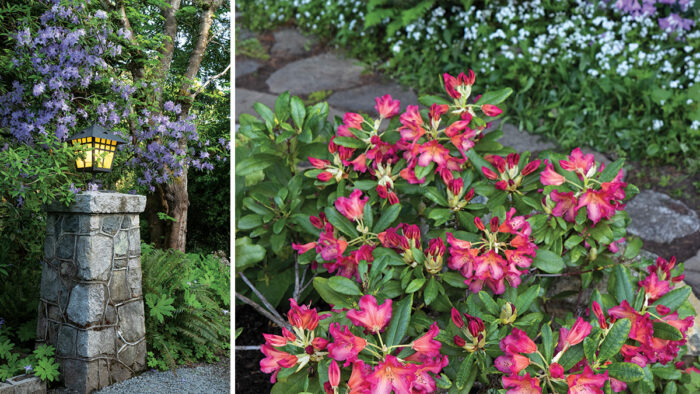 Our home, Tigara, is an Arts and Crafts bungalow that was built in 1913 and overlooks the Salish Sea in British Columbia. When we bought the property in 1991, the yard was mostly bare. There were a few massive and ancient trees and some scraggly shrubs scattered here and there. The rest was just dry grass and weeds. But to us, it was paradise! As we transformed the property over the years, the beds and borders really started to shine in spring. From February to June, a succession of constant blooms now delights us as we enjoy the garden from our front porch, summer house, and various garden rooms. Spring is definitely when the garden is at its peak, although textured structural plants and hardscaping ensure there's interest throughout the year.
The garden at a glance
Location: Victoria, British Columbia
Size: 3/4 acre    Zone: 9
Conditions: Full sun to full shade; loamy, humus-rich, well-draining soil
Challenges: Proximity to ocean; wind and salt spray
Key

1. Montery cypress border

2. Summer house

3. Front porch

4. Stone walkway

5. Stone pillars

6. Patio

7. Main house

8. Garage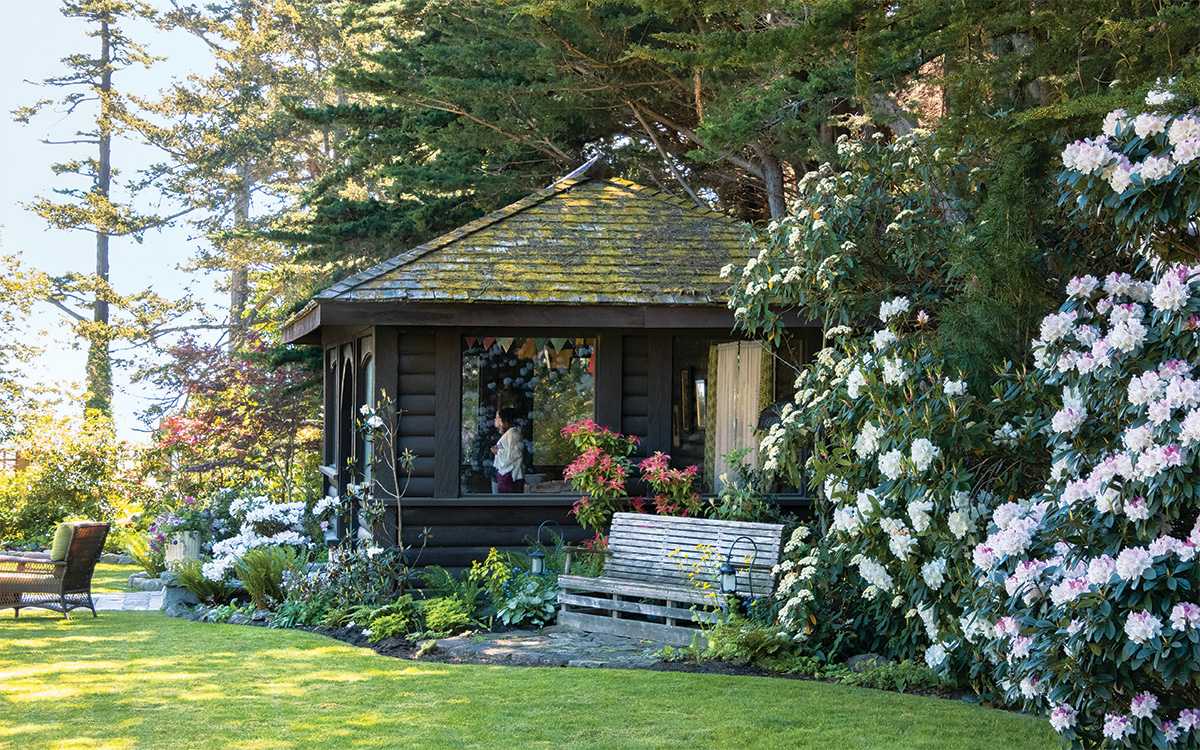 Provide a framework of evergreens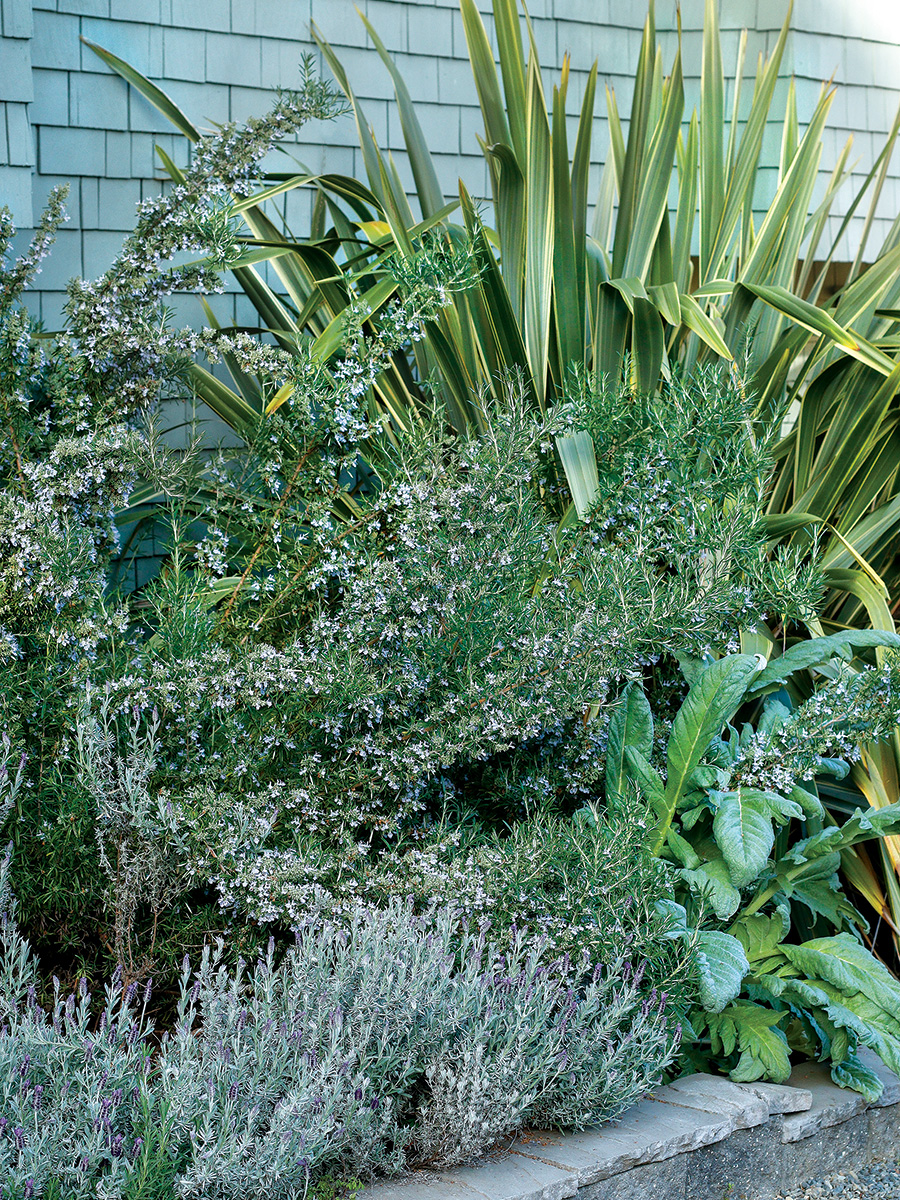 Evergreens play several roles in our garden. They are the structural backbone year-round (especially during winter). Many of them serve as focal points in spring because that is when many of them flower. And when they're not in bloom, evergreens are the perfect monochromatic backdrop against which later plants can shine. A massive row of Monterey cypress (Hesperocyparis macrocarpa, Zones 7–11) trees that border the southern side of our property form the background to the rest of the garden. They provide privacy from a nearby lane as well as shade for rhododendrons (Rhododendron spp. and cvs., Zones 4–9) and other spring stars, such as 'Jack Frost' brunnera (Brunnera 'Jack Frost', Zones 3–8), that are planted underneath. Elsewhere, a large native shore pine (Pinus contorta, Zones 4–9) anchors the edge of our lawn and surrounding beds. Because our property consists of just three-quarters of an acre, the privacy provided by evergreens and other structural plants, such as various Japanese maples (Acer palmatum cvs., Zones 5–9), is crucial to fully enjoying the garden.
A diverse assortment of rhododendrons grow around the property. We've collected them from all over. Many have come from friends, from plant swaps, or from properties of houses awaiting demolition. Some were acquired from members of the Victoria Rhododendron Society, and some were from the amazing collection of Norman Todd, who was a legend in the rhododendron world. We also have a few rare ones grown from tissue cultures imported from the rhododendron-specialist company Van Veen Nursery in Portland, Oregon. Most of our rhododendrons flower sometime in spring, although some bloom in winter and some in summer. But even when the rhododendrons have finished blooming, they are still the structural anchors to our garden, giving shade to the woodland plants that grow beneath them. Additional evergreen perennials and shrubs are the structural backdrop to spring flowers in the beds and borders throughout the property. For example, a variegated yucca (Yucca cv., Zones 5–10) stands tall next to a rosemary (Salvia rosmarinus, Zones 7–10) against our house, allowing the rosemary's small flowers to get more attention.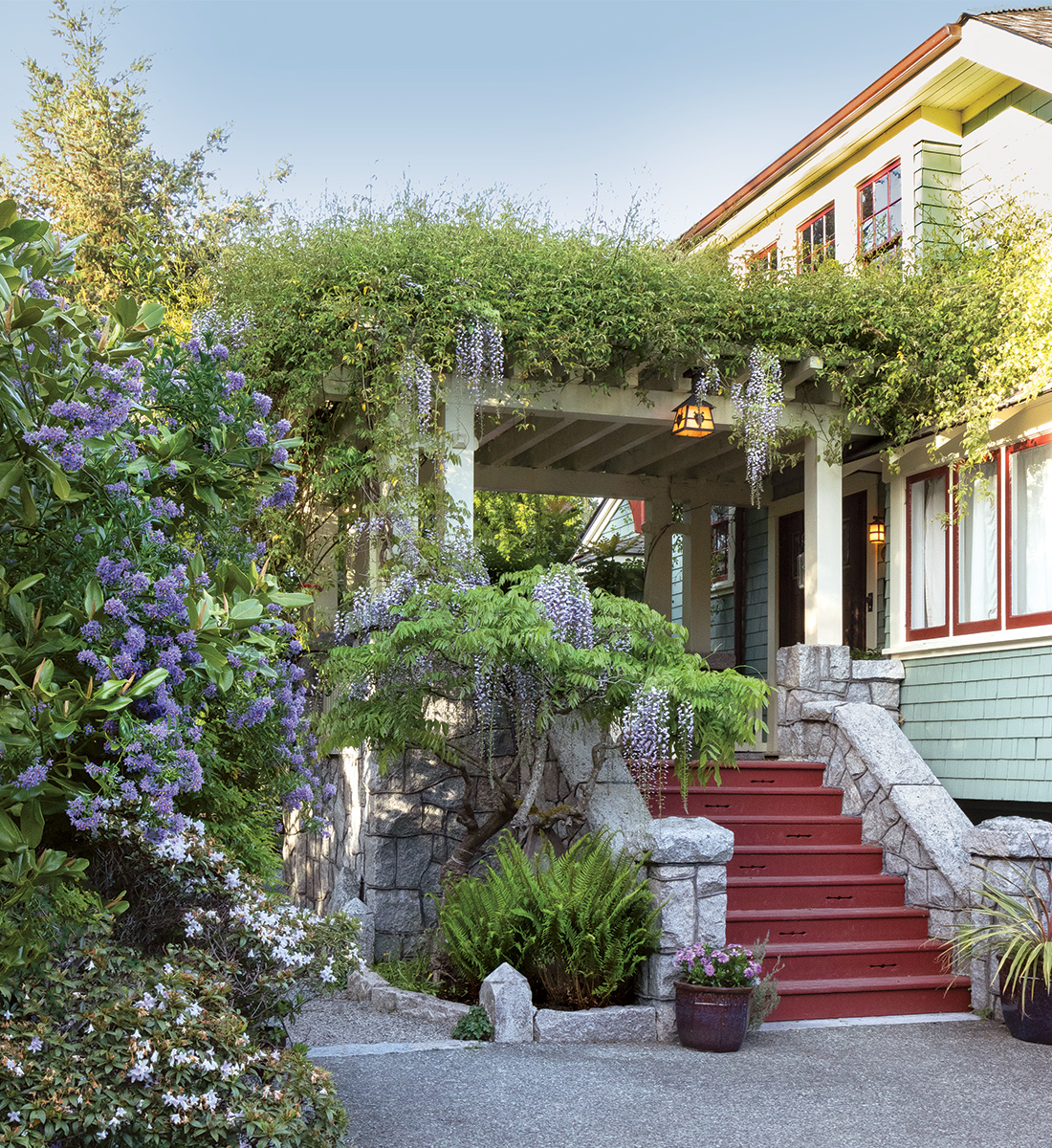 Stretch the season with a a succession of blooms
Our spring show starts in late winter and lasts all the way until summer. A few of our plants, such as Corsican hellebore and 'Christmas Cheer' rhododendron (R. 'Christmas Cheer', Zones 3–9), start blooming in winter. They are followed by leatherleaf viburnum and other midspring bloomers. The transition to summer is smooth with plants such as New Zealand satin flower (Libertia grandiflora, Zones 8–10) and saw-toothed azara (Azara serrata, Zones 8–10), both of which start flowering in midspring and last to the beginning of summer. The fragrant flowers of wisteria (Wisteria cv., Zones 5–8) above our pergola also burst out in late spring and are followed by the blooms of a climbing rose as summer approaches.
In our garden, it feels like spring for about five months. Part of the reason for this is that we live in an area with mild winters and mild summers. Our neighborhood itself also seems to be in a microclimate; in town it's usually a few degrees cooler. Even so, a natural succession of blooms from plant to plant prolongs the already long-lasting effect of spring and extends the season over several months, from late winter all the way to early summer.
Use hardscaping to make the garden come alive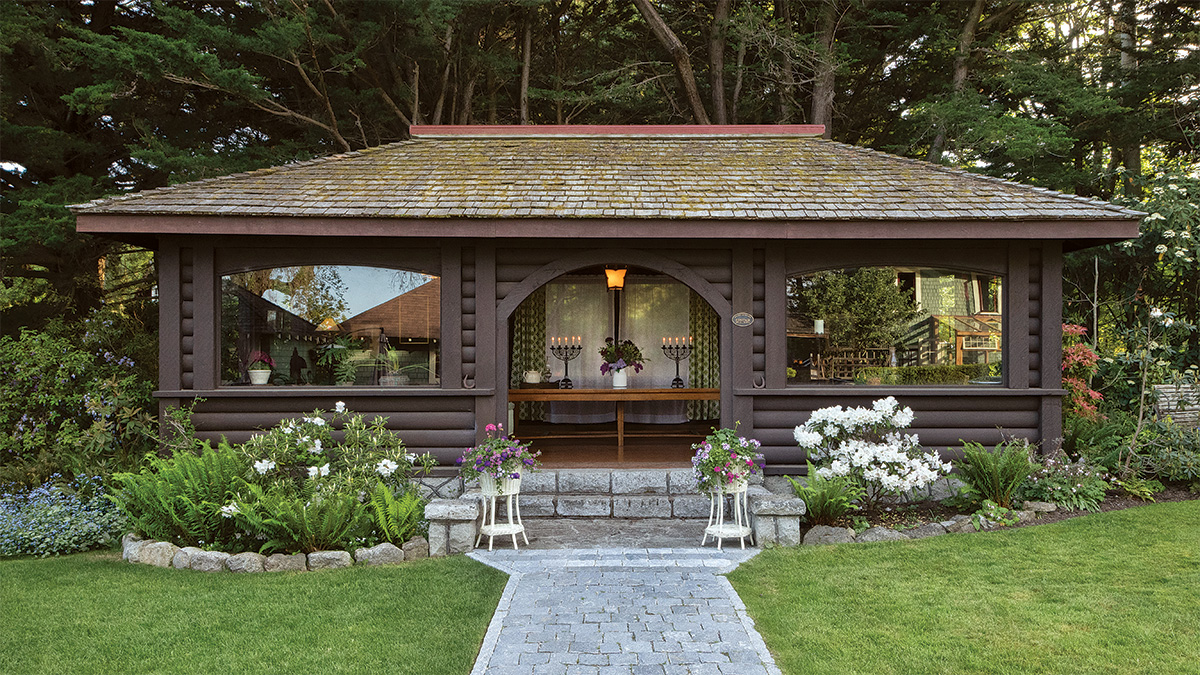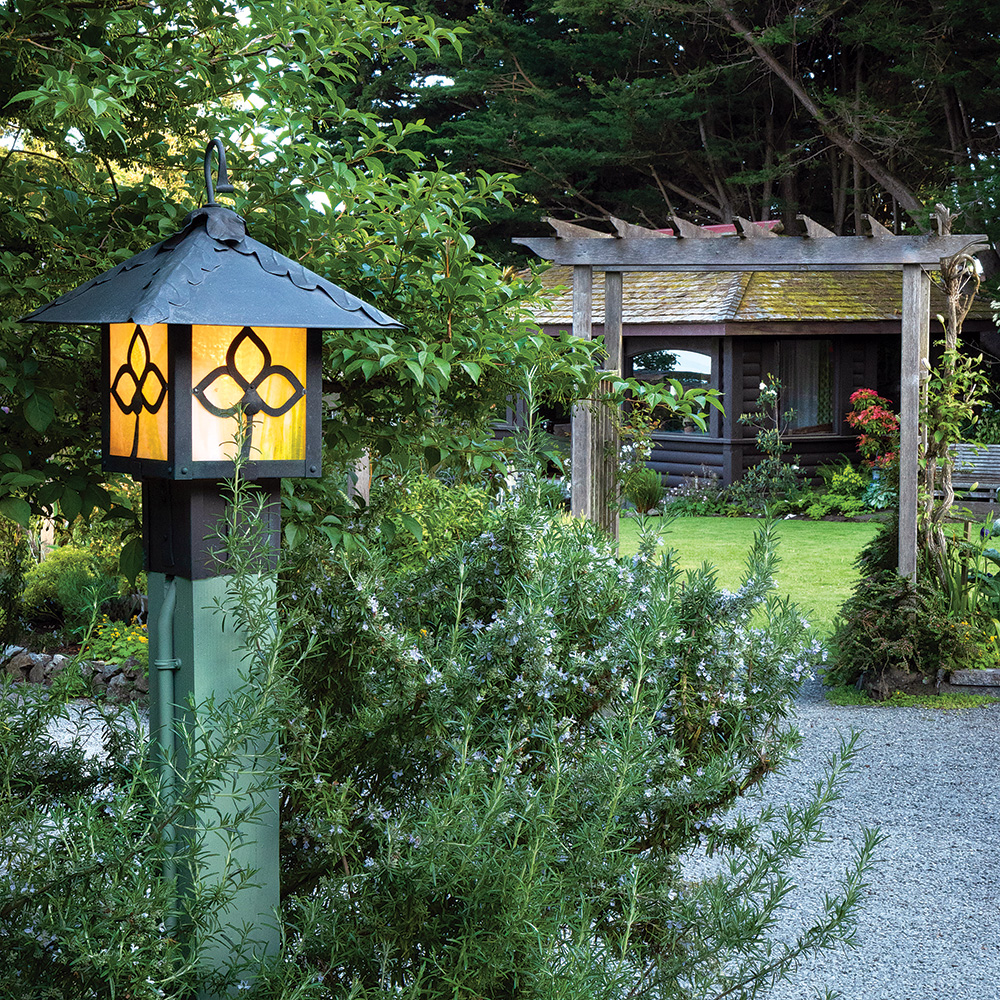 The garden wasn't always so effortlessly beautiful. Serious foundational changes needed to be made to transform this property into a livable space. In addition to removing a long driveway that encircled the house, we added granite-block and gravel paths through the garden that add structure year-round. These paths also make the relatively small space seem larger, especially because many of them seem to meander through the beds rather than go straight from point A to point B. We added trellises, arbors, and fences to delineate beds, and we installed benches for visitors to better appreciate smaller areas of the garden. The front porch was covered in a pergola draped in climbing plants. It has become an immersive garden room that serves as an understructure to incorporated plants. All of the lighting in the garden is from our vintage lighting and metalwork business, Waterglass Studios, and thus has a cohesive design and adds to the heritage feeling of the property. It allows us to enjoy the garden even after dark, regardless of the season.
The star of our garden is our summer house, which was originally lying neglected and derelict on a nearby estate. The property owners wanted it gone, so we happily paid $30 for it and the work began. Patrick and our daughter Aleisha took it apart piece by piece and rebuilt it in our garden. It is now nestled under the Monterey cypress trees, and all of our gatherings and events happen there. It has become a central part of the garden and of our enjoyment of it in spring, summer, fall, and even winter.
Between the structural evergreens and foundational hardscaping, the bones of the garden can stand on their own regardless of season. Although our garden peaks in spring, we truly enjoy it all year long.
---
Spring interest from winter to summer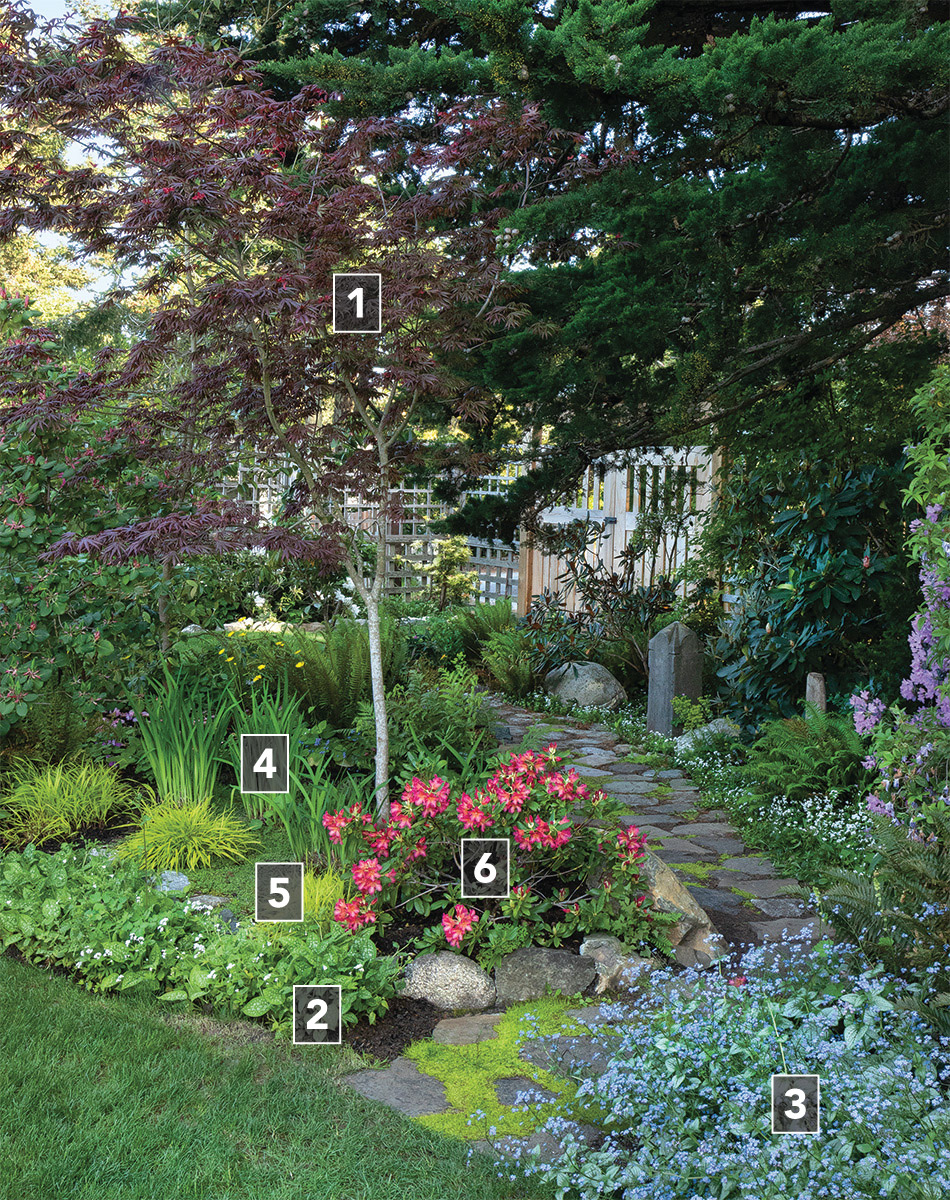 A walkway curves through this garden bed under a Monterey cypress tree. The plants here work together to provide interest from the beginning of spring to the end.
1. A dwarf Japanese maple (Acer palmatum cv., Zones 5–8) provides year-round structure. Its burgundy foliage contrasts with the pastel colors of spring-blooming flowers.
2. 'Sissinghurst White' lungwort (Pulmonaria 'Sissinghurst White', Zones 4–8) borders the front of the bed and is one of the first plants to bloom in spring.
3. 'Jack Frost' brunnera follows later with a profusion of tiny blue flowers that bloom for months.
4. Japanese iris (Iris ensata, Zones 4–9) visually breaks up the swath of low-planted perennials. It fills the gap between spring and summer with colorful blossoms.
5. 'All Gold' Japanese forest grass (Hakonechloa macra 'All Gold', Zones 5–9) provides interest all season long with its chartreuse foliage.
6. The small size of 'Golden Gate' rhododendron (Rhododendron 'Golden Gate', Zones 6–9) is perfect for this compact space. Its multicolored pink-and-orange flowers make it the focal point of this bed in spring.
---
British Columbians Patrick and Suzanne Bulmer are lifelong gardeners.
Photos: DoreenWynja.com