What could be more satisfying than transforming an unused outdoor space into a sanctuary? Fifteen years ago, Larry Jacobs contacted our sustainable landscape design firm because he wanted to add a pond to his backyard. Although he was new to gardening, this busy surgeon envisioned a tranquil retreat where he could tend plants and release workday stress. To bring his vision to life, we designed a low-maintenance, ecologically friendly garden that is an excellent example of how an underutilized landscape can be reinvented as a private sanctuary. Larry and his family now use the space every day, experiencing firsthand the healing power of gardening and the joy of connecting with nature.
---
The space at a glance
Where: Beachwood, Ohio    Zone: 6
Age of the garden: 15 years    Size: 1/10 acre
Conditions: Full sun to full shade; average to wet soil
---
Garden rooms make a small space feel more expansive
Before the redesign began, this suburban backyard was anything but inviting. The back deck was overwhelmed by large spruce trees a few yards from the railing, making the very shallow yard seem even tighter. Lawn connected all the neighboring houses, so there was not much privacy.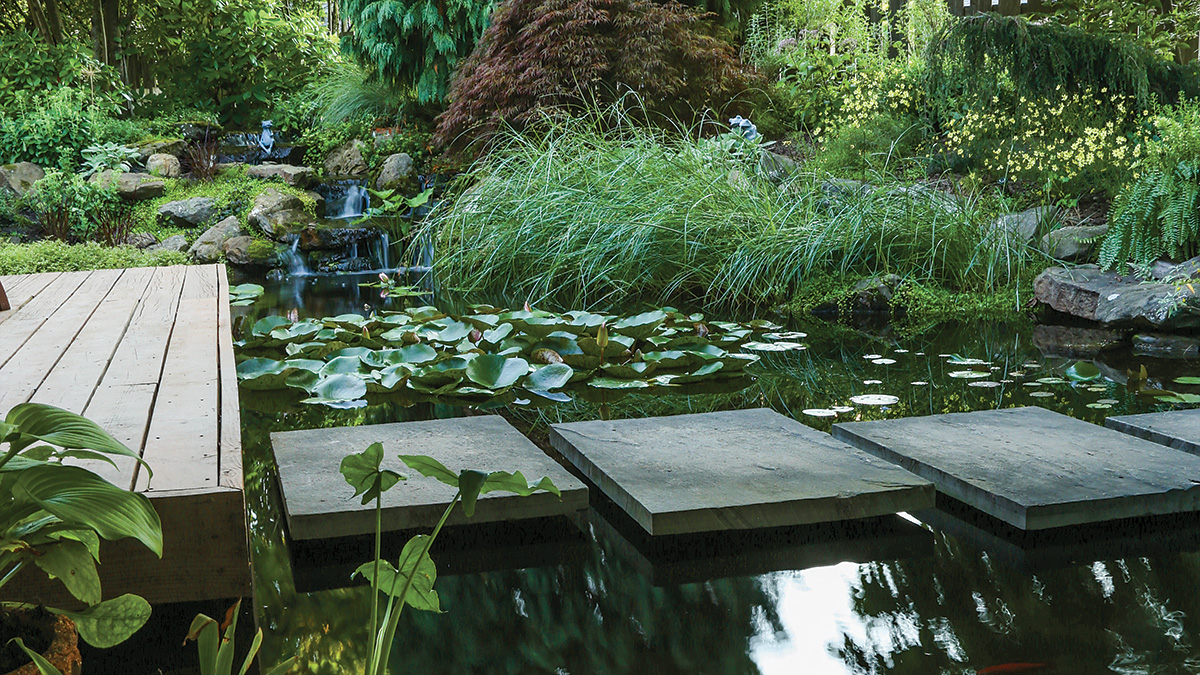 Inspired by the idea of creating an escape from the outside world, we sketched out views, circulation areas, and garden rooms, with a large, dramatic pond as the focal point. A multilevel deck overhanging the pond would feel like an extension of the house, enticing the family to spend more time outdoors.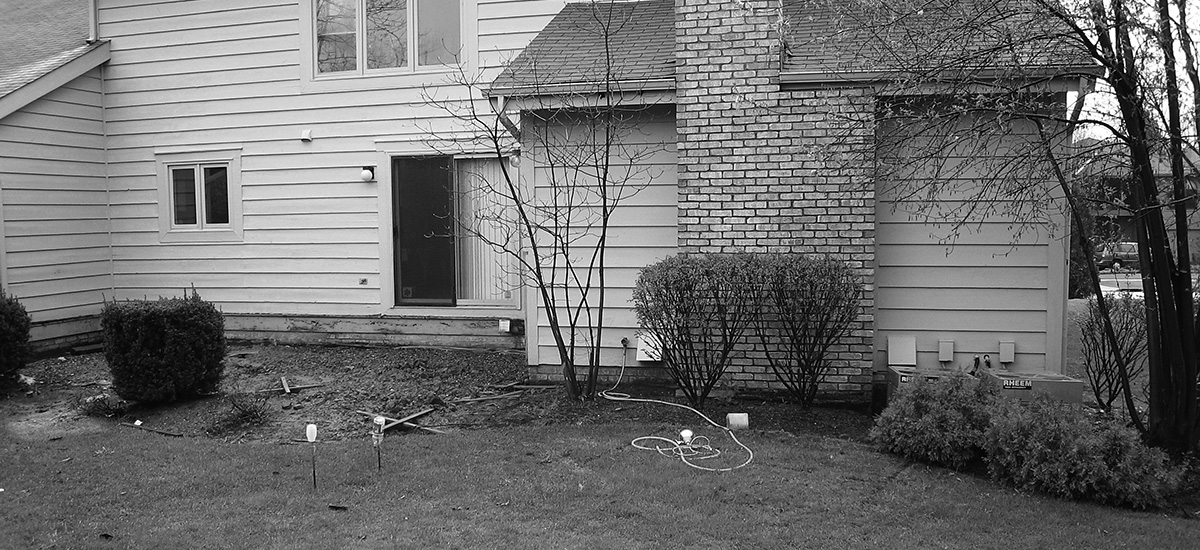 Dividing the space into outdoor rooms made it more comfortable and human-scaled, yet also more expansive. Tranquil, reflective water extends through much of the garden, making it seem much larger. The upper deck, shaded by a pergola, is sheltered and enclosed, while the larger lower deck offers an intimate connection with the pond. Stepping stones lead across the water to seemingly distant realms of the landscape, offering an experience of joyful adventure or an opportunity to slow down and notice.
Fencing around the property adds to its inward-facing appeal. A berm planting serves as a backdrop to the pond and screens some of the neighboring properties, although openings in the plantings allow for borrowed views of neighboring lawns. A low fence separates the pond from an area with simple plantings where the family can relax while young grandchildren safely play.
More-structured garden rooms near the house contrast with the more-naturalistic destinations across the pond. Winding paths disappear behind plantings, inviting exploration and extending the illusion that the space is larger than it really is.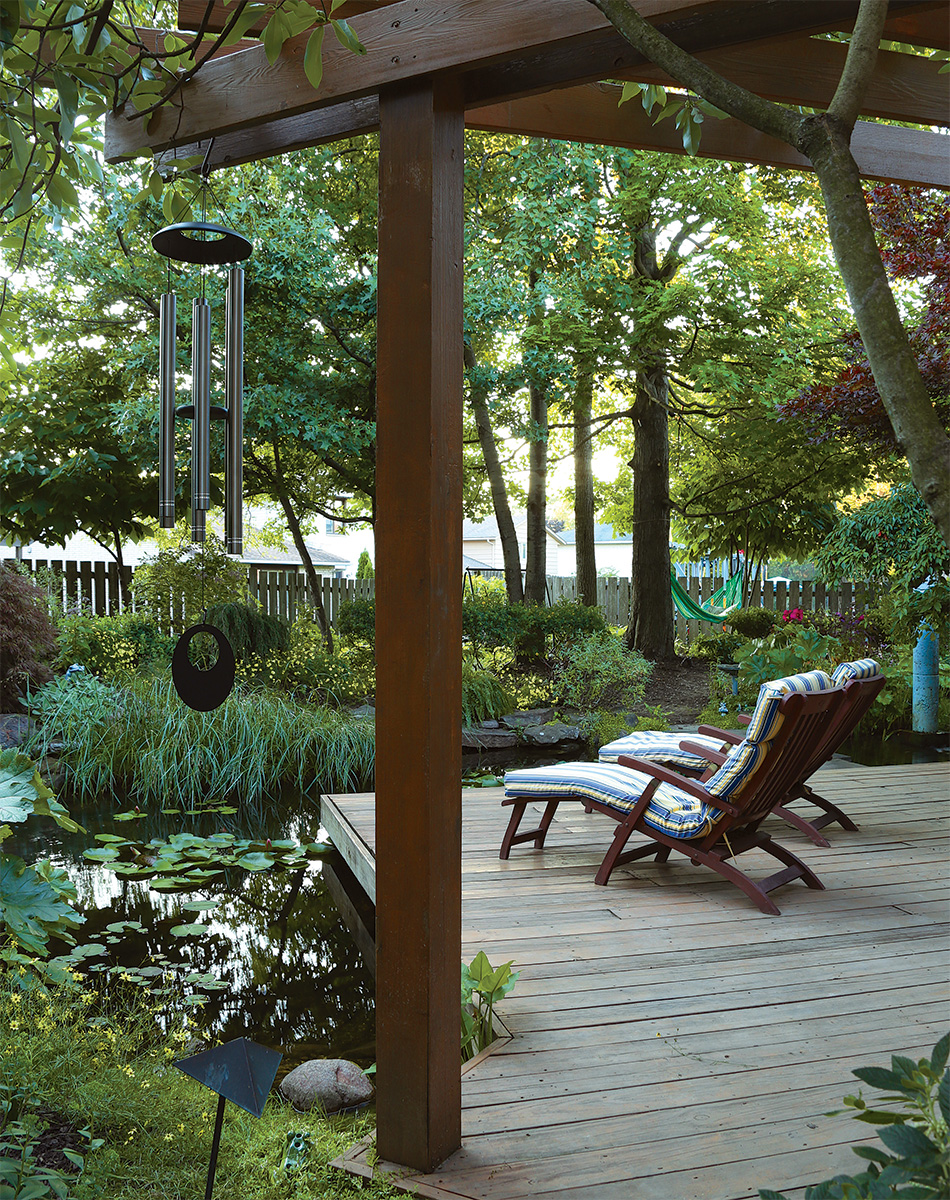 An ecological approach creates a more-livable space
Wildlife-friendly plants, a functional water feature, and fertile, organic soil all contribute to the lush, vibrant atmosphere that permeates the garden. This, of course, is no accident. An ecologically sensitive design makes a garden comfortable and livable, a sanctuary for people as well as wildlife.
When evaluating the site, we paid close attention to which plants and natural systems could be preserved or restored. For example, an existing thicket was cleared of invasive plants to form the basis of a small woodland garden. Each spring a beautiful carpet of trout lily (Erythronium americanum, Zones 3–8) covers the floor of this pocket forest. To bring functionality and beauty, we added a missing middle layer of small trees, shrubs, and perennials.
Next, the lawn monoculture was replaced with a diverse ecosystem of plants that would complement the shady woodland and provide an abundance of food and varied habitats for wildlife. The pond and waterfall provide great ecological benefits, much like a natural stream. Pond plants add cover, food, and breeding grounds for fish, frogs, and dragonflies. Natural bacteria in the gravel of the stream break down fish waste and nutrients. Because it mimics nature, a well-designed ecological pond requires little maintenance—an important feature to a time-strapped gardener.
Bogs adjacent to the pond offer another type of habitat. Frogs soon moved into the moist, muddy margins where rose mallow (Hibiscus moscheutos, Zones 5–9) and other wetland plants thrive. Beyond the pond and bog is a small prairie garden, an important source of nectar for pollinators and seeds for birds. Birds also appreciate the protective branches of evergreens and small trees, layered as they would be in nature.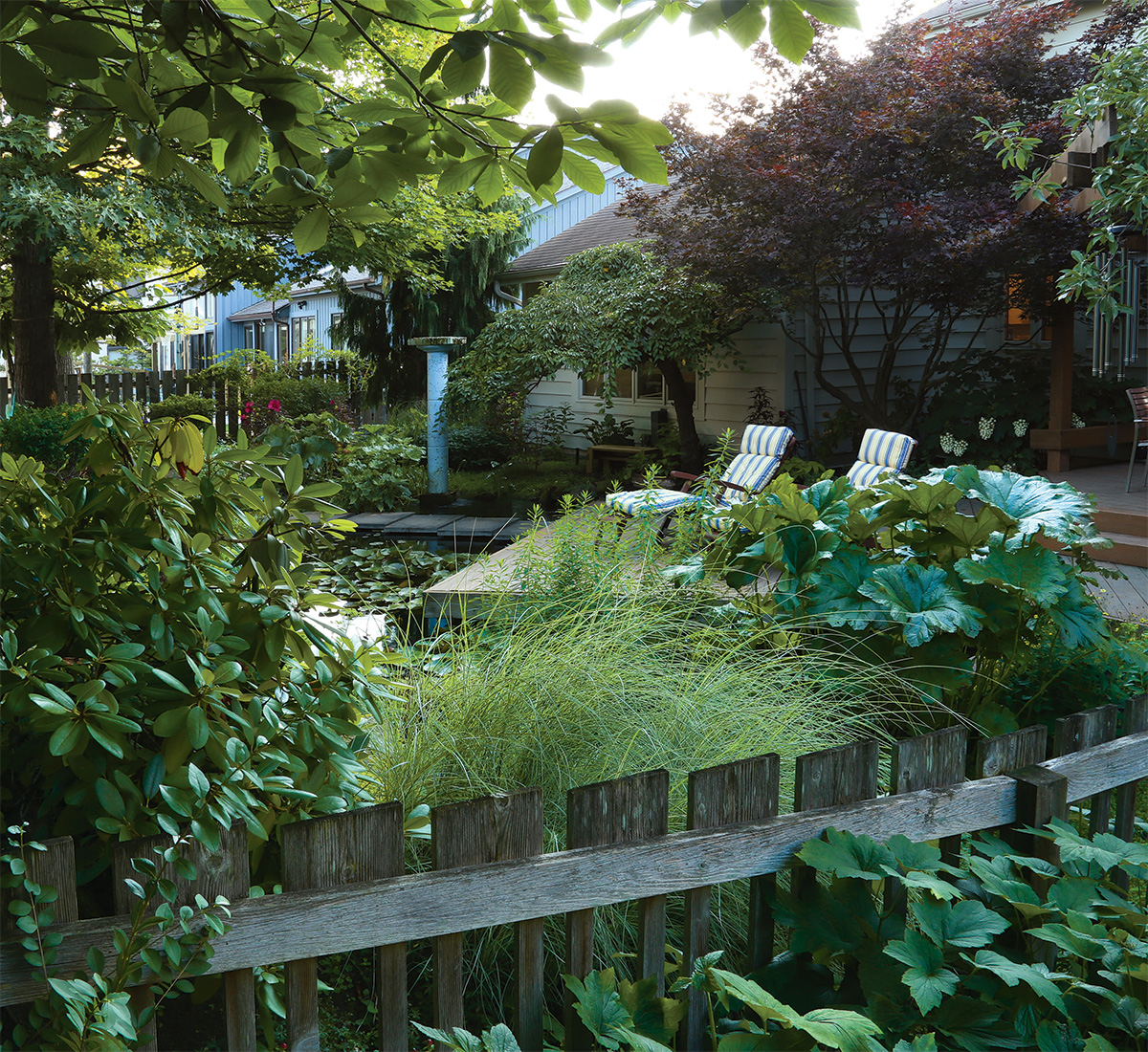 The ecology of the garden goes beyond plantings into the soil underfoot, which we amply amended with compost. Newer home sites with soil damaged by construction almost always benefit from compost and organic fertilizers applied according to soil tests. Healthy soil that is alive with microorganisms provides the foundation for a vibrant garden. Ground-layer perennials and mulch hold moisture, prevent erosion, and reduce maintenance.
Thoughtful plant placement enhances enjoyment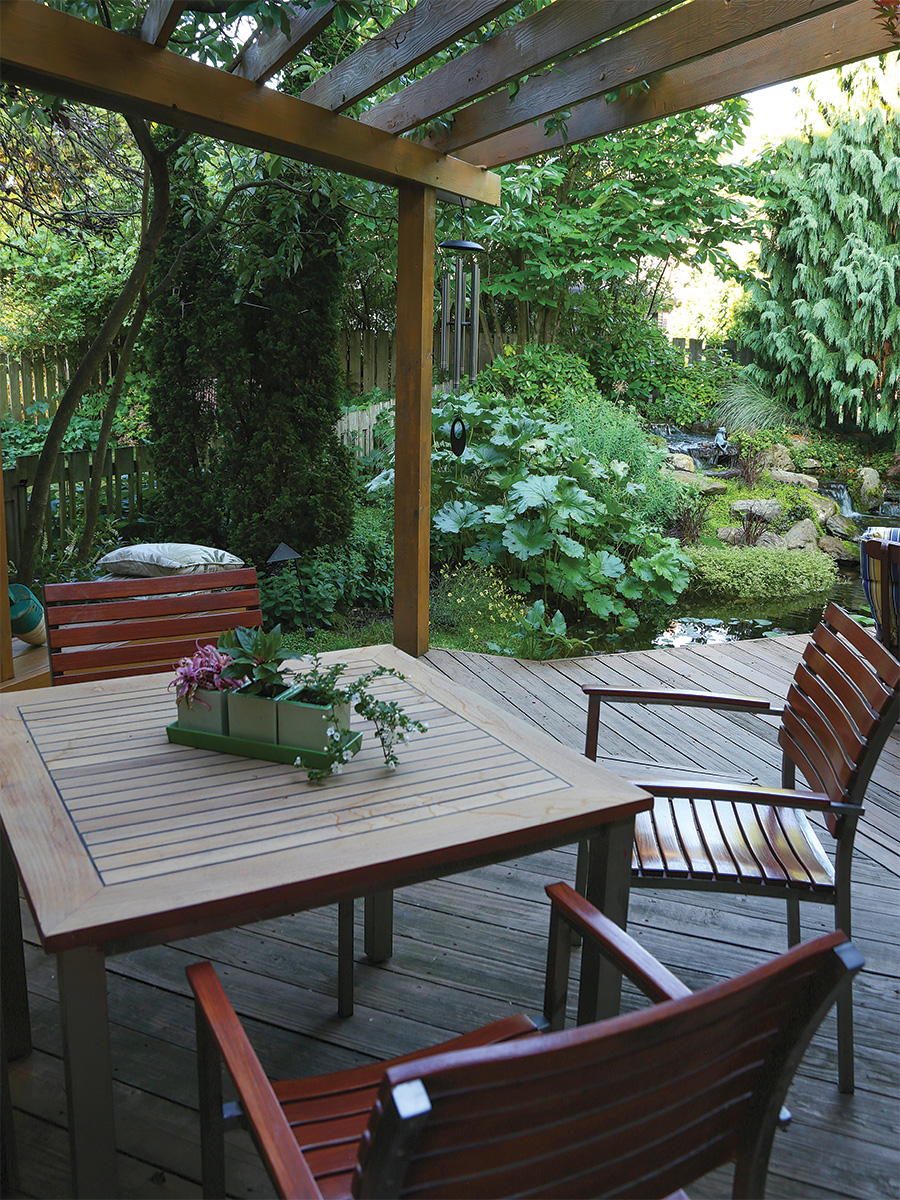 We built this design around beautiful, site-appropriate plants that require minimal care or pruning. Planting in repeating drifts makes the garden feel less intimidating and more visually impactful, and weeds are easier to identify. The naturalistic pond and waterfall require less work than plantings of similar size, but a simple birdbath or fountain could also have been used to attract birds and pollinators.
Many of the plants add a sensory element. The heady scent of a sweet bay magnolia (Magnolia virginiana, Zones 5–10) lingers in summer air. 'Longwood Blue' bluebeard (Caryopteris clandonensis 'Longwood Blue', Zones 5–9) grows near a path so its fragrant foliage can be appreciated. Native pawpaws (Asimina triloba, Zones 5–9) offer bold texture and hide distracting views, and in September they bear an abundance of sweet fruit.
Upon living with this backyard retreat, our clients discovered what they probably suspected—that gardening is not only enjoyable but also transformative. Each morning they go to the window to see what is new. Larry has learned how to nurture the plants, and he has, in turn, been nurtured. His wife, Anne, recognizes the transformed space as a godsend where her husband's stress disappears as he putters.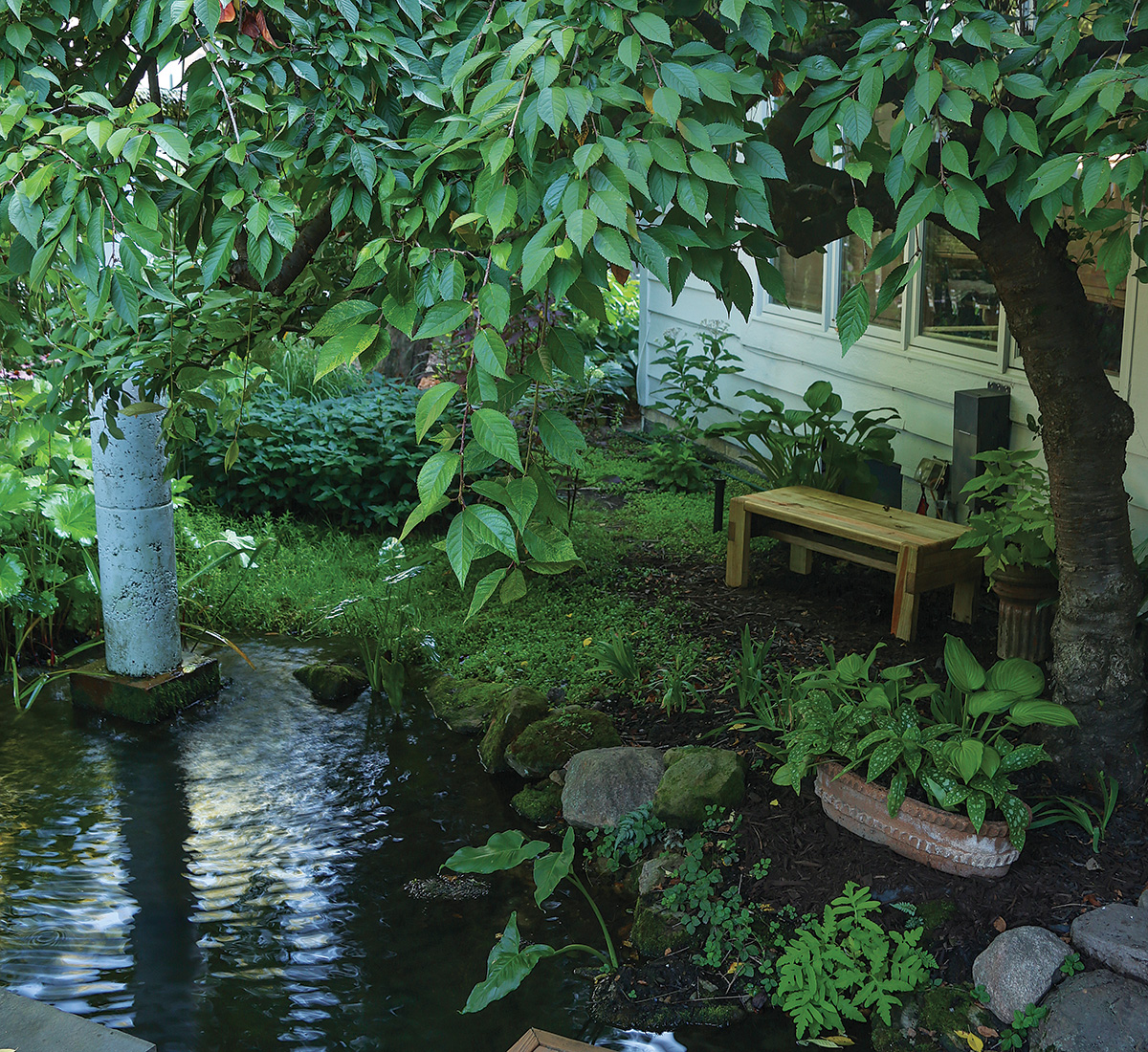 In summer the two of them enjoy the subtly lit landscape late into the evening. They often entertain family and friends outdoors, a delightful change from their previous lifestyle. A garden can be so much more than an expansion of the house. It offers a place to connect, heal, celebrate, and experience the magic of the present moment. They asked for a pond, but what they found was a sanctuary.
---
Sabrena Schweyer and her husband, Samuel Salsbury, own and manage Salsbury-Schweyer Inc., a sustainable landscape design and development group based in Akron, Ohio.
Photos, except where noted: Carol Collins