Video shot and edited by Christine Alexander
Take a tour of the Coastal Maine Botanical Gardens and discover a meeting ground of natural beauty, expert design, and horticultural excellence. Nestled in the picturesque landscape of coastal Maine, this garden offers a symphony of colors, fragrances, and serene vistas that will surely captivate any nature enthusiast. In this video, director of horticulture (and frequent Fine Gardening contributing writer) Andy Brand takes us on a journey through three of his favorite gardens and gives insights as to what makes them unique. This tour barely scratches the surface of what CMBG has to offer, however, with its more than 300 acres and 16 unique gardens connected by well-maintained paths and trails. You can spend days at the garden and still find something new.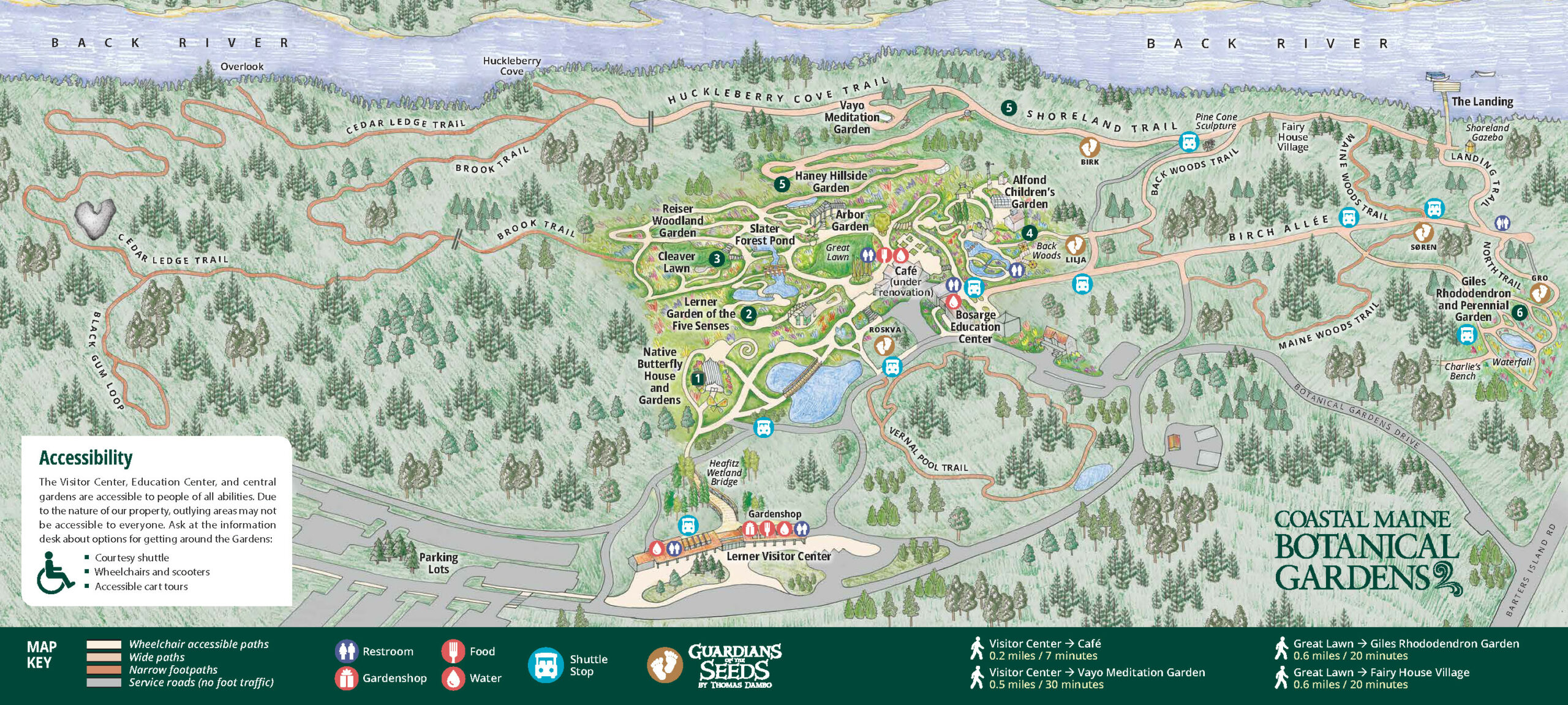 Garden of the Five Senses
CMBG's Lerner Garden of the Five Senses is a sensory masterpiece, inviting visitors to explore the natural world in a unique and immersive way. This garden is thoughtfully designed to engage all five senses—sight, smell, touch, taste, and sound—so that differently abled visitors can enjoy a vast array of sensory stimulation no matter how they experience the world.
Sight: This garden is a visual delight, with a kaleidoscope of colors and plantings that vary throughout the seasons. From vibrant blooms to the soothing greens of foliage, every corner of this garden offers something visually stunning.
Smell: Fragrance is a central element in this garden. Aromatic herbs, scented flowers, and foliage with distinctive scents make this garden a paradise for olfactory exploration.
Touch: Visitors can interact with various plant textures, from the velvety leaves of lambs' ears to the rough bark of trees. Here they can explore the tactile aspects of gardening and learn how to incorporate different textures.
Taste: The inclusion of edible plants adds another layer of sensory delight. The garden features herbs and vegetables, allowing visitors to sample nature's bounty.
Sound: This garden incorporates the soothing sounds of nature, from rustling leaves to the gentle trickle of water.
As visitors meander through this enchanting space, they will discover a tapestry of textures, scents, and colors carefully selected to evoke different sensory experiences.
Children's Garden
The Bibby and Harold Alfond Children's Garden is a whimsical and enchanting realm designed to captivate the young and the young at heart. This charming space is thoughtfully crafted to engage children's senses and curiosity. As soon as visitors enter, they are greeted by vibrant colors, playful structures, and a sense of wonder bound to make kids eager to explore. It's an inviting setting where the world of plants and horticulture is made accessible and fun.
The vegetable garden section is a great opportunity to teach kids about the wonders of growing their own food. Not only is it educational, but it also reinforces the idea of sustainability and the importance of knowing where our food comes from.
A captivating "story barn" adds a literary touch to the Children's Garden. It's a place where storytelling sessions take place, making the experience not only visually stimulating but also intellectually enriching. References to children's books by Maine authors are dispersed throughout the garden. Families can go on a literary "treasure hunt" to find them all.
A central feature of the garden is a large pond where children can discover amphibious creatures among the aquatic plants. They can also pretend to pull in a Maine lobster cage off a dock and play with fishing poles. Another popular feature is the "whale rocks," where water spouts periodically and kids of all ages can go to play and cool off.
Haney Hillside Garden
The Haney Hillside Garden is a hidden gem that combines the beauty of horticulture with the rugged charm of coastal landscapes. It offers a unique example of the art of blending plants and natural terrain.
Situated on a steep hillside overlooking the stunning Maine coast, this garden is a testament to the creative potential of sustainable gardening in challenging environments. It showcases a harmonious coexistence between native vegetation and carefully selected plants, all while embracing the natural contours of the landscape.
One of the garden's key features is its meandering pathways that lead visitors on a captivating journey through a variety of terrains. From sun-drenched slopes to shaded nooks, the Haney Hillside Garden provides a diverse range of microclimates. The garden's use of stone walls and hardscape elements adds a touch of elegance to the rugged beauty of the coast. In this garden you can see prime examples of incorporating stonework into landscapes, and how hardscape elements can complement the natural environment.
The choice of plants in this garden is both strategic and inspiring. Native species are thoughtfully integrated, demonstrating how they can thrive and enhance the coastal landscape.
See more:
More garden tours from Fine Gardening
Articles by Andy Brand, Director of Horticulture at Coastal Maine Botanic Gardens