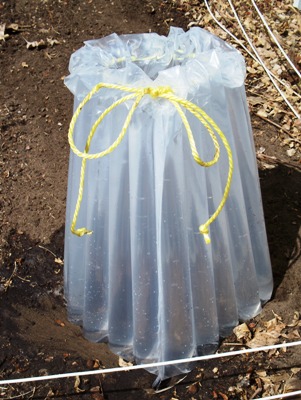 The gardening season is off to a slower-than-usual start here in Denver. The weather is unseasonably cold and windy so it's unpleasant to be outside digging in the soil. For gardeners itching to start planting, 28-degree night-time temperatures make for a very long spring.
Over the last several years I've learned to wait until the last weekend in May to plant warm-season crops, like tomatoes and peppers, but that doesn't mean I wait patiently.
In the past I've tried plant protectors to keep the soil warm so I could plant earlier, but I disliked the process of setting up the plastic covers and filling them with water. It's downright uncomfortable to be bending and standing in a cold garden with wet feet.
Just recently I tried a new design in plant protectors that made me say, "Where has this been all my gardening life?!"
Debbie Schauer, the Jane-of-all-trades who dreamed up the design for the EZ-walls Plant Protectors, sent me a free sample to try in my garden. I have to say it had me at how easy it was to fill with water.
The idea for the design came from Debbie's own experience as a Colorado gardener using the typical season-extenders, but having trouble keeping them upright during windy weather.
After moving to Arizona last summer and experiencing the same problem in winds of 20 to 30 miles per hour, she says she had enough.
"I told my husband, Jon, that I had an idea and we brainstormed it," she says. "We brainstormed something that closed at the top to keep the plant protector upright."
Her husband's engineering degree and background in plastics and automated process design came in handy to refine the EZ-wall design and get it into production. "We use UV-rated plastic and the closure is marine-grade UV rope, which adds to longevity," she says.
The secret to the new design is these plant protectors have a single-fill tube with a drawstring at the top. To fill it, I placed the hose in the top tube access point, turned on the water, and watched the individual cells fill themselves. The EZ-walls took shape in about one minute.
Debbie tested the plant protectors over the winter and says they withstood temperature fluctuations from below zero at night to 50 degrees during the day and there were no issues with freezing or thawing.
Since January she's been experimenting with the plant protectors in her unheated greenhouse by planting lettuce, bok choi varieties, and peas. Now's she's experimenting with growing corn.
"The EZ-walls act like an insulating blanket," she says. All the plants are doing well and the corn is almost a foot high."
EZ-walls plant protectors are competitively priced and available on Debbie's website called The Ideal Garden Store.