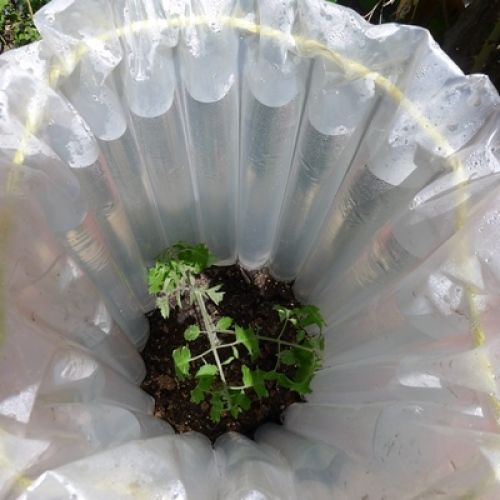 It's that time of year when I like to look back through the folder of garden photos to remind myself of the previous season's gardening lessons. It always feels good to click through the images and see the garden all green and growing because it sure doesn't look like that now.
I especially enjoyed looking at the patio container garden and reliving some of the best moments from the season. Here are my top 5 successes I hope to repeat in the vegetable garden next year:
Best way to jump start the garden. EZ-walls Plant Protectors gave me a head start planting in the large patio containers. I used them for the tomato plants that needed the extra warmth to get through chilly mid-May nights. Planting short-season tomatoes in the EZ-walls meant harvesting earlier–and longer.
Best vacation watering idea. The advantage to growing vegetables in containers is that they're portable. When it came time to leave the garden in late August, I crowded as many containers as I could into the plastic kids pool and filled it with water. When I returned a week later, there was still a little water in the pool and all of the plants looked like they hadn't missed me at all.
Best use of space. The 6 different varieties of small-sized tomatoes did exceptionally well in the container garden. My favorites for flavor were 'Tiny Tim', 'White Cherry' and 'Sungold'. The most prolific was 'Yellow Pear'. I plan to grow all of these again next season.
Best pepper surprise. I've never had good luck growing full-size sweet bell peppers in my container garden until now. The 'Gemini' peppers sent to me by Harris Seeds were easy to grow and tolerant of the weather extremes: cool start, then very hot, very dry and then drenching rains. Although there wasn't a bushel of peppers to harvest, the peppers themselves were huge and matured to a gorgeous deep yellow.
Best basil. The container of basil grew leaves that were unbelievably big. I picked up a small pot of sweet basil at a big box store and was amazed that it did so well with no special attention. Now that's what container gardening should be all about.
What successes did you have in your vegetable garden in 2013? Please share your 'bests' here.