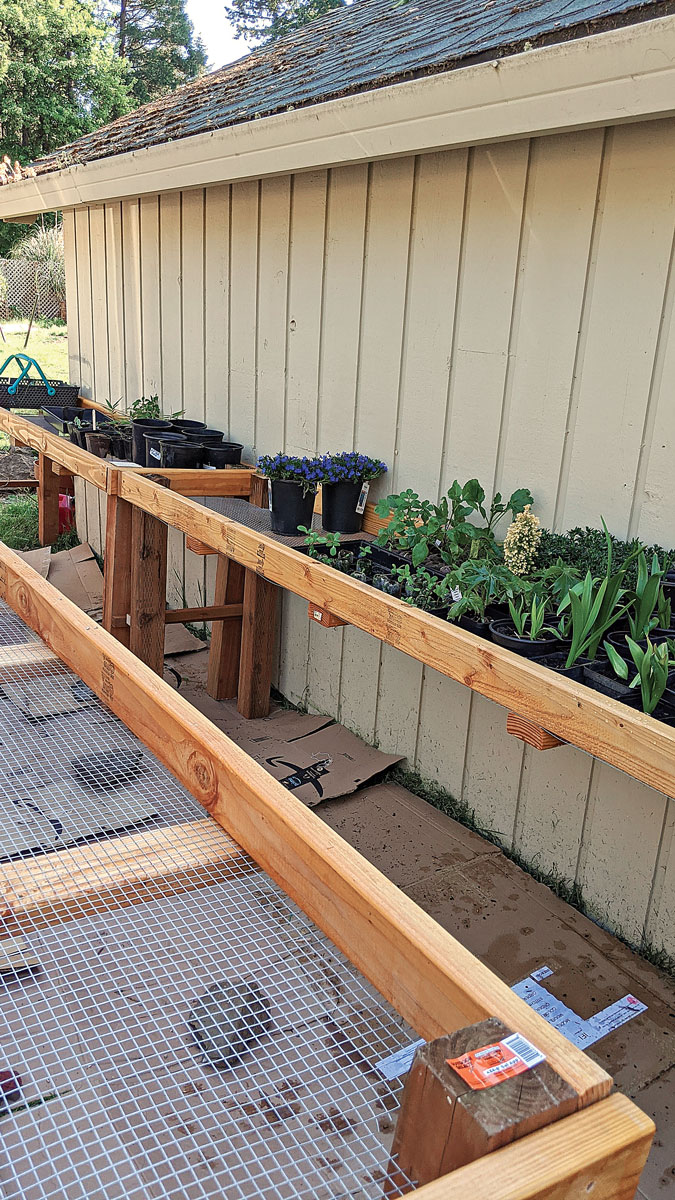 Winning Tip: Plant tables
I take over our patio every year to harden off seedlings, and I am always picking up clearance plants, many of which wait in my driveway for weeks or months until I finally plant them in the ground. Last spring we built these simple plant tables, taking inspiration from some we'd seen at a nursery. We built the base out of pressure-treated 4x4s, then added hardware cloth to make the "tabletop." Each table is 2 feet wide and 8 feet long, and we made four of them. The tables are in a sheltered place, so I finally have a spot to store all my hundreds of plants, and the hardware cloth allows them to drain easily. They're up off the ground, so we haven't had any issues with slugs. It makes maintenance so much easier when all the plants are in one place.
—Hayden Brown, Hillsboro, Oregon
TLC for pine tree seedlings
There is no mistaking a pine tree seedling. It is between 11⁄2 and 2 inches tall and looks just like a big pine tree with a single stem. While weeding, I sometimes come across tiny pine trees that the birds have planted. I carefully dig them up, protecting their roots from damage, and replant them in fertile soil in a space with plenty of sunlight. I keep the seedlings well watered until new growth appears. There's no need to bring them indoors during the winter. In a few years the plants are large enough to transplant in permanent locations, or they can be potted up and used for decorating inside or outside. Learn about pruning pines.
—Mary Crum, Holland, Pennsylvania
Easy Christmas tree removal
Dragging my no-longer-fresh Christmas tree outside after the holidays is a messy and miserable task in the subzero Wisconsin winter. One year when I ended up home alone, I brought in a clean tarp and my pruning lopers. With the tarp next to the stand, I cut off each branch and stacked it on the tarp. When I was done, I pulled up the four corners and slid the tarp out of the house, where the branches sat covered until I was ready to use them to protect shrubs. Then, after loosening the tree in the stand, it was easy to lift the lightweight trunk out, set the wet base in a plastic bag, and carry it out to the curb. This is now my standard method.
—Amy Dunlop, Sun Prairie, Wisconsin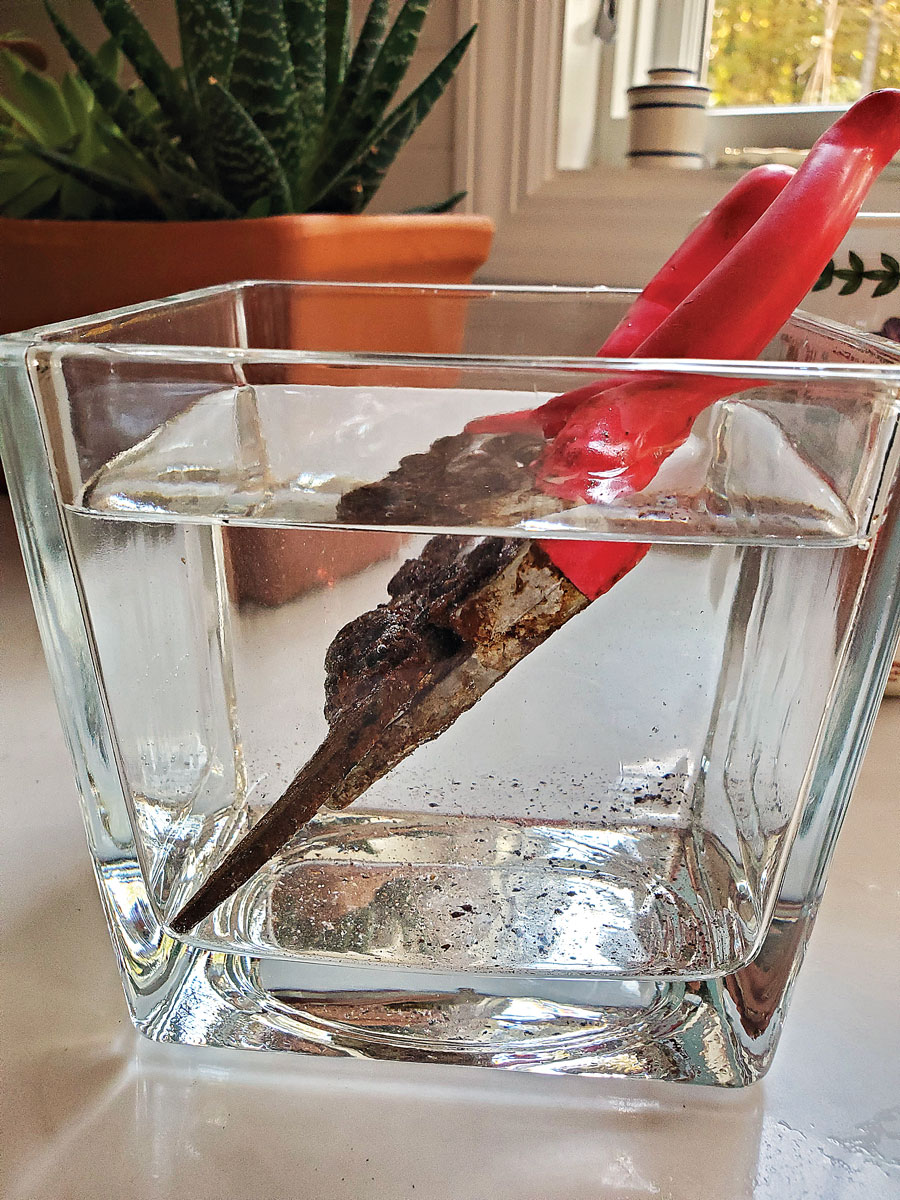 New life for rusty pruners
Last week my husband found my pruners at the bottom of our compost pile, and they were in pretty rough shape after being there for a year. I tried soaking the pruners overnight in a 50/50 solution of white vinegar and water. After I scrubbed them with a steel-wool scouring pad and a tooth- brush, the pruners cleaned up better than expected and cut very well. Which pruner is right for you?
—Linda Young, Ridgefield, Connecticut
Spray-bottle hanger
I used to waste precious gardening time looking for my spray bottle of this insecticide or that fungicide, only to find it upside down under the potting bench knocked over by a gust of wind or energetic squirrel. I finally found a solution. I attached a remnant of hog wire to the trim of the window behind my potting bench. The hog wire serves as a handy "hook" from which the triggers of various spray bottles hang. Now whether I need insecticidal soap, neem oil, or critter deterrent, the bottles are within reach, their labels easy to read. See our experts' top garden tools.
—Katherine Coker, McDonough, Georgia
---
From Fine Gardening #197