How-To
How to Prune Beautyberries
Cutting back plants in late winter or early spring will ensure next season's fall display is great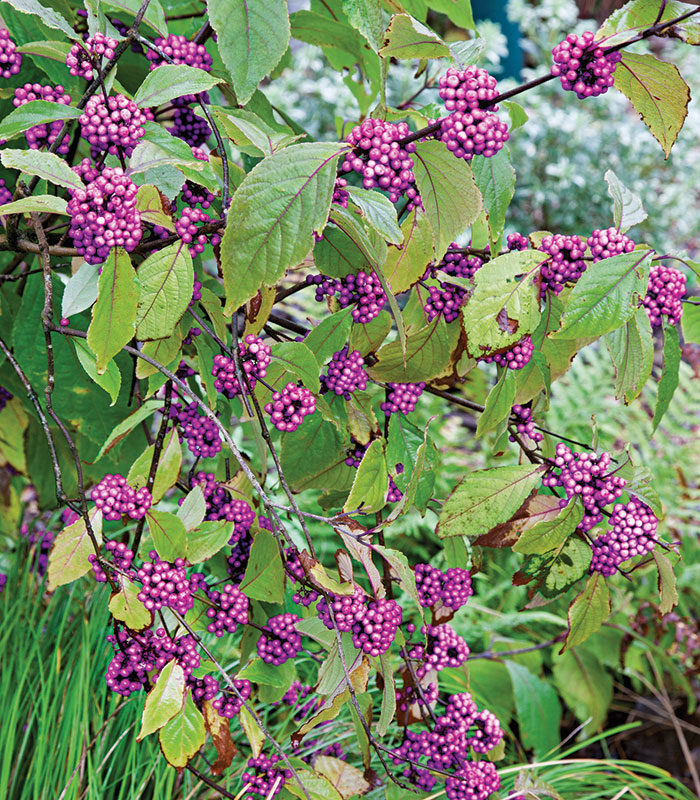 Four-season shrubs are like gold to a gardener. A plant that blooms gorgeously in spring, has wonderful summer foliage followed by fall color, and then displays great bark and structure through the winter is amazing. If your favorite season is autumn, then beautyberry (Callicarpa spp. and cvs., Zones 5–9) is a must-have plant. These shrubs have great late season color and an exceptional fruit display, which is especially great because that's a time of year when not much is happening landscape-wise. Beautyberries are truly darlings of the fall garden for their fruit display.
Callicarpa is a large genus of shrubs with more than 100 species worldwide, most of which grow in tropical areas. However, several species grow in temperate regions and are perfect additions for North American gardens. The word Callicarpa comes from the Greek callos and carpos, meaning "beauty" and "fruit." The flowers of beautyberry are often small and go unnoticed in summer, and the foliage of most species is a medium green and not very distinctive. It is the fruit in hues of rich purple, white, or pink that sing out for attention and make beautyberry a fall plant with no rivals.
Pruning beautyberries is frequently necessary to keep them looking neat and tidy—and it's fairly straightforward. Late winter is the time to do it, because beautyberries bloom and set fruit on new wood (the current season's growth). Cutting back plants in late winter or early spring will not sacrifice the next season's fall display. Choose a hefty tool like loppers instead of pruning shears or a hedge trimmer to make clean cuts on the sizable canes. Learn more about which varieties and other tips for planting in Beautyberry: Fall's Most Fantastic Shrub.
Pruning Beautyberries 101
Pruning option 1
Cut back the entire plant. All the branches can be cut to 12 inches from the ground.
Pruning option 2
Prune selectively over time. Removing one-third of the oldest and largest branches over a three-year period will rejuvenate the shrub and create a neater habit if you're shy about doing a total renovation pruning.
View Comments