How-To
How to Properly Sanitize Your Pruning Tools
A little elbow grease can ensure your tools last longer and don't spread disease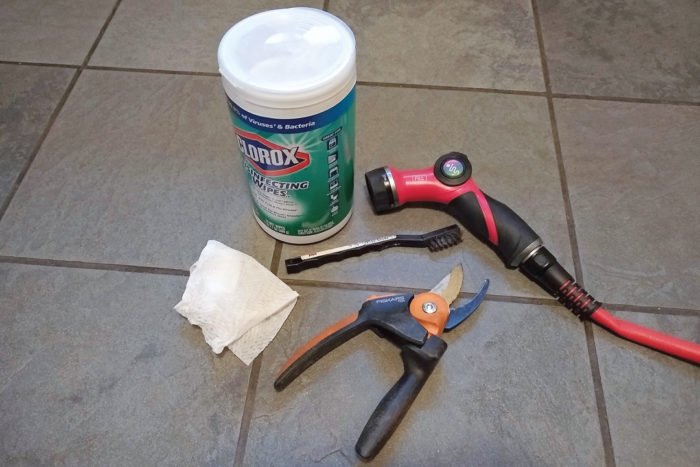 Most folks agree that cleaning your pruning tools is not just a good idea, but it's very important. Proper cleaning, for one, means your tools will last longer. And, if anyone has bought a pair of expensive pruners lately, that is something they'll appreciate. The second reason to clean your pruning tools is to inhibit disease. Plant diseases can easily be spread from one plant to the next if you don't sanitize your tools after every single plant. A quick wipe of a paper towel and bleach solution is good, but a proper sanitation regime is best. Here are the ideal steps to inhibit the spread of disease.
Use water to wash loose dirt off. A hose nozzle or strong faucet stream should remove most if not all loose debris. Sometimes you may need to soak the tools in a water bath for a short period of time if the soil has dried in place.
Remove stuck-on sap with a wire brush. If that doesn't work, try vegetable shortening, which removes sap easily. Then wipe clean with a dry rag. Fun extra fact: if you happen to get a bunch of sap stuck to your hands while pruning (we all sometimes forgot to wear gloves) rub vegetable shorten between your hands and then rinse them with soap. This saves you from having to scrub and irritate your skin.
Disinfect your tools. To kill off any possible pathogens, spray a 10% bleach solution onto the tools, or use a disinfectant wipe. This is a critical last step because it may be the only way to kill off some specific diseases.
Too many times gardeners will throw their tools back into their shed without sanitizing them first. This practice not only shortens the life of the tools but can inadvertently cause an outbreak of disease throughout an entire landscape.
---
Learn how to prune these common shrubs:
How to Prune Panicle Hydrangeas
View Comments