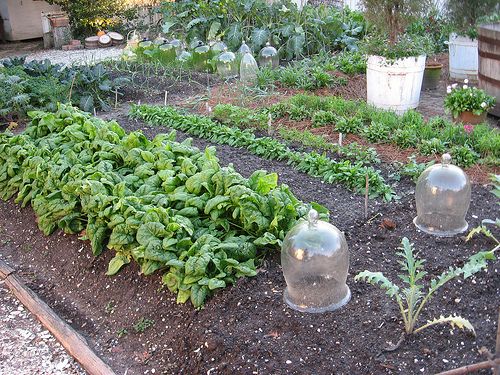 I have some random thoughts for you on fall and winter crops. Seriously, the only thing that pulls this post together is the recurring fall/winter theme.
Random Thought #1 – Here's a gardening secret for you. If you've never grown crops in the fall, you're seriously missing out. In terms of garden maintenance, the fall garden is the easiest vegetable garden you'll ever grow. You'll deal with less weeds, pests, and barely have to water. The plants never look wilted and they make the surrounding landscape that's going to sleep for the winter come alive with color and texture. And you barely have to tend it – until you want to harvest.
I don't care where you live. Even if you have to grow your cool-weather garden in a hoop-house, cold frame, or what-have-you. I've found that it's extremely rewarding for not even half the work of a summer garden.
I know, easy for me to day living in Northern California, but hear me out. I have it on some pretty solid gardener authority country-wide that they've experienced the same. Except for may be Alaska…I haven't heard form anyone in Alsaka. If you live in that region, please chime in and let us know if you've had success with fall gardens.
Random Thought #2 – Vegetables that are happy to live in the fall and winter garden are radishes, beets, carrots, turnips, parsnips, collards, Swiss chard, kale, and rutabagas. But there are some cool-loving vegetables whose flavor is actually enhanced by a little freeze such as Brussels sprouts, cauliflower, broccoli, kohlrabi and cabbage. Some of the root crops like carrots and radishes have a sweeter flesh, pronounced crispness when Jack Frost blows by.
Random Thought #3 -If you think you may be planting your fall garden too late – never fear. Although on paper this may sound true, but many of these dates refer to starting plants from seed. At this late date, you won't be starting from seed. Head down to your local nursery and see what transplants (starts) they have already going for you and get them into the ground or containers.

Random Thought #4 – By the way, fall is a terrific time to grow quick-to-bolt-in-the-heat leafy greens such as salad lettuces. These leafy greens are more tender than say, broccoli, and you'll want to plant them in a cold frame or hoop-house for sure.
Random Thought #5 – If you have been promising yourself some new fruit trees such as columnar apples, lemon tree, peach, etc; now is the time to research which varieties perform best in your growing zone. The best time to purchase (or order) fruit trees is in the winter when they're sold as bare-root plants. First of all, when spring arrives they have time they acclimating to your area, and they are cheap when purchased as bare-root plants. Just sayin'.