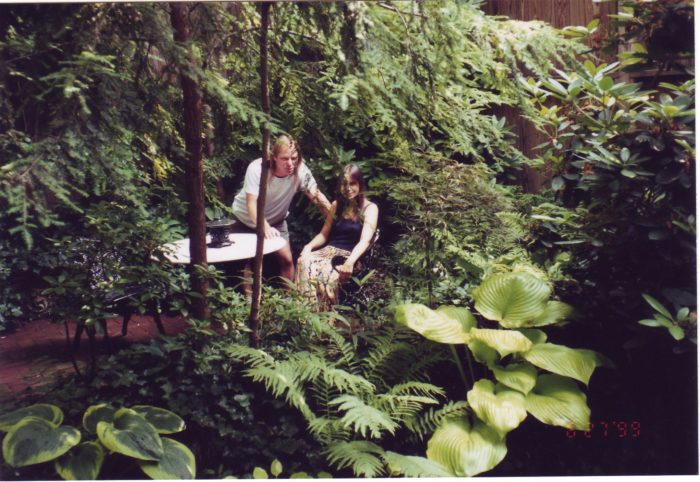 This little 20-foot by 22-foot urban woodland garden was created by Sue Hughes and Marshall Goodwin in the Oakland neighborhood of Pittsburgh between 1984 and 2012.
When we bought the property, there were no trees or bushes, just grass, weeds, and some Boston ivy (Parthenocissus tricuspidata, Zones 4–8) that grows wild in Pittsburgh. A large commercial building next door extended the length of one side of the garden. Luckily, it had no windows, so we nurtured the Boston ivy already growing on it to turn it into a wall of green.
The only access to the garden was through the house, so every brick and bucket of sand/gravel for the patio was carried in by hand. The same is true for the fence materials, trees, plants, ornamental stones, etc.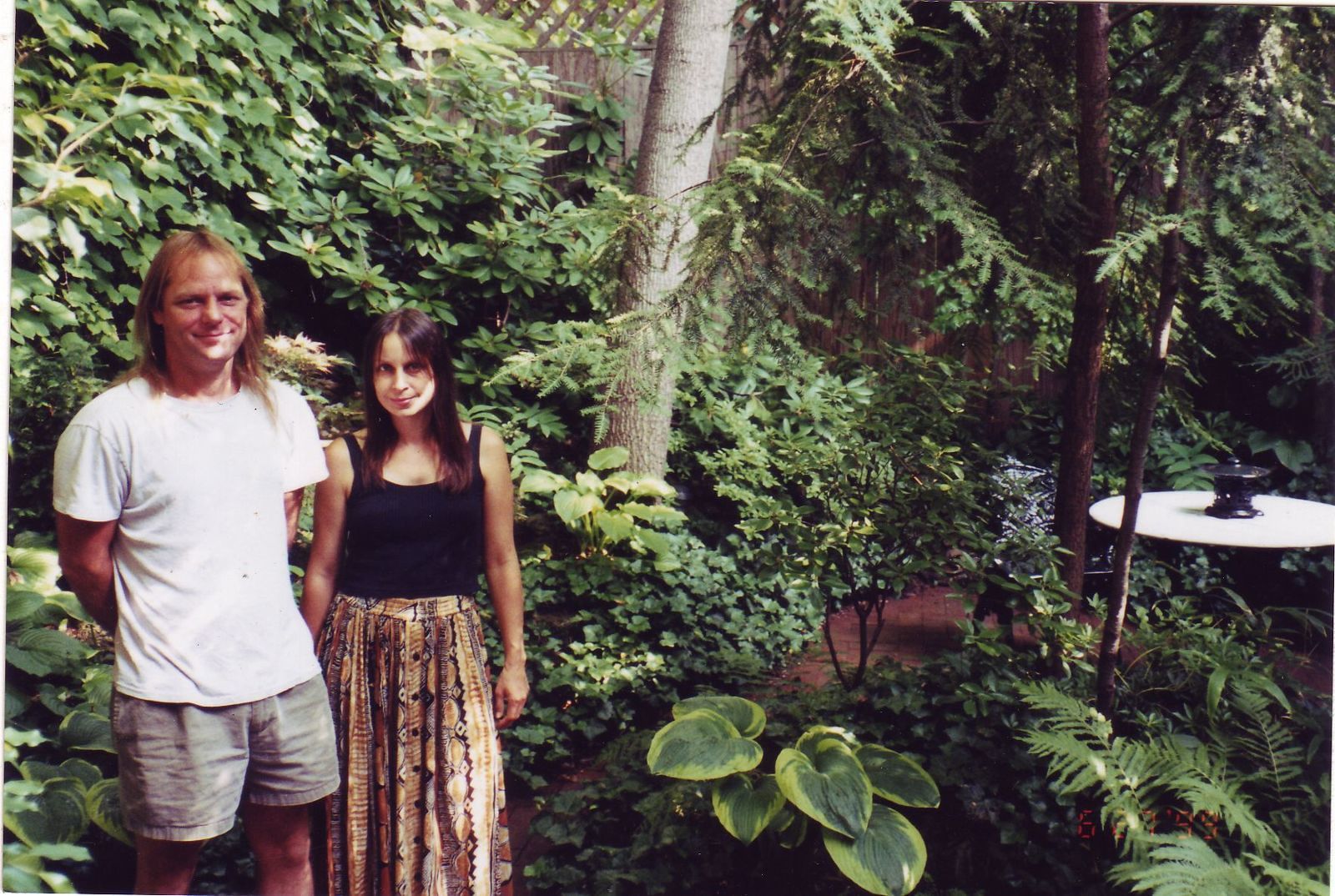 We did all of the design and labor ourselves.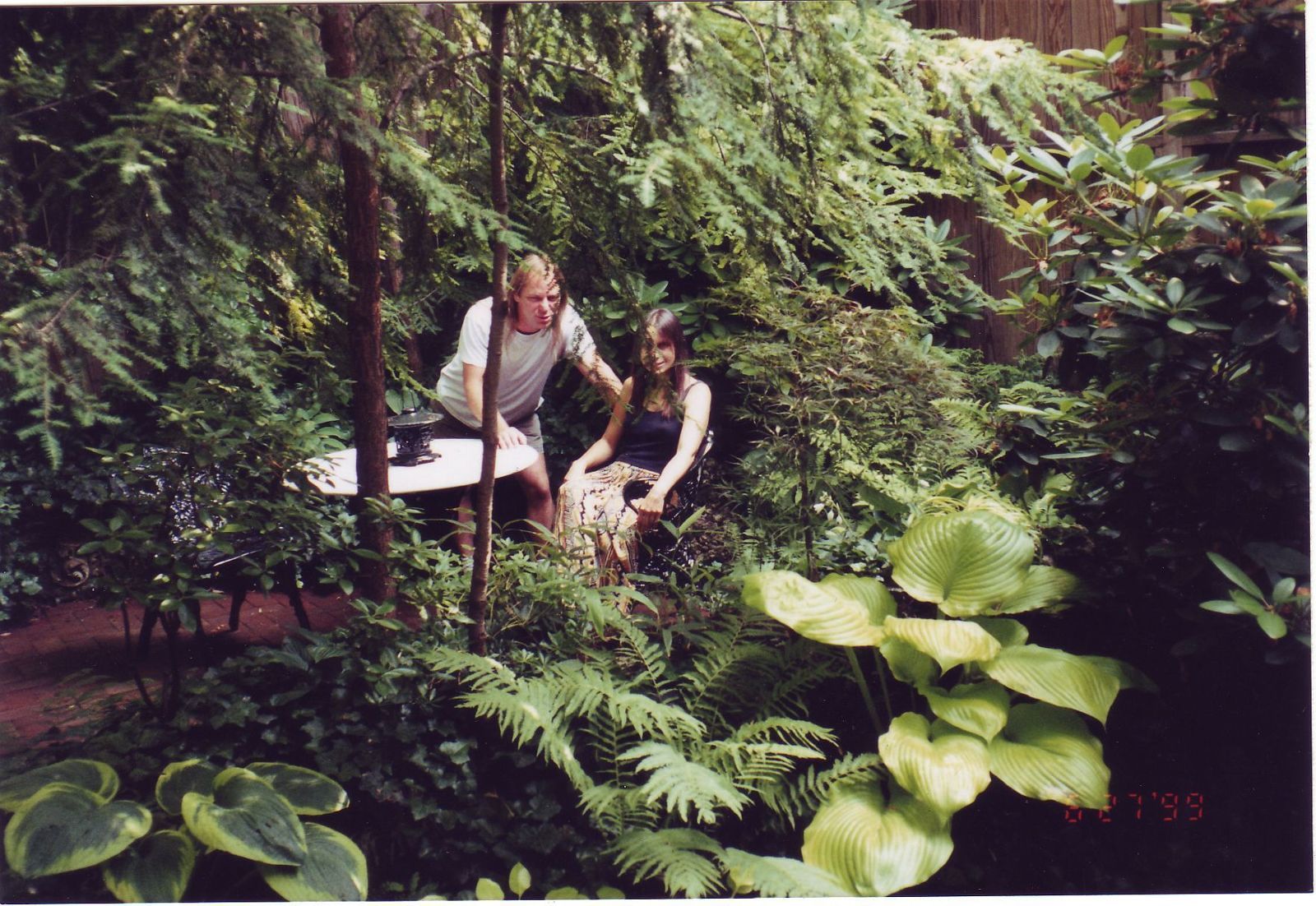 Instead of plopping down a small square patio in the middle of the level lot, we created planting mounds and an organic-shaped patio. Doing so gave the patio some depth because you had to look over and through a planting mound into a slightly secluded seating area.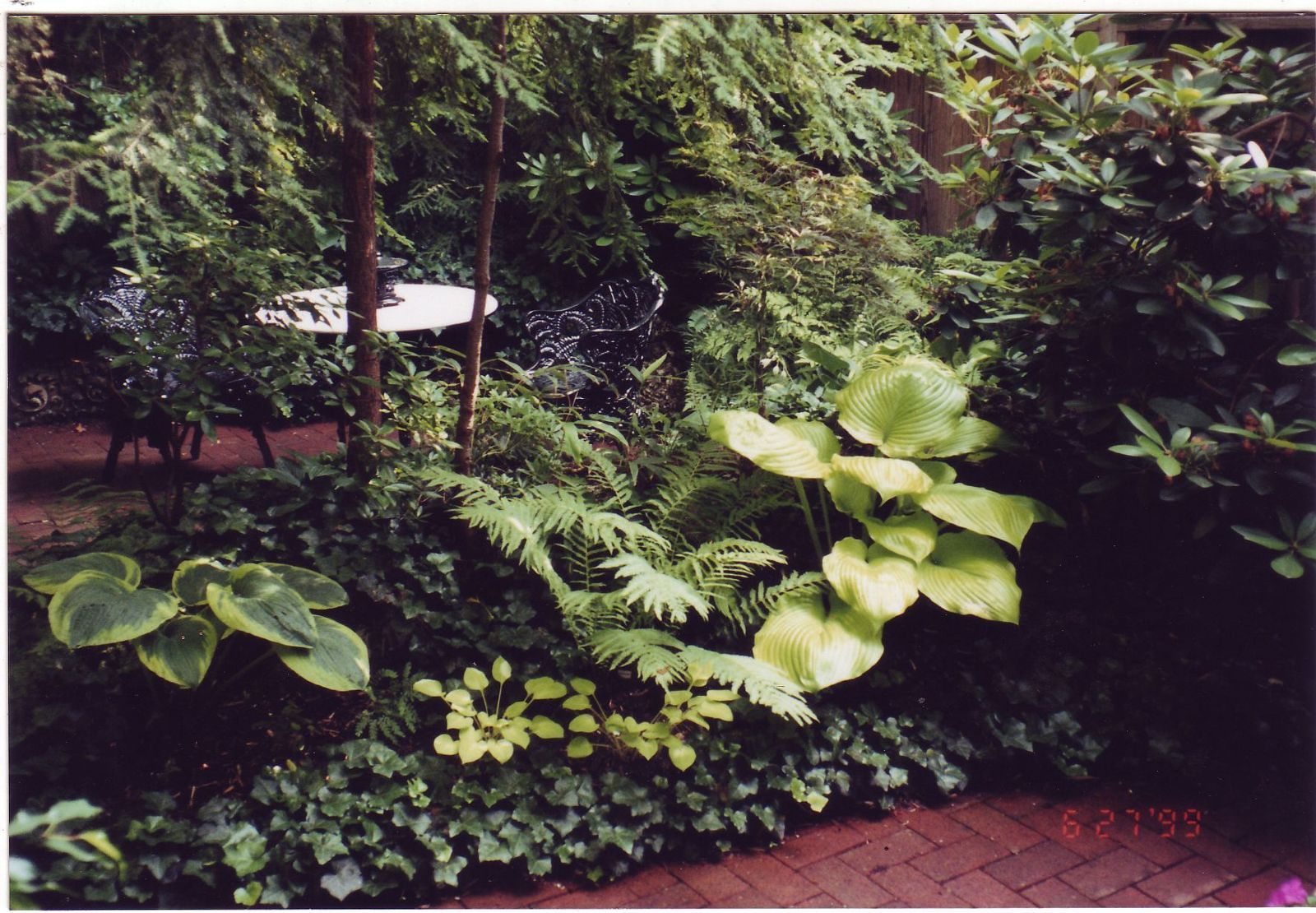 Ostrich ferns (Matteuccia struthiopteris, Zones 3–8) and 'Sum and Substance' hostas contrast with the darker leaves of the English ivy (Hedera helix, Zones 5–11) used as ground cover.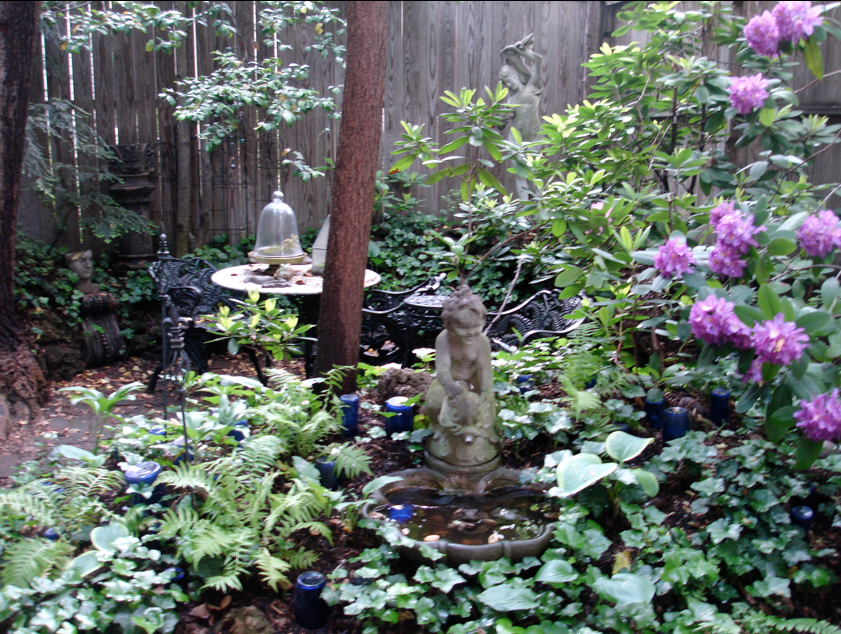 The trunk of a hemlock (Tsuga canadensis, Zones 3–7) among the ostrich ferns.

The tulip poplar (Liriodendron tulipifera, Zones 4–9) that we planted grew really fast and gave the garden a big tall feeling in that little spot.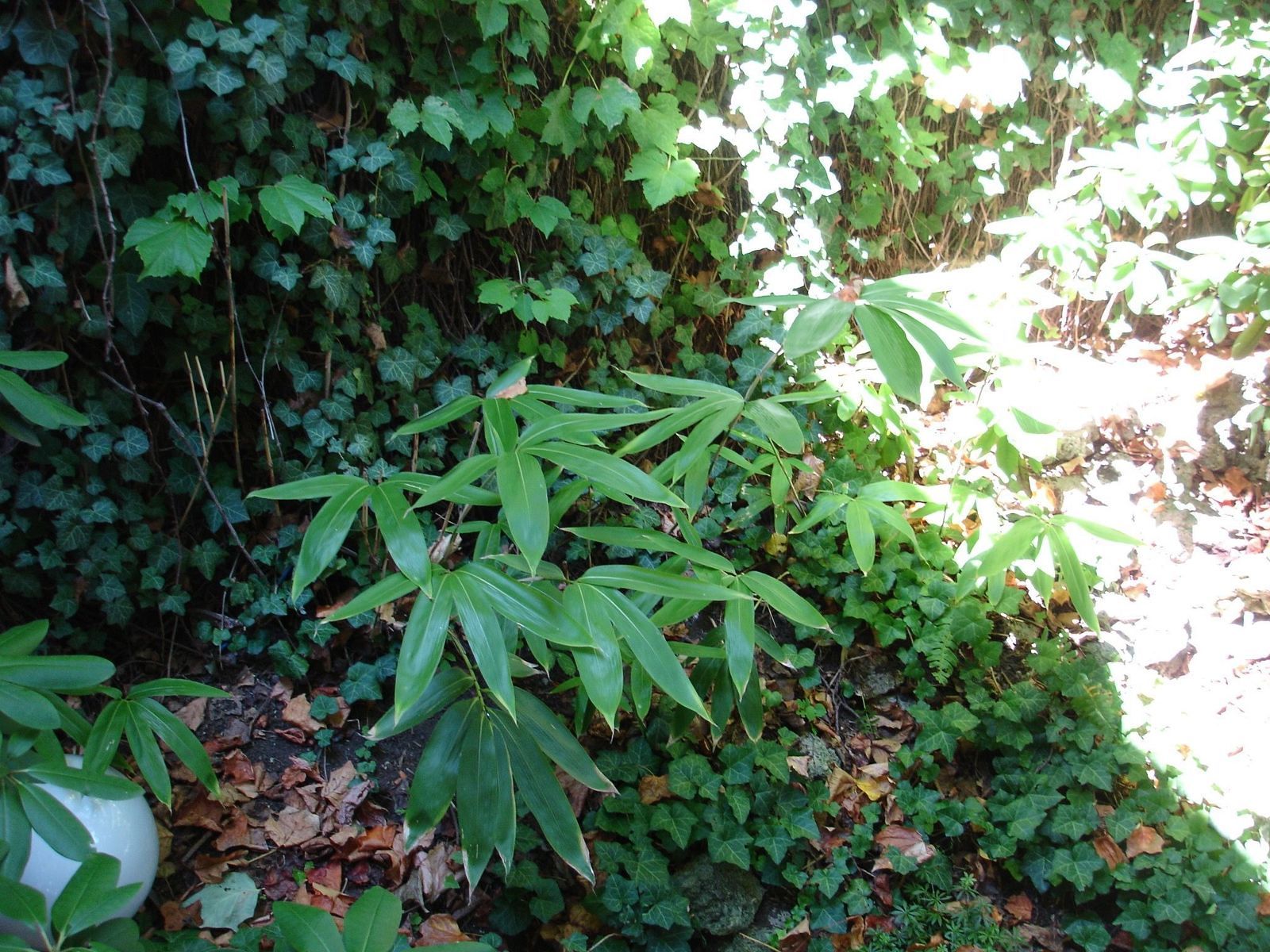 We had some pretty deep shade in that garden, so we could never grow sun-loving flowers there. But we found a lot of amazing shade-loving plants that gave this garden its peaceful woodland feeling in the middle of a noisy, traffic-congested, urban area. This is a bamboo (Sasa palmata, Zones 7–10).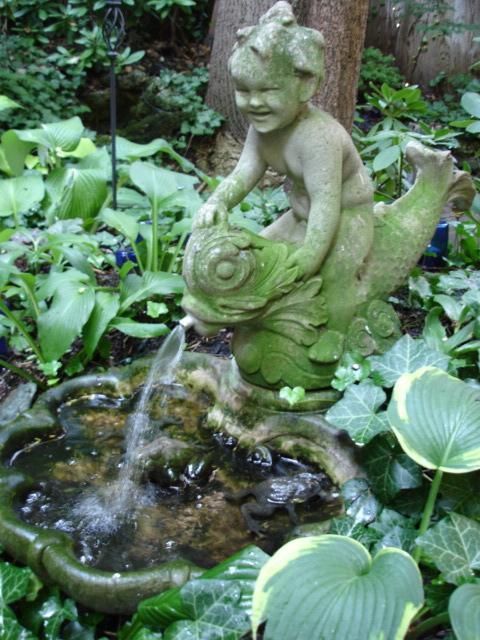 In such a small garden, surrounded by the sounds of the city, a small fountain added the relaxing sound of water and attracted many birds. No matter how many you create after it, a first garden will always have a special place in a gardener's heart.
This was our first garden, and we've recently moved and so have had to start all over again creating yet another garden at a much older age. Although the lot of the new house is larger, we found ourselves trying to recreate the intimacy and the feeling of an outdoor room that came from the limitations of our first small garden.
Have a garden you'd like to share?
Have photos to share? We'd love to see your garden, a particular collection of plants you love, or a wonderful garden you had the chance to visit!
To submit, send 5-10 photos to [email protected] along with some information about the plants in the pictures and where you took the photos. We'd love to hear where you are located, how long you've been gardening, successes you are proud of, failures you learned from, hopes for the future, favorite plants, or funny stories from your garden.
If you want to send photos in separate emails to the GPOD email box that is just fine.
Have a mobile phone? Tag your photos on Facebook, Instagram or Twitter with #FineGardening!
You don't have to be a professional garden photographer – check out our garden photography tips!
Do you receive the GPOD by email yet? Sign up here.