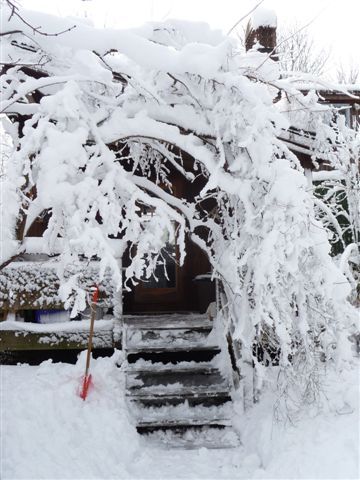 A few days ago we had a snowstorm that lasted about two days and left us with a good 12-inches of snow—we had snow, then frozen rain, then sleet and then more snow—with lulls in between. When the precip comes down like this it causes the trees and shrubs to bow down with the heavy weight and many of them snap and crack. Although sometimes it seems brutal, this is one of Mother Nature's natural ways of pruning. We had numerous trees go down and many limbs, so that we had to chainsaw our way out of the driveway. That is after we shoveled off the back porch and steps to get to the drive.
With the crunchy sound of snow under my boots, I move around the yard and garden, with a broom and gently sweep and shake the heavy loads from my shrubs, so that they can stand back up. It is amazing to me that our bamboo, crape myrtle and elderberries, as well as many big limbs on maples, dogwoods, cherries, and conifers, bent and arched down with huge weight, will stand back up as soon as the snow melts.

Lots of physical activity in cold weather like this makes one weary and desirous of sitting by the woodstove and eating warm robust comfort food. Check out the Curried Vegetable Soup that I made while we were without power for 24 hours. It made the house smell real good and the pungency from the spices actually does warm the body, as well as the soul.
I am attaching a photo pictorial of some snow scenes for those of you in southern climes so you can see what you are missing. What I am missing are green growing plants in the garden. Only a few more months of this and I will be out there digging in the garden earth. In fact, in the next few weeks, I'll be in the greenhouse starting some flats of cool weather greens and herbs. In the meantime, I'll read my garden books and magazines and pour over the 2011 seed catalogues. I am thankful for the snow that is replenishing our water table. And for the power, which we take for granted, so that I may sit here and compose this blog.