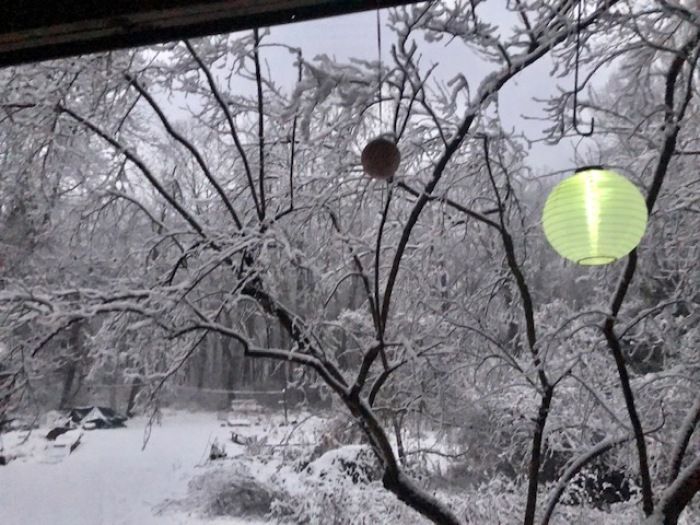 Today is the full wolf moon as well as a penumbral lunar eclipse. We are into the cold winter months of January and February–although our days are now lengthening. Time for catching up and getting things done on our perennial to-do lists before the gardening season is upon us again! Here, I share a few thoughts, musings and meanderings for our year ahead.
According to The Old Farmer's Almanac 2020, the Sky Watch for January proclaims, "This extraordinary year for planets–the best of our lives–begins rather quietly. In January, only Venus dominates, but for 5 months this brilliant evening star will be a beacon in the west." Have y'all been out there to observe Venus? Indeed she is brilliant! As have the past few nights been here in Mayland–with the snow covering the earth and the waxing moon–the bright reflection makes me think that the lights are on outside.
Up until this week, we have had milder than usual winter weather. We finally got our first snow so the earth is insulated with a white blanket. There are still some greens for harvesting under our floating row cover tunnel. And some of the stalwart perennial plants are still green, even with the freezing and thawing. My hellebores are just budding their white, pink-tinged flowers. The birds are busy feeding at the feeder and each evening as dusk approaches when they roost and sing their evensong is getting a few minutes later. By the end of the month, our daylength will reach 9 hours and 57 minutes! And by the last day of February–which is Leap Day this year on the 29th–we will have over 11 hours of daylight! Spring is coming, slowly though surely.
This year we will have a blue moon in October, that is two moons in one month: the full harvest moon on the 1st and the full hunter's moon on the 31st, which is All Hallow's Eve. I find the astrological events exciting and look forward to the moon traversing the skies–the cycles and planting in rhythm with the waxing and waning.
The seed catalogs are piling up; I have not spent as much time with them as I would like. I just ate my very last garden tomatoes, which I harvested before frost and kept in the coldroom in the basement. Imagine that–garden-grown tomatoes in January! I will certainly do that again this year. Stacking the firewood and keeping the woodstove going 24/7 is an ongoing chore; though it is good because it keeps me active and gets me outside.
Also gearing up for upcoming programs–lots of herbal fun to come–hope to see you at one of the following events! I will be promoting Rubus Herb of the Year 2020–keep your eye out for the HSA Guide on Rubus, Herb of the Year published by the HSA for its members and for the forthcoming book from IHA: Rubus, Herb of the Year 2020: Blackberries, Raspberries and More due out this spring. IHA is celebrating 25 years of Herb of the Year!
Here's a few dates to think about putting on your calendar:
March 14 to 18–Ozark Folk School–www.ozarkfolkcenter.com
March 20 21–Annual Herbal Forum–Round Top, Texas
April 11–Annual Herb Day–Indiannapolis, Indiana Unit of HSA
April 16 &17–HSA Annual Education Day–Charleston, SC
May 1 & 2–Annual Medicinal Herb Hike and Seminar–www.ozarkfolkcenter.com
May 30–Herb Day–Western Reserve Herb Society Unit of HSA, Ohio
June 18 to 21–Annual IHA Conference, Claremont, NH–www.iherb.org
October 1 to 3–Annual Herb Harvest Fall Festival–www.ozarkfolkcenter.com
I am saying farewell here–after eight + years this is my last blog for www.vegetablegardener.com–thank you readers for sharing your time and gardens and enthusiasm for all of these years! I have enjoyed blogging for Taunton Press and sharing my gardens, herbs, garden thoughts, recipes, travels and more. Wishing y'all a bounteous gardening year in 2020!