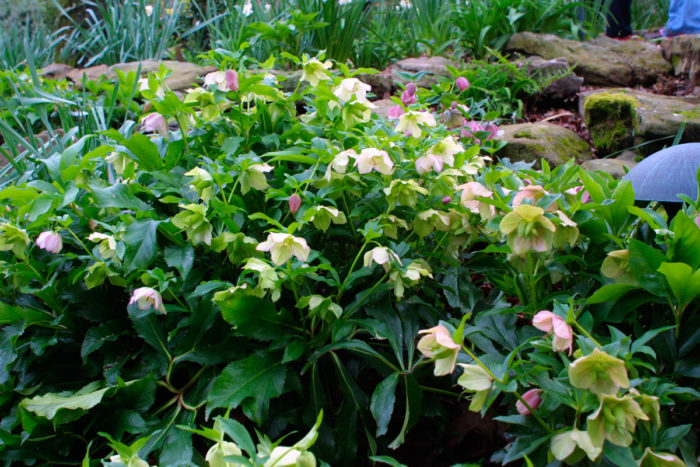 Hellebores (Helleborus spp. and cvs., Zones 4–9) are a varied group of shade-loving perennials admired by the Northern Californian gardener for their mounding growth habit, attractive foliage, and exceptional resistance to deer, rabbits, and snails (though they do make a great hiding place for those slimy pests). Evergreen and drought-tolerant, they also tolerate a wide range of temperatures and soil types. But their bloom period—when very little else is brightening up the garden—and their remarkable flowers are traits for which they are truly cherished. Hellebores bloom in profusion from winter to spring. They have cuplike, nodding flowers—ranging from single to double—that are held aloft on the tips of sturdy stems either right in the thick of the bushy foliage or a little above it. They also come in an impressive range of colors, from snow white to slate black and almost everything in between. Some of the newer hybrids even sport gorgeous variations in the form of spotting, veining, splashing, or edging in contrasting hues. As lovely as they are in the garden, hellebores also make excellent cut flowers and are intriguing additions to winter bouquets.
Though one species hails from China, most hellebores are native to the mountainous woodlands, meadows, and scrublands of the Balkans or the dry, rocky limestone islands of the Mediterranean in Europe. Sadly, though all parts of hellebores are toxic, the plant was used medicinally until the 18th century to treat melancholy, insanity, stomach upsets, and worms. Needless to say, these treatments were not effective. These plants should never be consumed!
Though it's hard to narrow down my list of favorites, the following five hellebores are my current choices for must-haves in a Northern Californian shade garden.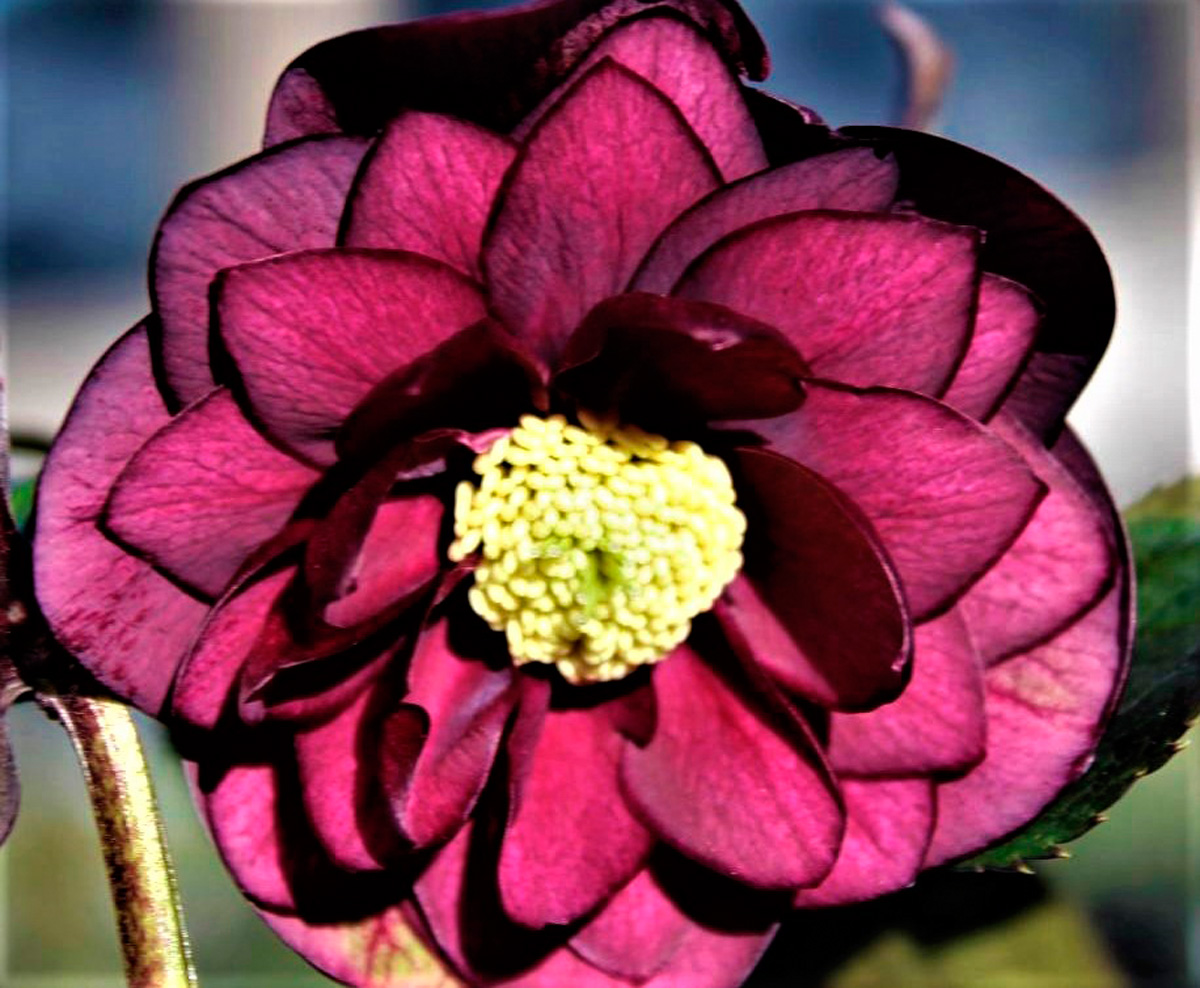 'Red Sapphire' hellebore
Helleborus 'Red Sapphire', Zones 4–9
Size: 16 to 20 inches tall and 24 inches wide
Blooms: Late winter to spring
'Red Sapphire' is just one stunning strain of hellebore hybridized and developed by Marietta O'Byrne of Eugene, Oregon. Ruby-hued and exquisitely jewel-like, the beautifully formed flowers of this cultivar are composed of two concentric rows of burgundy-edged, wine red petals that surround a central cluster of butter yellow stamens. The blooms are highlighted by the contrasting deep-green foliage below. 'Red Sapphire' is long-lived, long-blooming, increases in bloom production with each passing year, and should be grown where the downward-facing blooms can be admired from below—in a tall container, on a mound or a rise, or at the top of a flight of steps.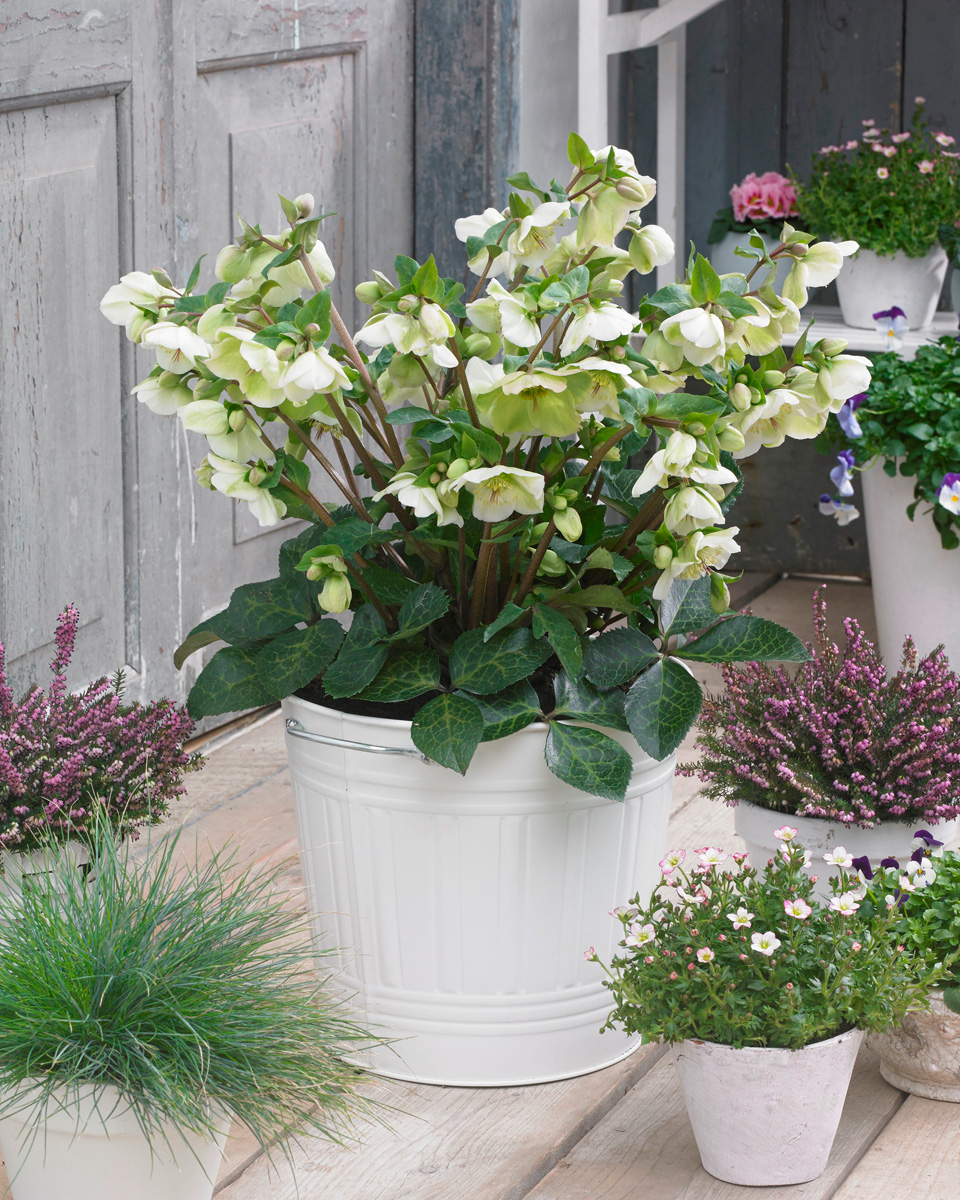 'Molly's White' hellebore
Helleborus × iburgensis 'Molly's White', Zones 4–9
Size: 12 to 24 inches tall and 24 inches wide
Blooms: Late winter through spring
Slightly serrated and silver-etched leaves grace this long-lived perennial all year long. This foliage makes the perfect backdrop for a late winter display of outward-facing, 2-inch-wide single white blooms. The creamy white color of the flowers is offset with chartreuse. Lower growing than some older hellebore hybrids, 'Molly's White' is also longer- and later-blooming than most. This hellebore looks lovely combined with other shade lovers in a mixed perennial border and is the perfect choice for naturalizing in a woodland setting.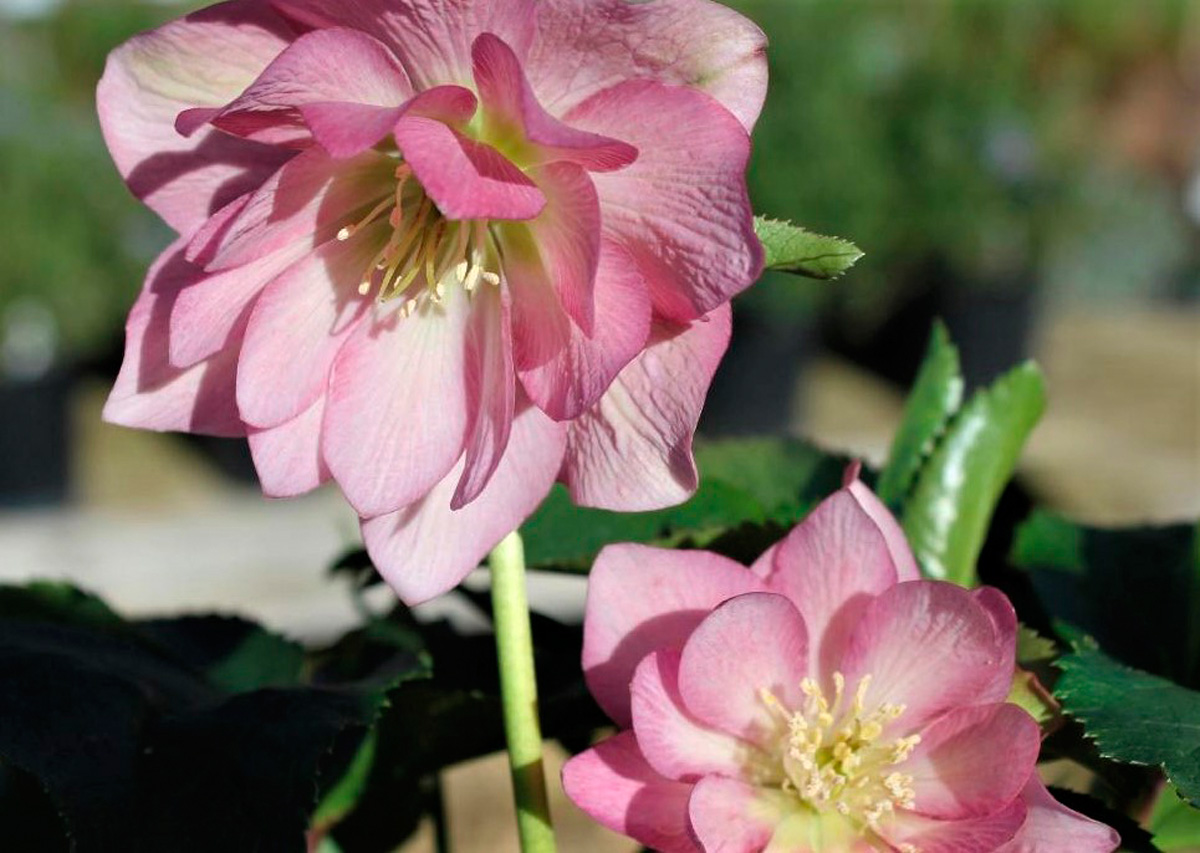 'Cotton Candy' hellebore
Helleborus 'Cotton Candy', Zones 4–9
Size: 18 to 22 inches tall and 24 inches wide
Blooms: Late winter to spring
Large and fluffy, the pink blooms of 'Cotton Candy' are charming; each pale pink petal is edged in a rosier pink, then artfully arranged in a double row around a central cluster of pale yellow stamens. Measuring almost 3 inches across, each flower is held on sturdy, upright stems above shiny foliage. They put on a long and colorful display from late winter to early spring. This cultivar is another remarkable hybridization by Marietta O'Byrne of Eugene. It's a long-lived winter jewel, rewarding you every passing year with an increase in both plant size and bloom count.
'Pink Marble' hellebore
Helleborus × lividus 'Pink Marble', Zones 7–9
Size: 6 to 18 inches tall and 19 inches wide
Blooms: Late winter to early spring
The pink-blushed foliage of this vigorous cultivar is stunning in its own right, with a compact mound of leathery and marbled blue-green leaves adding year-round interest to any shady spot in your garden. But it is particularly delightful in winter when abundant 2-inch blooms—carried on deep pink stems—emerge in tones of mauve, pink, cream, and green. They eventually age to an intriguing creamy chartreuse blushed with pink. Long-lasting in the garden and vase, 'Pink Marble' adds unusual hues to your winter bouquet's color palette.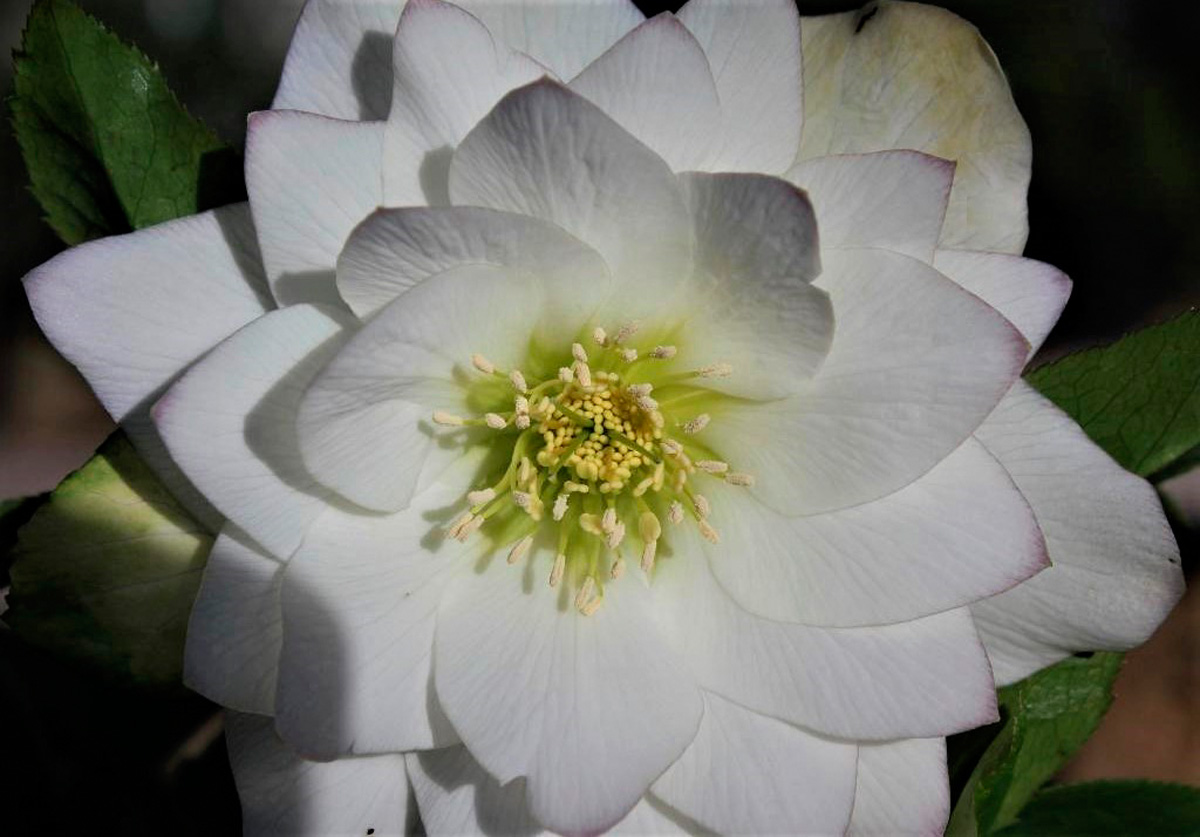 'Sparkling Diamond' hellebore
Helleborus 'Sparkling Diamond', Zones 4–9
Size: 18 to 22 inches tall and 24 inches wide
Blooms: Late winter to spring
'Sparkling Diamond' is a true winter gem. Flowers are snowy white, fully double, and totally stunning—plus they bloom for six whole weeks! The deep green backdrop of leathery foliage makes the perfect contrast to the impressive and sparkling white blooms and remains a year-long presence in the garden. 'Sparkling Diamond' is a particularly showy example of Marietta O'Byrne's spectacular hybridizations and looks great edging a shady pathway or planted in combination with other shade-loving perennials.
In Northern California, hellebores are happiest with morning sun, followed by dappled or even full shade to protect them from the summer sun's hottest rays. Grow in rich, well-amended soil (add organic compost at planting time) that drains well and is slightly alkaline. Irrigate regularly until established. Many varieties of hellebore are quite drought-tolerant at maturity given enough shade but remain healthiest and most attractive when receiving at least a little regular moisture during the drier months. Though they're quite tolerant of neglect, hellebores respond well to the simplest of maintenance chores: Be sure to snip spent flowering stems down to the ground to promote new foliage growth and to divide them in late summer to early fall when they begin to appear to be suffering from overcrowding. Protect them from cold winter winds, and for optimal results be sure to give your plants an annual side dressing with rich compost. Relatively trouble-free, they may become prey to aphids, which can be easily squashed by hand or knocked down with a quick squirt from the garden hose.
—Fionuala Campion is the owner and manager of Cottage Gardens of Petaluma in Petaluma, California.